An Autumnal visit to the Central Coast gives us a chance to check out what is new in the area. From a seafood cooking class to a Southern American style bbq joint, to heavenly Italian pasta, a wellness beach house retreat and an award winning distillery there's no shortage of places to eat and enjoy!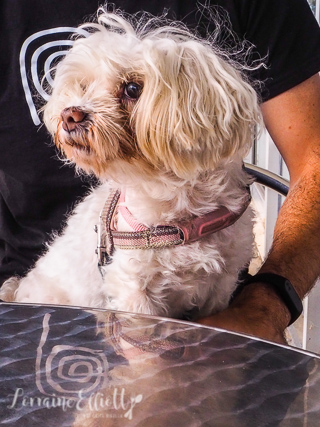 It's around mid morning that Mr NQN, Mochi and I arrive on the Central Coast. We are lured to Ettalong Beach with the promise of cakes (for me) and coffee (for Mr NQN). At Lords Of Pour I order a chai latte for myself and a cold brew for him while Mochi laps at water in the dog bowl and looks curiously at the Tibetan spaniel at the adjoining table.
I'm not hungry but my mouth needs something to eat and it seems like serendipity when I see the colourful cakes in the display. Cakes are what this cute little cafe are really known for. There are the "mini" cakes which are actually not so mini and could easily feed 4. I wanted to buy a carrot mini cake (not a move Mr NQN encouraged) so instead I ordered a slice of the rose mousse topped fruit cake coated in white chocolate. It's a bit like a cake fantasy come true with a fruit and nut cake at the base, rose mousse and a thin coat of white chocolate topped with dates and fruit.
The other recommendation was for the caramel slice and although it may look less fanciful than the floral cakes it is all about the taste. It is possibly one of the best caramel slices ever. Perhaps there's browned butter, perhaps something crunchy inside, I can only guess (but you know I'll be trying my hand at a similar one). It is on the firm side so the best way to proceed is to pick it up and nibble. And then possibly order another for later.
We pop into the stores along Ocean View Road, there is a mix of new and vintage and after whiling away the time we head towards our destination for lunch. Sounds on West is a brewery and smokehouse whose food is all about Southern barbecue.
It is an offshoot of the Six Strings Brewing Company. It's not strictly Texan although the usual Texan items like brisket appear on the menu. We try their Six Strings Lemonade, a deliciously lemony and pucker inducing lemonade and they bring out all of their sauces to try which I really appreciate because sauces are life. There's a white Alabama sauce, a peppery blue cheese sauce, ranch sauce, St Louis sauce, Kansas sauce and a Secret Sounds Sauce as well as Frank's hot sauce. They're all worth trying and mixing and matching.
We try the platter for two which gives you two meats of your choice, two sides, pickles, jalapeno cornbread, coleslaw and sausage. The beef short rib is luscious and well flavoured and falls off the bone easily. The pork ribs are also delicious as is the sausage although they are not as smoky as what you would find in Texas. They tell us that a lot of their clientele prefer things less spicy so items like the jalapeno cornbread have had to be toned down for them.
We also decided to order a couple of sides that included the beef brisket. There's the burnt ends beans where the beans are sweet and saucy with large chunks of beef brisket. The mash with gravy is no ordinary mash and gravy and it is topped with a rich beef brisket gravy. And there's more brisket with the beef brisket topped hand cut fries which are sort of poutine like with a rich beefy gravy, chunks of brisket on top of a bed of golden fries.
Our base for the Central Coast weekend is the Beach House, one of two properties on the Central Coast that bill themselves as a wellness retreat. The beach house is located at Pearl Beach, a leafy, tiny jewel box of an area where streets are adorned with names like Amethyst Avenue and Diamond Road.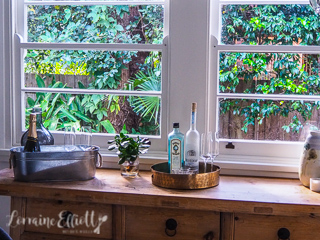 At first glance the beach house is a cute little bungalow style of house but once you walk in through the back door you see the special touches. There are of course the carefully curated furnishings, that trick of the hand of the stylish and visionary (that I don't possess).
The verandah has many comfortable seats and ottomans on which to lounge or sink deep into reading a book. For warmer months the backyard is great for entertaining with a lot of space to eat and play.
Since it is getting chilly, I head inside. There's a galley style black and white kitchen to the left. The fridge is stocked with a beauty elixir and coconut water while there is a soda stream, teas and all sorts of potions and goodies in the pantry to use.
The lounge room has comfortable couches and there's a four seater dining table as well. There is internet included and it is fast and free and one of the biggest draws for us is that it is dog friendly too.
There are two bedrooms to choose from, both good sized ones with queen beds. On the stands are magnesium sprays, body lotions and coconut oils for the body. Both bedrooms are nicely sun drenched, a lovely perk in the chilly Autumn air.
The bathroom has Ikou toiletries, magnesium scrubs and the sort of things that you wish places had but often don't. There are also nice touches like fantastic bed sheets, yoga mats, coconut water, beauty elixirs, an iPad, multiple bluetooth speakers, google home and SUP boards.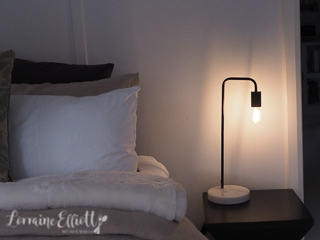 Dinner is at Young Barons in Woy Woy. To call it just a pasta bar would be underplaying how good the food is but pasta is the main fare here. It was started 10 months ago by chef Dannielle Mills and bartender and musician Bryce Gleeson who met while working at Bells at Killcare.
That may give you an idea about the level at which they are working at as skillfully designed dishes hit all the flavour notes. They called themselves Young Barons as they are both 24 years old and wanted to acknowledge the entrepreneurial nature of the business without giving themselves an Italian name. Service is friendly and accommodating and the kitchen is fast so it isn't a long, drawn out meal.
We start with a cocktail, the YB Original which is made with chinotto, Beefeater gin, cherry bitters, basil and lemon. I love the floral notes of the gin and the herbs and lemon which give it an almost Pimms-like flavour. We also try the Black Radish Kombucha which is made on the central coast by a solo operator. We choose a strawberry and gum kombucha which has a eucalypt flavour and Bryce explains that Black Radish ferments the kombucha in oak barrels giving it a complexity and a step away from the strong vinegar overtones of some kombuchas so that it tastes more balanced.
Just a little tip if you visit Young Barons: order at least one of these per person because there's no sharing as far as these fritters are concerned. With pieces of ham hock and creamy potatoes these fritter balls are crumbed and deep fried and served with a red pepper salsa mayonnaise. And I wanted half a dozen easily (in front of the television in my PJs).
Burrata is everywhere and honestly it's always a version of pretty good because it is burrata but sometimes you come across a swoon-worthy burrata dish like this. The agrodolce caponata is luscious with eggplant, tomato and celery cooked til meltingly soft with pine nuts and basil leaves. The Vanella burrata spills an abundance of cream that melds into the caponata. The only thing missing is the bread to mop up all those precious juices.
Both of us had our favourite pasta. For me it was the gnocchi with local white, Swiss brown and oyster mushrooms from Margin's mushrooms. There's plenty of garlic, thyme and pecorino on top and I savour the thinly sliced mushrooms and the pillowy soft parcels of gnocchi.
We didn't want to have bread regret again so as soon as I tasted the rich garlicky mushroom sauce we asked for bread. Two fat grilled pieces of white sourdough bread are furnished along with a roast garlic and herb butter.
Mr NQN loved the spaghetti with garlic, king prawns, tomato, herbs and crunchy pangrattato. He particularly loved the crunch from the pangrattato and it's a beauty although I loved the gnocchi just that little bit more.
The cabbage salad is a refreshing counterpoint to the rich pastas and cheeses. It's cabbage, fennel and mint with a tangy chardonnay vinegar and extra virgin olive oil.
Again it's opposing teams with Mr NQN in love with the almond frangipane tart topped with a slice of fresh fig. The fig leaf gelato uses fig leaves from Dannielle's father's property and if you've never tried it before, it has an almondy flavour accentuated by the toasted flaked almonds on top. The tart case is short and crisp.
But if you offer me a honey dessert I will jump at it. This honey panna cotta has just the right amount of sweetness and is paired with dabs of dark chocolate ganache, poached pears and a crunchy oat crumble.
The next day is one where I rise early, do a workout, drink coconut water and almost don't know myself.
The reason for the early rise is the cooking class that I'm going to attend with Bombini and Fish Dining's chef Cameron Cansdell. This is the first cooking class of many and each topic changes. We are doing the fish class but there is also pig, wood fired pizza and gnocchi making classes.
In the fish class Cameron will be teaching us how to fillet a whole fish, how to make sauces that go well with fish and seafood like ponzu and XO sauce and also introducing people to ingredients like saltbush and yuzu and how to use them in your cooking. After that we will sit down to eat the labours of our day with dishes from Provence, China, Japan and South America.
He explains that the difference between cooking at home and cooking in a restaurant is that every element is seasoned correctly and the class will be going through that. In Western cuisine salt is used and in Eastern it is soy or fish sauce.
He starts by showing us scarlet prawns from WA, a deep sea red prawn that is caught between 70-400 metres below sea level. Then he shows us a tray of yuzu. While many have had yuzu in desserts, to play with the actual fruit is exciting.
It's the size of a mandarin with a thick, rough skin. When you cut into it, it has a remarkable number of large seeds and very little juice. The advantage to yuzu is that the whole fruit can be used including the pith.
We are working on four different recipes today. Firstly there's a ceviche with barramundi (or blue eye for me) served with pomelo segments, thinly sliced fermented turnips and fanned avocado. Then there are Koorong pippies in XO sauce with native saltbush. The XO sauce is made from scratch using some Harvey Bay scallops that they have dried in the kitchen under the heat lamps. At home you can also dehydrate them in an oven or in a dehydrator.
He also shows us how to fillet a 4 kilo blue eye trevalla which we will pair with a sauce vierge (or virgin sauce). This is a fresh, piquant sauce made with chopped tomatoes, olive oil, capers and lemon that will go with the pan fried trevalla. He starts off by removing the "wings" which are now a prized cut.
When looking for a fish, he recommends looking for one with clean gills and a blood line that isn't brown, with a sheen to the skin and without a strong odour. To fillet a fish use the tip only of a flexible knife. And whatever you do, never wash your fish with tap water. This causes the fish to degrade quickly. If you need to clean fish make up a saltwater solution.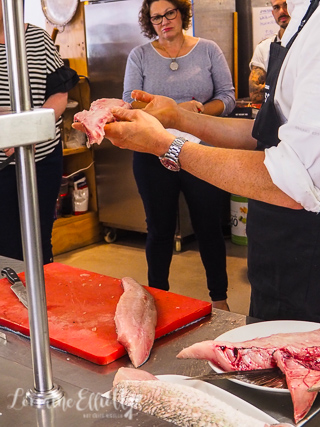 When he fillets the fish he separates one half into two. There's the top half which is given to customers while the slightly less neat looking bottom half is usually given for staff meals.
He shows us the best way to cook reef fish. Bring your fish out of the fridge one hour before you want to cook it as proteins cook better when at room temperature. Meat can be taken out 3-4 hours ahead of time. This gives the meat better colour and it won't dry out as much.
Always start cooking fish presentation side down. He gets the pans as hot as they will go and adds oil and places the fillet on the pans and place it down with the end away from you so that it won't splatter. With thick skinned reef fish like this he pan fries them for 3 minutes and then places them in 200C/400F oven for 3-4 minutes.
Things get heated up in the last 30 minutes of the class before lunch is scheduled at 1pm. Pippies are cooked en masse and then we fry them with our XO sauce and saltbush. Several pans are on the go at the one time and everyone attends to their pans while Cameron tosses a pan's contents in the air.
At 1pm, we sit down with chefs Cameron and Kody and feast on our dishes. Everyone's is plated differently but everyone loves their meals. And for desserts is one prepared by Cameron and Kody with champagne jelly, raspberry, coconut ice cream and vanilla pashmak.
And there's one final stop before we head back home to Sydney. It's the multi award winning Distillery Botanica in Erina. Here former nursery owner and now distiller Philip Moore labours over his love: gin and spirits. You can have a gin tasting and wander through the "Fragrant Garden" which is where he picks the aromas for his gin.
He first started teaching himself in 2006 putting out his first commercial product in 2007. By 2008 he had won his first award. "I love blending, that's my forte," he says. He has no patience for spirits like whisky saying, "I would have turned off mentally years ago."
Still his fantastic Moore's whisky bearing his name, took nine years of work. He uses the method of cold enfleurage to extract the pure scents from his ingredients and each ingredient is distilled individually.
Another favourite is the Mr Black a cold press coffee liqueur made with 100% coffee. It's an intense and gorgeous number with the full bodied flavour of coffee with just enough sweetness. He recommends it with a gin and tonic before dinner but after, drunk as a port served neat.
I adore the intensity of the products from the Mr Black, lemon myrtle and the raspberry liqueur. We have to buy a bottle of the Mr Black along with the Moore's dry gin and the lemon myrtle liqueur. He shows us the lemon myrtle plant that bears the leaves that make this intoxicating and aromatic liqueur that reminds me of the sweetest lemon sherbet.
So tell me Dear Reader, where do you usually venture to on a weekend away? Do you enjoy cooking classes or are you more an eater?
NQN and Mr NQN were guests of the businesses (Lords of Pour was independently paid for) but all opinions remain her own.
Lords of Pour
302-304 Ocean View Rd, Ettalong Beach NSW 2257
lordsofpour.com/
Sounds on West
2/227-231 West St, Umina Beach NSW 2257
soundsonwest.com.au/wp/
Beachhouse Retreat
tinyurl.com/ybh88feq
Young Barons
73 Blackwall Rd, Woy Woy NSW 2256
youngbarons.com/
Central Coast Cooking School
bombini.com.au/cooking-school/
Upcoming 2018 dates: Sunday June 17 - Mastering the art of gnocchi, Thursday June 7, Thursday July 5th, Thursday August 2nd - Authentic wood-fired pizza classics, Sunday JULY 29 - All about the pig
Distillery Botanica
25 Portsmouth Rd, Erina NSW 2250
distillerybotanica.com/