Have a hankering for Nonya food? Or just curious to try one of the only places in Sydney that has a dedicated Nonya menu? Peranakan Place on Parramatta Road in Auburn serves up authentic nonya cuisine, a mix of Singapore, Malaysian, Thai and Indonesian flavours not often seen in Australia.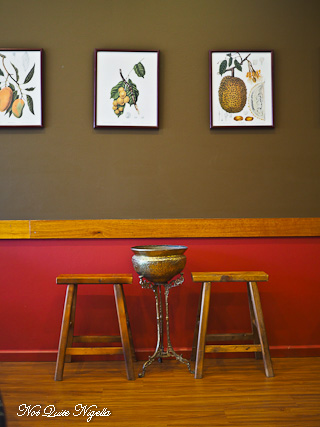 Sam Wong is 74 years old. At the age of 73 he decided to open up a restaurant to allow people to try food from his cultural heritage. Sam emigrated to Australia 44 years ago and has a warm, avuncular manner. When we ask about the food he lingers and chats to us about it never rushing away nor lingering too long. "We guarantee all the food," he says, "If you don't like it, don't pay," he says with a glint in his eye.
You may have heard of the term Nonya before. It identifies woman in a culture that is seen mostly in Singapore and Malaysia (the word Baba denotes the men in this culture). Nonya food isn't easy to find in Australia but not for lack of appeal. The Peranakans are the descendants of Chinese immigrants in Malaysia and Singapore from as far back as the 15th century. Nonya food is fragrant, herbal and takes on influences from local ingredients and in some cases Thai (Penang and Malaysia) and Indonesian cuisine (Singapore). As my mother is from Singapore we knew that she would be interested in trying this restaurant and she helps pick some of the items.
Ngoh Hiang is a mixture of prawns and pork wrapped in a tofu skin and deep fried. I've tried a few ngoh hiang before and they're always a bit dry but this one isn't at all. It's juicy and fresh and very moreish with a good balance of pork and prawns.
The top hats are also called "Pie Tee" and I remember finding my mother's molds for these when I was little and riffling through the kitchen cabinets and wondering what they were. They're a very thin crispy tart shell filled with bamboo shoot, yam bean and topped with a small prawn and coriander. You pick them up with your hand and they're tiny enough to be eat them in one go to avoid the filling spilling out.
The pineapple curry prawns are served with 4 large unpeeled prawns in a turmeric rich curry. The curry isn't really spicy, the predominant flavour is of turmeric and we quickly realise that we need a lot more rice to soak up the sauces. Speaking of rice, the chicken rice is delicious but we really should have ordered a lot more rice because everything that we ordered was very saucy.
The babi pongteh is a classic Peranakan dish made of soft belly pork and trotters served with chestnuts and the fattest shiitake mushrooms. It is best eaten with the pickled green chillies on the side and is a comforting dish.
The hor fun with seafood has a wonderful charred breath from the wok. In fact it's one of the best hor fun with its saucy, slippery gravy, thick rice noodles and perfectly cooked seafood.
Ayam Buah Keluak is considered the ultimate Nonya dish according to Sam. It is chicken braised with buah keluak seeds from the Kepayang tree from Malaysia and Indonesia. These flavour of the cooked seeds evoke descriptions such as sweet tar, black bean or dark chocolate. It's a fascinating ingredient as the seeds come in a Kepayang fruit the size of a rugby ball and the seeds must be comprehensively treated to become edible otherwise they are highly poisonous.
The process for treating the seeds is as follows: grayish seeds must be cleaned and boiled and then buried in an alkaline ash for 40 days and then soaked, the kernels dug out and pounded with spices and then reinserted into the seed to arrive at this edible delicacy (which makes me wonder how they discovered this and how many people became sick to reach this conclusion). At the edible stage, good seeds are black and oily in appearance. The chicken is mild flavoured and Sam hands us some double sided crab forks to prise the black centre out of the seeds. Once it is mixed in it's delicious imparting an intensely rich and salty flavour to the chicken.
It's time for dessert and we asked for Sam's recommendation for a durian dessert. He actually sells Musang King Durian in the restaurant as well as a range of durian items and cakes that can be pre-ordered. This durian pudding is made with musang king durian and is baked with rice and covered with coconut cream to create a rich, warm pudding. He explains that this dessert was first created to make use of unripe durians to bring out the distinct durian flavour and aroma. As someone that is learning to like durian I have to say that this is absolutely delicious and not overpowering with durian smell.
And for something less fragrant but no less delicious my mother chooses the pulat hitam, a sticky black rice pudding with palm sugar and coconut cream on top. He explains that the nonya version doesn't involve mixing the rice and coconut cream together. Instead you just take a spoonful of both and eat it as it is. Heaven!
So tell me Dear Reader, have you ever tried Nonya food or any of these dishes? And are you a durian fan or not?
This meal was independently paid for.
Peranakan Place
139 Parramatta Rd, Auburn NSW 2144
Phone:(02) 9737 8989
Open Wednesday to Sunday: 11:30am–2:30pm, 5:30–10pm
www.peranakanplace.com.au/menu