A restaurant that only serves pork? And beer? Surely not! But yes it's the latest delicious concept from the team at Red Lantern and partner. Located on Crown Street in Surry Hills it sits at the former Red Lantern site. So how does it work? And how many pork dishes can you order? Well you'd be surprised!
There are endless puns and jokes that can be had with a name like Pork'd. Sure you can invite your friends to get porked along with you and there are also the other jokes about how you like getting porked. But it was with the very serious research purposes that one night Mr NQN, The Wizard and I walked into Pork'd to get...well pork. Pork and beer to be precise as that is what they specialise in.
Pork'd replaces the original Red Lantern on Crown Street in Surry Hills. It's the latest venture from restaurateur couple Pauline Nguyen and Mark Jensen along with Mick Bain of the Royal Albert Hotel. Gone are the traces of Red Lantern and the red awning. In its place is a more casual ambiance with curious images of knights jousting and a self serve bar arrangement.
And why just pork? Mark says, "I always loved the idea of doing one thing well. I spent 2 weeks in Portland on a cycling trip with the Rapha crew. We rode hard and we ate well. While in Portland I met chefs who decided to leave their restaurants or restaurant careers to open up a food truck. They cook the one or two dishes that they were renowned for and they presented it in a casual way. That philosophy was the seed for PORK'D...I just happen to love pork and the different ways in which it can be prepared especially low and slow."
Ar Pork'd they receive and break down a whole carcass and while there are dishes that will always remain on the menu, other items will change. And a free range pork will feature too. "With our free range line we will feature heritage breeds such as Large Black, Berkshire and Saddlebacks," says Mark.
The system at Pork'd is this:
Get yourself a table (or in that classic Australian ways "Bags" yourself a table)
Order a drink at the front bar
Acquaint yourself with the menu and go to the back to order and pay for your food and bus it back to your table.
There's a nice selection of craft beers and a few wines. Mr NQN goes for a schooner of a Feral Smoked Porter (all chocolate and coffee flavours) while The Wizard is enticed by the name of the Mountain Goat Fancy Pants. I go for the Willie Smith pear cider, a crisp and sweet cider. The music selection this evening is classic 80's going from Dirty Dancing to Prince. The staff are very friendly and helpful.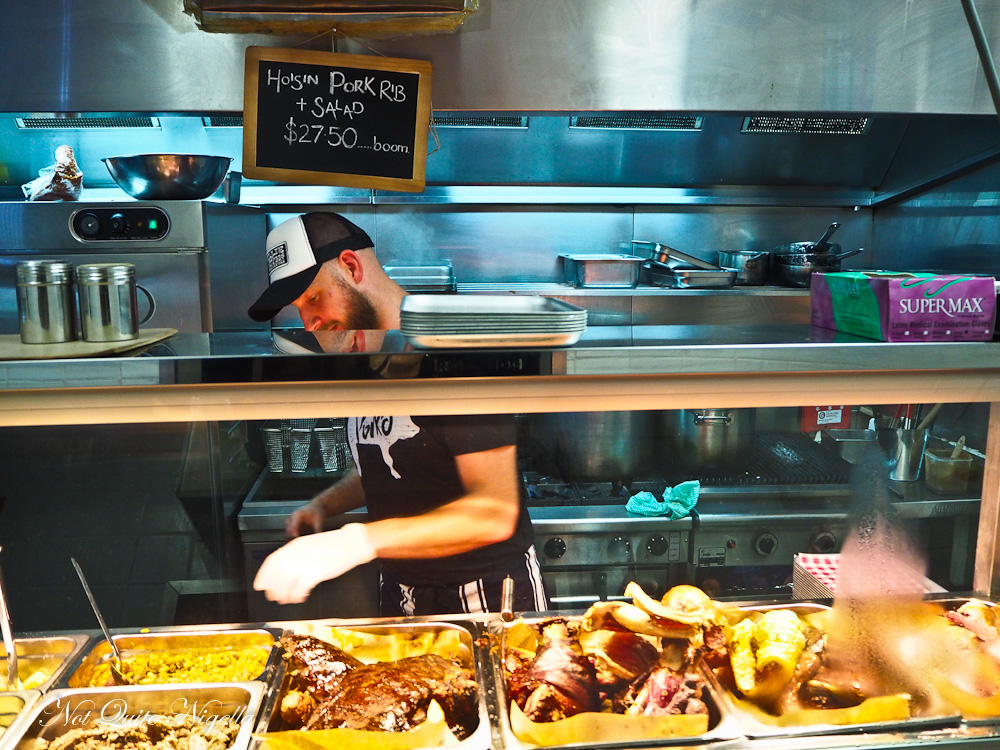 The boys bring with them one of my favourite qualities in an eating partner: an insatiable hunger. I go to order because that way I can sneakily get one of everything and they won't even notice. I follow the friendly staff member to the back area and take my pick. Everything hot but a couple of dishes are ready and you can simply point and choose what you want. I go for the Piggy Plate for each and end up ordering what isn't included on these on my own plate. I've read some people find the prices high but for a tray of food at $25 we don't find it too bad. It's perhaps the serve your own aspect that perhaps puts the prices at odds with it.
Piggy plate $25 per person (with apple sauce)
Each piggy plate has a serving of cider braised pork belly, chilli bacon, Porter ham hock, cheese kransky and a chef's pick - tonight it is the pulled pork butt and the plate is rounded off with a side of beans, a bread roll and half a pickle. The There are three sauces with the piggy plates: apple sauce, bbq and hoi sin. The apple and hoi sin are fantastic, the spicy bbq also good but the other two are really quite addictive.
I ask about the secret to the apple sauce that they receive lots of compliments for. Marks tells us, "Loads of Granny Smiths and apple cider go into that baby." And the beans are also full of flavour. These are slow braised great northern beans cooked along with vegetables and the burnt wand of the whole joint roasts.
Side plate with masterstock pork and a spicy chilli lemongrass sausage
There's a little shoutout to Red Lantern with a fantastic house made spicy chilli lemongrass pork sausage over which a sweet spicy sauce is spooned over. There's just enough heat to tingle and these extras are sold at a price of $9 per 100g. The masterstock pork has tender meat and a nice, crunchy, slightly sticky crackling. There is also a wedge salad which has a milky ranch style dressing and bacon bits although I would have liked a creamier, stronger dressing.
Hoisin baby back ribs with salad $27.50
Ahh that delectable hoisin sauce is back but this time it's on a rack of baby back ribs. These are prepared to order so they take a little time and you get a choice of salads with the ribs. I go for the broccoli salad with corn, spring onion and diced tomato. The broccoli still has a good crispness to it but while I really enjoy the meat, the salads are sides could perhaps need a bit of rejigging.
Pork'd roll of the day $12
The pork'd roll of the day is a burger filled with a choice of pulled butt pork or cider braised pork belly. We go with the pulled pork, coleslaw, a slice of tomato and a bbq sauce. It's a good sized burger and the bun is soft but y now the meat sweats are setting in and even the two large eaters can't finish it.
Alas there is no dessert yet but we are told that that is just a matter of time before raw cakes and kombucha tea make an appearance which seems like an unusual choice but in Surry Hills it may just work!
So tell me Dear Reader, if you could eat sort of meat for the rest of your life, what would it be? Do you have a favourite way to serve pork? Have you ever gotten the meat sweats?
This meal was paid for independently.
Pork'd
545 Crown St, Surry Hills NSW 2010
Tel: +61 (02) 9690 2289
http://www.porkd.com.au/
Monday to Thursday 5-11pm
Friday & Saturday 12pm-11pm
Sunday 12-9pm