Pull up a chair and have a drink and a pizza ready for this story. This pizza challenge was years in the making and saw us crossing all over town to find the Sydney's best pizza. And we mean the really good Italian Napoletana style pizza. We went north, west and inner city for a fun day of pizza tastings, shenanigans and pizza highs. This is the long story of 10 hours of eating pizza and what can happen if you are crazy enough to do it!
Chatting to some friends about out upcoming pizza challenge, they shared a funny little anecdote about how they first met.
"I dared Chrissie that she couldn't fit a whole slice of pizza in her mouth!" Jim said.
Never one to back down on a challenge Chrissie recalled, "So I folded it up and shoved a whole piece in my mouth!". Jim then did the same and across the table, much to the horror of the couple they were dining with, with cheeks bulging with pizza, the couple fell in love. See, who says you can't fall in love over pizza?
It was a day that I had been looking forward for weeks. A pizza challenge driving all across Sydney to find the best pizza. Pizza in Australia has evolved over the years. Even as close as five years ago, Napoletana style pizzas were relatively uncommon. These thin crusted with puffy sides and an almost "wet" texture in the centre were hard to find. We had of course the pizza chains that churned out deep crust pizza and there were also old skool pizzerias with toppings like meat lovers but it's only in the last few years that Napoletana style pizzas really took off. Which seems crazy because Naples is the birthplace of pizza.
While compiling our list, two things became obvious. Sydney now has a plethora of fantastic Napoletana style pizza places. It was also a very long list of places to go to with nearly 25 places to hit which would be impossible to do in one day given that most are only open from 5:30-10pm. So we had to be ruthless, we removed places that I had already written about not matter how much I loved them and just concentrated on places that we hadn't visited before.
Even then we would be pushing it for time but we also had one thing up our sleeve if the timing got too short - pizza can easily be ordered for takeaway. For our challenge we would be trying two pizzas: a classic margarita or margherita pizza (and if an upgrade to buffalo mozzarella was available we'd go for it) and another pizza that they did well or were known for. Read on for our not very scientific but a helluva lot of fun day tasting pizza!
The weather gods were looking out for us giving us nothing but sunshine. There were five of us: Belinda, Mr NQN, The Wizard, Viggo and me and we all piled in our car. This was not the cleverest start - we all wanted to be together but given that Mr NQN, The Wizard and Viggo are all 6 foot 2 and above that made for some squishy times in the back seat. But did we care? No, not really! And Mr NQN had brought along his favourite toy of mine, an infra-red temperature gun. When I asked him why, he said, "To tell the temperature of the takeaway pizza!" as if that were entirely obvious. Honestly Dear Reader, I think he'd just take it everywhere he could if I would let him...
Stop 1: Via Napoli, Lane Cove
We arrived at our first stop. Every time we do a challenge, there is one place that everyone recommends and this was it. Located in Lane Cove it has been open since 2013. And there is no shortage of Italian charm. When we arrive we see them bring a 3 metre long board of antipasti to a table with much clapping and cheering. This happens regularly during our time there and when they finish and notice us waiting for a table we are each engulfed in hugs, kisses and handshakes as if we were long lost friends. They show us to a table and we watch as a 1 metre pizza is brought to another table. The lovely woman at the table gestures for me to come over and take a photo and I do. I don't think it's possible to be in a bad mood while you are there.
0.5 metre pizza $50
There is the option for pizza by the metre and we figure that with half a metre we can cover off two choices. My eyes rest on a pizza called "Luigi's fantasy". Luigi is the pizza maker and owner who is busy charming people at all of the tables. He grabs hands and kisses them and his warm presence is echoed in the rest of the staff. The fantasy pizza is whatever Luigi feels like he might want to put on.
The pizza arrives on a board, half margarita and half seafood topping with mussels, prawns, yabbies and squid. Our eyes widen. but first things first, we start with the margarita. The pizza has a soft centered crust with a puffy edge. Apparently Luigi believes that true Napoletana style pizza must have the following attributes:
Baked in a wood-fired, domed oven at 485°C/905°F for no more than 60 to 90 seconds
The base must be hand-kneaded by rolling it with your fingers
The pizza must not exceed 35cms in diameter or be more than one-third of 1cm thick at the centre.
We then try the seafood pizza (except Viggo who is allergic to shellfish). Both pizzas are excellent the margarita with just the perfect amount of basil and the seafood atop the "fantasy" pizza absolutely melting perfection. The scores are very high and we wonder if we haven't peaked too early. They place down some shot glasses of a delicious limoncello which we skol and it's off to our next stop!
Margarita Pizza average score: 8.5
Other Pizza average score: 8.8
Service score: 9.80
Atmosphere score (in the restaurant): 9
Stop 2: Da Mario, Rosesbery
Heading back towards Surry Hills and across the bridge Mr NQN shows Viggo and The Wizard the infra red temperature gun. Talk naturally turns towards the zombie apocalypse question. We decide on zombie apocalypse plans while driving. Belinda is an avid The Walking Dead fan so she has some sure fire survival tips so I think amongst the few of us, we may actually survive.
"Look at the time!" I say alarmed putting down the temperature gun and getting serious. We may actually not be able to get to our next location in time as they close at 3pm and it is 2:40pm. We have to take the option of getting takeaway from Da Mario in Rosebery.
We call ahead and ask for a margarita and another pizza. There's a bit of confusion and we end up with a pizza that we would not have usually chosen (mea culpa, we should have checked the menu online). Da Mario is part of the same Rosebery warehouse complex that also houses Kitchen by Mike, Black Star Pastry and Koskela. We take the pizza to a nearby park where there are a couple of games of soccer being played. "What could be more Italian that that?" says Viggo.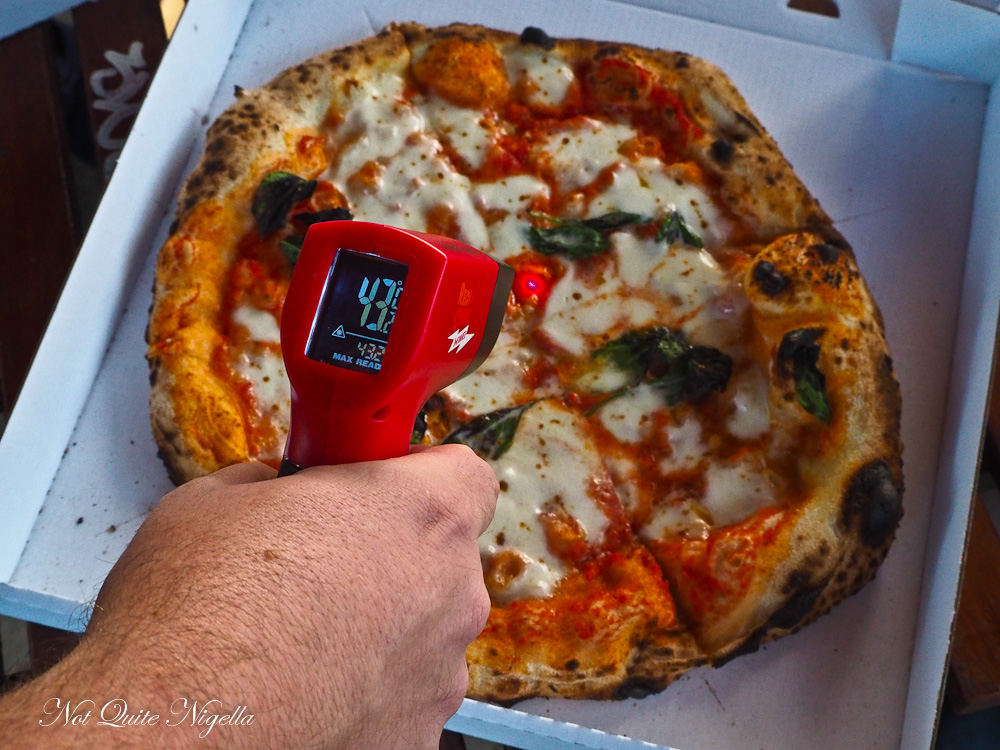 Margarita pizza $19
He draws the temperature gun and it reads 43C/109F. We try both pizzas and the crust again is puffy and both pizzas get a very respectable strong score. Again there's a good amount of basil on top and enough but not too much cheese and the tomato sauce is very tasty. The partenopea pizza has a topping of tomato, mozzarella, anchovies, olives, capers and oregano. It's one of those strong savoury and salty pizzas for those that love strong flavours and out of the two pizzas, the margarita was the definite favourite with Mr NQN particularly liking it.
Partenopea pizza $20
I tell the group about Chrissie and Jim and how they could fit a whole piece of pizza in their mouth. This raises a challenge for The Wizard who then manages to fit a whole piece of pizza in his mouth. For a moment I fear that he may choke so we yell at him to stop! It's getting cold so we write down our scores and are off to our next place.
Margarita Pizza average score: 7.8
Other Pizza average score: 7.7
Service score: 5.2
Atmosphere score (in the park): 7.8
Stop 3: Pizza Birra, Surry Hills
Just after 3:30pm we stopped by Napoli Nel Cuore thinking that they were open (I must have misheard them when I rang the day before) but since we had one of those rare Surry Hills parks we decided to take the opportunity to take the short walk to Pizza Birra on Crown Street.
We decide to sit down here to eat and are shown to a table. Even at this hour there are customers inside and out. The Wizard looks across at the wood fired oven and decides to read the temperature from his seat. Honestly I cannot tell you how much the boys love this gun. If you are ever looking for a present for a hard to buy for person, this is it!
Margarita pizza $20
Wines, beers and Chinottos are ordered. One thing that we had underestimated was how thirsty work it was and how refreshing Chinotto is. The pizzas arrive and even though there isn't much basil, the pizzas are solid. The crust on these is different and less soft in the centre which appeals to Viggo but Mr NQN really likes a softer crust on his pizza. We do like the spiciness of the Lucifero with hot salami, mozzarella, capsicum, onion, parmesan and basil and a small bowl of chillies in oil that add a good spiciness.
Lucifero pizza $23
As we wait for Mr NQN and The Wizard to get the car (by now I'm regretting my choice of footwear) we play a game of fetch the pine cone with a customer's dog who loves to return the pine cone to you by placing their head deep between your standing legs!
Margarita Pizza average score: 7.7
Other Pizza average score: 7.7
Service score: 6.4
Atmosphere score (in the restaurant): 6.6
Stop 4: Secret Stop
We head towards the Inner West of Sydney where a relative of Belinda's had recommended an old skool pizza place. We ring up to order one to eat in the car. A margarita is easy but when I ask for another, I am offered a meat lovers which raises some brows but hey this is old skool (and by that we mean old skool Australian pizzas). By now we realise that there simply isn't enough time to eat in at every place and from now on we will have to get takeaway. "We can eat in the car!" I say excitedly because I have no idea why but I thought that it would be fun.
We are told to come in 20 minutes and we arrive a bit early. While waiting for our pizzas we notice that there is no wood fired oven. The mozzarella is shredded not unlike the kind that you buy in bags at the supermarket. The pizza chef gruffly takes an order on the phone and before long we are holding two pizzas. We open them up in the car and take a bite of the margarita. It's surprisingly tasteless. We figure the meatlovers might fare better but again even with the meaty topping there's blandness and saltiness but no flavour. Disappointed we stash them in the boot and decide not to score this place at all (it's family owned business that clearly is popular locally) but we can't recommend it.
Stop 5: La Disfida, Haberfield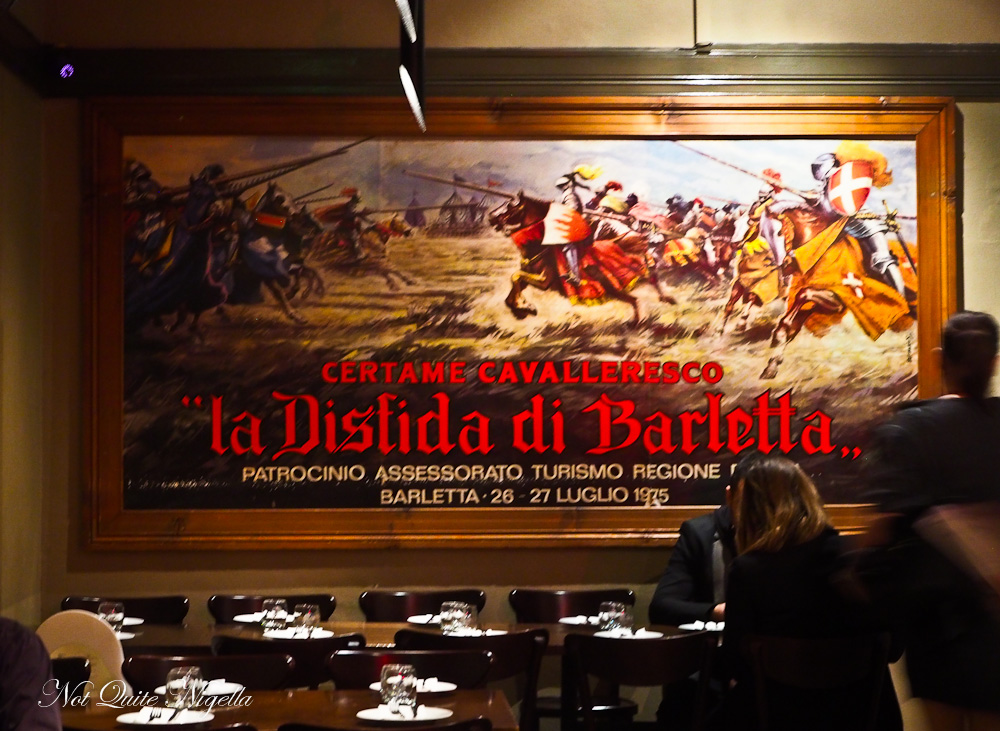 We drive towards Haberfield with the menu for La Disfida open on the phone. Haberfield is home to two great pizza places within easy walking distance to each other. We order a margarita and a quattro gusti to go. Mr NQN and The Wizard park our car while Belinda, Viggo and me fetch the pizzas. We intend to eat them from the boot of the car as both pizza places are close by and eating four pizzas inside a car is just inviting trouble (I was picturing topping everywhere). At La Disfida they're very warm and inviting when we walk in and we take our pizzas to the car and eat them there.
Margarita pizza $22
There's just one basil leaf on the margarita pizza. The pizza itself is very good but basil adds much to a margarita. Interestingly, the edges of the pizza aren't as puffy as other places have been and Mr NQN likes the soft centre and crust.
Quattro Gusti Tomato, Mozzarella, Hot Salame, Eggplant, Pork Sausage, Wild Mushrooms $25
A quattro gusti pizza this isn't the best pizza to share among people if you want to try everything but I'm smitten. The flavours and thin crust on this piza with hot salame, eggplant slices, crumbled pork sausage and wild mushrooms are fantastic. Mr NQN gives the topping a mark of 10 out of 10. We pass around the family pack of wipes and head nearby to our next destination.
Margarita Pizza average score: 7.8
Other Pizza average score: 7.75
Service score: 8.6
Atmosphere score (parked on Dalhousie Street in Haberfield): 9
Stop 6: Napoli In Bocca, Haberfield
Just a few metres away from our park is Napoli In Bocca, also busy this evening. When we rang to order our pizzas earlier, a gentleman answered. He was clearly rushed and quickly took our order without taking our name and hanging up with a quick "Bye!". The wood fired ovens stand at the front of the restaurant and I watch them placing pizzas on ladles and sliding them into the oven. Interestingly, the pizzas are a few dollars less expensive than the others ones that we've had today. We crack the boxes open while a couple walks past. They smile and say, "You couldn't wait!" and we laugh and nod. Sometimes it's easier for people to think that you have poor impulse control rather than explain the madness that you are undertaking.
Margherita pizza $18.00
The margarita has no basil this time but is still very good and I give the crust and topping an 8 and 7 respectively. Viggo isn't so much a fan of the crust as he thinks that isn't cooked enough and "too bendy" (his words). And perhaps it's margarita fatigue but the four cheese pizza gets most people excited. With mozzarella, parmesan, bocconcini and gorgonzola, Belinda reserves this one to take home with her. We are so thirsty that we grab a large bottle of water and take turns drinking from it (hey there's no germs within our inner sanctum!). We add the boxes to the growing number at the back of the car and make our way to our next stop also in the Inner West.
4 Formaggi Mozzarella, Parmesan, Bocconcini & Gorgonzola $20.00
Margarita Pizza average score: 6.55
Other Pizza average score: 6.44
Service score: 7.6
Atmosphere score (parked on Dalhousie Street in Haberfield): 9
Stop 7: Rosso Pomodoro
Rosso Pomodoro was a restaurant that I had wanted to visit for a long time. We would have loved to have eaten in here but it's such a popular place on Saturday night that it's impossible to without a booking so we ring ahead and order. They're very friendly and professional on the phone. Usually they're known for their truffle pizza but it isn't quite truffle season yet so we go for their other recommendation for a pizza, a pizza bianche without tomato.
Regina $25
Given the opportunity to go for the more lavish version of a margarita we are offered the regina which we go for. This is topped with tomato, Ttalian mozzarella, cherry tomatoes, basil, fresh buffalo mozzarella. And it's sublime and worth the extra money (not that we tried the regular margarita).
Patate e Salsiccia $23
And if we loved the regina/margarita then we really loved the potato and sausage pizza topped with Italian mozzarella, Italian sausage pork, potatoes and rosemary. Murmurs of "Mmmmm" come out of our mouths and although we have parked in the middle of a parking lot on Robert Street near the wharves and Mr NQN is sure that there are surveillance cameras around, we are too busy eating.
Margarita Pizza average score: 8.6
Other Pizza average score: 8.6
Service score: 7.4
Atmosphere score (Robert Street car park): 7.4
Stop 8: Gigi's, Newtown
One last Inner West offering is Gigi's on the Southern end of King Street in Newtown. There's a long queue outside but we can't quite figure out what they're lining up for because there are tables free inside Gigi's. Ahh Newtown, you funny beast on a Saturday night! Ringing ahead we order a margarita and one of their specials, a fig and prosciutto pizza with blue cheese. "Can you order some Chinotto?" I say, parched and raspy. Pizza tasting is really, really thirsty work!
Everyone else stays in the car while Viggo and I go in to collect the pizzas. It's very busy and it looks like a nice place with a good atmosphere. While we collect the pizzas, the others in the car decide on where to go to eat our pizzas. Belinda pipes up that Sydney Park might be a good option and tells us when we get back into the car. "But isn't the car park full of couples making out?" I ask her. "Look out for the steamy windows," she warns knowingly.
Margarita pizza $17
Perhaps it's a little too early but there are no steamy windows or cars rocking up and down. Instead just a bunch of five giggling pizza filled lunatics with a boot full of half eaten pizzas in boxes. We crack open the two newest pizza boxes and gulp down Chinotto. The margarita is fantastic, the edges of the pizza puffy and The Wizard rates both pizzas with a 9 for base and topping. The second is with buffalo mozzarella, gorgonzola, figs, rocket and prosciutto. Belinda is smitten with this one and wants to take that home although I prefer the margarita. And Belinda rates the atmosphere 10 out of 10 because this is where she and Ringo had one of their hot dates!
Fichi pizza $25
We look up into the apartments above the car park. "Is that a Nazi eagle?" asks Viggo and The Wizard. Strangely there's a lit up figure in the window in the shape of just that - or Batman or an angel, it's a little hard to tell. Taking that into account along with the gentleman staring at us from his balcony with binoculars, we get into the car and make for our next stop.
Margarita Pizza average score: 8.45
Other Pizza average score: 8.45
Service score: 8
Atmosphere score (Sydney Park car park): 8.6
Stop 9: Pizza Mario, Darlinghurst
As we approach Pizza Mario on Bourke Street in Darlinghurst I jolt suddenly. "I can't remember...did we order any pizzas for this place? What's happening? I can't remember!!" I say alarmed. I look at The Wizard and he is starting to blink. "I feel..." he starts to say before trailing off. I know exactly what he is feeling. It's food drunk! "It's not a bad feeling..." he says smiling serenely while blinking. It's like being tipsy and giggly on food. Parking was impossible so Belinda, Viggo and me waited for our pizzas and bought lots of bottles of water from the Woolworths nearby. Service is quite perfunctory, not rude, but not particularly warm but hey I guess we were just getting takeaway pizza.
"Where are we driving?" I ask and Mr NQN says that he is heading toward the next place so we can eat our pizza there. There are no parking because it is Surry Hills and we end up snaking up and down the dark alley ways. There's a group of three that scatter when they see our headlights and a man comes outside of his terrace to look around and go back inside. "That was totally a deal that we broke up!" says Belinda.
Margarita extra $26
You know that you're having a great pizza when you bite into your 17th pizza of the day and you fall in love with it all over again. We were given the option to upgrade the margarita to a margarita extra with tomato, buffalo mozzarella, fresh tomato and basil for an extra $6. And it's a beauty. The crust, the topping, the flavour is just divine. While many of the crusts have been excellent, the toppings have varied and here the topping is done well and I give both pizzas a 9 with this margarita being my favourite margarita of the day. Mr NQN loves the simple touch of the halved cherry tomatoes on top imparting a sweet pop of flavour. The second pizza is topped with pancetta, mozzarella, ricotta, pancetta, fresh tomato and thyme which is also sublime and almost as popular as the margarita.
Ironically a pizza delivery guy drives past on his scooter, spots at our pile of pizza boxes in the back of our car and regards us quizzically before speeding off.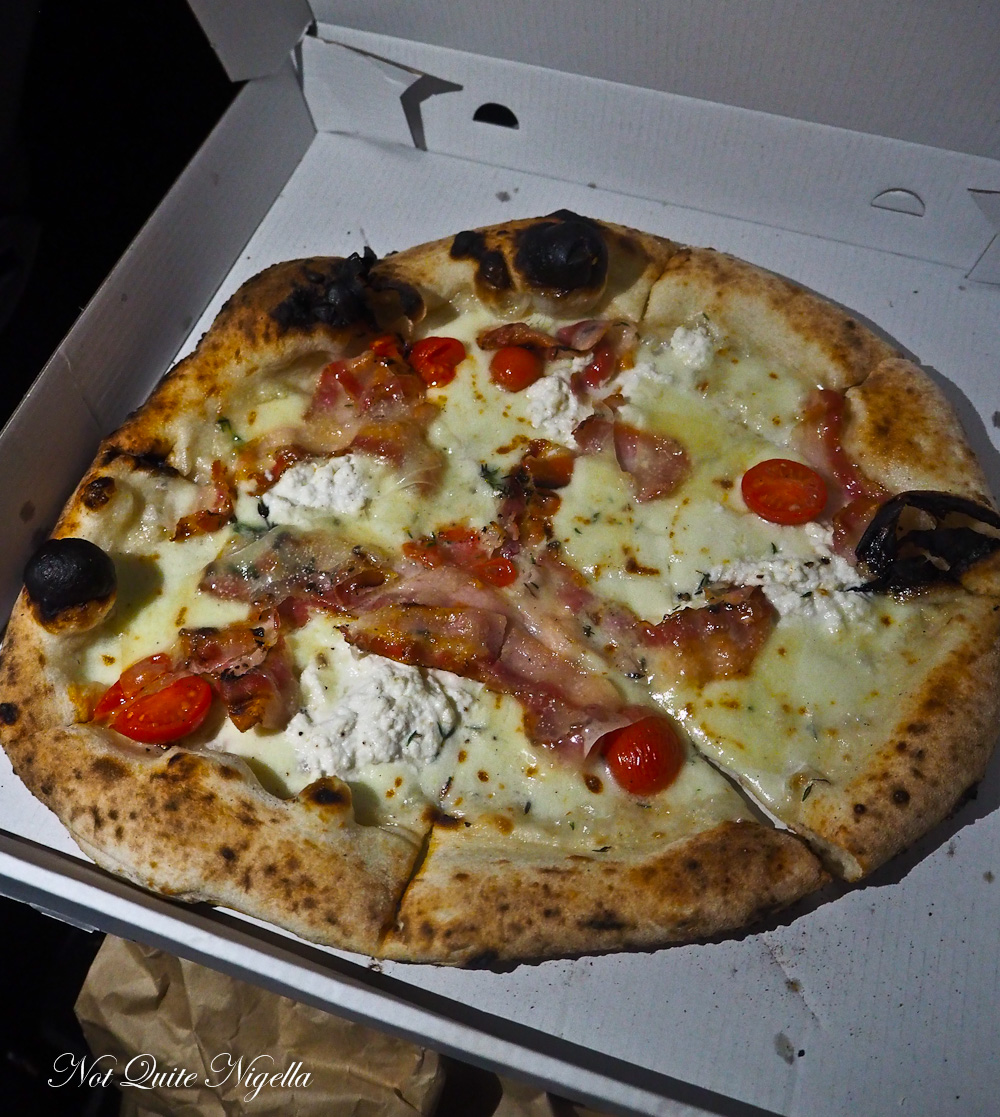 Pancetta pizza $26
Margarita Pizza average score: 8.55
Other Pizza average score: 8.5
Service score: 7
Atmosphere score (Surry Hills streets): 6.6
Stop 10: Napoli Nel Cuore
It's our second last stop of the evening and we are back at Napoli Nel Cuore. As we wait in line I watch as the pizza maker scatters torn pieces of mozzarella cheese and think back to the shredded cheese and those two pizzas that we disliked earlier that night. And there's a wood fired oven. I don't even have the strength or forethought to raise the infrared gun to see the temperature.
Margarita $18
We take the pizzas back to the car and prop open the boxes. By now it feels a little like groundhog day. This margarita is super cheesy, perhaps a tad too cheesy (did I really say that?). Normally I'd be all over the extra cheese but now considering how much cheese I've had by now, I'm looking for elegant sufficiency.
Fabio's Fantasy $27
Fabio's Fantasy is a similar concept to Luigi's fantasy (and there's also a 1 metre pizza option) but this comes in a star shape. Each point has a different topping from olives, anchovies, eggplant, mushroom, potato sausage as well as prosciutto and rocket in the centre. These pizzas divide everyone. The Wizard is a big fan rating them all 8.5 while it's a mixture of scores all round. Some don't like the twisted star shape although I don't mind it and find the crust really good, especially when heated up the next day.
Margarita Pizza average score: 6.95
Other Pizza average score: 7.05
Service score: 7
Atmosphere score (streets of Surry Hills): 7
Stop 11: Spakka Napoli, Cremorne
We were recommended Spakka Napoli by friends and it was a toss up between this and an old skool place in Yagoona that had very little written about it. Doing the figures, we realised that we wouldn't make it to Yagoona in time and with the reminder of those earlier pizzas that we didn't like we decided to go with Spakka Napoli instead driving across the bridge again (under protest from Belinda who is North Shore phobic).
Happy to be seated The Wizard appears to be exhausted. "I feel like I've put in a good day's work," he says. We order our pizzas and a salad at the request of Mr NQN and Belinda eyes off the Nutella pizza and a tiramisu which she has been hoping for all day. There's a round of drinks for everyone too.
Margarita/Bufalina $22.90
We are offered the Bufalina, the upgraded margarita with buffalo mozzarella and I am intrigued by the double layered stuffed garlic pizza, not quite understanding the description. The Bufalina comes out and there's a lot of cheese on top. And it's probably not entirely fair to say that it was too rich because we had eaten a lot of pizzas beforehand. The flavour was good and creamy from the generous serving of mozzarella.
Stuffed Garlic Pizza $18.90
The stuffed garlic pizza is actually filled with mashed potato. I thought that it was potato slices but the mashed potato, provolone cheese and garlic is like a cheesey garlic bread. Admittedly even though I ordered it, this isn't the most popular pizza while the margarita fared much better in scores. Belinda says "Way to finish: carb on carb!"
Margarita Pizza average score: 7.05
Other Pizza average score: 6.4
Service score: 7
Atmosphere score (in restaurant): 7
Overall scores:
Best margarita pizza: Rosso Pomodoro closely followed by Pizza Mario Best other pizza: Via Napoli's Luigi's Fantasy (that changes per pizza) closely followed by the Pancetta at Pizza Mario Best service: Via Napoli. Best atmosphere: Via Napoli and La Disfida two wildly different scenes.
Want to hear from our intrepid pizza eaters (and zombie apocalypse survivor group)?
Belinda: To quote Henry Rollins ,"Pizza makes me think that anything is possible". When our inner sanctum food challenge peeps get together, the thought of eating a ridiculous amount of pizzas never seems daunting or impossible. "Give it a red hot go!" really is our mantra.
Our first stop takes us North over the bridge. Cue my not so subtle eye roll. Do I need my passport? Entering Via Napoli we are greeted with sing song tones and kissing of cheeks. A welcome change to the now common hipster snarl that seems to have engulfed the Sydney food scene.
The fantasy pizza is a work of art, billowy crust adorned with sizzling creatures from the depths of the sea. Via Napoli's margarita was simple and delicious instantly converting me as I never order this pizza.
Gigi's fig and prosciutto variety had me at first bite. Salty and sweet with a perfect crust I will definitely go back to try the other pizzas on offer.
It became very obvious as the day went on that Sydney is spoilt with many great offerings of pizza. Another favourite was the Lucifero at Pizza Birra. Spicy salami and sweet with roasted peppers adding olive oil slicked chillis satisfied my chilli addiction.
Highlights from the day for me were the derelict back street car boot noshings. Pay no attention to that drug deal going on over way yonder. We have pizza!!
....and playing fetch with a cute but slightly perverted border collie who likes to place his head ever so gently between your legs out the front of Pizza Birra.
I can't wait for the next adventure with these lovelies. To end as I started, a quote from dear Julia Child "People who love to eat are always the best people". Word.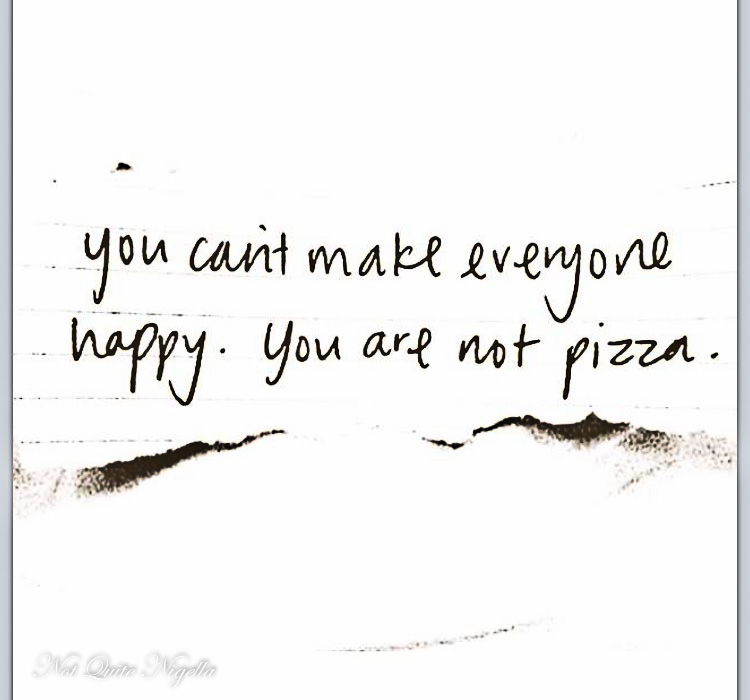 Lorraine: I once had a boyfriend who took me to Baskin Robbins when the chain first arrived in Australia. Given the choice of 41 flavours, he chose a single scoop of vanilla while I chose to have three flavours in one cup of flavours that I had never tried before. I looked at him and realised then and there that there was no future. I think that I used to look at margarita pizzas as the pizza equivalent of vanilla ice cream. But this challenge did change my mind about the humble margarita. With a margarita there's nowhere to hide anything. Simple is actually hard to do well.
It was unfortunate that Nick couldn't come along to bring his trademark "Sylvester Stallone-ness" but it also meant that we could all fit in one car together. Although for Belinda and I sitting in the back seat with The Wizard and Viggo alternating, things were a bit snug. Thank god for hijinks provided by the infrared temperature gun and the soundtrack of 80's music from a digital radio station that ensured that our car became a moving pizza restaurant and karaoke site.
There were so many highs and hijinks which is why I love doing these challenges with my nearest and dearest. I was a little worried about The Wizard as it was his first time but he rose to the challenge of the pizza boxes. Even Mr NQN who claims to be gluten free (he isn't) eagerly swallowed up slice after slice.
The funniest part? Pizza, friends, zombie apocalypse planning and when Belinda asked me to test the temperature of her boobs with the temperature gun.
The next day as I wrote this piece, you bet I ate pizza. Happens. Every. Time.
Mr NQN: I'm a fan of pizza which is lucky since we were going on a pizza challenge. Normally given a choice I'd steer more towards a spicy or juicy or a fresh (herbs, veges that type of thing) sounding one. I enjoyed the ones we ate out of the boot of the car best, simply because it allowed us to keep moving and hit up more places. I was quite amazed that we managed to get to pretty much all the places were planned.
When trying to figure out an appropriate route I thought it was going to be impossible since more than half of the places only opened from around 5:30-10pm. Anyway, I enjoyed the atmosphere and pizza at Via Napoli and was concerned we had peaked at the very beginning. Not to worry, through the rest of the day we had some less impressive ones and then after eating a truckload of pizza when we're all feeling somewhat over the whole idea I was blown away while eating a margherita from Pizza Mario out of the boot of a car in a side street in Surry Hills. The freshness, little cherry tomatoes and basil. YUM. That was my standout.
The Wizard: When Mrs and Mr NQN first mentioned a 10 hour pizza marathon adventure to me, naturally my inner child lost his mind. What a great idea! However soon after accepting the call to arms I began to feel a little bit anxious about accepting the invitation, after all it was the first of this kind of outing I had been on with the group. So I thought not only should I be present, but I should also exceed expectations with the matter of performance. I had to eat a lions share of the pizza or perhaps I would seem to be not very useful.
I started 'training' two weeks out, swimming mostly, hear its great for building up an appetite and despite looking like a drowning animal in the pool at 6am on some frosty autumn mornings, I felt a good deal more confident about my ability to contribute on the day. So I thought...
The day began at Via Napoli (which was my favorite, they had me at 'fantasy pizza', plus the atmosphere was unreal, they made you feel like if you were Johnny Depp, it would be okay for your dogs to eat there too.) and ended at... Well, that's a funny thing, Mr NQN had told me about food highs, something I have never experienced, normally quite the opposite really. But about stop number 12, maybe? We all became quite delirious from the consumption. How to survive a zombie apocalypse became a sticking point of conversation (the answer is make your first stop the hardware store FYI).
Even on a food high, I can tell you we have a stellar pizza community here in Sydney and that Margherita pizzas all taste the same after your sixth helping, some were saltier than others but all round very good. We did finish in Neutral Bay I think. Part relieved and part feeling victorious, the final serve felt like we had just climbed the summit of K2, (there was sweat, there were tears) and I guess we sort of did, in pizza boxes. Mrs & Mr NQN generously offered me a lift home and boxes of pizza for leftovers. I had to graciously decline, I felt like a good walk and to embrace a reptilian approach to digestion, find a warm place and collapse motionless until such a time I could move again.
Funny thing about pizza, after nearly exploding from the amounts of cheesy, carby goodness ingested on yesterday's journey, today on the recovery, strangely I could do with a slice.
Viggo: We started out in a restaurant that might as well have been down a little side-street of Florence - when we entered, a table was being served, it was quite a spectacle: clapping, cheering and excitement as the 1-meter long pizza came out and was placed eye-level with the smiling tourist's faces. If this is what the first place is like, this is going to be special day.
We visit several other restaurants, but none of them stand out as much as the first one - we've set the bar quite high. We get to about the 7th or 8th set of pizzas, and then the phenomenon that usually occurs on one of these outings hits - and it hits in a more heightened state than usual: we're all food drunk! In this state, we all experience a kind of high - it's unlike any other kind of high - you simply feel a little silly, and tend to be more open to making up stories and laughing at them. Physically, it is simply a chemical imbalance that our bodies inadvertently impose for such a prolonged digestion process. This high has been observed for centuries, and is something that everyone should try at one stage or another.
The highlight of the night was definitely the first restaurant - there seemed to be a genuine pride and joy in serving and presenting their pizzas - this wasn't really replicated throughout the night, however one thing I did learn was how to spot a good pizza place:
Check out their oven, and ensure it has the capability to go above 400 degrees centigrade - typically wood-fire is good.
Pizzas cooked really quickly are more delicious - getting the dough thin enough so that it crisps up nicely is an art - small bubbles in the crust of the pizza is a good sign, large bubbles tend to have a more yeasty dough.
A little basil in the tomato base is a must - too much oversaturated the flavour - it is a fine balance.
The "low-light" of the night was ordering pizza from a place where one of the cooks could be overheard explaining that the "family special" is the same as the "supreme", so he'll just "make 3 of those for ya!". Their pizza was quite overcooked, and the ingredients not the best.
Overall, as usual, it was an excellent food adventure - and I'm already looking forward to the next one.
So tell me Dear Reader, which pizza place do you think does the best pizza? What is your favourite kind? Do you think you could fit a whole slice of pizza in your mouth? And what do you think the illuminated fairy lights represented? A Nazi eagle, Batman, an angel or something else?
All pizzas were independently paid for.
Via Napoli
141 Longueville Rd, Lane Cove NSW 2066
Tel: +61 (02) 9428 3297
http://www.vianapolipizzeria.com.au/
Da Mario
36 Morley Ave, Rosebery NSW 2018
Tel: +61 (02) 9669 2242
http://www.damario.com.au/
Pizza Birra
1/500 Crown Street, Surry Hills NSW 2010
Tel: +61 (02) 9332 2510
http://pizzabirra.com.au/menu/
La Disfida
109 Ramsay Street, Haberfield NSW 2045
Tel: +61 (02) 9798 8299
http://ladisfida.com.au/
Napoli In Bocca
73 Dalhousie St, Haberfield NSW 2045
Tel: +61 (02) 9798 4096
http://www.napoliinbocca.com.au/
Rosso Pomodoro
91/24 Buchanan St, Balmain NSW 2041
Tel: +61 02) 9555 5924
http://www.rossopomodoro.com.au/
Gigi
379 King Street, Newtown NSW 2042
Tel: +61 (02) 9557 2224
http://www.gigipizzeria.com.au/
Pizza Mario
417­-421 Bourke St, Surry Hills NSW 2010
Tel: +61 (02) 9332 3633
http://www.pizzamario.com.au/
Napoli Nel Cuore
658 Bourke St, Redfern NSW 2016
Tel: +61 (02) 9318 0251
http://napolinelcuore.com.au/
Spakka Napoli
166­-174 Military Road, Neutral Bay NSW 2089
Tel: +61 (02) 9908 7045
http://www.spakkanapoli.com.au/