There's a saying that you should never work with children or animals. I'd like to add another element to the mix: weather. Because mother nature is fickle and she doesn't care if you have a wedding or an event. And sometimes she pours torrents of rain and thunderstorm. That was the situation for the Lover's Dinner this year...
The inaugural Lovers Dinner was scheduled to be the lead in event of Sydney's Tomato Festival (tomatoes are called pommes d'amour or love apples). With Valentines day on a Tuesday night this year it was supposed to be held on the Friday following Valentines Day. Guests were sent a bunch of red long stemmed roses on Valentines Day on the Tuesday. That left us watching the weather carefully on Friday especially since the forecast was thunderstorms.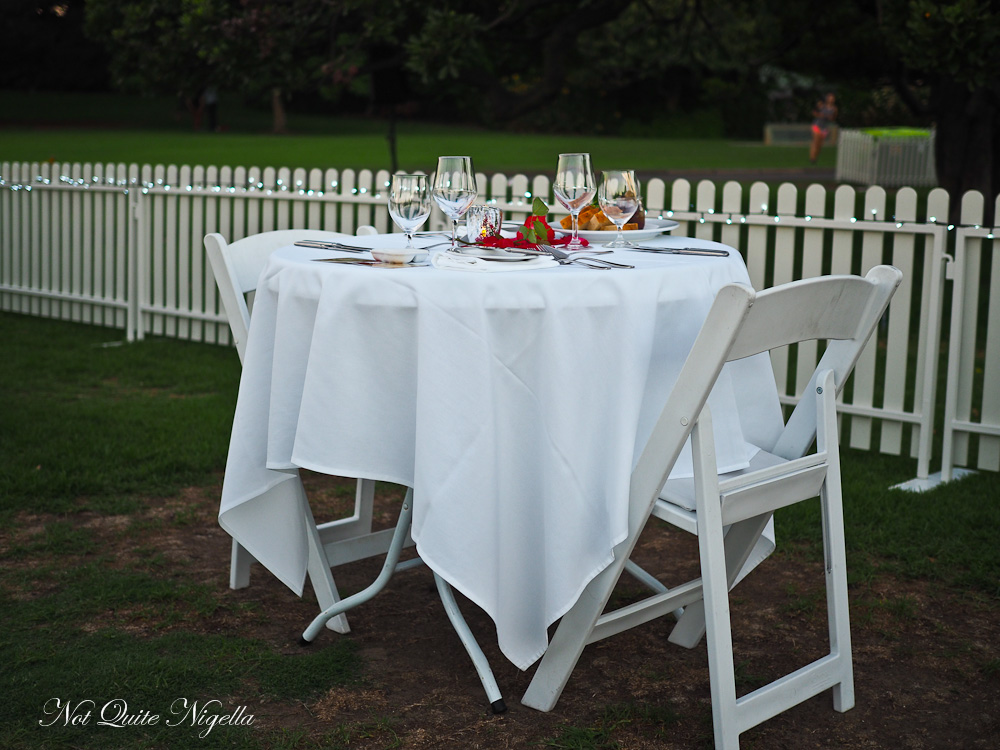 That afternoon there was an email sent out assuring guests that they had a marquee in case of rain. But that night at 5pm the waves sprayed up from the harbour soaking the lawn and the careful set up was called off and rescheduled to a Monday night when the weather was calmer.
They lost some bookings in the process-people that lived interstate or far away couldn't make it and it's a shame because the setting has a backdrop of Sydney harbour. This is the first event that has been held here on the grass along the foreshore. And this Monday night it happens to be pretty perfect. It's not stiflingly hot and there's a slight breeze at first that tapers off to a gentle one.
I arrive at the gates while Mr NQN goes to park the car. There are a couple of signs pointing the way and I only get slightly lost before I am told (yep I had to call) to head towards the Band Lawn which is right near the seawall.
There's is a white picket fenced off area where people are mingling and taking in the view. We start with our choice of drink from the bar. For $250 a person you get a three course meal (the theme is tomato) and access to the open bar and the drinks are unlimited and stocked with good quality spirits and boutique Hunter Valley wines from Vinden. The event starts at 7:30 and goes until 10:30pm. I start with a Vinden Sparkling Alicante Bouschet and take a seat at our assigned table. All the tables are tables for two and are located right near the water. Nearby is the Open Air cinema. A live band strikes up some Michael Buble tunes as well as others.
We start off with some bread with olives and semi dried tomatoes. The bread is a spongy and soft rosemary focaccia and I spread it with the Pepa Saya butter and spear some tomatoes and olives.
Roasted Tomato Soup
We pre-ordered our menu choices a week ahead of time and chose different items so that we could try more. The roasted tomato soup is richly flavoured and served with two grilled pesto and parmesan schiacciata bread croutons.
Wild Rocket, Tomato, Prosciutto and Bocconcini Salad
I really enjoy the salad with the sweetest red and yellow cherry tomatoes, shreds of baby bocconcini, aged prosciutto and a wild rocket salad. The star is definitely the summer kissed tomatoes balanced with the salty prosciutto, creamy cheese and mustard vinegar dressing.
Roasted Tasmanian Salmon with Tomato Risotto
There is a short wait before mains are served. The roasted Tasmanian salmon is very well cooked so that it is still luscious inside. That's no mean feat for an off site event. It sits on a bed of tomato and herb risotto with asparagus.
Beef Tournedos
But I only have eyes for the beef. Usually I have a few bites of a steak and that's good for me but the beef tournedos is so tender. There's not a trace of gristle at all. It comes with a square of potato gratin and choron sauce, a sweetish tomato spiked bearnaise sauce. All I know if that I need to try this combination at home I enjoyed it so much.
Chocolate Lava Cake
I wondered what they were going to do with tomato for the dessert. It's a chocolate lava cake, gooey in the centre with a tomato, beetroot and rhubarb salsa and chantilly cream. The dominant flavour of the salsa is beetroot and I think I enjoyed the cake more with just the cream than the salsa.
Vanilla Panna Cotta
More successful is the tomato theme in the wobbly panna cotta. With a judicious amount of aromatic vanilla and a tomato sugar syrup this is definitely the pick. From each creamy mouthful to the end.
It's time for a drink afterwards as the band is still playing and it is only 9:30pm and we sample a few of the premium drinks. The Gin Gold 999.9 is made in the Alsace-Lorraine area of France at a distillery that has been run since 1863. The Gin Gold 999.9 is housed in gold coloured bottles-not just for design reasons. You see there are two ways that you can distill spirits: via column or in a pot. At the distillery found some buried treasure from the civil war times including vintage gold pots and used those to make the gin. It's infused with 16 different botanicals from the same farm region (mint, coriander, tangerine). The process takes 4 months from beginning to end and the price point reflects this at around $150 a bottle. We sip on this on ice and also with a dash of tonic.
And then there's the Vdka6100. Dubbed the "Robert De Niro" vodka made near Lake Taupo in New Zealand. It is a vodka made using whey sourced from the Bay of Plenty area. The whey is fermented using a strain of yeast brought over to Reporoa from Ireland 80 years ago. Unlike a lot of vodkas which is odorless and flavourless this has a definite perfume to it of lemon, vanilla and black pepper. They serve it here in a martini which almost allows you to forget that it's a Monday night out there...
So tell me Dear Reader, what did you end up doing for Valentines Day this year? And have you ever had to cancel something because of the weather? Or do you soldier through it?
NQN and Mr NQN were guests of the Lovers Dinner but all opinions remain her own.
Lovers Dinner
www.loversdinner.com