Balmain's La Grand Bouffe has been feeding Sydneysiders for many years now. Certainly our friends Buxom Wench and Silver Fox are regulars and come one lazy Sunday lunch we met up here. On the menu were French classics like twice baked gruyere and leek souffle, duck confit, creme brulee and bombe Alaska.
My conversations arranging lunch with my dear friend Buxom Wench always go the same way. She asks me where we'd like to go to eat, I suggest somewhere and then she says that it's too far away and we go somewhere in the Inner West. She's adorable and I kind of like this routine that we have. One day I'll suggest somewhere really far away just to see her reaction!
We're running late to meet Buxom Wench and Silver Fox. Usually I'm early but this Sunday sees us drowning under a mass of home renovations, recipe testing and a couple of sleepy headed rises. It's like we're swimming under water and traffic is a snarly mess across Sydney. But everyone at La Grand Bouffe looks to be relaxed and enjoying a nice Sunday lunch when we arrive. Time to put away the anxiety and enjoy Sunday!
Buxom Wench hands me over an enormous squash from her garden and some fresh herbs. I hand her over a birthday present and the waiter has to come back a few times to take our order as it has been months since we last caught up. We opt for a couple of entrees and a whole lot of mains. Mr NQN tells them about his latest project where he has started making videos of him eating soup (yes that's exactly it) and so they insist on ordering a soup so that he can make a video. Service is friendly but a little absent minded and a few things need reminders (coffee, bread).
The twice baked souffle is cheesy delicious. As we find out, a lot of dishes have pistou or pesto added for additional flavour and this really works with this soft, light gruyere and leek souffle. We remind them of the bread so that we can mop up the remainders of liquid cheese on the plate.
I think I was expecting something a bit bolder looking with the beetroot curing. It's really mild on the palate especially after the strong cheesy souffle and the panna cotta in the centre offers more texture than flavour.
The baguette is great. It's also $5 but it really is gorgeously crusty and baked in house.
Ordered more for the video, this soup ends up being a favourite for me and Buxom Wench. It's a gorgeously velvety and creamy mushroom soup scattered with black olives and pistou on top. It's one of those soups that warms you up resoundingly from the inside out. It comes with crispy crackers and sourdough baguette slices.
Buxom Wench has remembered this from her last visit but her face falls a little when it arrives. It looks quite different-certainly the elements are still there like the Jerusalem artichoke and the mushrooms but it doesn't have the puree that she recalls which it really needs as it is a little dry without it although the flavours are good together.
The roast chicken salad is meal in itself with plenty of textures and flavours from shredded roast chicken, lardons, cos lettuce, shaved parmesan, avocado and finished with an anchovy vinaigrette.
I had seen the man next to us order a duck confit and it spurred me into wanting one. The duck confit is soft and sits in a bowl of white bean and chorizo cassoulet with a drizzle of pistou oil. It's hearty and full flavoured, the beans surprisingly sweet.
Along with the soup, we never expected to like a vegetarian sandwich so much (sorry that sounds totally anti vegetarian but hopefully you know what I mean). But this sandwich is so packed full of flavour that I end up going mostly for this and the soup. For a moment there I wondered if my taste buds were turning vegetarian! :o
Completely unable to decide what to have for dessert we go for three items rather than narrowing it down to two. Luckily Mr NQN did a big bike ride that morning so he was very effective as a food hoover. I have to admit that two things I rarely order are panna cotta and creme brulee because they are so easy to make at home but I find myself quite smitten with this silky custard and thin layer of toffee that cracks with a satisfying whack. It comes with a halved poached peach with a centre of raspberry jus.
The bombe alaska is served in a glass bowl and has crumbs, sour cherries, coconut and crunchy biscuit crumbs. It's not bad, I do like the coconut and the meringue is fluffy and light.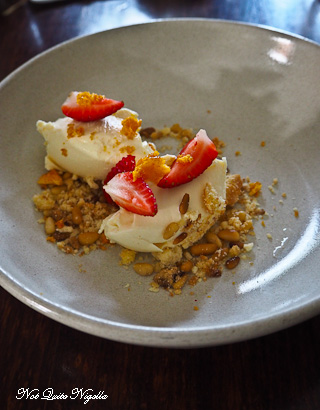 The cheesecake is two scoops of cream cheese filling, two flecks of honeycomb, sliced strawberries and a pine nut crumble and I don't really know where the lemon curd is. None of us really go for this, even me who loves cheesecake.
There are three scoops of sorbet: lemon, peach and strawberry, all true tasting and smooth but the favourite is the classic lemon. And as expected Mr NQN finishes them all without a struggle.
So tell me Dear Reader, do you like to eat out within the area that you live or do you travel afar for meals? Is there anything that you tend not to order because you can make it at home easily?
This meal was independently paid for.
La Grand Bouffe
789 Darling Street, Rozelle, NSW
Tel: +61 (02) 9818 4333
http://www.lagrandebouffe.com.au/
Open 7 days, Breakfast from 7.30am
Lunch from 12pm, Dinner Tuesday - Saturday nights from 6.30pm