It was our third time lucky. Literally the third time that we had all tried to book for 6 Mois on Victoria Road in Drummoyne. Take 1 was over a month ago. Enticed by recommendations from friends, Belinda and I arrived one evening at the time booked and were told that they were having kitchen issues and that they had tried to call. Fine, things can go wrong. But no, I hadn't received a call. We went to Xanthi instead.
Take 2: Our second try was the following week. Then two days before dinner, Belinda received a call saying that the restaurant wasn't actually open that night so whoever had taken the reservation had no business taking the reservation. By now our confusion was piqued. What did one have to do to get a table?
Take 3: It turns out that you had best book for a busy night like a Friday night as Mondays are when they possibly have functions and reservations are bumped for these. Nick books for us and the night before he pre orders the duck at $70 for two people as some dishes have to be ordered ahead of time.
"Have they cancelled yet? ;) " I email him on the morning jokingly but actually quite serious. Thankfully they haven't and that rainy Friday night, just as the weather turns a bit chilly for Autumn, we arrive for our French feast. Mr NQN and I are offered still or sparkling water. We answer sparkling but oops it seems that they've run out. Okay!
6 Mois means 6 months which seems an odd choice for a restaurant name - as a business you certainly wouldn't want it to be prophetic. 6 Mois is said to refer to the amount of time that French citizens can work with one employer in Australia on a 12 month visa. Service is friendly but unusual. They leave a bottle of wine on the table and "introduce" it to us. Introducing it is really a strong sell and at $125 a bottle it feels pushy, especially as it is introduced to us not once but twice.
Because there are five of us, we end up trying quite a few items on the menu. They're very much into the big sell showing us the charcuterie and the cheeses. To start, they bring some deep fried barley to the table with two spoons. It's crunchy and pleasant enough. They offer us some house baked walnut and a French baguette. Serving it warm would have been a nice touch as it's quite dense and dry.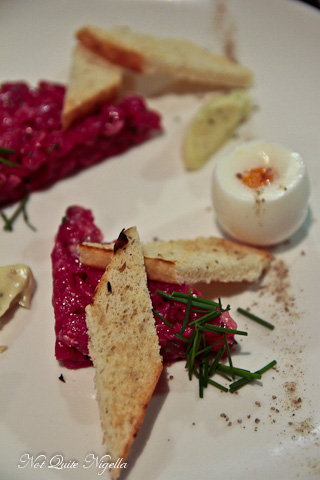 Everyone's favourite entree is the hand cut Angus beef tartare with truffle oil. It comes with mayonnaise, chives and a soft boiled egg and is well seasoned and creamy textured.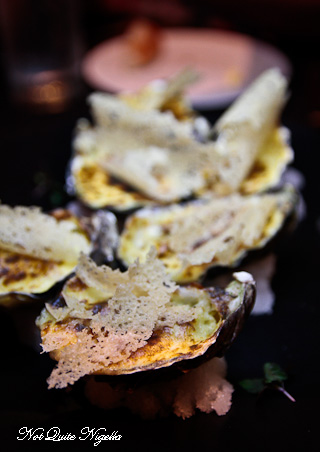 None of us bar Cheryl really go for cooked oysters but these were recommended to us by staff. They're served with a creamy sabayon champagne and shallot sauce and grilled until blistered and for an extra $2 you can get a lacy, crunchy leaf of parmesan on top.
Admittedly, I make fast work of the mussels and pippies. The sauce is flavoured with garlic, onions and the mussel and pippie cooking brine and we take the mussel shells to scoop up the delicious broth and succulent seafood.
The charcuterie plate was their big sell but to be honest, I preferred the other entrees. There is just not a lot of balance with this plate-it comes with a small amount of prosciutto, chorizo and a lot of terrine but just not enough bread. When some is left behind the waitress says "How can you leave it behind? It's French!" which just seems like an odd way to look at things unless you are a complete Francophile. Besides which, I'm pretty sure finishing everything because it is French is not how French women stay slim.
The fish tartare is bonito fish served with what is said to be frozen coco and herbs. There's something slightly missing in this dish and while the fish is fresh it doesn't quite hit all the marks. We notice that there is a balsamic reduction in the light which helps a little but at first it is hard to see on the black plate.
This is my favourite main as the beef is so flavoursome and cooked to perfection. It comes with battered deep fried sage leaves, roasted golden and purple beetroot, roast potatoes and an incredibly good black peppercorn sauce. They also give us the cafe de Paris butter but the peppercorn sauce is the absolute winner. Interestingly, although the waitress tells us that she will give us the peppercorn sauce for us to try both, we do end up being charged for the sauce on the bill. That's fine, but the way it was said was that it was a favour because we were all trying it.
The duck is a large dish and I'm not sure why you need to order it for two as it comes out on two plates. The duck is succulent and sweet and it is paired with a carrot puree and jus.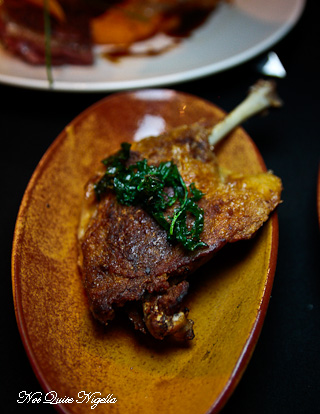 The confit duck leg served on a separate plate is the prize though, all soft, crispy skinned goodness. We take the meat off the bone and it falls off easily. And as for the price, I'll explain that at the end.
I made the mistake of eating the steak and duck first as they were the closest to me (the perils of sharing dishes!) so the fish which is more delicate pales in comparison. Cheryl tried this first and she enjoyed it.
The rich pork belly is good and paired naturally with the sweet elements but I was constantly taken back to the beef and duck.
Hand cut darkly fried and soft textured, the potatoes were just made for dipping in the peppercorn sauce.
Steamed rather than roasted the cauliflower comes with a sweet jus, not unlike the sauce for the pork belly. I would have loved this roasted as it was described as that brings out the natural sweetness of cauliflower.
The crepe of the day is a banana and white chocolate crepe. The crepe is quite thick and sliced on both ends and filled simply with slightly sweetened whipped cream and sliced bananas with a rockmelon sorbet. The crepe filling really needs something more to give it flavour like a salted caramel sauce or something similar.
The cheese plate is reasonably priced and there are three cheeses on offer tonight. The mildest is the Brillat Savarin Délice des Crémiers with 2% truffles which is delicate and aromatic. The Petit Langres AOP Chalancey is a medium strength cheese that is aromatic but still accessible while the smear ripened Époisses Chalancey Alline washed in Marc de Bourgogne is a pungent, strong bold cheese said to be popular with Napoleon. They're all served at a soft, almost liquid texture and are accompanied with bread, walnuts and a date as well as a line of ground white pepper.
Whilst I like the orange and vanilla creme brulee custard, there is barely any of the toffee crunch which we can see as soon as they set this down.
When the bill arrives there are a few charges that have us doing a double take. We are charged for a dessert that didn't arrive and our duck, quoted on the website as $70 set price and on the phone to Nick just the night before at $70 is now $90. Our waitress acknowledges that it was $70 but explains that today they got better quality muscovy ducks so it's now $90. After some words she agrees to put it down to $80 but it leaves a negative impression. So while the food is good, the front of house leaves us confused and disappointed.
So tell me Dear Reader, would you have queried the increased duck cost? And how many times would you attempt to go to a restaurant before giving up? And do you respond to a hard sell?
This meal was independently paid for.
6 Mois
105 Victoria Rd, Drummoyne, NSW
Tel: +61 (02) 9819 7713
http://www.6moisrestaurant.com.au/