One of Marrickville's newest restaurants Hello Auntie is one where a mother and son team cook together dishing up son Cuong Nguyen's take on his mother Linda Tran's dishes. There are mouth watering versions of classics such as banh xeo (a must order), banh khot or crispy rice cakes except here they are topped with roe. Alongside these, there are also modern interpretations of Vietnamese dishes. Make sure to leave room for the drinks and dessert!
Generally speaking in Asian cultures, the concept of aunts and uncles extends to friends of family and anyone older than you, or more senior to you, perhaps of your parents' generation. It's a term of both affection and respect and it wasn't until I was old enough to know (probably at an embarrassingly late age) that I realised that the people that I called aunty and uncle weren't actually related to me and that I didn't have an enormous extended family.
The restaurant Hello Auntie's name plays on the concept of aunties. When the owner used to come in to a restaurant kitchen the group of mostly female chefs would be greeted with "Hello Auntie". It's a busy open kitchen that serves Vietnamese food borne of recipes from head chef Cuong Nguyen (ex Pendolino) and his mum Linda.
She's a sweet and friendly woman who has owned other restaurants and a catering business but this is her first time cooking with her son. He adapts her recipes and the two are busy working in the kitchen this Saturday afternoon. I ask her which item is her favourite and she answers the banh khot or crispy rice cakes.
Service from the staff is very friendly and helpful and our waitress readily recommends some dishes for us. Miss America and Mr NQN are happy for that to happen but they pick their own drinks. Hello Auntie are waiting on their liquor license but in the meantime there are some nice choices on the drinks menu including three fruit slushies with names like "Love you long time" and "Do you have boyfriend?" (the latter causes us to turn our heads when the waitress calls this out to another customer).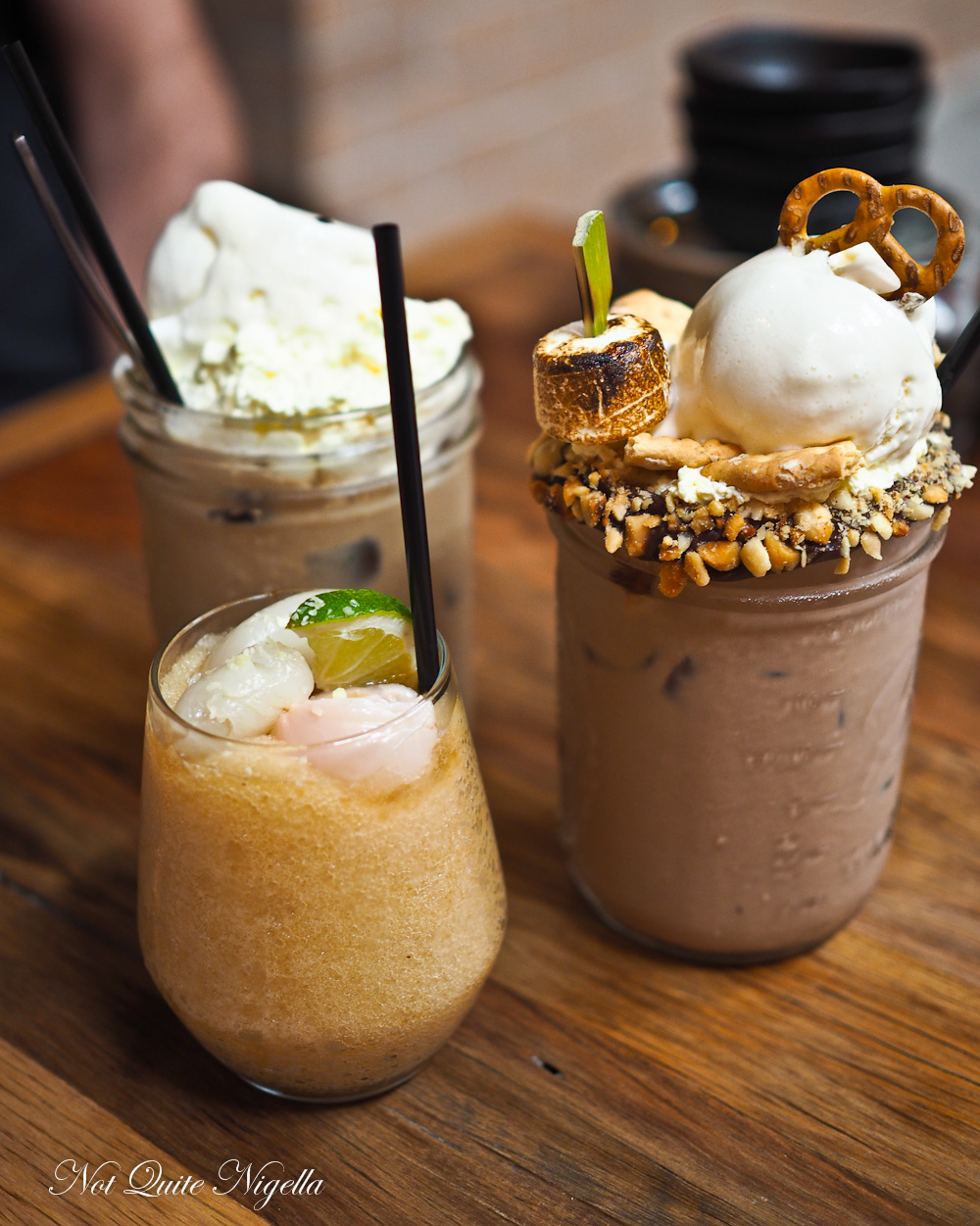 Clockwise from bottom left: Whatchamacallit $6.50, Vietnamese iced coffee $8 and Hershey iced chocolate S'more $10.50
For fruit loving Mr NQN it's a "Whatchamacallit", a sweet and refreshing mixture of longan and apple juice, rambutan, longan and lychee. It takes you straight back to holiday mode. Miss America goes for the Vietnamese iced coffee with sweetened condensed milk. whipped cream, ice cream and coffee beans on top. It doesn't really need the ice cream or whipped cream but this really adds to its visual allure. I go for the Hershey ice chocolate S'more with a toasted marshmallow, digestive biscuit, iced chocolate, ice cream, whipped cream and an edge of chocolate nuts on the glass. And as you'd expect it's almost a meal in itself.
Banh Xeo $10 plus pork $3 and prawns $4
The food arrives quickly and we start with the banh xeo. You can add the protein that you want to this and we add pork and prawns. The crispy rice pancake is super crispy without being greasy. They bring your scissors and tongs and you cut up the pancake in a few pieces. You then place your pancake piece inside one of the leaves of soft lettuce, add mint and dip it in the nước chấm sauce and commence eating. Mum Linda used to have a business catering and making these pancakes and you can see why as it's fresh, crunchy and we are all smitten with the crunch. "Let's order another," I suggest and Miss America nods eagerly while Mr NQN doesn't look against the idea at all.
Bo La Lot $15.50
The bo la lot is made using wagyu wrapped in betel leaves. The beef is tender although there is an unusual flavour and we can't put our finger on in this.
Banh Khot $17
As soon as we walked in I saw this dish go to another table and I had to ask what it was straight away. They're an updated upmarket version of banh khot or crispy little rice cakes made of coconut milk and turmeric filled with prawns and topped with coconut cream and roe on top. Again you fish one of these piping hot babies out of the cast iron pan (careful of burnt fingers, it's is really hot) and then load them into a small lettuce leaf with fresh mint and crunch away. I mean with so much salad this has got to be healthy right? ;)
Pho Dac Biet $15
"Do you like spice?" our waitress asks. Sure we do and she shows us how to mix some hoi sin, some chilli sauce and some chilli oil together to dip our beef in. For the next course is Pho Dac Biet or pho with the lot. By the lot they mean house made wagyu meatballs, thinly sliced black angus beef, braised brisket and torched pasture fed short rib served with fresh rice noodles in a thoroughly delicious beef broth where you can really taste the goodness.
Bong Chuoi Vit Quat $23.50
The duck salad is a very pretty dish and a slight departure from the street food above. It's a salad made with agar noodles, onions, basil, sesame crackers, Vietnamese coriander and banana blossom and peanuts. There are pieces of crispy skinned duck on top and the whole salad is crunchy and well balanced - I particularly like the filleted crispy duck pieces.
Ga don $9.50
Because we are strange and we like to over order so that we can get leftovers for dinner we ordered a couple of dishes to photograph and just sample and then take away (I told you we were strange). But I just wanted to try the crispy chicken (I was tossing up with the crispy chicken pho or the pho with the lot). It's golden skinned and you can hear the crunch as you take a bite, the crunch not emanating from a thick batter but just the crispiest skin. The meat underneath is tender and juicy.
Mi Kho $6
Our trusty waitress recommended that we try this with ribbon egg noodles that come with a garlic soy dressing instead of rice. It's a nice side to the chicken.
Thit Heo Kho $21.50
The thit heo kho is a slice of twice cooked pork belly with the bottom layers soft while the top is super crispy. It is cooked in a coconut water bath and comes with a 6 minute marinated egg that has a soft egg yolk. You break it open and then mix the yolk with the sauce to create a creamy emulsion. It would be good if this came with a side of rice or something as the sauce and pork belly need just a bit to soak up the creamy sauce.
Vanilla bean yogurt pudding $11.50
There are three desserts on the sweets menu and we are tempted by the fried ice cream although it is a jaffa flavoured one and I am not hugely fond of chocolate and orange together. As our waitress hasn't steered us wrong so far, we go with her choice: a vanilla bean yogurt pudding with just the right amount of sweetness. It is topped with a row of ginger and cinnamon spiced pineapple, puffed wild rice and popping candy that gives just an added amount of crunch rather than surprise or alarm.
So tell me Dear Reader, do you ever order more so that you can get leftovers? Do you have a favourite Vietnamese dish? Do you ever think you could cook in a restaurant with your mum? And do you like the chocolate orange combination?
This meal was independently paid for.
Hello Auntie
278 Illawarra Rd, Marrickville NSW 2204
Phone:(02) 8068 8200
http://www.hello-auntie.com.au/
Open: Tues – Fri 11am – 3pm
Tues – Thurs 6pm – 10pm
Fri 6pm – late
Sat 11am – 4pm, dinner 6pm-11pm
Sun 11am – 4pm, dinner 6pm-9:30pm