Eat Fuh sits on the "Little Vietnam" end of Illawarra Road. It's a popular pho and Vietnamese eatery serving up big bowls of noodle soup and tasty snacky entrees at a steal of a price.
There are two restaurants we want to eat at here within a few doors of each other. It's a toss of a coin and we decide to go to Eat Fuh for dinner.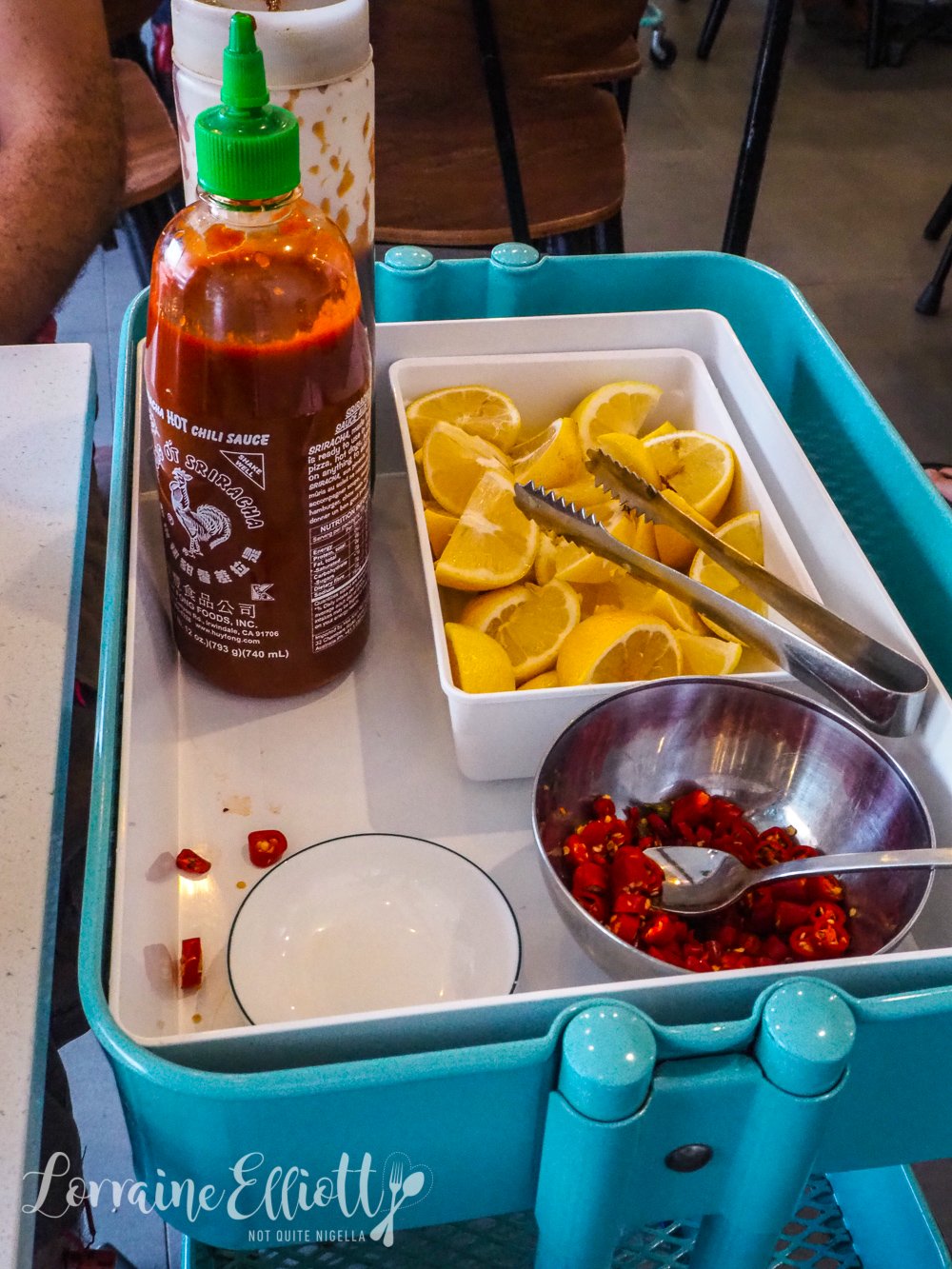 Even though it is early and before 6pm Eat Fuh is busy and shortly after we sit down and order, a queue forms for takeaway and eat in. Service is varied-a couple of staff are a bit shy and difficult to communicate with while another is efficient and friendly.
The menu is a single, slightly crumpled sheet of paper with a list of soups and a brief explanation and there's even a vegan pho on offer made with house made vegetable broth. They wheel around a caddy with pho condiments, chilli and lemon wedges to each table. The food comes out very quickly.
Lemongrass beef rice paper rolls $9
I'm going to admit something that may unimpress you. I don't often order rice paper rolls because sometimes I find them bland and just full of noodles and that makes me sad because the noodles don't taste like much at all. But these ones are fat and filled with plenty of lemongrass beef as well as salad, herbs and noodles. In fact I wish I had ordered more to take home with me to have the next day for lunch they were so good.
Shrimp and pork dumplings wrapped in banana leaves $10
Likewise these dumplings are also excellent. I had no idea what to expect but they're a semi translucent rice flour dumpling filled with seasoned shrimp and minced pork and they're shaped like a rectangle and wrapped up in a banana leaf. They're a bit hard to pick up (or maybe that was just me that royally screwed it up) but I love the appealingly sticky texture.
Fuh Noodle Soup with rare beef, flank $16 and meatballs $1
The problem with sharing pho is that how one person likes to season it is different to another. Take Mr NQN who likes his food very sweet. He adds a lot of hoi sin to his soup. I prefer adding chilli while neither of us really adds lemon. I did try the pho before he seasoned it and it's a slightly sweet, aromatic beef broth made with roasted star anise, cardamom, cloves, cinnamon, ginger and onions and takes 8 hours to make. There are thick rice noodles and beef although by the time I got to swapping this around, all the beef was gone. The Elliotts can be bad sharers.
White Meat and Prawn Noodle Soup $17
My choice is the clear broth made with pork and chicken bones. It comes with large, tender prawns, minced pork, chicken, clear rice noodles and a lot of celery, sprouts and coriander. I actually don't like celery very much at all but once I season the broth with a few spoonfuls of chilli and a splodge of hoi sin I come to terms with celery. In fact I damn near talk to it and say, "It's ok, I've made my peace with you."
There is dessert, but given how big the serves are we have to give it a miss (creme brulee and pandan pudding the latter that did interest me). And we've come, seen and eaten in less than an hour!
So tell me Dear Reader, do you like pho and what do you add to it? Do you like rice paper rolls? Do you find chopsticks a challenge?
This meal was independently paid for.
Eat Fuh
274 Illawarra Rd, Marrickville NSW 2204
Open 7 days 11am–10pm
Phone: (02) 8385 3459
eatfuh.com