I promise not all Halloween food is junky or junk adjacent. This Halloween Scream tart is based on a classic Italian jam crostata. The "pasta frolla" or sweet shortcrust pastry is a soft dough and perfect to work with for this tart. If you haven't made pastry before, do start on this one. It's soft and pliable and you don't have to roll it out to fill the tart tin, you just press it in and smooth with a small rolling pin. The scream cut out is so easy too!
Did you make this recipe?
Share your creations by tagging @notquitenigella on Instagram with the hashtag #notquitenigella
"Screaming" Bloody Crostata
An Original Recipe by Lorraine Elliott
Preparation time: 15 minutes plus minimum 1 hour resting time
Cooking time: 30 minutes
Serves: 20 people
Degree of difficulty: medium
2 cups/300g/10.6ozs plain all purpose flour
1/4 cup/55g/2ozs sugar
1 teaspoon vanilla bean extract
1/2 teaspoon salt
125g/4ozs. butter, cut into cubes and frozen
1/4 cup/60ml/2flozs ice water plus more if needed
400g/14.1ozs. raspberry or mixed berry jam
1 tablespoon lemon juice
1 egg yolk
21x31cm (12x8inch) tart tin
Step 1 - Place the flour, sugar, vanilla and salt into a food processor and pulse for a few seconds to combine. Add the butter and pulse until you get sandy crumbs. In the funnel add the ice water until the crumbs become a bit larger (I needed 1 tablespoon more water to get there in addition to the 1/4 cup). However you don't want the dough to clump. Place the crumbs on a clean surface and bring it together until it forms a dough. Pinch off a smallish amount, about a quarter and wrap in cling film and refrigerate for at least an hour.
Step 2 - With the remainder of the dough, press it into the tin using a small non stick rolling pin to get an even surface. Cover with cling film and refrigerate for at least one hour.
Step 3 - Preheat the oven to 200C/400F. Remove the small quarter of dough and flour a clean surface. Roll out to an oval shape and cut out the Scream mask face. I just searched for a black and white drawing of it and approximated it with a paring knife. Place the pastry mask on a plate in the fridge until needed. Roll out the rest of the pastry to make a border.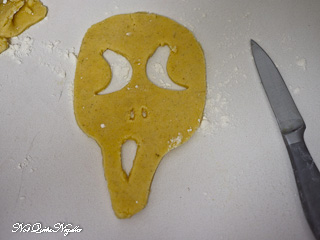 Step 4 - Remove the tart base from the fridge and mix the jam and lemon juice. Spread the base with the jam reaching out to all corners. Brush some egg yolk on the sides and add the borders. Then add the scream mask in the centre and brush this with egg yolk. Bake for 30 minutes until the pastry is golden.