Happy Friday the 13th! Be careful my pretties because you never know who might be watching you! Because on Friday the 13th or Halloween, even pies have eyes! A vanilla scented rhubarb tart is given a creepy twist with the easiest Halloween friendly decoration!
I was a bit nervous and harried when I made these. You see sometimes I think of ideas and they just don't work out or they're just not feasible but I believe that they are. Like these rhubarb eye pies, which are on the menu at this year's Halloween party menu.
I planned these a week ahead of time. I wanted to make these in disposable foil pie tins so that I could make a large number and they would keep their shape. I went to a shop where I had to purchase 1,000 of these tiny pie tins (hey if anyone needs some, you know where to come!). Then I made these pies crossing my fingers that they would work. Thankfully I think that they worked out better than I thought they would. I ticked off one more Halloween party item and did a happy dance.
I was much less stressed when I met Nina that afternoon for a training session. She came over to our communal garden and announced that she was now fasting. I thought that this was her version of solving the problem of cooking. She explained that her fast involves drastically cutting calories and eating a meal of protein with long periods not eating to help build muscle and lose fat (misery is just a bonus). It sounded like hell on earth and I could tell that she was not coping.
"I'm so hungry I'm going to eat someone's face off!" she said with madness in her eyes, while kneeling dangerously close to my face.
"How long have you been on this diet?" I asked.
"A day," she said solemnly.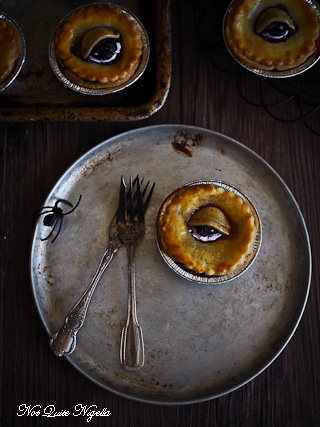 She got so desperately hungry that a new neighbour upstairs had started to cook some food just near where we were working out. "Yoohoo!!! Hello!??" said Nina waving her arms and doing jumping jacks on the grass below to get his attention.
"Hey what are you cooking? It smells really good!" she said, I think hoping for an invitation to eat.
"Errrm Chinese food. Tomato and eggs," he answered. He did not invite her up to try some and she was sad. I offered her a rhubarb tart but alas that wasn't high protein enough. Moral of the story: eat pies even ones with eyes or you could possibly want to eat someone's face off.
So tell me Dear Reader, do you sometimes see things in your head and not know whether you can make them real? Have you ever tried a diet like this? How long is the longest time you've stick to a diet or fasted?
Did you make this recipe?
Share your creations by tagging @notquitenigella on Instagram with the hashtag #notquitenigella
Creepy Rhubarb "Eye" Pies
An Original Recipe by Lorraine Elliott
Preparation time: 20 minutes
Cooking time: 45 minutes
Makes 16 pies
5-6 sheets shortcrust pastry, thawed but then kept in the fridge so it doesn't go floppy
1 bunch rhubarb, trimmed and cut into pieces
1 cup water
1/2 cup sugar (or to taste)
1 teaspoon vanilla extract
1 egg yolk mixed with 1 tablespoon water
a dozen pitted, frozen cherries (do not thaw)
White on white edible paint and a fine paintbrush
Step 1 - Preheat oven to 210C/410F and have your pie tins ready (I prefer these to cupcake trays as they are shallower which makes pressing pre-made dough easier). First make the base and pre-bake it so that it cooks completely. Cut out rounds of shortcrust pastry for the bases as large as your pie tins (you won't use all the sheets, around 3-4). Dock holes at the bottom and bake for 15 minutes.
Step 2 - In the meantime place the rhubarb and water into a saucepan and heat. Allow to soften, it won't take very long and then add the sugar and vanilla. Taste for sweetness adding more if you want. Strain and cool the rhubarb (the rhubarb syrup is delicious with soda water).
Step 3 - Fill the pastry bases with the rhubarb. Then cut out fluted rounds in the shortcrust pastry for the top. Secure to the base brushing with the egg wash mixture.
Making the "eyelids"
Step 4 - Halve the cherries and check their size. Cut out small rounds that are big enough to wrap around the cherry and cut these in half to form half moons or "eyelids" and gently with a knife, cut a little line for a double eyelid.
Step 5 - Brush the tops of the pies with egg wash and then place half cherry and then gently press the "eyelid" into place. Brush egg wash on the eyelid and bake for 15 minutes. When cool, draw a white line under the cherry eye and a tiny dot.