Phi Phi Island is known for being popular with tourists but the unique Zeavola resort prides itself on being like a Thai village from 30 years ago. That doesn't mean that there aren't luxurious touches, it's most definitely a couples luxury resort but there are gorgeous traditional touches that mean that it is unique and not overdone.
My friend Queen Viv recently said that Thailand is good for the ego. By that she meant that it is good for the soul (rather than any sort of arrogant notion). It restores equilibrium and centres ones chakra. And before you think I've gone all Eat Pray Love, I needed to check what chakra actually meant.
It's the last leg of our trip in Thailand and it is ending off with a beauty. Phi Phi Don is the larger of the two Phi Phi islands, the smaller being Phi Phi Leh. The latter was used as the location for the film The Beach and we visited a couple of years after filming was complete. The number of bottles and rubbish we saw floating in the beautiful jade blue water was disturbing. Both islands were devastated in the 2004 tsunami and since then rebuilding has occurred on the island.
The drive to the marina from Sala Phuket is about an hour but we seem to be in luck this trip with clear skies and cool breezes. We take the winding drive up to Rang Hill past an enormous golden buddha. A tiny scrappy dog barks animatedly alongside its owner's motorbike.
We stop for a view of Phuket below and another golden buddha in the distance. To the right are lush, fertile treetops with large estates perched among them.
We reach Tunk Ka restaurant located on top of the mountain where we stop for lunch. From atop the mountains the views are wonderful and the breeze cools our brows. Angelica orders a range of items and we pipe in if we see anything that we want. I feel like some som tam or green papaya salad and order an iced coffee with red beans. The sweetened red beans are blended with the iced coffee to make it sweet but refreshing.
Prawn in hot and sour curry with Phuket pineapple
If there's one thing I know about Thai food it's that you should never ask a Thai person to make something spicy because dishes already come very spicy. This is a bit too hot for a few people. The tomato based soup has plenty of large prawns and pieces of Phuket pineapple and it's just two of us that really enjoy the ferocious heat of this dish while slurping down icy drinks.
Green mango salad
I wasn't as smitten with the green mango salad as the mango slices are dusted in sugar. Thai food is very sweet but I find this just too sweet and odd for me.
Stir fried prawn with turmeric and lemongrass in coconut cream
Put coconut cream in a curry and I'll order it as I am coconut mad. The stir fried prawns with turmeric and lemongrass are generously spiced and creamy. It's a dish that is just made for rice.
Deep fried fish topped with lemongrass sauce
By now I am getting very full and I don't usually go for deep fried fish. The topping of lemongrass is heavy but never overwhelming and this is a sweet, sticky fish dish.
We just have a little time for a snack stop at the convenience store before we head towards the marina for Phi Phi island. Usually it takes about 2 hours by ferry but Zeavola resort has its own speedboat that it uses to bring guests over that takes just over one hour.
The arrival is spectacular and a little surreal with the colour of the Andaman Sea. We step into the water and walk on shore. Guests take up the lounges along Laem Tong beach and we are invited to take a seat while they whisk our bags away. We are offered a welcome juice and they explain the resort layout to us. Zeavola is named after the Scaevola tree, a tropical coastal round leafed tree with fan shaped flowers that is seen all over the resort. The meaning of this tree is "love the sea".
It is an eco resort and part of the Small Luxury Hotels collection but it is also the island's most exclusive address far away from where most people arrive. Phi Phi Island has several resorts catering to different clientele but Zeveola is primarily a couples resort. "We are a strange sort of 5 star hotel," says the Austrian general manager Florian Hallermann who himself succumbed to the barefoot appeal of the island within 5 days of moving here replacing his shoes, socks and long trousers with bare feet and shorts.
It's true, it's truly unique and far away from the sculpted glamour of many other five star hotels. Here, you're best suited up in thongs or barefoot and you wash your feet with a coconut ladle full of water before stepping foot into a room or the dining area. "It's like a Thai village 30 years ago," Florian explains.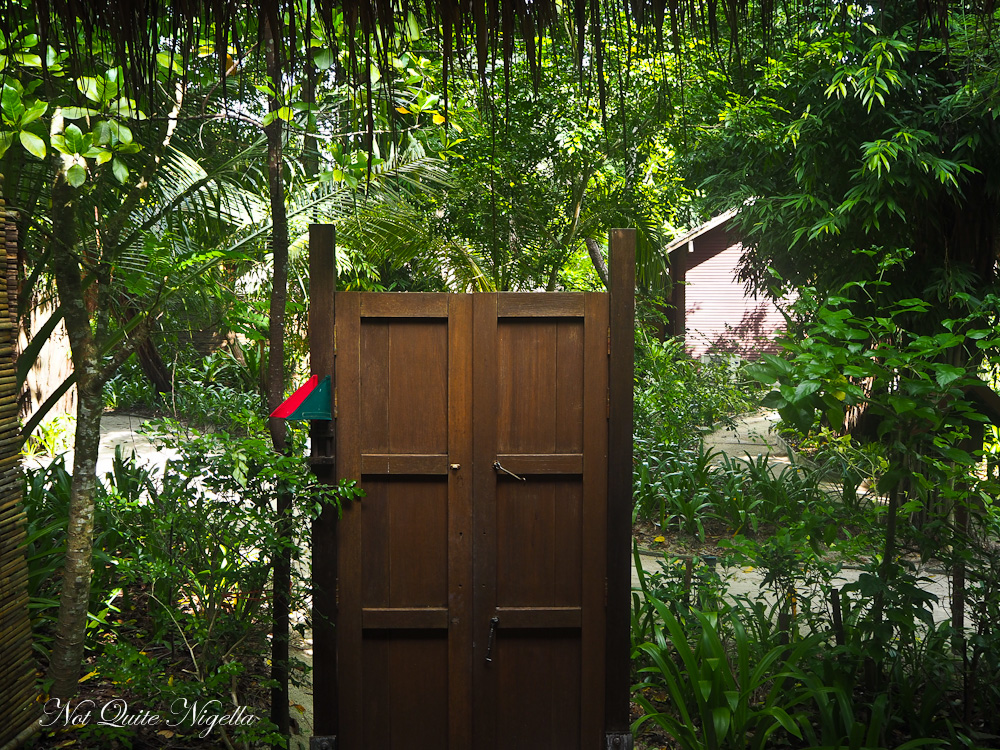 The change of pace is marked from that of Phuket and when I swing open the doors to my garden villa I am impressed at the traditional Thai look and feel albeit on a luxurious level. The sitting area is almost completely open save for a partial privacy from the greenery.
There's are floor cushions and the bathroom is on one side with both an outdoor shower and an indoor shower (although my villa #30 is slightly different to other garden villas whose showers are more self contained within the room).
There is also an outdoor dressing table and sink as well as an indoor sink. They explain all of the controls and switches including the automatic blinds that go up and down for privacy. Call me a shy hermit but I pulled the bedroom and outdoor blinds down immediately. For those seeking complete privacy, this may be an issue as people walk past villas all the time and they are quite open. For more privacy you would need to book the Penthouse villas.
There is a large mosquito catching contraption that looks like a tennis racket. I've seen people swatting at mosquitoes with it although I must admit that I didn't see many mozzies around so either the machine works or the threat of being paddled by a tennis racket does ;)
The bedroom is in a separate closed off glass fronted room. The first thing that hits you are the gorgeous shades of reds, yellows and blues along with dark wood. The colours of the resort deliberately echo that of the Thai flag: red is for the people, blue is for the monarchy and yellow is for Buddhism. A large day bed is situated near the window. Internet is free although the speed does vary with mine being a little sluggish while for another writer in villa #46 which is at the other end of the resort, it is very fast.
I make myself a cup of tea and help myself to some fresh tamarind. These brown large pods are absolutely divine -like a sweet and ever so slightly tangy candy. I have to admit that I devoured these hungrily and then thought to myself, "Wherever will I find fresh tamarind again in Australia?".
The hotel also plays host to weddings and each couple that gets married here has a tree planted in their name. Should children arrive they are also included on the sign.
The spa is undergoing a refurbishment so they direct us to two large villas where they are doing treatments. I choose a green tea facial and my therapist has me lie down on the bed in my clothes and covers me with a towel.
It's an unusual facial and at first I am not particularly taken with it, especially when my therapist leaves the room while the mask is infusing for 15 minutes where they usually massage hands and arms. The mask feels hot and irritating and I take a peek outside and she is sitting with another therapist.
However it all turns around when she comes back in and starts administering the massage. She is gentle and does a lot of gentle hair pulling and brushing which is one of my favourite things. I feel a strange sensation on my head and I wonder...is she plaiting my hair? When she finishes I look in the mirror and indeed, she has plaited my hair in a lovely pattern. This is apparently their spa therapists' signature move (although poor Lena missed out on the plaits and was a bit sad about it).
Around 6:30pm we make our way to the beach and sit back on one of the enormous cushions on a wooden sun lounge. The cocktail menu comes out and there are quite a few tempting options. While I wait for my Tom Yum martini I snap pictures, desperately trying to capture the gorgeous light in the bay. The tom yum cocktail (vodka, triple sec, lemongrass, kaffir lime and chilli) comes with all of the flavours of tom yum and is very good and it also has a thick rim of salt on the outside for added kick.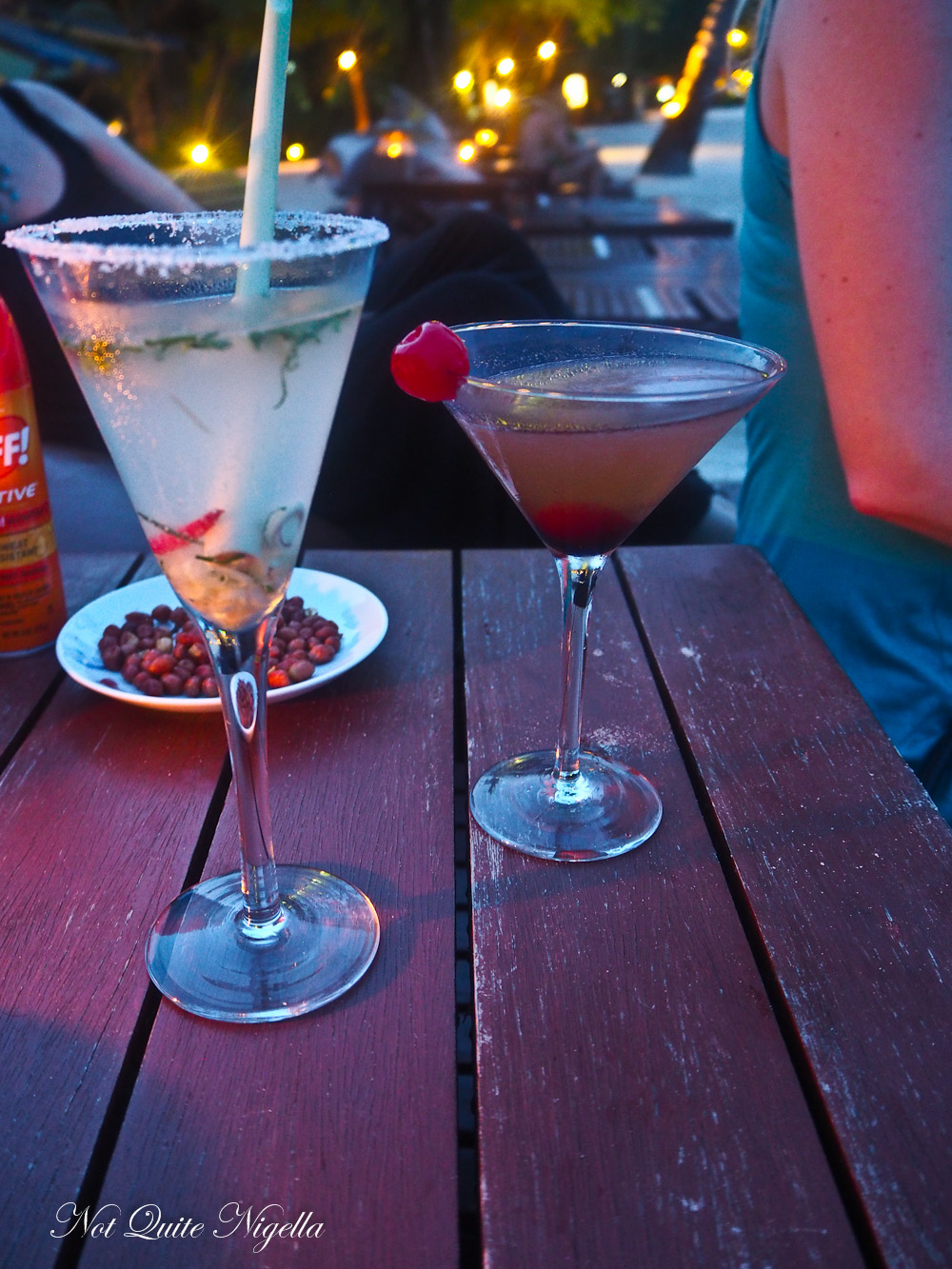 We plunge our feet into the sand and walk a few metres to our table on the beach. Dinner is made up of Thai dishes and we start with some appetisers. The mini spring rolls with the sweet, semi translucent sauce are very good and the satay are crumbed and deep fried which I've never seen before. They're served on a stick of lemongrass with some peanut sauce and they're very good. I resist the urge to reach for another.
Next is the tom yum goong, the soup that is destined to appear at every dinner. It's perfectly balanced but what I like about this one is that the prawns aren't overcooked. At many other places they have been a bit too firm for my liking but these aren't.
The next courses are brought out all at once. I start with the red curry beef which is thin strips of beef with a red curry sauce. This is how it has been served a couple of times here but I prefer bigger strips or larger chunks of beef but that's a personal preference and the flavour is still good.
There is also a whole steamed fish with shiitake mushrooms and a rich oyster sauce type of gravy.
A surprising hit is the broccoli, perfectly cooked with garlic, ginger and oyster sauce that goes to show that simple can be fantastic.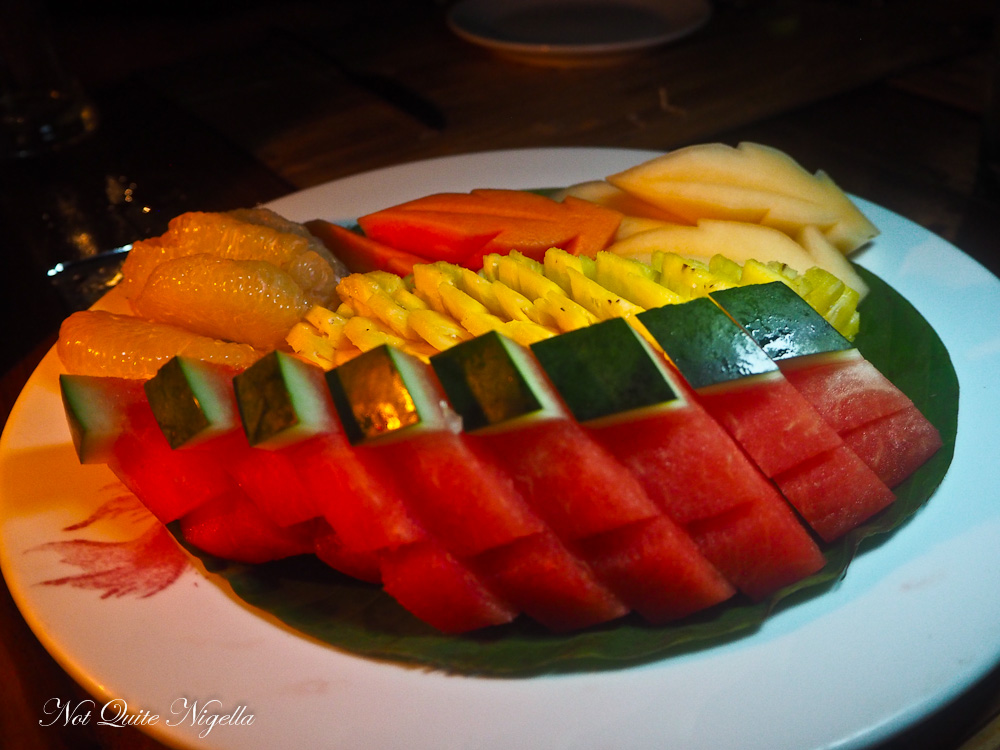 And for dessert? Tropical fruit!
So tell me Dear Reader, do you like the idea of an open plan resort like this or would you prefer a bit more privacy? And do you know much about chakras? Have you visited Phi Phi Don or Phi Phi Leh?
NQN visited Thailand as a guest of the Tourism Authority of Thailand.
Zeavola Resort
11 Moo 8 Laem Tong, Koh Phi Phi, Ao Nang, Krabi 81000, Thailand
Tel: (66) 7562 7000
http://www.zeavola.com/