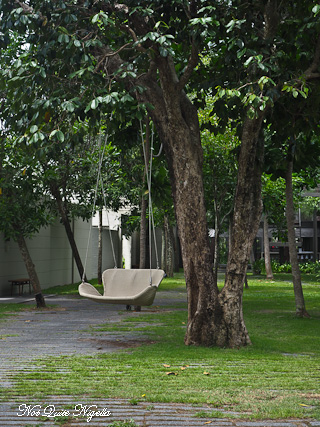 Phuket is an area with plenty to offer tourists and on our second day we decided to venture out. During the day we lunched at a simple but lovely Thai restaurant called Raya Thai Cuisine followed by watching a Baba wedding, a visit to a cat cafe and a Gibbon rehabilitation centre ending with dinner back at SALA Phuket!
Most media trips are go, go go - up at 7am and then in bed by 11pm feeling like a bit of a ragdoll at the end of it. I'm not complaining, it's just the way that it is. But this trip in Thailand is full of leisurely late starts and free time, a true luxury. Especially at a place like SALA resort.
I had all intentions to sleep in the next morning as we had a start of 12:30pm (and even that wasn't taxing, it was a spa appointment). Breakfast is served in the main restaurant near the beachfront area. I take a look at the beach and the waves look quite strong and there is a guard patrolling certain areas. Some of the beach areas aren't suitable for swimming but the signs mark which ones are.
The breakfast selection is more a la carte menu items with a few stations for bread, cereals and cold meat and cheese. I place my order for a Chiang Mai spicy omelette and while waiting start with some muesli with dried rockmelon, papaya, mango, pineapple and kiwifruit on top. This comes with a choice of natural yogurt, milk and soy milk.
Chiang Mai spicy omelette
Alas it seems as though my omelette order has gone missing and after 25 minutes I start to wonder what has happened. They apologise and it comes out 10 minutes later. Despite the name it isn't spicy at all but the filling is made up Thai sausage, shiitake mushrooms, morning glory, onions, cheddar cheese and there's hollandaise on top. It's very good with some extra chilli sauce.
I wander around the property afterwards. The grounds are quite minimalist and it's mainly a couples resort with one or two young families. I call into the shop which has a lovely range items for sale. The spa calls next and when I round the corner from the long corridor leading to the spa I am greeted with a warm "Sawadee Ka". We are lead to the seats to fill in some forms and I follow my therapist Tookta past the misty walkway towards a couples room.
I have a facial booked. I find that usually facials follow a set pattern but Tookta begins with a facial massage turning my head slightly and rubbing my earlobes which is absolute heaven.
The facial that she gives me is very different because it incorporates a lot of massage into it beyond the head, arms and hands and she gets up on the massage bed to massage my legs while the mask infuses. It's a very relaxing facial because of this although I don't dare fall asleep because I am curious to see what she does next while Dimity in the bed next to me dozes off quietly a couple of times.
After a quick shower we meet in the lobby to explore more of Phuket Old Town. First is lunch at a restaurant called Raya Thai Cuisine. The decor is pure retro and a jade green fan blows gently in front of a series of vintage framed pictures. The menu is extensive with some specialties, favourites and Phuket favourites. Angelica orders a range of items and we hanker for our latest addiction: iced Thai milk tea. We've been trying them at all of the places that we've visited and here they're fantastic with almost a chocolatey flavour to them - easily our favourite of the trip so far.
Steamed pork with pepper Phuket style
The food arrives in a timely manner and the steamed pork belly cubes are simmered in a pepper soy sauce that reminds me of a Cantonese dish. They're slightly sweet and rich in flavour, the pork soft but not meltingly so.
Roasted Duck spicy salad
The roast duck salad has plenty of components from slices of roast duck, lemongrass, cashews, chilli and lettuce giving this dish a nice crunch, particularly the cashews.
Pad Thai
Sometimes you crave Pad Thai and this is an excellent one as the noodles are not overly sweet (as I find it is sometimes). It just needs a little pinch of bean sprouts and some crushed peanuts.
Deep fried fish in mango salad
The last dish to arrive is the whole fish, deep fried and crispy with a side salad of green mango. By itself it isn't particularly interesting but adding the fresh, tangy and slightly crunchy green mango salad makes it delicious.
The streets today are busy and teeming with people all dressed up in their finery. The reason is that Thailand is replete with festivals and Phuhket's Baba wedding ceremony is one that literally stops the streets. Once a year they hold a Baba wedding for several couples to get married to celebrate Thai and Chinese weddings and Peranakan culture. This year there are six couples that will participate - five from Thailand and one from Malaysia and they will walk down the main street in a lavish street parade in their finery. To qualify all one needs to do is to afford the $40,000AUD price tag.
Alongside the wedding procession are vendors selling snacks and foods. Marching bands play, people scatter petals and we watch while sipping on Gac fruit juice. The spiky mango sized orange fruit is mixed with passionfruit and the juice is a mixture of sweet and sour. Decorated Volkswagen beetle wedding cars follow the couples each decorated with the colourful confetti of flowers and leaves.
Our feet are sore so we make our way back to a place that we had seen earlier in the day. B Cat Cafe is as the name suggests a cafe where people can pet cats. There are two sections: the first which is a regular cafe and the second on the left which is where the cats live.
To enter the cat cafe section you need to disinfect your hands and put on slippers. There are also rules that you can't pull the cats ears or tail or pick them up. You also need to order one cake and one drink. Honestly the cake isn't great. It's a crepe cake and has a rather unusual taste to it and the drink is just way too sweet to be palatable. But they are almost moot points because the point is that we get to play with cats!
At the beginning of the menu there is an introduction to each cat. The one that catches our attention is Curfew, a squishy faced pink nosed ginger cat that sits at the front staring out the window. Curfew perhaps resents his name as he just wants to go out! We stay for about half an hour (although there is no limit) and play with the cats.
After this we slap on some sunscreen and some insect repellent and take the van to a Gibbon Rehabilitation Project in the Thalong District of Phuket. Started in 1992 they rehabilitate white handed gibbons that poachers capture from their families and use in the tourist trade. They need baby gibbons and for every baby gibbon stolen from their family, 10-15 adult gibbons are slaughtered. They babies work until they are 6-7 years old and after that they are sold for meat. It is illegal to use gibbons in this way yet it is still seen in many tourist areas where they are drugged and passed from human to human for photographs.
Gibbons share 95% of human DNA and can often contract diseases that affect humans like HIV and Tuberculosis. A cold from a human can also turn into pneumonia. There are also gibbons with eating disorders like bulimia and anorexia and gibbons have also been witnessed doing self harm. Gibbons live up to 35 years in the wild and 50 in captivity.
The whole process of rehabilitating a gibbon starts with getting them to learn how to drink naturally (tourist gibbons often drink out of a glass), socialise, groom and communicate. From beginning to end it takes about 10 years to rehabilitate a gibbon into the wild and even then they are not completely wild. Some return like Bo who has been released six times but always comes back.
The Gibbon rehabilitation project relies on donations from the public and you can also adopt a gibbon for one year for $65AUD. All of the gibbons have different personalities and different stories. The golden gibbon named Gibby was removed from a wealthy family's home where it was kept as a pet. It was only when neighbours complained about Gibby's singing (similar to a car alarm) that authorities were alerted to it.
With monkeys on the brain we head back and get ready for dinner. Dinner starts in the two bedroom Penthouse apartment for cocktails. There are two sunken baths in the penthouse apartment and it is spacious and serene.
We then move onto the restaurant for dinner. The menu is divided into a range of Western and Thai dishes and tonight we are sampling a range of both, in smaller sizes so that we can fit it all in. At first they bring out the bread selection with crispy pita bread and soft bread rolls. These come with a garlic chilli sauce, an olive oil and balsamic vinegar and a divine satay sauce which is my favourite.
Lamb meatballs
This is an example of Western and Thai cuisine in one dish and the lamb meatballs are slowly braised in a peanut curry with a dollop of goats cheese and sour cream on top. This is absolutely delicious and even has the people who don't usually eat lamb enjoy it immensely. I finish every drop chasing the sauce with the bread.
Duck confit
Here the duck confit it is cured overnight, braised for nine hours and then pan seared until crispy. In a modern twist it comes on a bed of shredded kale sauteed with garlic confit and mustard cream with caramelised onions. The duck is fantastic, the meat soft but the skin crisp.
Lamb Rack
I often find Australian lamb excellent when I eat it overseas and this is no exception. It's rich but beautifully caramelised on the outside from the high heat of the barbecue. The red wine sauce is utterly moreish and it is served with parmesan mashed potatoes.
Mango pavlova
It's dessert time next and we share a range of desserts. My favourite is the mango pavlova (I have a weakness for good pavlova) and this is because it is so wonderfully light. There are cubes of fresh mango as well as the meringue rings but the thing that brings it all together is the coconut whipped cream.
Tiramisu
Another dessert that is a favourite is the tiramisu, an ode to chef Davide Pritoni's Italian heritage. He uses savioradi sponge finger biscuits and dunks them in Italian coffee and dollops a mixture of mascarpone and pasteurised eggs on top. You need to dig deep past the fluffy mascarpone to get to the coffee soused sponge layer but it's worth it!
The next morning after a good nine hours sleep I rise and call room service for an in villa breakfast. This costs an extra 250Baht plus taxes and tip which makes it closer to 350 Baht but I do love the idea of eating on the daybed in a robe. Everything on the menu is included except for the smoothies (which is slightly odd) and I order a range of things. It takes 45 minutes to arrive so you just need to be aware of that if you wake up famished.
The doorbell chimes and room service brings my breakfast in and arranges it on the day bed. I dip the coconut waffles into the maple syrup and spear a piece of banana and spread it with whipped cream. It's delicious. The croissant is flakey and crisp. There is also fresh pineapple and mango. The natural yogurt is quite liquid, probably best for cereal or a smoothie rather than eating as is. But it stands me in good stead for our final destination in Thailand, Phi Phi Island!
So tell me Dear Reader, how often do you order room service when you stay at a hotel? Have you ever visited a cat or dog cafe? And what time do you usually begin your day when you're on holiday?
NQN visited Thailand as a guest of the Tourism Authority of Thailand.
SALA Phuket
333 Moo.3 T.maikhao A.talang, 83110, Thailand
Phone:+66 76 338 888
http://www.salaresorts.com/phuket/default-en.htmls
Raya Thai Cuisine
48/1 New Debuk Rd, Muang Phuket 83000 Tel: 6676-218-155
Open daily 10am-10pm
B Cat Cafe
Talat Yai, Mueang Phuket District, Phuket, Thailand
Phone:+66 89 471 7776
http://www.bcatcafe.info/
Gibbon Rehabilitation Project
Bang Pae Waterfall, Phuket, Thailand
https://www.facebook.com/GibbonRehabilitationProject