Chanthaburi, otherwise known as the city of the moon lies along Chanthaburi River. It is known for its gems and fruit as well as its own style of cuisine marrying fruit and savoury and sweet dishes. Come and explore this charming town and taste the region's delights!
A man paints vivid red brush strokes on a lantern while a cat lazily stretches in the heat. The pastel coloured narrow laneways of Chanthaburi are as pretty as the gems and fruit that the area is known for.
Located on the east side of Thailand, Chanthaburi is roughly 3.5 hours drive away from Bangkok, around halfway between Bangkok and Koh Mak. Many Thais use Chanthaburi as a halfway pit stop although this town has charm in spades that warrants more than a pitstop.
From the pastel French colonial architecture to the riverside where trade the trade route commenced it was a transport and commercial centre. The area is a blend of Thai, Chinese and Vietnamese people with many playing roles in the government and as merchants.
Our guide Ms O. from Take Me Tours stops at an ice cream shop. It is the town's oldest ice cream shop and for the neat sum of 12THB or $0.50cAUD you can choose one of the many colourful flavours of ice cream on offer.
I go for their most popular, the Thai milk tea, all creamy goodness on the inside with the outer of Thai tea. It slakes my thirst and cools the heat on this warm, sunny day.
We follow O down Sukhapiban Rd, dodging motorbikes where she stops frequently pointing out and buying us snacks to eat. Some stores sell precious jewellery along with snakefruit or salacca.
"Try these Chanthaburi chips and guess what they're made of!" she says smiling. I try one and it's like a potato or cassava chip. I'm way off. It's a durian chip (albeit one without that signature strong odour).
She stops to buy us some Guay Nam wa or small bananas to snack on later and points out the elephant bananas hanging. These are given their name because they resemble elephant tusks.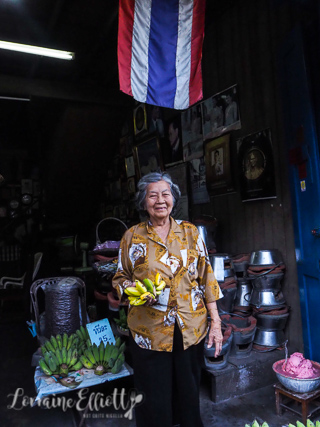 She tells us that Chanthaburi was also known as a producer of white and black pepper-said to be spicier than normal although this industry has receded nowadays.
Another popular item to eat are noodles. With many Chinese and Vietnamese living here they sought to find a Thai made source for rice noodles and Chanthaburi was chosen as one of the areas that would supply rice noodles to Thailand. The rolling hills were ideal for growing rice and the rain from the mountains delivered enough water to grow rice.
She points out quirky details like the architecture. Before they learned about construction, walls were built with vertical wooden slats. These would eventually prove costly to replace with the inevitable water rot and after that houses were built with horizontal slats. Some of these vertical slat houses remain.
O is from Chanthaburi and she tells us that the people here are less money focused. To that point, when we express an interest in a couple frying fish sweet meat they give us some for free to taste. We pass lots of fluffy little dogs who stand in front of shop entrances, keeping guard in the most adorably friendly way.
We stop at one store that sells different types of Thai cakes. Some are dry and sweet and made from beans while another stores sells light, crisp butter cakes made using an old family recipe. The grandmother whose recipe they use is sitting at the front of the store.
O then stops at a vegan store where we try delicious tofu crisps that are full of flavour and are so good that many buy a packet to take home.
Street signs are adorned by rabbits. Because Chanthaburi is known as the city of the moon there is a belief that the moon has a pattern of a rabbit on it.
We stroll through the gem market with its Arabic and Indian traders. Even the air smells different and is perfumed with Indian and Arabic spices. People sit on the sidewalk and look at gems through loupes.
We stop by the town's Gothic style Catholic Cathedral of the Immaculate Conception, a rather European looking structure which was constructed (but not completed) during the French occupation.
Then we take a short drive to the main shrine where we shake a vessel filled with numbered bamboo sticks and then toss some rocks to find our fortune.
And then it's off to dinner at Chanthorn restaurant to try some of Chanthaburi's local delicacies. The food in Chanthaburi is distinctly sweet, even the savouries. And if you come during May to July you'll come in prime fruit season where you'll be able to try dishes like massaman curry with durian, rambutan duck curry and a spicy mangosteen salad.
We start with a crab coconut dish with crudites inclduing baby corn, cabbage and tiny eggplant which is one of my favourite dishes. It has a generous amount of crab in it and a mild sweetness with creamy coconut.
Then we segue towards small spicy and sweet crab with rice noodles. These are wonderful and the most popular dish at the table.
The pork curry comes with bai chamuang or lightly astringent herbs to balance the rich, creamy and sweet curry.
I also adore the seafood soup that has a richly flavoured stock. Even though there are so many dishes competing for my attention I have three bowls of this soup.
And the massaman curry is similarly rich and sweet with peanuts and soft fall off the bone chicken meat. They give us the stem of the cardamom to eat with the curry-this is an acquired taste and it tastes distinctly of menthol.
O ordered milder items for our table because a couple of writers couldn't eat spicy but she does order one spicy dish for me. It's a spicy prawn stir fry cooked perfectly with a sweet and spicy sauce. I feel the wonderful rush of chilli on my tongue.
Even the snake beans served with garlic chips are fantastic with just the right amount of crunch.
Deep fried soft shell crab with garlic and black pepper
Dessert is a mixture of things that O had purchased. We start with two types of bananas, one whiter banana with seeds in it as well as a yellow banana. They're a little different from what we get in Australia but only by a bit.
There's also coconut ice cream, durian ice cream and iced snakefruit in syrup. Snakefruit or salacca is grown all year round in Chanthaburi unlike in other areas. Durian is also grown here along with longan and mangosteen.
There's also a soup that they serve using malva nut that is said to be good for upset tummies and to treat diarrhea. It's a mild, sweet soup.
My home for the evening is the Baan Luang Rajamaitree, named after the former owner, a wealthy merchant who was dubbed "The father of rubber". It is a historic inn with a small museum downstairs. Each room is different and there is a focus on tranquility. Walk up the stairs that ask guests to "be quiet" and observe the house rules (no gambling, smoking, loud noises, cooking, fire or pets).
Many of the rooms have a loft style layout with an open staircase or bunk beds. I am staying in the Withi Chan room which is all on one level with two single beds and ensuite bathroom. It's simple and clean and there's a fridge with water and a tea and coffee service.
The bathroom has a quirky layout. There isn't soap at the sink but there are very basic toiletries with a pump dispenser of soap and shampoo in the shower. The shower recess is the base of a large wine barrel. The beds are very firm although comfortable. After a shower, I fall asleep earplugs in to the hum of motorbikes and a nearby club playing music. It's not so much tranquil if you are staying on the street side and I'd recommend a river side room.
The next morning Sophia and I walk around the town for a little while before we have breakfast. The town's folk are busy having breakfast. The noodle store across the road on the corner is doing a fast trade with its herbal pork soup (which we will have for breakfast). Across the road sticks of meat are being grilled.
We stop by a stall that is selling crispy rice flavoured with Thai herbs and spices. The crispy bottom was always my favourite part of fried rice and we watch the man press a thin layer of rice on the bottom of the wok to make it all crispy! We buy some as a snack for the upcoming plane ride.
The inn's breakfast is on the ground floor terrace and when guests check in they pre-order a choice of the herbal noodle soup with pork, an Asian breakfast with pork meatball congee and dumplings or an American breakfast of eggs and sausages.
There is also provisions for a Continental style breakfast on the tables and we spoon congee and dumplings and watch river life outside as we breakfast, reluctant to leave Chanthaburi.
So tell me Dear Reader, have you ever been to Chanthaburi? Do you like the combination of sweet and savoury or fruit with your protein?
NQN was a guest of the Tourism Authority of Thailand but all opinions remain her own.
Take Me Tour
takemetour.com/
support@takemetour.com
Chanthorn Phochana Restaurant
102/5-8 Benjamarachutis Rd., Wat Mai, Chanthaburi 22000, Thailand
Luang Rajamaitri Historic Inn
252 Sukhapiban Rd., Watmai Mueng Chanthaburi 22000, Thailand
Phone: +66 88 843 4516
baanluangrajamaitri.com/en/