Phuket is an intoxicating blend of cultures with its own unique culture. It has a stunningly picturesque old town and is famous for its Sunday walking market. Here are seven fun things to do to immerse yourself in Phuket!
One: Learn The Art of Batik
Start off your tour in Phuket in the pretty area of Old Town. If you fancy yourself an artist, batik painting courses are available at many places in Phuket's Old Town including the walking market. And don't worry if you don't know where to start (I'm a low level crafter than gets panicky if I have to art). The wax outlines are already done for you. You just pick a pattern from the many offered and colour in the outlines. You will also learn the simple but effective techniques to building up colour and shade.
Tip: stop by nearby Soi Romanee for a photo (just off the walking market street). This pink street is a favourite for visitors. Even if you hate selfies the colours may just coax a smile out of you.
Two: Eat at Blue Elephant
The famous Thai cooking school actually started in Brussels in 1980 (there are seven international locations) and they hold world renowned Thai cooking classes.
If you don't have time for a day of cooking, you can always eat the restaurant located in the old town. The restaurant is housed in a beautiful mansion built 115 years ago. We try the set menu that starts with a fruit cocktail using tropical Thai fruit.
The starter plate has five mouthfuls of goodies including tender beef satay using Phon Yang Kham rib eye beef, a piquant and refreshing pomelo salad, crunchy delicious prawn cakes, a crab longan salad as well as a semi translucent butterfly pea flower dumplings. This last bite is from Thai royal cuisine and is filled with caramelised minced chicken.
And don't miss the tom kha gai coconut soup using free range chicken. This is one of the best tom kha gai soups I've had with a perfect balance of flavour.
The mains come out share or family style. My favourite is the sea bass with three flavours that is heady with Thai basil along with pineapple, garlic and chilli. The spicy minced beef "Kra Paow Nua Phon Yang Kham" uses Charlolais Simmental beef and an organic wild basil sauce. The sweet peas are stir fried with thick local Thai scallops. All mains come with steamed jasmine and red rice.
And dessert is a sweet mung bean pudding with gingko nuts, young coconut meat and coconut cream on top. There's also a square of baked mungbean custard with coconut ice cream.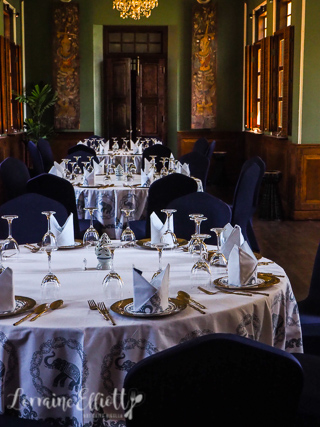 Blue Elephant Governor's Mansion Phuket Restaurant & Cooking school. 96 Krabi, Tambon Talat Nuea, Amphoe Mueang Phuket, Chang Wat Phuket 83000, Thailand. Open 7 days 9am–10:30pm. Phone: +66 76 354 355. blueelephant.com/phuket
Three: Trickeye Museum
Still in old town, Phuket's Trickeye Museum is a fun way to while away the time for a couple of hours. The 3D illusion museum has countless scenes in which you can pose-take as buddy and your phone for the easiest pics. Some are better than others but it's a fun way to spend an afternoon when the heat gets too much.
Four: Snack Dinner At Lard Yai Sunday Walking market
Try and schedule your visit to Phuket on a Sunday so that you can visit the Lard Yai street food and craft market. It gets crowded so come early when it opens around 4pm and eat your way down the street.
One of the most popular stands is the Aapong crispy coconut crepes made with coconut milk and sugar. There are options from Thai and Phuket specialties to burgers, sashimi to slushies, fresh fruit and an array of Thai desserts.
Lard Yai Sunday Walking Market. Thalang Rd, Tambon Talat Yai, Amphoe Mueang Phuket, Chang Wat Phuket 83000, Thailand. Sunday 4–10pm. Phone: +66 94 419 5670.
Five: Spa Amatara
One of Phuket's best spas is located at the hotel Amatara (less than 30 minutes by car from the old town). The hotel has a Wellness Spa and boasts a range of treatments from physiotherapy, Muay Thai, Pilates, traditional yoga, personal training, water exercise, mountain biking and beach sports as well a spa treatment menu.
I tried an organic facial where I was led to my own private room with adjoining changeroom, bathroom and shower facilities. My therapist did a relaxing combination of massage and facial and even when I left without wearing any makeup, my skin really did glow afterwards.
Six: Visit an Elephant Sanctuary
Nowadays, visitors to Thailand eschew elephant rides and circuses in favour of visiting elephant sanctuaries. Phuket Elephant Sanctuary is an elephant rescue organisation that rescues these magnificent beasts from distressing situations.
Set aside at least half a day for a visit to an elephant sanctuary where you'll get to watch these magnificent creatures roam free in a natural environment. There are also more immersive experiences on offer with volunteer program for 1, 3 and 7 day stays. More to come on a separate post.
Phuket Elephant Sanctuary. 100, Moo 2,, Paklok, Thalang, 83110, Thailand. Open 7 days 9:30am–1pm, 1:30–5pm. Phone: +66 88 752 3853. phuketelephantsanctuary.org/en
Seven: Eat at Pru, Phuket's only Michelin restaurant
Pru (plant, raise and understand) is part of the Trisara resort. This tiny 18 seater restaurant gets booked out quickly so it is best to book early. The food by Dutch chef Jimmy Ophorst uses local Thai ingredients, mostly from the Phuket area and diners can choose form a 6 or 8 course menu which I'll detail in an upcoming post. Their nearby farm also furnishes the restaurant with 60-70% of the fruit and vegetables.
Pru. 60/1 Moo 6, Srisoonthorn Road, Cherngtalay, Thalang District, Phuket 83110, Thailand. Tuesday to Saturday 6–10:30pm. Phone: +66 76 310 100. prurestaurant.com
So tell me Dear Reader, which activity appealed to you the most? Have you ever visited an elephant sanctuary? What is your favourite thing to do while on holiday?
NQN was a guest of the Tourism Authority of Thailand but all opinions remain her own.