Mejico restaurant on Pitt Street has been open since early 2013 but you wouldn't know it from the crowds. Diners best visit holding a reservation because the patrons continue to flock here. Perhaps it is for the Jalapeno margaritas or the guacamole smashed at the table or the peanut cajeta flan. Prices are reasonable but the noise levels are high which can make it a good solution for the after work CBD crowd.
I step into Mejico on Pitt Street and look around, bewildered at the thick crowd. "Hasn't this place been open for ages?" I think to myself. Usually places are crazy busy in their first few months and the fuss dies down and it's much easier to get a table but it doesn't seem that way. Or maybe it's the crazy Christmas season.
I look around for my two dining companions. Belinda and Alyson aren't there. "I'll just wait for my friends at the bar," I say to the maitre'd. "Oh I'm afraid you can't," he says and explains that all of the stools are reserved for diners but I can sit at one of the front two chairs. I sink down on one of them and up pops a message. Belinda is yet to leave Bankstown which is a good hour away and Alyson is nowhere to be found. Sigh
I hate being the first to arrive when everyone is running late. But in the extra time I watch them turn away at least thirty people who don't have a booking. A few minutes later Alyson arrives and we go to nearby Bentley Bar for a drink and return at 8pm for our booking where Belinda joins us. We are led right to the back of the restaurant. It's noisy in here and it's very busy. Belinda says, "Hasn't this been open for ages now?" echoing my earlier thoughts.
It's very noisy in here so we resort to a sort of lip reading version of catching up. They are eager to take orders and move things along. The pacing of the meal is fast so food comes out very quickly and they clear quickly - so quickly that I have to ask if we need to give our table back (we don't). One big advantage though is that prices are very reasonable.
Guacamole smashed at the table $14
Ahh I do love it when a menu item reminds you of Breaking Bad and our trip to Albuquerque. The guacamole is smashed in a mortar and pestle at the table and comes with a sprinkling of pistachio on top and plantain chips. I wasn't sure how the pistachios would go with the avocado but this is definitely a goody. We all enjoy the thin, crispy plantain chips although there was more guacamole than chips so a few more pieces wouldn't go astray.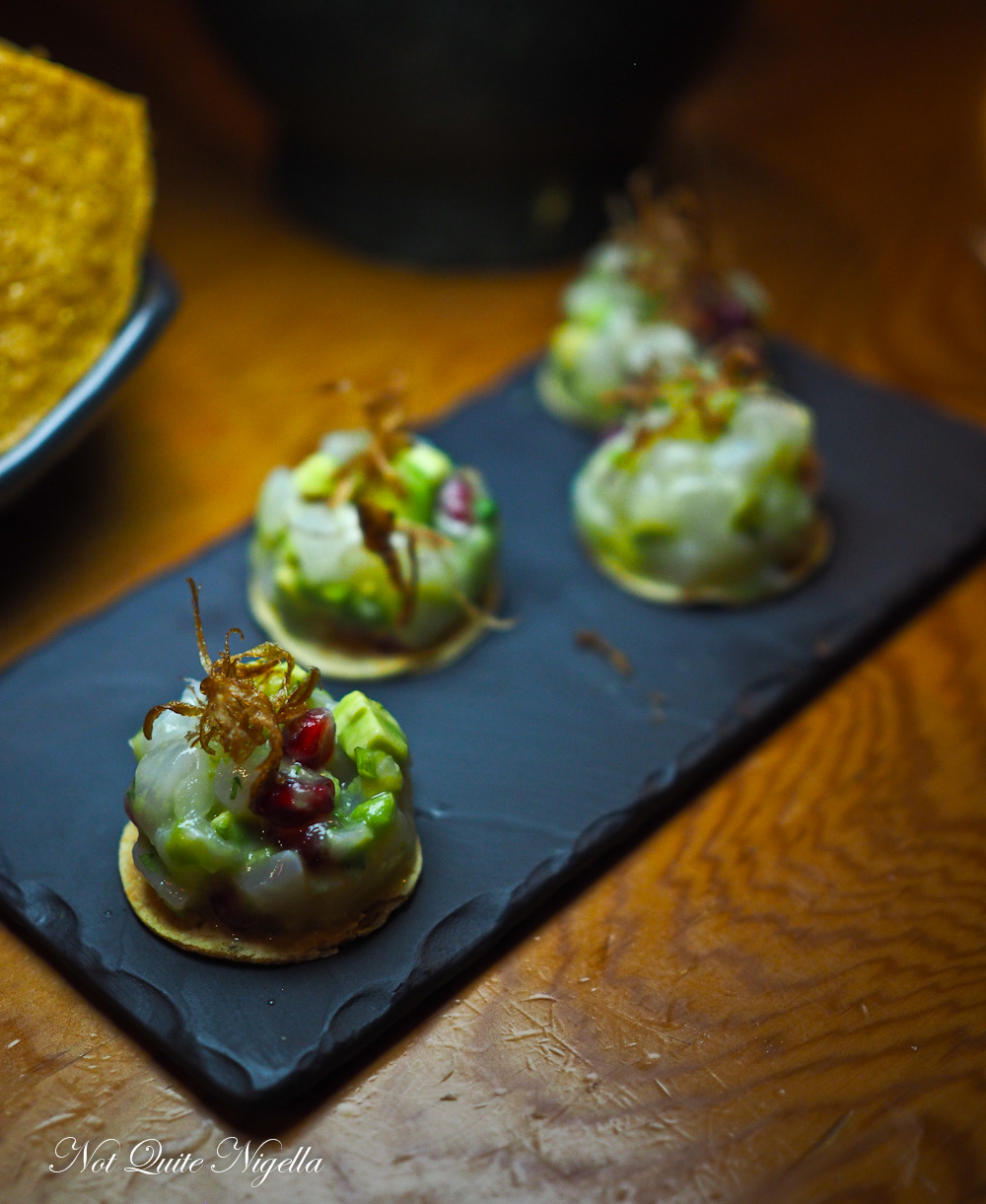 Scallop ceviche $16
The fresh, tangy scallop ceviche comes out four to a serve. It's not bad but I find it a little hard to pick up especially as the thin chip underneath gets a little brittle from the moisture of the topping.
Chorizo Salsa $14
I've never thought to make salsa out of chorizo but anything out of chorizo has got to be good right? Here, chopped up chorizo is paired with smoked black beans, feta, paprika and Pedro Ximinez sherry and served with crunchy corn chips. This along with the guacamole are my two favourite dishes of the night.
Beef short rib $28
We still have some of our entrees left when our mains arrive. The first is a beef short rib with one giant rib with soft textured meat. It's spicy and intensely flavoured and aromatic with smokey chipotle, honey and pickled onions. We can hardly make a dent into this and I wish we had Mr NQN to polish it off.
Pork Belly $18
The pork belly is great value with four squares of pork belly. The crackling on top is sticky sticky on the teeth, and I love it when it is crispy. It is paired with a carrot and cumin puree, smoked chipotle paste and pickled vegetables. The flavours of this are fine but not quite hitting the mark for me at least.
Watermelon salad $10
Our salad comes in the form of a watermelon salad with large cubes of watermelon, cucumber, pistachio, jalapeno, coriander, lime and agave. It's a refreshing accompaniment to the heavier dishes although it is quite sweet whereas I prefer a bit of salty interplay with feta or a Oaxaca cheese.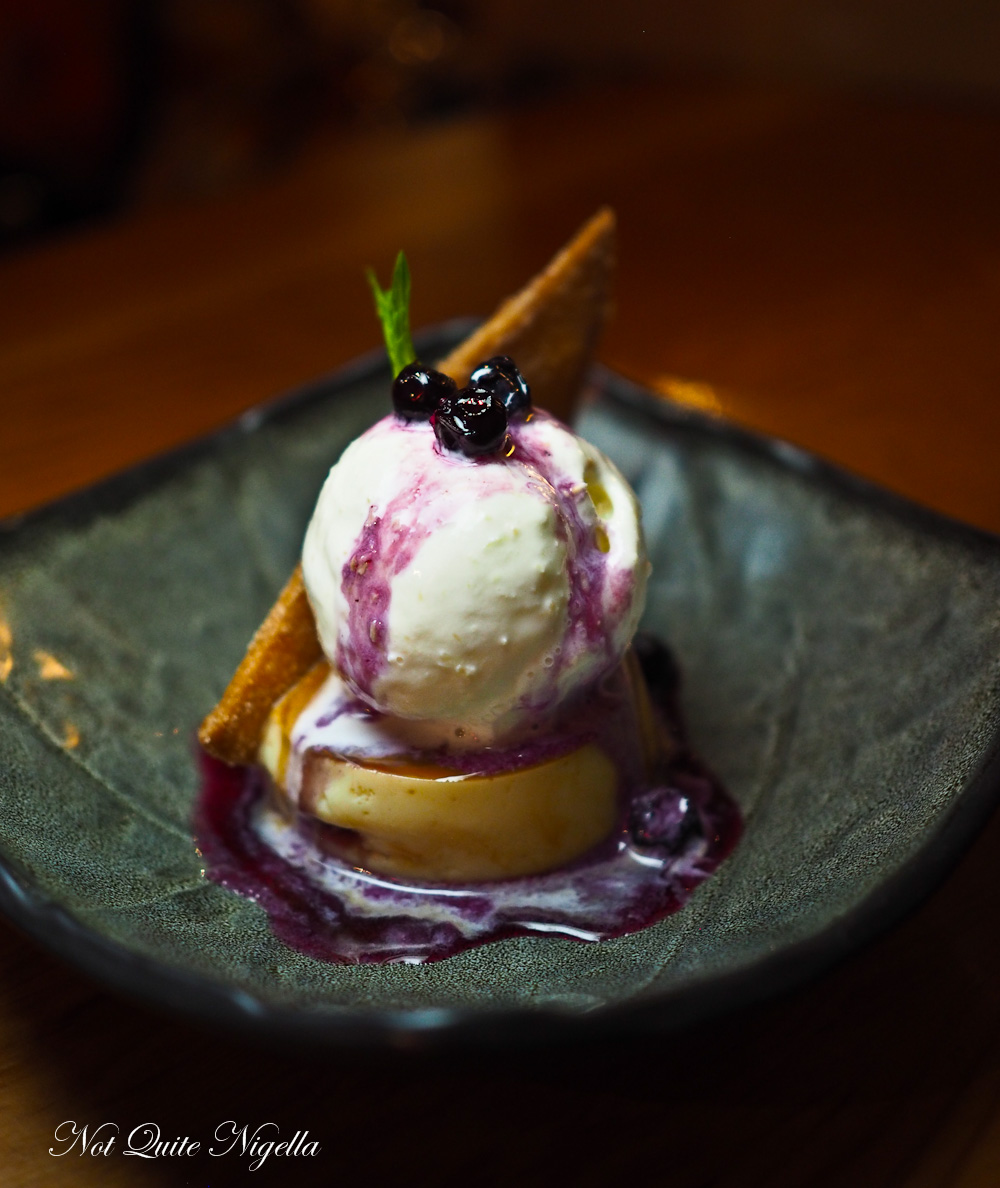 Peanut cajeta flan $12
We had to try one dessert and the peanut cajeta flan called to all of us. It's a slightly firmer flan that we have had but we all like the peanut flavour through it and the scoop of rich coconut ice cream, blueberry sauce and a baked cinnamon sugar tortilla on top. It's amazing how much stomach space you have for dessert even if you can't finish your main.
The bill comes and it's a reasonable price even but when I get home I notice that there is one dish charged that we didn't receive. When I call the next morning to query it I am promised a call back but it doesn't come which is disappointing.
So tell me Dear Reader, do you check your bill carefully before paying? Would you query a dish that you had paid for but not received? Do you like loud, buzzy places? And do you often start a meal with a drink at the bar or do you prefer to go straight into dinner?
Mejico
105 Pitt Street, Sydney, NSW
Tel: +61 (02) 9230 0119
Open Monday – Friday 12pm – late
Saturday 5:00pm – late
Sunday closed
http://mejico.com.au/