Contrabando is a Mexican slash American restaurant on Macquarie Street in the city. Serving Latin inspired So Cal street food there's a half dozen strong margarita menu and items like truck stop guacamole, cheeseburger spring rolls and a taco menu.
"Did you book?" I asked Ivy as we're driving to a Mexican place in Sydney's inner west. "No it seems like a sort of casual place," she answered. When we pull up, they're just closing. "We should have probably checked the opening hours" says Ryan dryly.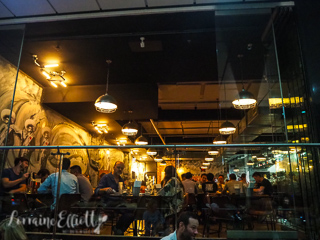 This necessitated a last minute reshuffle and a call to book a table at Contrabando in the city because we were craving tacos. Ryan has been here before as he works in the city when it was at a different location. He speaks fondly of their "Taco Tuesdays".
We take a seat in the outside area because it it's a gorgeous night out and the outdoor area is a bit quieter. Ordering drinks (a petit Chablis for Ivy and a Mexican beer for Ryan) I go for a mocktail with lychee, elderflower, apple, lime and soda which is sweet but absolutely delicious. Mr NQN goes for a blood orange margarita with spiced blood orange, jalapeno infused tequila, Grand Marnier and lime which is great with its sucker punch of flavours and spicy finish.
We try a few snacky items while we decide what to order. The truck stop guacamole is a fresh, flavoursome guacamole with a scoop of pico de gallo and crunchy black corn chips. It's a big serve but the quantity of corn chips outweighs both the guacamole and pico de gallo.
The menu is Mexican but with definite American overtones with a bit of Asian thrown in. Case in point: the loaded fries. These are shoestring fries topped with a hickory barbecue sauce, mayonnaise squiggles, pork floss, bonito, dried nori shreds and coriander. It's a bit of everything in one but it works.
The American influence is seen in items like the cheeseburger spring rolls. I did think that this was pricey for the size and what it was although it is tasty and tastes just like a deep fried crunchy cheeseburger.
I have this thing about quesadillas. I love eating them but whenever they serve them I always think "I could have easily made this at home". The El Macco is 'all beef pattie special sauce lettuce cheese pickles onions on a sesame seed tortilla. And while the El Macco, a riff on the Big Mac quesadilla indeed tastes like a quesadilla version of a Big Mac I have the same thought, that I could have made it at home. It is tasty though and if you like Big Macs, this may be your thing.
They tell us that the bulgogi beef short rib is the most popular taco. The flour taco comes with beef short ribs slices, guacamole. jalapeno mayonnaise, eschallot salsa and coleslaw but the dominant flavour is the short rib which is noticeably sweet (a little distractingly so).
We also try the Al Pastor or pork with pineapple taco with Bangalow pork, slices of charred pineapple salsa, an adobo vinagrette, guacamole and coleslaw. This is nice and has a noticeable amount of chilli heat to it.
I think everyone's favourite taco is the crispy fish taco which is a battered fish fillet paired with tomatillo, chipotle mayo, pico de gallo, corinader and slaw. It's fresh and the salad goes well with the crispy fish.
We tried the churros and they were a really unusual version of them. The first batch we thought was undercooked because the inside was almost liquid and the second batch was dry and overcooked. Our waiter although friendly vigorously defended the churros saying that they do them a different style to everywhere else. They're also sitting on a bed of pink marshmallows with chocolate sauce.
So tell me Dear Reader, do you ever get fixated on eating a food and can't rest until you eat it? Do you ever feel like you could have made a quesadilla at home?
Contrabando
131 Macquarie St, Sydney NSW 2000 Phone: (02) 9241 6300
Monday 12–3pm
Tuesday to Friday 12–3pm, 5–10pm
Saturday 5–10pm
Sunday closed
contrabando.com.au