This lemongrass chicken ticks all the boxes. It is one of those versatile curries that is simple yet rewards in flavour. The flavour of lemongrass is beautifully aromatic and you can make this with chicken thigh or breast or even chicken pieces. Don't like chicken? It's also great with fish or vegetables!
Hello everyone! How are you this fine weekend? I hope you're having a wonderful one and that it isn't too hectic with Christmas preparations. I made the mistake of walking into the post office the other day and I realised that Christmas is definitely upon us due to the long queue! And to think that this will be the last of Celia's In My Kitchen of the year too! Oh 2015, you were a crazy fast year :)
In my kitchen is some lemongrass and chicken to make a curry. Like a dozen sticks of it. Some of it was used for this recipe for Lemongrass chicken that I saw on the lovely Wandercooks blog. Mr NQN is a lemongrass fiend and loves it in drinks or curries or any which way he can eat or drink it. It's also the best way to make friends and I don't know a single person that has tried this and not loved it (also you can make it vegetarian or with seafood!).
Mine did look a bit different to theirs, I'm not sure why but it still tasted terrific. It also shows how you can make a divine curry with just a few ingredients. The gals at Wandercooks didn't use coconut cream but mine wasn't quite thickening up the way I wanted it to and I had a big container of it that needed using. I think it would taste fabulous without it though so if you're looking for a lighter curry feel free to leave the coconut cream out. I've put the recipe below.
Also in my kitchen there is something fun and very Christmassy. Anna Polyviou, pastry chef at Shangri-La hotel releases gingerbread houses for sale at the hotel. As they're by Anna and her team they're always fun and chock full of surprises and when I opened the packaging up I noticed that they were full of lollies! And you know I thought that I hated those banana lollies until I ate one. And then couldn't stop picking at them! The Shangri-La Hotel also has a giant gingerbread house that you can visit and take a photo at.
Tian Op or a horseshoe candle is something that Jen Evans bought me when she gave me a fantastic tour of Bangkok food (coming up in a post). Thai cooks employ a clever way of flavouring their desserts by perfuming them with heady, gorgeous scents. These dessert candles are an aromatic mix of frankincense, ylang ylang, patchouli and mace and you place the food in a jar or saucepan along with the candle. You light both ends and then place a lid on the jar or saucepan. The candle goes out shortly thereafter and the resulting smoke scents the dessert. The longer you leave it, the stronger the aroma.
So you've probably had an advent calendar but have you ever had a Coco Chocolate Advent Calendar? Rather than little squares of not so great quality chocolate, Coco Chocolate has 25 chocolates in either milk, dark or white Valrhona chocolate! The gorgeous vintage style artworks are printed in cocoa butter so they are completely edible.
Sometimes things change your travel life and I was tipped off about packing cubes a while back. I put them on the Christmas gift list for Mr NQN to buy me but then Zoom Lite offered to send me a range of their packing cubes. And can I just say that these are the best things ever for overseas travel. The Zoom Lite ones are very sturdy and light and they separate everything into neat compartments that are easy to find. I wouldn't necessarily say that packing cells are needed for smaller suitcases (like when you travel interstate and you use a carry on) but they are fabulous when you travel overseas with a huge suitcase!
We all know one right? That is, a chef groupie. For me, that person is my "brother" Nick who goes a bit gaga around chefs. This calendar called "Dishes" is aimed at women (one of the taglines is "‍It's all for the Ladies" but honestly, what about guys like Nick?) and features 12 Australian chefs as well as recipes from them. Is your favourite chef in it?
Lastly, when I went to stock up on some honey from The Urban Beehive, Doug gave me a jar of the Silverwater Red honey to try out. It's a gorgeous dark colour and an almost treacle-like flavour to the honey.
As for me, I needed to take photos of this lemongrass chicken quickly because as you can see Mr NQN could hardly wait to get into it. If you want an easy (you mostly leave this to simmer on the stovetop) but delicious meal and you love the aroma and taste of lemongrass then I wholeheartedly recommend that you try this!
So tell me Dear Reader, who is your favourite chef? And have you found this year has gone by very quickly?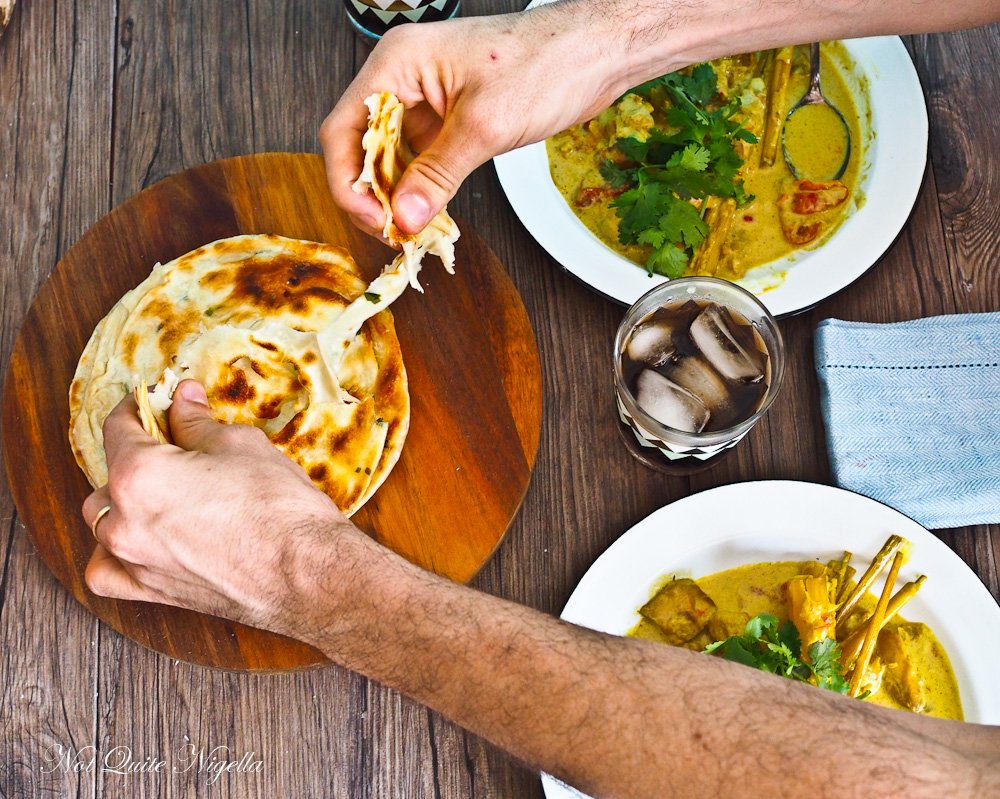 DID YOU MAKE THIS RECIPE? Share your creations by tagging @notquitenigella on Instagram with the hashtag #notquitenigella
Lemongrass Chicken
Adapted from Wandercooks
Preparation time: 10 minutes
Cooking time: 35 minutes
Serves: 2 with rice or roti bread as a main by itself
2 sticks lemongrass
Oil for frying
1 onion, peeled and chopped roughly
2 cloves garlic, peeled
1 inch ginger, sliced
4cm stick of turmeric, peeled
2 small chillies (1 small if you don't want it too hot or use larger chillies if you want it milder as they are less spicy)
2 tomatoes
2 tablespoons fish sauce
1.5 teaspoons sugar
500g/1.1lb chicken breast or thigh, cut into bite sized pieces
1 cup water
1/2 cup coconut cream (optional)
Step 1 - Split the lemongrass sticks in half horizontally and bash the cut side with the blunt end of a knife. Place the onion, garlic, ginger, turmeric and chilli in a mortar and pestle or a food processor and bash or process away. I did it in a mortar and pestle and wished I had cut the onion into smaller pieces so that it would have been easier.
Step 2 - Add oil to a wok or frypan and fry the paste mixture until fragrant. Add the lemongrass and tomatoes. Then add the fish sauce and sugar. Then add the chicken and water and simmer for 30 minutes covered.
Step 3 - Check for seasoning and add more fish sauce or sugar if needed. Then add the coconut cream if using at the end and stir through. Serve with rice or roti bread.