There's a real sense of theatre from the moment you set foot in Hubert's. It's a space that was formerly a Chinese restaurant called The Celestial. Yet there is no trace of the former restaurant whatsoever, its pond and bridge completely erased and it is entirely transportive. It feels as if you've arrived on a version of a Baz Luhrman set (sans Nicole Kidman on a swing). It's post war Europe from a decades ago when people dressed up, service was genial and they knew all about cocktail hour.
Hubert is four weeks old and is the first foray into fine dining by Swillhouse Group, the people that brought Sydney The Baxter Inn, Shady Pines and Frankie's. Chef Dan Pepperell​ is from 10 William Street and the menu features French and European classics.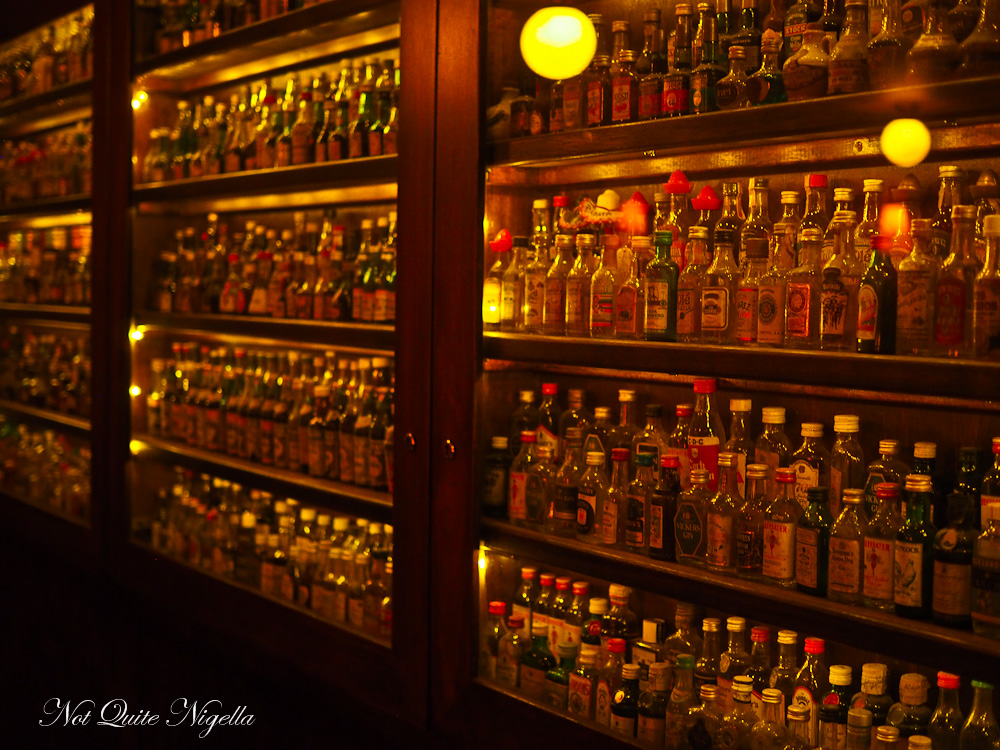 The transformation is striking and the space looks like it has had the timber panelled walls for its entire life. And that's once you walk down the spiral staircase with walls lined with 4000 miniature spirit bottles. It glamorous - wear your heels (or don't, it's that kind of place and later that night, a girl removes her top and walks around in a bra). What I guess I'm trying to say is that I suspect most people will feel comfortable here.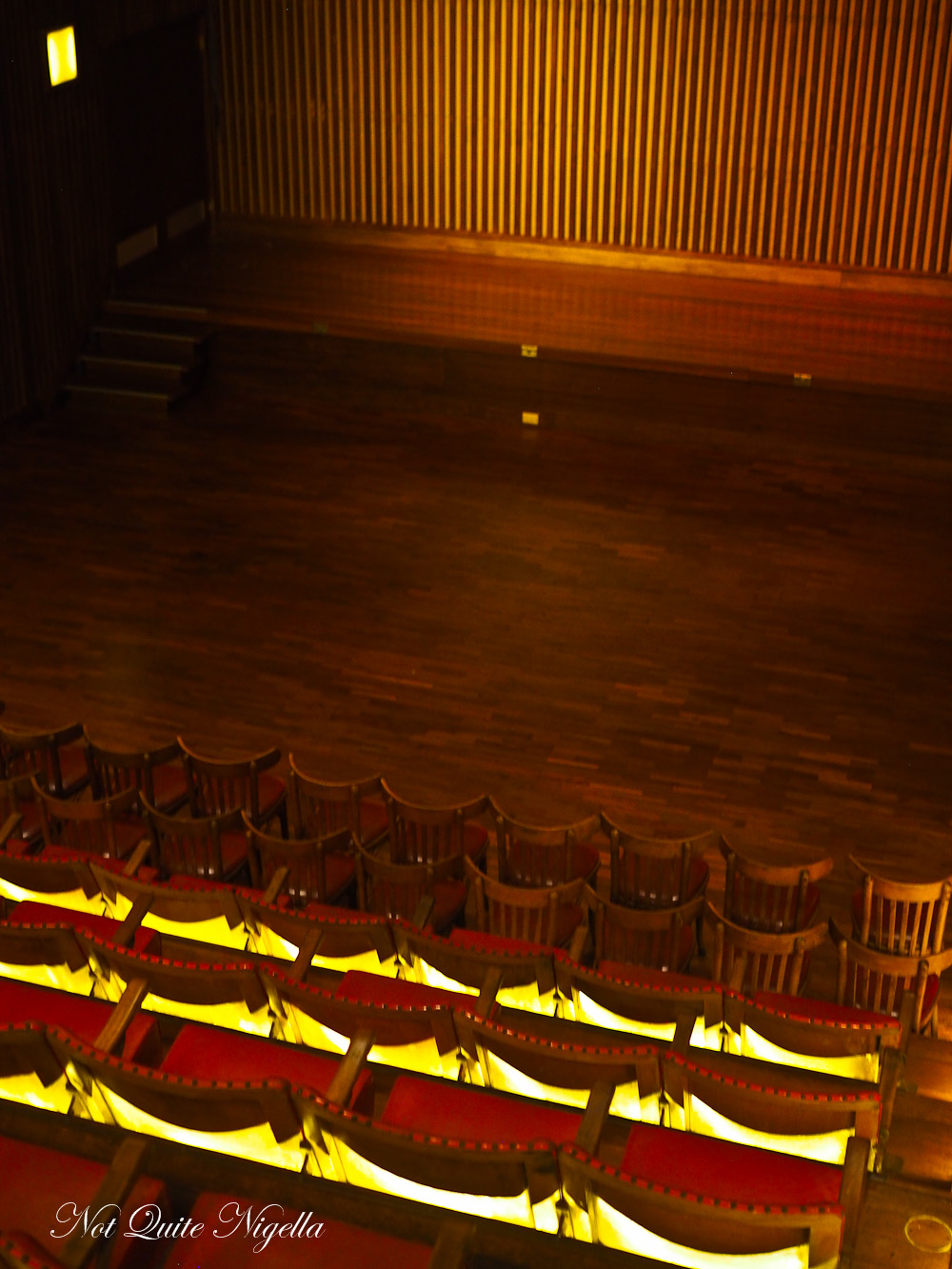 Theatre
There's a stage and a theatre too and plans for an upstairs bar serving charcuterie and wine where people can peer down into the restaurant below. The theatre with vintage red theatre chairs will host talks and events in the future. There is one private dining room currently with another to come.
I never quite know where to go for my birthday every year. You want it to be memorable and you want everyone to have a great time. When Nick visited Hubert in the first week he took a picture of a duck dish that set my heart aflutter. The problem is that you can't pre-order it. It is first come first served.
Hubert Pastis Fizz $20
There are two bars: Bar Normandy next to the main dining area on the left as you walk in and Bar Pincer. We settle into Bar Pincer to the right of the entrance and it has comfortable booths. I sip on a Hubert Pastis Fizz, a sweet and creamy concoction strong with anise courtesy of the pastis spirit mixed with cognac, cream, honey, citrus whites and soda.
At 7:30pm we are led to the restaurant's private room. It seats up to 10 people comfortably which is perfect for our table of 9 and we are delighted to have this space. Which means that Nick is in his element and even more outrageous than normal and we can let loose a bit more (pants were kept on I might add). Service is wonderful and warm, nothing is ever a problem and they are very attentive all night.
Tables of seven or more have two set menus to choose from, one for $75 and the other for $95. Normally I try and steer away from set menus but in this case I am glad that we went with a set menu. The second one has a lot of the menu's highlights but doesn't include the duck. Belinda quickly nabs the last duck they have for us and we go with the $95 menu.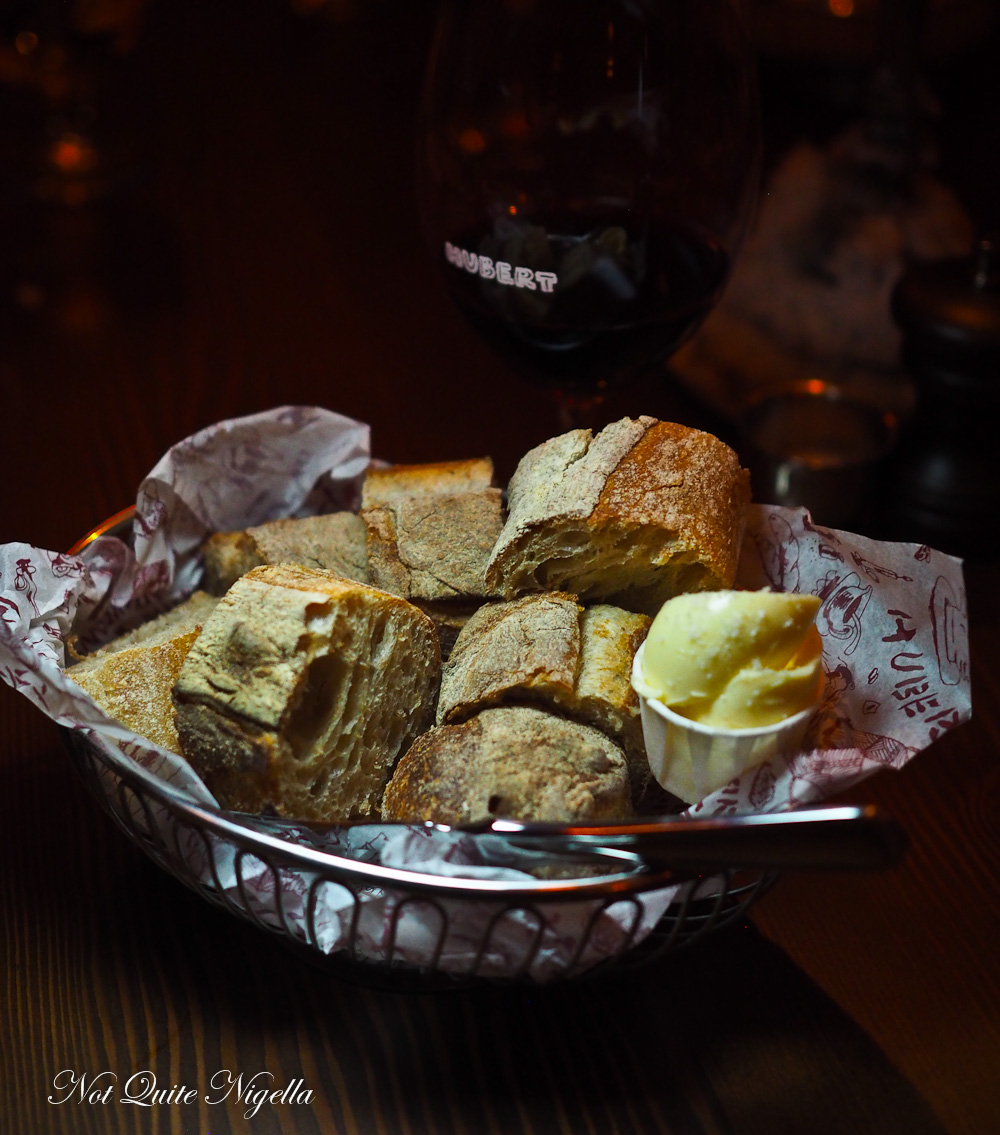 Bread
I needed to put up a picture of the bread mainly because I can't hide my love for it. The soft tangy butter and soft baguette with the crunchy crust are so good I eat half a dozen pieces by the end of the night (and then I wonder why I look so puffy on camera? Hmmm).
Oysters Mignonette
They bring out generous platters of oysters mignonette. They're Sydney rock oysters served with an eschallot and black pepper vinaigrette. We're all oyster fiends and even with a table of hungry oyster enthusiasts there are enough for two or three per person. They're greedily gobbled down with relish, the private room setting making us less elegant and more hungry.
Charcuterie
The charcuterie plate has three types: bresaola, prosciutto and saucisson. They're all fantastic and we spear the thin leaves of meat onto forks and pass the plates along.
Terrine du jour
Similarly the pork and pistachio terrine with marinated prunes is perfect on it's own eaten with fork and knife or with the bread. And it kills me to send any of this back to the kitchen but we know that we have a lot of food coming.
Clams Normande
They're generous with the bread here and good thing too because once you try the small, tender pippies in tarragon cream sauce with chives then you just want to take the bowl and raise it to your lips and drink. Or if you're sharing, dunk a piece of bread in to soak up the juices.
Prime beef tartare and frites
Queen Viv adores the beef tartare and it's perfectly seasoned and goes well with the crisp fries. It is made with wagyu topside with just the right amount of mustard and chives and other classic condiments. And there's something about a big mountain of fries isn't there? Like when you order food and there's an option of fries there's at least the strong consideration to order some. The overflowing bowls of matchstick fries are dusted in furikake and they're pretty fabulous and perfectly seasoned. Our waitress recommends plunging them into the Clams Normande sauce but I like them as they are eaten one stick at a time to keep their crunch.
Canard Farci $95 (extra dish)
Dear Reader, what time do you normally like to eat? Because I've got the best reason to book an early table. It's for the Canard Farci. There are only 4 of these ducks available on the nights it is on and at 7:30pm we are lucky enough to get the very last duck. There is a limit of ducks because they hang for two days and there is limited space to hang them. And the duck? It is absolutely worth ordering (we added it as extra to our set menu which meant a lot of food but hey what's new?). The duck is stuffed with duck sausage with a spiced skin and there's a richness of spice and a sweet, slightly sticky cherry sauce.
Pommes Anna
And then comes the potatoes Anna. Whatever you do, you need to make sure that you have a serve of the Pommes Anna. The thinly sliced potato is layered and then crisped up and served with some beurre blanc. And I think I ate a whole plate of this myself, especially with the beurre blanc that tastes like it has a hit of brandy or marsala in it.
Cote de Boeuf
And then the beef comes out. It comes as two 1 kilo serves of grilled Riverina rib eye with baked garlic and a sauce choron. I nibble on one of the juicy bones and try a slice. It's rich and tender and the sauce choron is a version of bearnaise but with the addition of tomato paste that lifts the meat nicely with its rich tang.
Salade
At first we are not sure what to do with the salad served as an entire red butter lettuce dressed with a shallot and caper vinaigrette and chervil. Belinda suggests that we tear it off leaf by leaf with our hands but you can also cut it off leaf by leaf.
Melon en Surprise
I think if given a choice, I might have gone for the St Honore (my favourite pastry) but the dessert that comes with the set menu is the Melon en Surprise. It is half a Santa Claus melon or a piel de sapo hollowed out with balls of the sweet melon, sorrel jelly, pops of finger lime caviar and a blanket on top of young coconut sorbet. It's very refreshing although I don't know if we all loved it equally with some preferring more classic desserts.
We end up staying in the bar drinking cocktails afterwards and even at 1am it is still buzzing with people sipping cocktails or lingering in the restaurant. I look around and even though it is only a month old I suspect it is already a classic.
So tell me Dear Reader, what do you usually do for your birthday? Do you often go for set menus? Would you eat earlier so that you could try a limited dish? And what time do you usually book for? And do you ever book private rooms?
This meal was independently paid for.
Restaurant Hubert
15 Bligh St, Sydney NSW 2000
Open Monday to Saturday 5pm-1am
http://www.restauranthubert.com