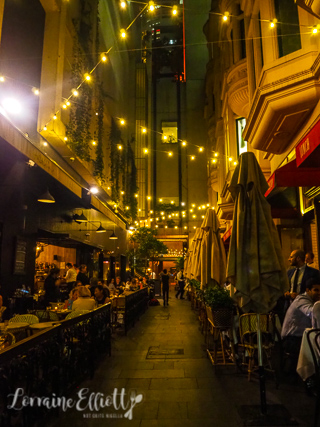 Felix on Ash Street has a bustling French bistro atmosphere. The menu has a classic French menu with soufflé, steak frites and Cote de boeuf but if that sounds too rich there's also a menu with fresh, cold seafood dishes.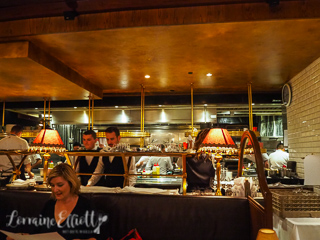 Valentina, Katie and I were all set to go to a different bar that night but on the way Valentina messages me. "The wait time is 1.5 hours," she says. She's willing to wait if I have my heart set on it but my stomach says otherwise and we do a quick rejig of plans and go to Felix instead.
It's bustling in this French bistro. It really does feel like you're in France. There's an open kitchen to one side and a cold seafood counter in the middle of the room.
We're in the mood for something lighter so order a range of entrees all to share. They bring us a tray of fresh bread and our food comes out shortly after all at once. There's so many entrees that they bring another table to rest some plates on (story of my life).
The pate is the only meat amongst all the vegetables and seafood. It's a chicken liver paté with currant relish, cornichons and fat wedges of lightly toasted brioche with dressed baby cos wedge and cornichons.
We have two crab salads (really nobody is complaining) and this pea and crab salad is a different flavour profile from the simple crab salad on the seafood platter below with feta, baby cucumber, mint and apple and is more substantial.
The marinated globe artichoke is nice although could use a little more seasoning as it's very mild in flavour. It's paired with smoked eggplant crème, confit potato, watercress and a herb vinaigrette.
I ADORE a seafood platter and there were three of them on offer ascending in size. We have the smallest one with 4 oysters, 200g of Queensland prawns, Alaskan King crab salad, mignonette dressing for the oysters and marie rose sauce for the prawns. This comes from the cold seafood station separate to the kitchen. I love the prawns dipped in the Marie Rose sauce and the simple crab salad is gorgeous with a mayonnaise base. I make myself a little crab sandwich using the fresh bread given.
The John Dory is a fantastic with a perfectly cooked fillet of John Dory on top of wilted Swiss chard with a warm tartare sauce that is creamy with a bit of piquancy to it too. I was intrigued by the idea of the warm tartare sauce and it really works.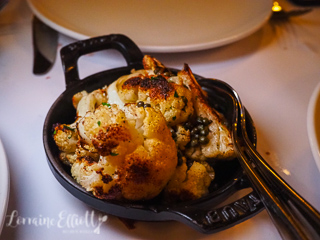 We pair the fish with roast cauliflower with lemon, caper and a classic vinaigrette which has a sweet edge to it.
Felix's dessert menu is full of classics but I am not really a classics sort of person so nothing really jumps out at me. Ordinarily I might have ordered the apple tarte tatin but it's $38 and for two and only Katie and I are having dessert. Instead we go for the vanilla creme brulee with oat crumble and a tart red fruit sorbet that satisfies our sweet tooths perfectly.
So tell me Dear Reader, do you sometimes just order a range of entrees at dinner? Would you wait 1 and a half hours to get into a bar?
This meal was independently paid for.
Felix Bistro & Bar
2 Ash St, Sydney NSW 2000
Monday to Friday 12–10:30pm
Saturday 5:30–10:30pm
Sunday 12–9:30pm
merivale.com
Phone: (02) 9114 7303