What better meal to have when the weather turns a little chilly than a crepe? Savoury or sweet, French style or Japanese, Sydney has no shortage of creperies. Take a seat and come along on our journey de crepe where we break out our limited and poorly accented French and eat crepes all over Sydney and find out who has Sydney's best crepes!
We had several crepes to use as blueprints. I had eaten crepes in Vannes in Brittany, thin crispy galettes with Brittany's famous salted caramel sauce. And we had also eaten Crepes Suzette at Monaco's Cafe de Paris where they were invented. And then there was Japan's Harajuku crepes, an entirely different prospect where more is more and you may find a cheesecake wedged inside your crepe. In France savoury crepes are often Breton galettes-these are made using a gluten free buckwheat flour and these are darker in colour than flour based crepes which are usually served for sweet crepes.
One thing that I did notice was that there were places that either had a comprehensive menu of crepes and then there were places that served just one or two crepe dishes. How would the specialist places fare in comparison? And a lot of places we had found had opened and then closed which is not untypical of Sydney but we wondered if that meant that crepes just weren't that big a thing in Sydney.
At 10am we set off, six of us. We actually Mr NQN, me, Louise and Viggo plus two special guests: Mochi for most of the trip as many places were dog friendly plus Louise's bun in the oven, Baby B. Because crepe menus vary we decided to get the recommended crepes from each place with one savoury and one sweet choice. Read on for our hit list!
1. Bonjour Crepes, Sydney CBD
The Alliance Francaise is an organisation that promotes French language and culture outside of France. Sydney's branch also have a cafe with three types of sweet and savoury crepes.
There are tables inside and out and we order our crepes at the counter along with some interesting drinks including a drink that is essentially a cup full of chantilly cream with a shot of espresso (delicious but so indulgent). There's also an interesting fruit drink from Columbia called a Lulo (a cross between tomato and citrus fruit).
La Petite $8.50
The crepes and drinks come out and we notice that they're both flour based crepes. This pleases Mr NQN because he doesn't like buckwheat flour whereas the rest of us do. The savoury crepe is a bit mild or bland in flavour and needs a bit of seasoning. The sweet crepe however is generously filled with Nutella and strawberries and is moreish indeed. It's an interesting start to the challenge and I wondered whether we would end up preferring sweet or savoury crepes.
Fruitella $12.50
Savoury crepe score: 61/100
Sweet crepe score: 66/100
2. Creperie Suzette, The Rocks
There are four of us in our car trying to negotiate the unexpected twists and turns due to roadworks in the city - I'm just glad we didn't drive the wrong way down a street quite honestly. As we are starting early we have been very lucky with the parking even with the Weekend Rocks Market on and we settle in at Creperie Suzette, adjacent to the Harbour Rocks Hotel on Harrington Street.
La Pekinoise $16
This is my favourite cafe for the atmosphere. It's warm, welcoming and just looks so tempting. We ask about the popular crepes and she says without hesitation the salted caramel crepe. We order this along with a Peking duck crepe, obviously not a classic French crepe but it sounded interesting. We watch as they make the crepes to order and within five minutes our hot crepes come to the table.
La Caramel au Beurre Sale $15
The Peking Duck one is crisp and delicious and an interesting take on the crepe (although I would have loved a bit more meat and less hoisin sauce as it is so strong). But the real beauty is the salted caramel crepe filled with drizzles of salted caramel in the centre and on top. It is served with a wonderful creamy and very vanillaey ice cream. And I think I have just found my favourite crepe and we are only on stop two!
Savoury crepe score: 85/100
Sweet crepe score: 82.5/100
3. Gourmandise de Paris, Pyrmont
Our next stop is in Pyrmont where we take a seat at the outdoor seating area at Gourmandise de Paris. The menu has a mix of crepes, other goodies as well as freshly made juices. I order my favourite mix (beetroot, carrot, pear and ginger) and we order two crepes.
Petite Montagnarde $18
There is an option to change the crepes to galettes aka buckwheat crepes. I ask for the savoury crepe to be turned into a galette but there's a miscommunication and both are made as buckwheat galettes. "I just can't stop eating this," says Viggo of the savoury one and I agree, it's very addictive. "This is like eating a toasted cheese sandwich," points out Mr NQN and he's quite right there (perhaps also why I can't stop eating it).
Pomme Canelle $13
There's also another miscommunication as we ordered a flambeed crepe and the apple one was brought instead. Not wanting to make a fuss and admittedly we also did almost order the apple crepe we eat it. It's delicious. Louise says, "Apple was tender, not falling apart, almost like tarte tatin style," while Viggo finds the "the apple and cinnamon was perfectly balanced."
Savoury crepe score: 77/100
Sweet crepe score: 78/100
4. Love Crepe, Pyrmont
Our next stop is a new one to us. As soon as you walk in you notice that Love Crepe is different to the other places. It's more about shakes, gelato and crepes. They make all of their gelato in house and we order a savoury Nammos one with Chicken, mushrooms, house sauce and mozzarella as well as a massive sweet one with pink Nutella, gelato of our choice (strawberry cheesecake), sauce and fresh strawberries.
Nammos Crepe $13
The crepes are served in cones and there is an outdoor seating area. They do get a bit of a mixed reaction. Louise finds them, "Sweet was very sweet, lots of filling, nice gelato" while Viggo isn't as impressed, "the sweet one had fairly standard ice cream and sauces - good quality crepe, but nothing special". I found the savoury crepe quite sweet as the crepe batter itself was sweet and this was noticeable to everyone. And the sweet one is an entire meal in itself although Mr NQN likes the fruit and gelato.
Pink Love Crepe $16
Savoury crepe score: 66/100
Sweet crepe score: 71/100
5. French Touch Bistro, Surry Hills
The next stop is in Surry Hills and we're a bit on a sugar high after the dessert crepe at Love Crepe. The radio plays Stevie Wonder and Viggo starts some nerd talk in the car about Casio PT100 calculators and keyboards. He suggests that we sing Radiohead's song Creep but instead sing "I'm a crepe" instead. Yep we were crepe drunk.
We arrive at French Touch. It was formerly a creperie that has now transformed into a bistro and creperie. French Touch have carousel crepes which are enormous crepes for 2-3 people and at $38 you really have to like that flavour. I remember loving the chestnut and speculoos crepe. Unlike at the other places, our crepes take a long time to arrive too (I think they forgot our order) and they're a bit higher priced than the others.
La Bleue $20
The bleu crepe is a galette and filled with blue cheese and topped with prosciutto, walnuts and roasted pear. Slightly odd is the piece of pear missing in one quadrant but we divide it up evenly. It's a delicious crepe with a bit of crispiness to it on the edges. It also comes with a side salad too.
La Bananarama $17
The salted caramel crepe is a wheat flour crepe and served with lashings of divine salted caramel sauce, whipped cream and flaked almonds. I prefer the toasted flaked almonds to the slivered almonds at Creperie Suzette and it's hard to stop at one or two bites of this it is so good. This sweet crepe is the second highest rated crepe of the day.
Savoury crepe score: 72/100
Sweet crepe score: 83/100
6. Bitton, Alexandria
It's early afternoon and we've managed to cover off quite a few places. Mainly because crepes are generally really fast to make. We drive to Bitton in Erskineville where they have one savoury crepe and one sweet one among their cafe offerings.
Savoury Crépe $19
The savoury crepe is served with Bitton coriander pesto, mushroom, spinach, goats cheese served with pomme frites and salad. It's not the prettiest looking crepe, it's sort of broken and a bit sad looking but the filling isn't bad. I get the feeling that these crepes were made before and then used rather than freshly made. Louise says, "Not what I was expecting, savoury was sweet and the crepe was quite short and broke up quite easily." Mr NQN doesn't mind it saying, "Quite a different approach to a crepe and good to see some healthy bits in it."
Crepe Suzette $14
The Crepe Suzette is said to be "Flambéed with Grand Marnier" but I have to say that these don't seem anything like the crepes suzettes anywhere else. They're served with ginger sauce, candied ginger pieces and orange sorbet. There's no sauce to them like a traditional Crepes Suzette and they're quite cold. Nor is there any flambeeing at the table (we guess they're maybe done in the kitchen?). On the plus side the orange sorbet is refreshing in the afternoon's heat but a vanilla or creamy ice cream would have suited this well.
However the bonus creme brulees are a nice touch.
Savoury crepe score: 59/100
Sweet crepe score: 62/100
Mochi fixating on a crepe
The Four Frogs Creperie cafe has expanded to three locations and we make our way to the second branch in Randwick. It's 3pm and there's a table free outside for us and Mochi. There are three staff members on and it takes quite a while to get our food and service.
La tartiflette $20
The savoury crepes are galettes and we choose the La tartiflette which is bacon, Swiss and raclette cheese, onion & potato. It's a pretty good galette-as much as Mr NQN dislikes buckwheat I love it. In fact Louise, Viggo and I comment about how much we love the crispy texture.
Nutella, strawberry & vanilla ice cream $15
The sweet crepe is paper thin and eggy with a drizzle of nutella, strawberries and vanilla ice cream. I would have liked more Nutella on this. We all found this one to be a bit lacking in flavour and substance with Mr NQN pushing up the scores with his dislike of buckwheat. Louise gives the sweet crepe a 5 for both the crepe and topping saying, "Sweet, I didn't like it, there was a fake flavour, not sure if it was the vanilla or the chocolate but didn't taste like Nutella". We had hoped to be a bit more wowed.
Savoury crepe score: 71/100
Sweet crepe score: 64/100
8. Hugonette's, Kings Cross
It's our penultimate stop before we head across the Harbour Bridge and we take a quick stop in Kings Cross to Hugonette's Although this is a tiny sliver of a crepe place, located just under the Coca Cola sign it offers freshly made crepes. We go for the L'Australienne crepe. We noticed too late that we could make them galettes too.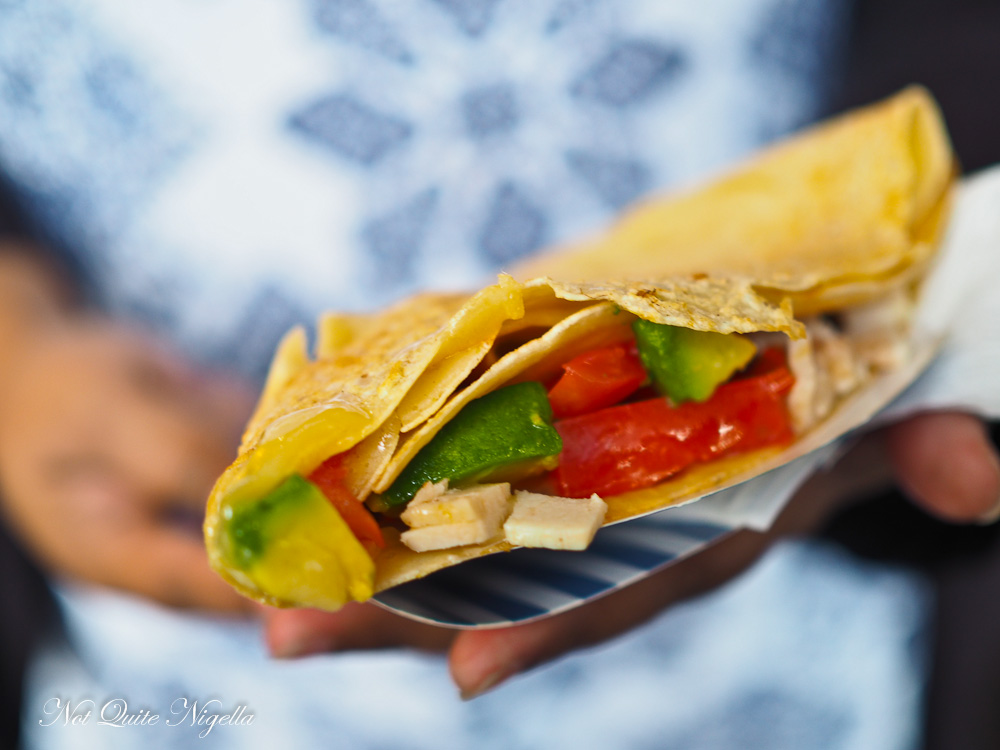 The L'Australienne $11
The L'Australienne crepe is made with chicken, avocado, tomato and cheese. And despite all we've eaten we can't stop eating it. Honestly we've found a lot of the savoury crepes a bit disappointing and suddenly we really enjoy this not very French sounding crepe? Go figure. Louise says, "So nice, a fresh, light crepe and a tasty filling." Viggo also likes the fresh flavour inside the crepe although he finds the crepe a bit "floppy".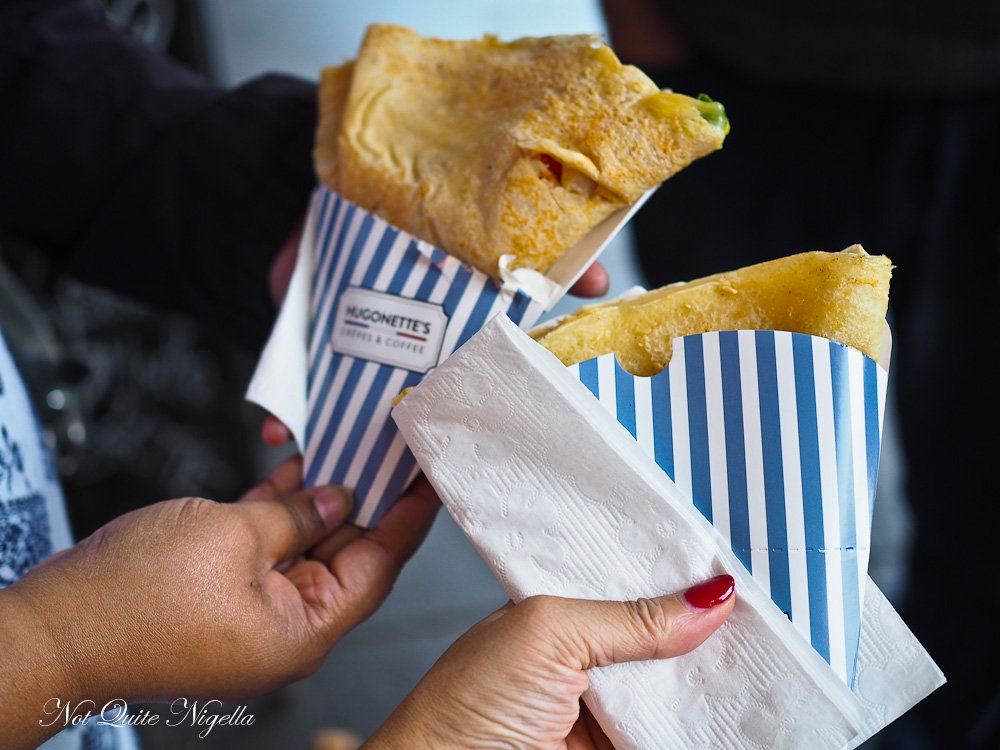 La Divine $5
And you can't beat a lemon and sugar crepe, especially at that price. Lemon and sugar are such a classic combination with crepes and Mr NQN proclaims it "superbe (you must say it with a French accent)".
Savoury crepe score: 77/100
Sweet crepe score: 74/100
"Wow those clouds are like fish scales," I say feeling crepe drunk. We're headed back to my parents house to drop Mochi back as the last restaurant isn't dog friendly.
For every one of these challenges there's always a little slump in the late afternoon and the urge to nap is strong. This time we decide to make a little pit stop for a foot massage and rest before resuming our crepe conquest. It's one of the best decisions we could have made. The boys go to a pub for some beer while Louise and I sit back and relax. This gives our stomachs a break too and that means that we are more than ready for our final stop!
9. Chez Maurice et Linda, Balgowlah
We always like to finish our challenges on a high note and it was quite a challenge to find a fine dining French restaurant that had crepes on the dessert menu. Most don't it seems. We booked a table at Chez Maurice et Linda. Early tables are hard to come by but later ones easy as the crowd here like to eat early but it's always popular and Northern Beaches locals Louise and Viggo always see that it is busy when they drive past.
There are two types of crepes on the menu and there is a 2 or 3 course minimum although at $49 and $59 it's very reasonable. The restaurant is also BYO. I'm hankering for anything but a crepe and when they set down a complimentary ramekin of pate and cute little toast points I am suddenly ravenous again (the nap at the spa also helped).
Seafood crepe
The seafood pancake is an entree (I'll do a separate post on the whole meal) and this is a thin, eggy crepe filled with mussels, scallops, prawns and smoked salmon, egg and dill, topped with Béarnaise sauce & black caviar. It's quite a different proposition from what we've already eaten. I am not sure about the bearnaise sauce, it's quite strong for the delicate seafood. Viggo didn't score this because he is allergic to shellfish.
Crepes Suzette
The sweet crepe is a Crepe Suzette and they set it alight at the table. It's very strong in Grand Marnier and Viggo is a fan saying, "Good amount of Grand Mariner on the Crepe Suzette, delicious and firey!". Louise is the first to try them and I think she thought that it was more cooked off than it was and said, "Too much Grand Marnier would have loved to have more of a caramel like sauce was a bit too orange juice like."
The food is all about French classics done very well and despite how much we've eaten we enjoy them with gusto. Maybe it's the rest in between, the massage or maybe it's the idea that even though we ate a lot we live in hope that crepes are light and thin and isn't there that book "French women don't get fat?". I don't think French women also do crepe challenges but we live in hope!
Savoury crepe score: 69/100
Sweet crepe score: 71/100
So tell me Dear Reader, do you usually order sweet or savoury crepes? Do you have a favourite crepe filling? How often do you eat crepes?
* From our crepesters!*
Lorraine: I am crazy for crepes. When I first started earning money in high school I'd spend it on eating out and there was a creperie in Paddington that I loved called Creperie Stivell (long gone now). My favourite crepe there was a Mont Blanc crepe with mounds of chestnut cream and whipped cream. And since then I've adored this sweet and savoury treat.
One thing became really apparent quite quickly: if you want great crepes go to a crepe specialist. They make crepes to order and they take crepes more seriously as they have dedicated crepe pans that allow the batter to get beautifully and evenly crisp. This is why perhaps a lot of fine dining French restaurants don't do crepes.
I was overall a bit disappointed by the savoury crepes on offer but conversely delighted with the sweet crepes. I really adore galettes, even on sweet crepes-the crepes I had in Brittany were my favourite and the ones that I base crepes on. There's something so light and crispy about a galette. And you really learn something new about your partner as I didn't realise that Mr NQN hated buckwheat as much as he does!
Louise: Growing up overseas, we had a cook, a very talented man who would drop everything and make me something special if he even thought I looked somewhat hungry, usually fried rice, char kuey teow or crepes with lemon and sugar (yes I was a spoilt 4 year old). These three things are still in my favorite foods.
Luckily crepes survived my disastrous time at Uni when I would look at my bank account and subsisted mainly on Saladas with tomato and Promite (yes I like Promite, don't worry Viggo like Vegemite to make up for this), spaghetti bolognaise or crepes with lemon and sugar, how I didn't get scurvy I don't know. Crepes were great, we always had flour, eggs and milk and they took five minutes to make with relatively little cleanup.
So like all challenges, you need to prepare, no large meals the day before, no big breakfast and mentally realize that you will be eating for hours straight. So luckily I'm partial to a good crepe and I'm going to try and only have enough to get a good judgement of the product. This time with only four of us there was plenty to go around.
I've found that my taste buds have changed and once where I would jumped on chocolate and strawberries, I was more enamored with the savory side, especially the buckwheat crepes which to my surprise were all light and crisp.
I think the scores represented the good array of crepes out there. And certainly I'll be going back for some.
Mr NQN: Driving all in one car was interesting. We discovered that Louise is looking at a career change from collecting money to the talkback airwaves - her show I assume will be called "Louise's Rants" with a special focus on everyday idiots that annoy her.
Onto the crepe eating... I need to be honest. I'm not a huge crepe fan. I figured out what I like and don't like doing this challenge. First up, making a crepe out of buckwheat - not nice. Next up making a crepe which is crispy - not nice. I found some really good crepes though. I really enjoyed the soft crepes which were almost silky in texture. Strangely the others thought they were undercooked. There was an exception to the crispy ones being not nice, I thought the crepes at Hugonettes were really good.
Perhaps I could be the first caller to "Louise's Rants" where I talk about how I hate buckwheat in a crepe?
Viggo: When I was a kid growing up in Denmark, I'd always look forward to pancake day, (crepes are known as "pancakes" in Danish) - typically that would be some kid's birthday, or sometimes we'd have them for dinner on the weekend, (just like Rasmus Klump!), those were the best lazy Sundays!
This was one of the quicker challenges, mostly due to how quickly a pancake can be cooked, but also because we we're quite lucky with parking - it was a good idea to take just one car; a benefit of of being ahead of time was that we had time for a small break before our final dinner - the girls got massages, and the guys went for a cider and a game of pool. We had a few games against each other, (man, I'm so rusty!), but then two other blokes challenged us to a friendly game, to which of course we said yes. We lost the first game by just a single ball, but won the 2nd game, (thanks to one of the blokes fouling twice, by first hitting the wrong ball, and then sinking the white, followed by mr NQNs skilful finish, sinking 3 in a row!), which of course meant we had to play a 3rd game.
Anyway, I digress, back to the pancakes: throughout the day they varied quite a bit in quality and consistency - some were light and fluffy, some were more doughy, and some were light and slightly crispy, which is more ideal in my opinion.
We didn't encounter any inedible pancakes - most of them were quite delicious - some combinations weren't particularly exciting for me though, such as too much cheese, and a few of them they used sweet pancakes, (instead of buckwheat), for the savoury galettes which I didn't really like. My favourite pancake for the day was the salted caramel with whipped cream at French Touch, this was a masterpiece of textures and flavour combinations - the pancake was light and slightly crispy, the caramel a velvety ooze of salty goodness, and the lightly toasted flaked almonds on top of the fluffy whipped cream made this a completely superb pancake in my book. I think the best savoury pancake was the one from Four frogs, and I also remember really liking the ones at Creperie suzette.
This was probably one of my favourite challenges, and I can't wait to have pancakes again, especially one with salted caramel, fluffy whipped cream, and toasted flaked almonds, mmmm!