When I wrote about my last food tour of Summer Hill with Belinda, a fellow blogger Bianca from For Food's Sake asked if I would like a food tour of her suburb, Concord. I make it a policy of never refusing an offer like this - it would be foolish, nay crazy to refuse an offer from these guys.
Alex, Bianca and Vanessa (left to right)
Concord is a suburb in Sydney's inner west bordered by North Strathfield to the West, Breakfast Point to the North and Five Dock Canada Bay on the east. The main thoroughfare and shopping street is Majors Bay Road. Bianca and her brother Alex and first cousin Vanessa make up team FFS and today they're taking me around their suburb. "It's suburban but there's quite a bit going on here," says Bianca who has lived in the suburb since 2005.
Wolfpack Coffee Roasters
I should know that you can't keep a good foodie down and even though there were wild winds in Sydney and the Bureau of Meteorology advised that Sydney-siders stay inside for the whole weekend, we just carried on with the plan at hand. I arrive at Bianca and Alex's house and we hop in Bianca's car to our first stop. Wolfpack coffee roasters is a dark grey building with a small eat in section and an outdoor astroturfed section.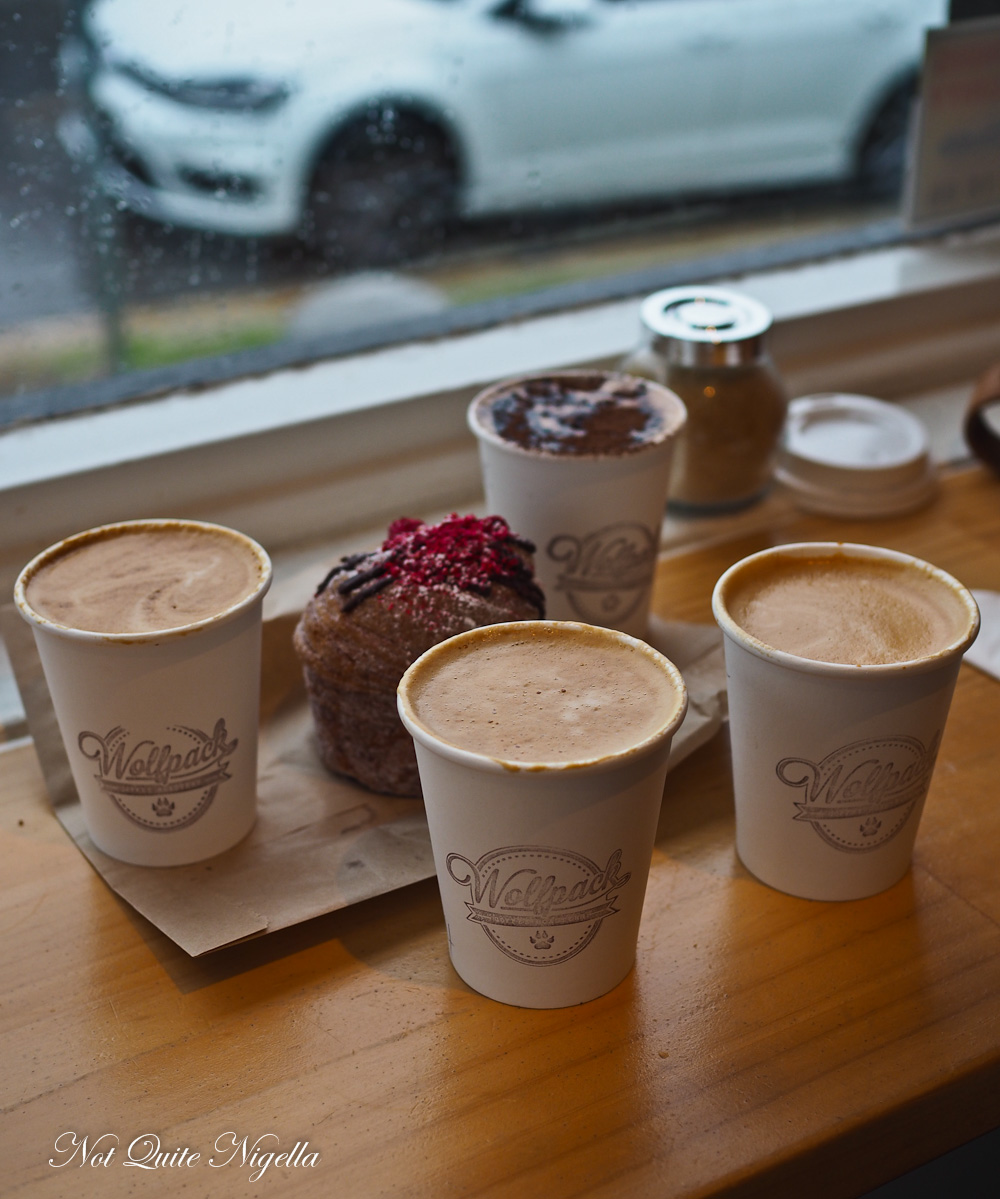 Which on a sunny day would be where we would be sitting but as it is raining buckets we take a seat on the small indoor section. The coffees are a good start to the day, my regular flat white is very good and we have it with a raspberry cruffin that is buttery with a raspberry custard centre. "Must remember three bite rule," I mutter to myself...
Munoushee
Chilli Soujuk with Jebhen $8
Shaking off the crumbs we head to the next stop. "Are you hungry?" asks Bianca. I am trying to act cool and not ravenous but I am not fooling anyone. We drive towards Majors Bay Road. They point out Espresso Organica aka the place to be seen with a large outdoor section for people watching. But our stop is at Munoushee for Lebanese pizzas.
Za'atar with labneh $4
It's pretty busy despite the rain and we pick a few pizzas to have there. Prices are very reasonable and start with a $3 zaatar topped pizza-for $4 you can have labneh or yogurt cheese added to it and the bread rolled up. But our hearts are stolen by the chilli soujuk with jebneh cheese. The pizzas are thin and there's just enough of the thick slices of soujuk sausage.
Za'atar pizza $3
Skorin Deli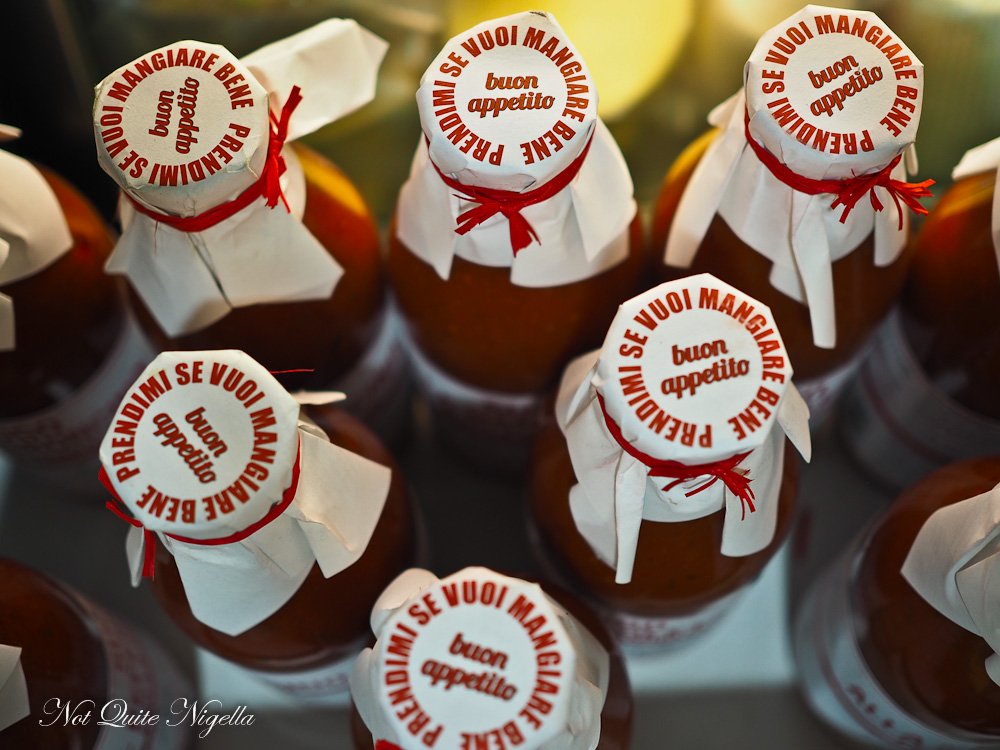 Our next stop involves their favourite deli called Skorin Deli. "They're a lot nicer than they used to be," explains the very polite Bianca. They're busy shaving deli meats and there's a long line of people buying goodies like enormous bags of Calabrian chillies, packs of tiny Chinotto and large jars of Nutella.
And the trio's tip? Treccine breadstciks or grissini dipped in Nutella! There's also a good sized cheese section as well as Italian board games like Super Tombola Special and 4 kilo buckets of Caputo or pizza flour.
Sud
With parents from Ischia Island near Naples and Messina in Sicily, the cousins often find it hard to eat out at Italian restaurants because nobody cooks quite like their 88 year old Nonno who still fixes Sunday dinner for the extended family. But when they do eat out, Sud meaning "south" is a favourite. A small plate of olive bread and olive oil is brought to the table and we're too busy talking to order-they have to come back four times to take our order!
Provolone al Forno $13.50
If ever you need an antidote to rainy days and wild weather may I offer you this solution: Provolone al Forno, a mild oven baked cheese served with a lick of passata sauce and toasted bread. It comes to the table bubbling away and we are all transfixed.
Panzerotti fritti $15.50
And if that doesn't convince you then how about panzerotti aka deep fried folded dough stuffed with ham and cheese? When you cut into it the cheese is all gorgeously melted and you can add some passata sauce to it. I mean seriously, bring on the stretchy pants...
Penne Norma $14 (kids)
Another comforting dish is the penne Norma with chunks of deep fried eggplant, basil, passata sauce and dry salted ricotta or ricotta salata shaved on top. Although it is simple, it delivers in texture and flavour.
Verdura e pane $14
Vanessa is swayed by a typo for sauteed kyle. They use the term kyle throughout the menu but it means kale which is sauteed with chilli and croutons and is very good as it isn't dry like kale can sometimes be but it is a fairly small serve.
Fairy And The Frog Creperie
"This is a little...kitsch," warns Bianca as we pull up to Fairy and the Frog Creperie. She's right and quite honestly if they hadn't brought me to Fairy and the Frog I would probably not have gone in as I would have assumed that it was a kid's playhouse or something of the sort. Which is a shame as I would have missed out on the crepes here. This is our dessert stop. Service is friendly but a little eccentric and the room is decked out in pink. There's a table of four: two adults and two small children enjoying something to eat, the kids staring at the Disney classic Snow White on the flatscreen. Towards the back is a large table where we take a seat.
Pavlova Crepe $21
There are savoury crepes as well as sweet crepes and we are in the mood for something a little sweet. And the sweet menu has two flavours that we like the sound of. Bianca and her mum tried the apple crumble crepe and then Vanessa and I look at the same crepe at the same time. Pavlova. There's a ring of meringue, slices of banana, passionfruit, blueberries, scoops of vanilla ice cream and raspberry coulis. The meringue has a lovely fluffy centre and an abundance of fresh strawberries and while it is a little pricey for a crepe, there is definitely enough for two people in one serve as it is sizeable.
Apple Crumble Crepe $19.50
Although I love pavlova, I was smitten with the apple crumble crepe. It is also a large crepe folded into a square and filled with warm caramelised apple, cinnamon, biscuit crumble and a scoop of vanilla ice cream and two scoops of home made whipped cream. This is sweeter than the pavlova but I love the combination of flavours as well as the crunch of the cookie.
Antoine's Grill
Right nearby is Antoine's Grill, a French restaurant that is the perfect end to a day's eating in Concord. Okay truthfully we met up another day to do this but I think it was more because we ran out of time rather than stomach space.
Rustic garlic herb bread chive butter $8
Antoine's has an indoor and outdoor area but given the chilly winter vibe, even the outdoor heaters can't tempt us and we are firmly ensconced inside. We start with garlic bread and decide to share an entree (alas the foie gras is not available tonight). The garlic bread is cut into four and is crunchy, soft and garlicky and comes with extra butter. How is that not a genius move?
Scallops $21
The scallops are not what we expect. When they set it down I almost do a double take. This isn't in a bad way though they are very good. The scallops are silky soft and served with sweet pickled sweet corn, cauliflower cream, watercress and basil with a distinct sweetness to it.
Duck $38
I went for the duck based on the duck caramel jus and here the duck breast is served with carrot puree, olives, blackberry, carrots and a duck caramel jus. I did enjoy this but preferred the piece with the crispy skin side up. One piece was skin side down and that absorbed the juices and I find duck skin best when it is crispy. I realise how fussy I sound but I love crispy duck skin and the skin can get chewy if it isn't crisp.
Eye Fillet of beef 200g fillet $30
Antoine's thing is definitely beef and it's dry aged beef as well which makes me so happy (also the name is a dead giveaway too). Vanessa orders the eye fillet from Darling Downs in Queensland and it is a 200 day naturally pasture fed fillet that is cooked perfectly. I love the flavour and intensity from the grass fed beef and the dry ageing. It comes with a quenelle of mash and choice of sauce and her selection is the porcini mushroom.
Duo of Pork $38
Bianca and Alex both order the pork and I tried some of the pork belly which has a lovely soft meat and crispy crackling on top. It is served with maple pork loin, confit daikon, cauliflower cream and young radish.
Gratin of cauliflower fleuret d'auphinois, Swiss gruyere $10 and Velvet truffle mash $14
I am often really smitten with side dishes and when they have a layer of truffle in them that you stir through the creamy mash I don't really know what else you need in life. Except a never ending pot of this! We are also rather taken with both the look and taste of the cauliflower gratin. I mean is winter not the best excuse to order copious amounts of mash and gratin? This is served in a copper pot with fork tender cauliflower and a creamy sauce and a blistered cheesy top.
Chocolat fondant $18
The chocolate fondant is their signature dessert. It is made using Callebaut chocolate and is runny and gooey on the inside and just begs a bit of cold relief from the dark richness by the vanilla ice cream.
Paris Cheesecake $18
Why are all cheesecakes nowadays deconstructed? I have to admit though that this is really gorgeous. I love the strong vanilla flavour in this one. The dollops of cheesecake are light in texture but strong in Tahitian vanilla and there are toasted almonds and diced maple poached corella pear and malt syrup. And with dessert finished, I bid the gorgeous FFS team goodbye - reluctantly!
So tell me Dear Reader, have you ever eaten out in Concord? What do you think of the offerings here? Would you be able to a whole day eating tour?
These meals were all independently paid for.
Wolfpack Coffee Roasters
12 Bertram Street Mortlake, Sydney NSW 2137
Phone:(02) 9702 5070
http://www.wolfpackcoffee.com.au/
Munoushee Concord Lebanese Pizza  
39B Majors Bay Rd, Concord NSW 2137 Phone:(02) 9743 3939
Skorin Deli
215 Concord Rd, North Strathfield NSW 2137
Phone:(02) 9743 2058
Sud
10 Cabarita Rd, Concord NSW 2137
Phone:(02) 9739 6120
http://sudfood.com.au/
Fairy And The Frog Creperie
52 Mortlake St, Concord NSW 2137
Phone: 1300 992 456
http://www.fairyandthefrog.com.au/
Antoine's Grill
50 Mortlake St, Concord NSW 2137
Phone:(02) 9743 3354
http://www.antoinesgrill.com.au/