At Westwood pizza in Newtown, the pizzas are made with Australian flour from Gunnedah and toppings may include smoked eel, potato and rosemary or nduja and ricotta or their most popular fermented garlic honey. But before you go: I have a little piece of advice for you...
The story goes that Mitchell Westwood worked at Queen Margherita of Savoy and Bella Bruta in Newtown but then went off to do his own pizza place. Located on Newtown's Australia street just look for the blue painted concrete walls as signage is non-existent.
If I can offer you one piece of advice with Westwood Pizza it's this: call and order ahead.
It was a Friday night. I had just flown back to Sydney and we had just taken Teddy for a walk. Westwood was on my list but a friend's words echo in my head, "I'm going to wait until the hype dies down."
But then pizza cravings strike at odd hours, especially on a Friday night. "Can we swing by a pizza place in Newtown?" I asked Mr NQN. I wanted to see if there was a massive queue.
By some miracle, it was almost empty at Westwood. Two people were sitting down enjoying pizza and so I messaged Mr NQN to park the car and bring Teddy. But looks can be deceiving.
I went to the counter to order and the friendly girl behind the counter delivers the bad news. There is a 2 hour wait for pizzas. You see at Westwood there's a process: call from 5pm onwards and they will tell you a time in which to come. It may be something like 2 hours later but they have it down to a science and that is the price you pay for nabbing one of the 150 pizzas they make each evening. I wonder if I should come back tomorrow on Saturday. Mitchell suggests otherwise and says that they get slammed on weekends.
It's either going home to wait but I know that as soon as I'm home I will want to stay there and it's a beautiful evening so we wait outside. "If it's ready earlier we'll call you," they promise.
So we wait with drinks, our phones and Teddy doing tricks. We watch the steady parade of people coming in to collect their pizzas. These are of course the people that had called and been given a time so they're there to collect and eat their pizzas in the nearby park or at home or in the restaurant where they have brought their own bottles of wine and help themselves to plastic cups provided. We get to chatting with a charming couple sitting outside. She called Westwood from the airport as soon as she landed with her order. They kindly offer us some of their bottle of very good wine and we talk food while our spot in the queue moves along slowly. After 2 hours our pizzas are ready.
We are rather ravenous by this stage and we try our first pizza. The garlic and honey pizza is said to be their most popular and it's good, very good and suddenly you wonder why there aren't more garlic and honey pizzas. They use a fermented garlic honey with fior di latte cheese and pecorino for saltiness. But then after my first slice I am onto other pizzas so while I really like this, I wouldn't want this to be my entire selection.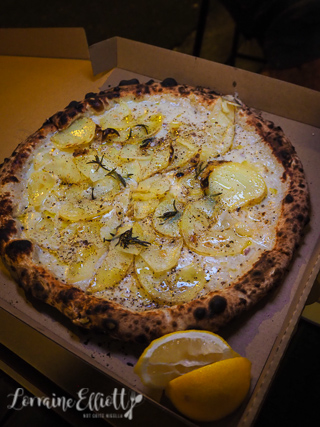 I was tossing up between this one and the nduja, ricotta and thyme (and the menu changes with specials added). This has freshly sliced Dutch cream potatoes, smoked trap eels and spikes of rosemary. The smoked eel is a very light flavour, almost so light that you might think this is just a potato and rosemary pizza. The base is very good and has a touch of sourdough in it and has been proved over 3 days.
My favourite pizza is not surprising because I love spicy pizzas. The salamanca with hot Spanish salami is wet, sexy and spicy with a generous amount of Spanish salami and a green herb sauce drizzle. It's the sort of pizza that you eat while leaning over the box because it is wet in the centre but then you don't really care enough to attend to drips because you're concentrating on the pizza. I should note that Mr NQN doesn't like the wetness of this pizza but I do and this is why I liked this over the garlic and honey.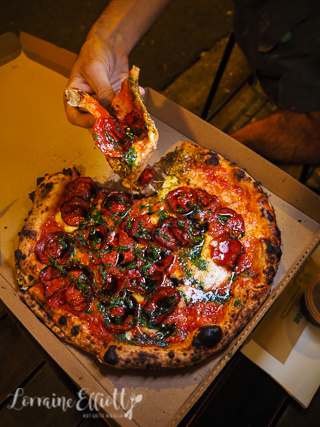 Oh and one last tip: get a little pot of XO chilli sauce ($4) for your crusts. It's an excellent version of XO sauce with a gutsy flavour and perfect for dipping the pizza crusts in.
So tell me Dear Reader, do you wait until the hype dies down on a place or do you want to be the first to try it?
Westwood
245 Australia St, Newtown NSW 2042
Tel: 0466 181 266
5 pm - late
Closed Tuesdays