Whenever I go away, especially overseas I love to bring back memories of new dishes eaten and then try to replicate them back home. It's one of my favourite parts of travelling. Sometimes places are kind enough to share recipes, while others hang tight onto their precious secrets, perhaps giving out a small tip to satisfy the hungry hordes.
When we were in Macau at Ristorante Litoral (meaning "coast", not literary as we thought) we had a dish that I just knew that I wanted to make again. African chicken is actually not Portuguese or Chinese but it is Macanese so something created in Macau by a chef Americo Angelo. It is said that the dish was created for in tribute to the Moors and many people tried to guess the ingredients. You see Americo passed on without ever fully divulging the recipe. Every African chicken recipe is a guess at his recipe.
The chicken is cooked in a rich sauce flavoured with garlic, shallots, wine, sweet paprika, tomato and coconut. Our guide asked us to guess the ingredients in the dish before giving us a little secret, "You know they use peanuts in their sauce."
As soon as I got home I bought some chicken to make this. Except the recipe card I was given was actually a bit...well missing a few items and instructions. On one side it said that it is a recipe with Cola and green capsicum that was baked, yet when you turned it over, Cola, capsicum or baking were never mentioned. So I went about trying to create my own African chicken.
I also learned some other interesting things on this trip to Macau. We were invited to a night club by one of the club's managers. It was a bit early in the night so things were a little boring. We were the liveliest people there as everyone else ignored the singer who was dressed beautifully but singing a round of elevator muzak tunes. The playlist was woeful and so I turned to fellow travel writers Sheriden and Mark and said, "I wish she'd sing Purple Rain."
You see I'm still not quite over Prince's passing. I adored him and I've been listening to Purple Rain on repeat ever since. And I learned that fellow writer Mark was also a Prince fan. So we put in a request for her to sing Purple Rain next.
"I've got some good and bad news for you," the singer said. "The bad news is that I don't know Purple Rain but one of my back up band does."
Then Mark did something really brave. Like braver than I could have ever been. "I'll sing Purple Rain!!!" he said.
What poor Mark didn't know was that when she said one person knew Purple Rain, she really meant that and that he had to teach the rest of the band the song. And then when you're up on stage, you can't hear anything that anyone else is playing so you can't sing in tune. He really did the best that he could under the circumstances.
"We have to get out of here!" whispered Sheriden.
"But we're his squad! We can't leave!" I said. And at that point he looked over and us and we gave him a big smile and a thumbs up.
After that, the singer sang some Amy Winehouse which was a refreshing change from the elevator music. People woke up and some danced. And she has Mark to thank for that. As we left later, a staff member stopped us and asked us why we were leaving. We explained that we had an early morning the next day. "Thanks for livening up the place!" she said. Yep Australians...that's what we do ;)
So tell me Dear Reader, do you have a karaoke song? Can you sing? Have you ever tried African chicken? And would you been brave enough to get up and sing in that instance? (I wouldn't have haha!)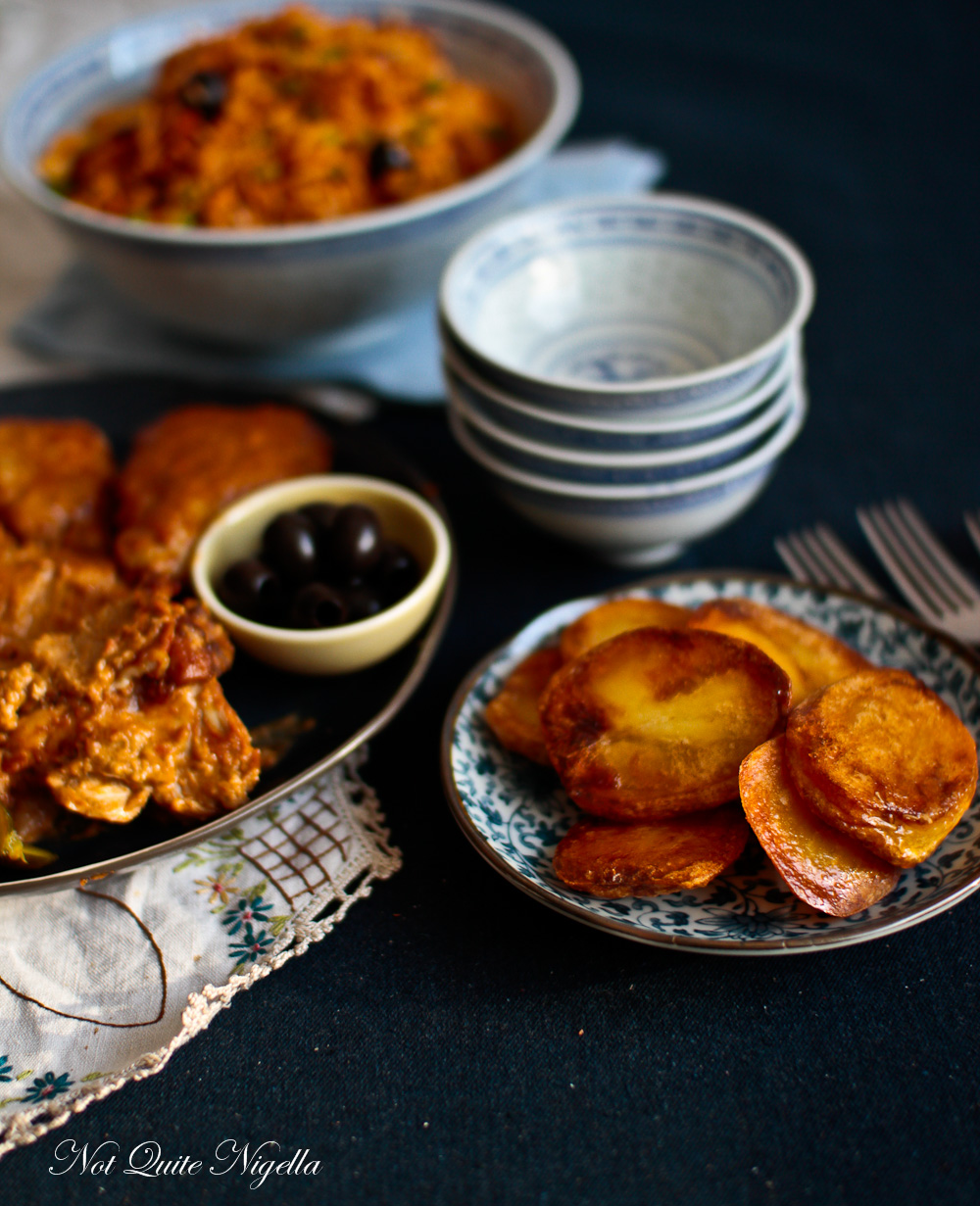 DID YOU MAKE THIS RECIPE? Share your creations by tagging @notquitenigella on Instagram with the hashtag #notquitenigella
Macanese African Chicken (Galinha à Africana)
Rated 5.0 out of 5 by 1 readers
An Original Recipe by Lorraine Elliott
Serves 4
Preparation time: 15 minutes
Cooking time: 1 hour 10 minutes (less if you use individual chicken pieces)
10 cloves garlic, peeled
5 golden shallots, peeled
2-3 large red chillies, sliced
400ml/14.13 fl ozs. milk
100ml/3.5 fl ozs. white wine
2 tablespoons sweet paprika
3 pieces lemon zest
70g/2.47ozs. desiccated coconut
200g/7ozs. tomatoes
3 tablespoons tomato paste
2 teaspoons five spice powder
4 tablespoons peanut butter (you can also use almond butter)
Oil for frying
1.8kg/4lb. whole chicken, cut into pieces (you can also use drumsticks or wings if you have less time)
75g/2.5ozs butter
2 teaspoons sugar or honey
1/2 cup coconut cream
Roasted golden potato slices (recipe below), pickles and black olives to serve
Step 1 - Place the garlic, shallots, chillies, milk, white wine, paprika, lemon zest, coconut, tomatoes, tomato paste, five spice powder and peanut butter in a food processor and process until you get a smooth liquid.
At the start of cooking
Step 2 - Fry the chicken on high heat skin side down to brown. Place the chicken along with the butter into a large pot with a lid and add the sauce over it. Add the honey into the mix and cover with the lid and simmer on medium heat for 30 minutes, turning the pieces over to give them an even cooking time. Remove the lid and cook for another 30 minutes. The wings and ribs will probably need to be removed after about 35 minutes or so.
Pre grilling
Step 3 - Add the coconut cream to thicken. At this point you can cool and chill the chicken and eat it on another day - there is a valid argument to doing this as the spices and flavours will develop over the next couple of days. To reheat, place the chicken on a foil lined tray and top with a bit of the sauce and place under a hot grill to warm up. Serve this with sliced grilled potatoes, pickles (a must!) and black olives.
After grilling
Roasted Golden Potato Slices
5 large potatoes, peeled
1/4 cup goose fat
Salt
Step 1 - Preheat oven to 220C/440F. Slice the potatoes as shown and spoon over a little goose fat on each potato. Bake for 25 minutes or until golden.