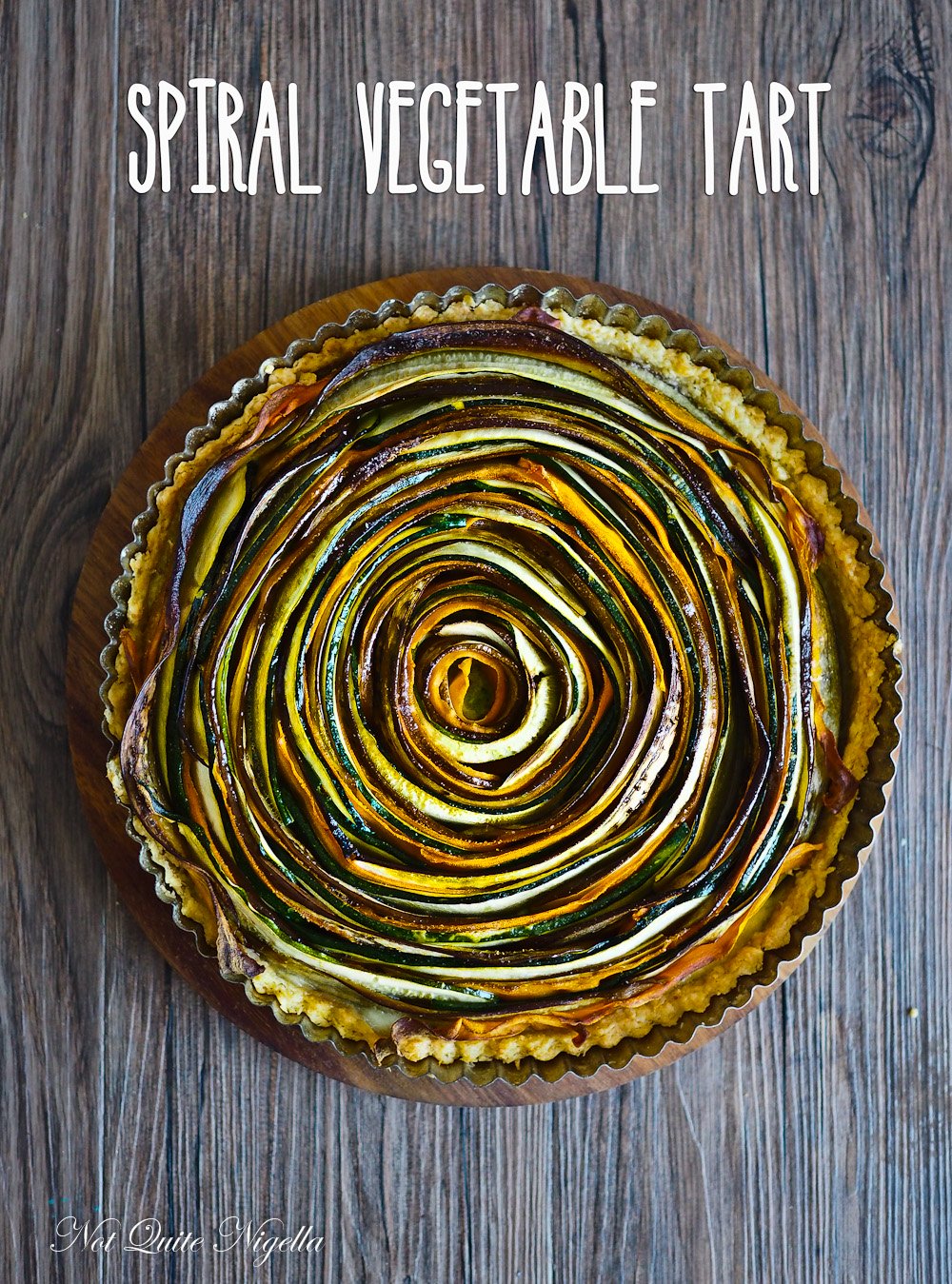 This spiral vegetable tart is not just mesmerising, it's delicious! Thin ribbons of eggplant, zucchini and carrots are twirled around a cheese pastry base lined with baby spinach pesto and bocconcini. Eating your serves of vegetables never tasted so good!
I won't lie, this isn't necessarily a low stress item but it pays dividends when you present it. The key to the tart is to have the vegetable strips at roughly the same height (or trim them to match). It's also important to leave the skin on at least in the upwards facing side to give a beautiful medley of colour. And the pesto and the cheese at the bottom add a boost of flavour along with the cheese pastry (one of my favourite pastries).
I tried this a couple of times and I found the best way to ensure that everything cooked perfectly was to use a mandolin to slice the eggplant and zucchini and use a peeler to peel the carrot as they take longer to cook. And if you don't like pesto, you can layer the pastry with some finely chopped sun dried tomatoes and mozzarella.
I have to admit some of the distraction that I felt while making this was due to a strange thing that happened to me the night before. It was around 4am when I suddenly woke up. I saw a face staring down at me. I saw my first ghost! Except I didn't know that it was a ghost, I thought it was a man standing above me. Which is pretty much my biggest fear. When Mr NQN goes away I lock the bedroom door tightly and push something in front of it just in case (I watch a lot of Law & Order SVU, just sayin').
I started screaming so hard that my lungs and throat ached. Because I had ear plugs in I didn't realise how blood curdling my scream was. I clawed at the man with my nails and he disappeared into vapour. I always thought that I'd see my first ghost and be calm and try to communicate with it but I was anything but composed. I've seen a shadow person in Canada once but that was it.
Mr NQN calmed me down and enveloped me in his arms and I shook for another 20 minutes my heart beating rapidly, slightly faster than his as I'm afraid I scared him too. I wasn't able to sleep properly after that and so making this tart was a slightly addled effort. The next day I wondered if it was all a nightmare so I asked Mr NQN, "Did I wake you up last night screaming?" to which he replied, "Yes, I'd be surprised if you didn't wake the whole block of apartments with that scream." I might have some apologies to make to neighbours. Perhaps I'll couple them with a piece of spiral tart!
So tell me Dear Reader, does this tart appeal to you? And have you ever seen a ghost or a shadow person? Do you believe in them? Do you like making your own pastry?
Here's a video showing how to make the spiral vegetable tart!
DID YOU MAKE THIS RECIPE? Share your creations by tagging @notquitenigella on Instagram with the hashtag #notquitenigella
Spiral Vegetable Tart
Preparation time: 1 hour plus 90 minutes resting time (for pastry)
Cooking time: 45 minutes
1 quantity cheese pastry (see recipe below)
4 tablespoons baby spinach and macadamia pesto (see recipe below)
7 bocconcini, sliced into 5 pieces
500g/1.1lbs. zucchini
500g/1.1lbs. eggplant
2 carrots
4 tablespoons extra virgin olive oil
Salt and pepper to season
Tip: It's a bit easier if you buy vegetables that are all around the same thickness. But don't worry if you can't, you can trim them if need be.
Step 1 - Take your cheese pastry. Roll out into a circle and then place in a flan tin. Refrigerate for 30 minutes. Dock the base and then line with foil or parchment and fill with baking beads or dried rice. Then blind bake at 200C/400F for 15 minutes.
Step 2 - Take the zucchini and eggplant and use a mandolin on setting two or the middle one to slice the eggplant and zucchini. I then used a vegetable peeler to get the carrot the right thickness as carrot is less flexible and takes longer to cook so the thinner strips work better. If your slices are very different in height you can trim them but make sure to keep the skin on the eggplant and zucchini to get the visual effect.
Step 3 - Spread some pesto on the base of the baked pastry. Top with bocconcini and then start in the centre with a small pieces and curl it around. Alternate with zucchini, eggplant and carrot. I found that the carrots helped to bind the vegetables together as the carrot had more moisture. This just makes it easier to make the tart and hold it together.
Step 4 - Drizzle with olive oil and then bake for 45 minutes or until done. Season with salt and pepper and serve.
Cheese Pastry
90g/3ozs. cheddar cheese
160g/5.65ozs. cold butter, cut into cubes
90g/3ozs. plain flour (I made this half regular and half wholemeal flour)
40g/1.41ozs. cornflour (fine cornstarch)
1/2 teaspoon salt
2-4 tablespoons cold water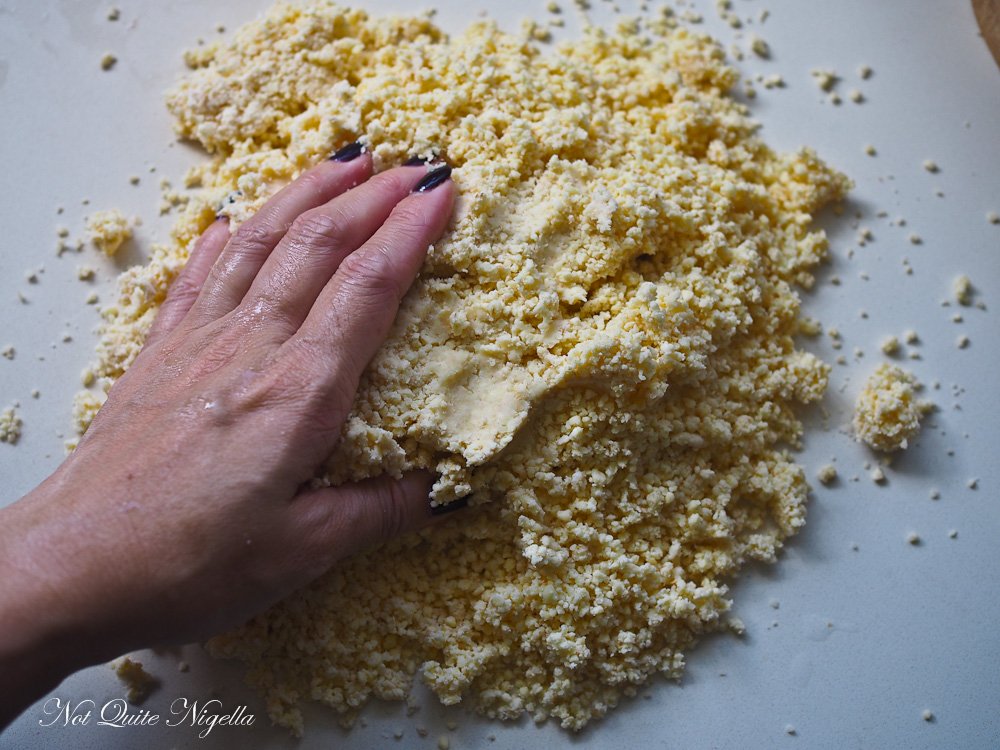 Step 1 - Place the cheese in a food processor and process until finely grated. Add the butter, two flours and salt and pulse until sand-like. Then add the water and pulse until just come together. Shape into a ball and flatten to a round. Cover in cling film and refrigerate for 1 hour.
Macadamia & Baby Spinach Pesto
1/2 cup macadamia nuts, toasted
2 cups baby spinach leaves
1 garlic clove, peeled
50g/1.7ozs. parmesan cheese
1/8 cup extra virgin olive oil
Step 1 - Blend all ingredients together until it becomes a smooth paste.