What at first glance looks to be a round of bread hides a delicious cheesy filling. An Ossetian Cheese Pie is a stuffed pie from the Caucasus region of Georgia. Filled with a variety of fillings - this has beet greens and a medley of cheeses, this Ossetian cheese pie is a wonderful winter dish!
A while back I made a khachapuri, one of the most delicious baked breads you could ever try. And then my friend Monica suggested a close cousin of the khachapuri, the Ossetian cheese pie. Like the khachapuri it comes in many different styles and fillings be it from pumpkin, cabbage or potatoes although sometimes meat is used in the filling. These pies are usually prepared during holidays.
This is a recipe for the Tsakharadzhin pie with beet greens and cheese. The Ossetians are an Iranian ethnic group from the Caucasus Mountains. Traditional Ossetian cheese can be replaced by a mix of feta, gruyere or mozzarella.
According to cookbook writer Olia Hercules Ossetian cheese pies are traditionally served in threes: one to represent earth, water and fire with its roots in paganism. Others say that the pie's diameter should not exceed 35cms or 14 inches and they can be shaped in either triangles or rounds.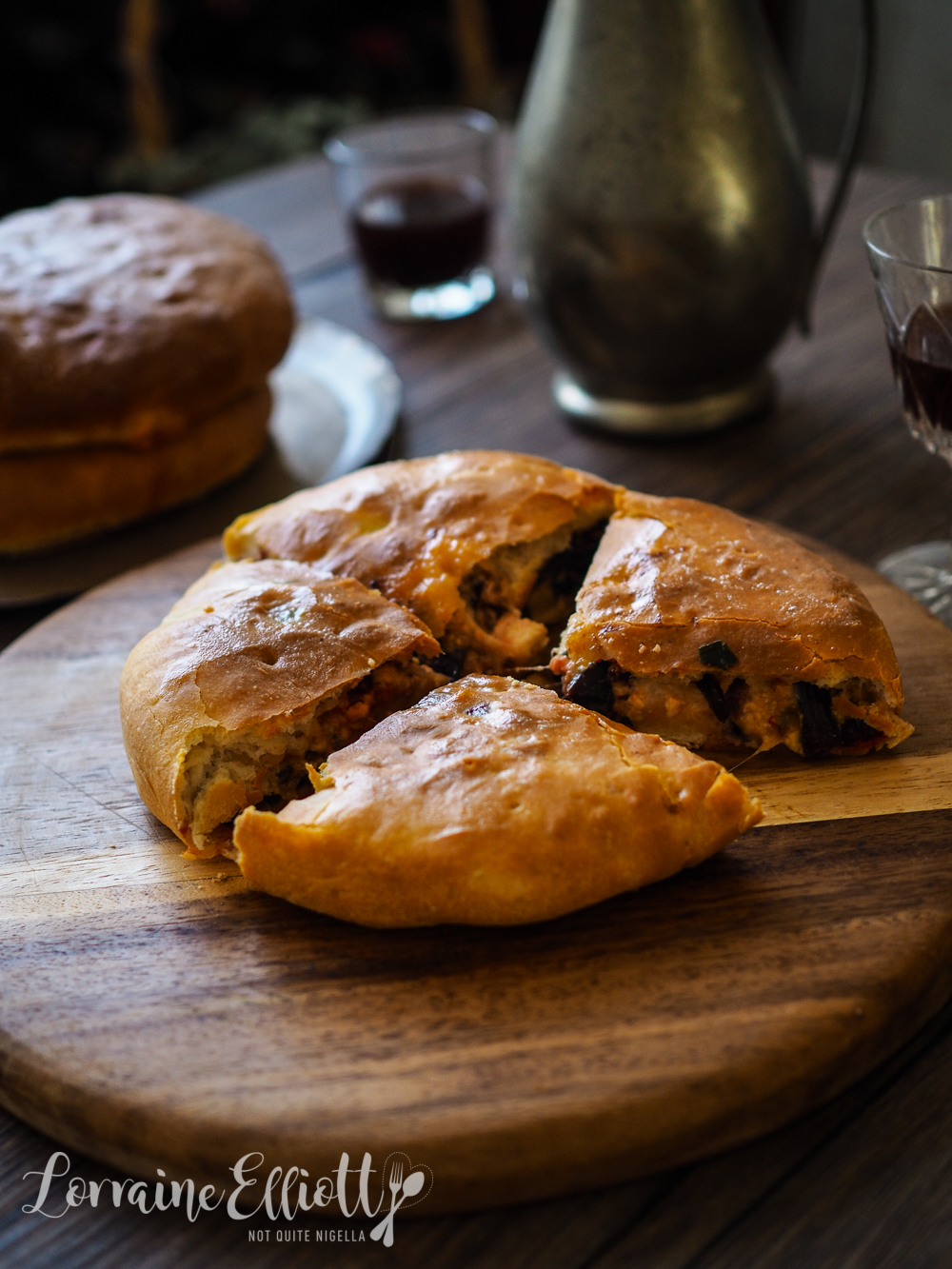 Don't be discouraged if the dough is sticky or wet. Some oil or flour will help with the rolling process and you can also prepare the dough and the filling a day ahead so that you can assemble and bake it on the day you want to eat it.
At the moment while it is cold and we are experiencing a slight polar vortex, you'll find me buried under breads and carbs. During summer I won't be interested in carbs at all (except pizza) but in winter it's all I want to eat.
Eating salad is a struggle (and I eat it while sitting next to a heater) but during summer that's all I want to eat. I remember visiting Austria a few years ago and I was told that the food that they ate during summer was the same as the food they ate in winter. Granted their summers aren't as hot as they are here in Australia but I couldn't imagine eating hot food and rich meats and carbs in summer!
So tell me Dear Reader, do you change your diet according to season? Do you love carbs all year round? Have you ever eaten this pie or Ossetian or Georgian food?
DID YOU MAKE THIS RECIPE? Share your creations by tagging @notquitenigella on Instagram with the hashtag #notquitenigella
Ossetian Cheese Pie
An Original Recipe by Lorraine Elliott
Preparation time: 30 minutes plus 1 hour rising time
Cooking time: 60 minutes
Makes 3 pies
4 cups bread flour
2 teaspoons instant dried yeast
1 teaspoon sugar
1.5 cups milk
1/2 cup sour cream or natural yogurt
1 egg
2 tablespoons oil
1 teaspoon salt
For the filling
75g/2.7ozs butter
1 bunch beet greens and stems
6 garlic cloves, peeled and diced
1 onion, peeled and diced
150g/5ozs. feta, crumbled
150g/5ozs. mozzarella. grated
100g/3ozs. Swiss cheese, grated
1 cup spring onions, chopped
Salt and pepper for seasoning
1 tablespoon finely chopped coriander or dill
Step 1 - Make the dough giving it time to rise. Mix the flour, yeast and sugar together in a bowl and then add in the milk, sour cream and egg and stir until shaggy in texture. Knead with a dough hook until elastic. Oil a bowl and shape the dough into a ball and cover with more oil and allow to rise in a warm place (or place it in the fridge overnight for a slow ferment).
Step 2 - Make sure to wash the beetroot greens really well as a lot of dirt gets trapped in the stems and leaves. I wash each stem individually then another two times because once I was served a beet soup that tasted like dirt and that has scarred me ever since. Chop into small pieces.
Step 3 - Heat a couple of tablespoons of butter in a large skillet or frypan on medium heat and cook the garlic, onion and white part of shallots then add in the stems leaving the leaves until the stem cooks down. Add the leaves once the stems soften and cook on a medium heat slowly so as not to burn the garlic. This will take around 20 minutes or so. Remove from the heat and allow to cool. Mix in the cheese and the green onions and herbs and season to taste. Divide into three even sized portions.
Step 4 - Preheat oven to 218C/425F. When you're ready to fill the bread punch down the dough and knead in the salt. Divide into three balls. Grease 3x 20cm/8inch round tins.
Step 5 - Flour a clean surface and roll out one of the balls to around 20cm/8inches in diameter making the edges of the circle slightly thinner than the centre. Place the filling in the centre and then pinch and gather the sides up sealing the edges tight. Turn over and place in one of the tins and then with your palms gently press out to fit the tin and make an even circle. Cut out a small circle in the centre to vent the pie. Bake for 25 minutes or until golden. Brush immediately with melted butter and serve.