Want a fun Halloween food idea to serves guests at a dinner party? Or just something delicious? Make a fondue easily in an edible pumpkin bowl! Fill it with four cheeses and dip squares of bread in and scoop out the pumpkin for a fun dinner!
This dish is for when you want to have a bit of fun, impress people as well as eat something delicious (which is pretty much every food occasion no?). The best thing about this is that there is very little effort needed although you will need time. But this is inattentive time where you can just leave the pumpkin to roast away.
I used four cheeses in this fondue: gruyere, brie, goats cheese and blue although usually it's just Gruyere and Emmenthal (but hey since we're putting it in a pumpkin I figured we were on the track of breaking rules ;) . I used the blue cheese as sweet roasted pumpkin goes well with blue cheese. You can of course make this out of any combination of cheeses that you want. Cornstarch or cornflour helps to prevent the ingredients separating and you would usually rub a garlic clove on the fondue pot or caquelon but in this case we just popped it into the cheese with cream, white wine and a touch of mustard. Usually cream isn't added but I wanted to make sure that it has a good liquid consistency given I was using different cheeses.
How to make a pumpkin fondue!
While we've eaten lots of chocolate fondues, cheese ones have eluded us to make at home at least. A few years ago we had these friends and had decided to do a fondue dinner together one night. I was wholeheartedly behind this idea as I love cheese. But one of their husbands hated melted cheese (he loved pizza, I think he was being fussy). So when I dipped my cube of bread into the fondue pot what emerged was not an liquid cheese but...oil! They had replaced the delicious cheese with oil to appease Mr Melted Cheese Hater. And can I just say that oil is no substitute for cheese at all!
That night they reminded us that there were two traditions with fondue-if a male drops a piece he has to buy a round of drinks but if a female does, she has to kiss her dining companion neighbours! I held onto my bits of bread. After all who wants to kiss someone that doesn't like melted cheese?
So tell me Dear Reader, do you hate melted cheese? Or do you have any food must nots?
DID YOU MAKE THIS RECIPE? Share your creations by tagging @notquitenigella on Instagram with the hashtag #notquitenigella
Three Cheese Pumpkin Fondue
An Original Recipe by Lorraine Elliott
Serves 4
Preparation time: 10 minutes
Cooking time: 1 hour 15 minutes
1 whole pumpkin, around 1.5kgs for 4 people
400g/14.13ozs. cheese of your choice (I used 30% gruyere, 30% triple cream brie, 30% goats cheese and 10% blue cheese, use whichever ratios you prefer)
100ml/3.5 fl.ozs. white wine
3 tablespoons cream
1 tablespoon cornflour or fine cornstarch
1 teaspoon horseradish cream or mustard
1 garlic clove, smashed
2 tablespoons finely chopped chives
1 tablespoon kirsch to finish (optional)
Step 1 - Preheat oven to 190C/374F and line a baking tray with parchment. Make a cut into the pumpkin through the flesh with a sharp knife. Roast in oven for 45 minutes or until the pumpkin flesh is soft enough to slide a knife into (but not too mushy as you'll keep cooking it).
Step 2 - Cut out a circle and remove the top of the pumpkin. Scoop out the seeds and membrane.
Step 3 - Chop the cheeses up and mix them with the cream, white wine, cornflour and horseradish cream or mustard. Pop the garlic clove inside the cheese mix. Return to oven and bake until the cheese is molten-around 25 minutes or so. Add the kirsch (optional).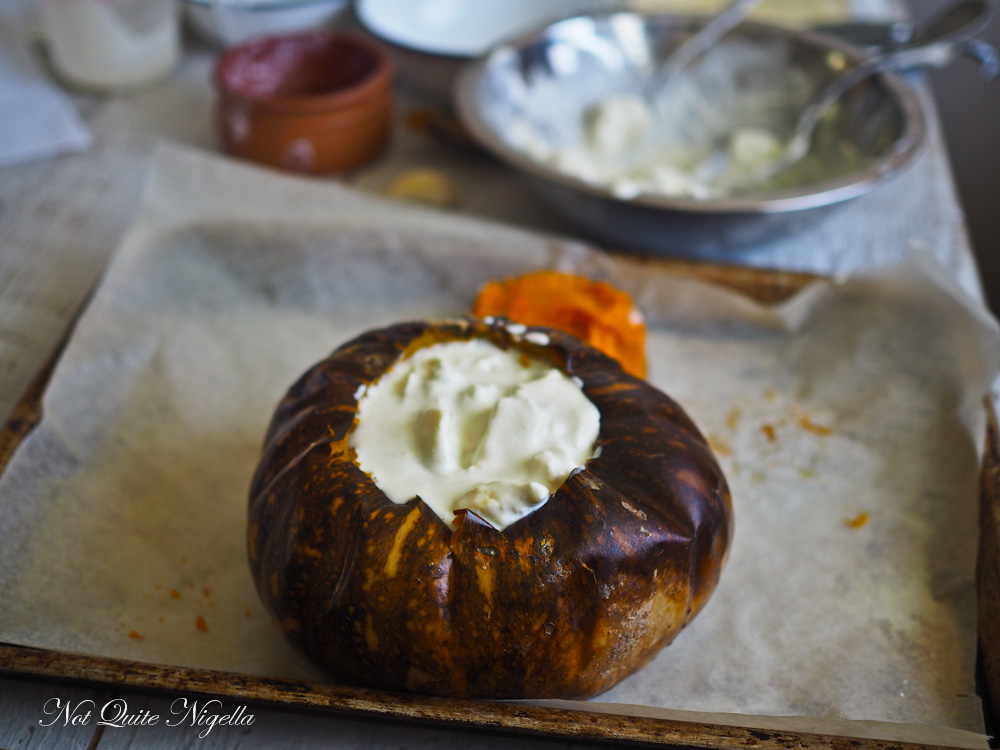 Step 4 - Top with chopped chives. Serve immediately with bread cubes or small potatoes and spoons so that you can scrape off some of the pumpkin.