Australia has fallen fast for Japanese style desserts and if you've been trawling through social media lately you may have noticed these burnished tarts appearing on your feed. Sometimes confused for Portuguese custard tarts, or old skool bakery custard tarts these Hokkaido Baked Cheese tarts are inspired by Hokkaido's dairy region. But these come with a distinct Australian twist-all ingredients come from Australia including the very secret recipe made up of three cheeses.
Hokkaido Baked Cheese Tart or HBCT originated from Malaysia with the ST group that also own PappaRich and has grown a steady customer base for these cheese tarts.
The key to these tarts is the balance between sweet and salty and the interplay with the silky smooth custard and the crisp tart base. The pastry is short and crisp while the centre is gooey, oozy and rich.
The first Sydney location opened in December 2016 on the lower ground level of World Square. The tarts are baked every few hours and customers eat them one of three ways: hot out of the oven, cold or frozen (where the cheese custard becomes like a creamy popsicle).
Around 2,000 of these tarts are sold every day at $3.90 a pop. A box of 6 of them comes in a well packed box that allows the tarts to arrive home in good condition.
At the moment the tarts are filled in the Melbourne location and they are shipped frozen to Sydney where they brush the tarts with egg glaze before they are baked from frozen in the oven for 12 minutes.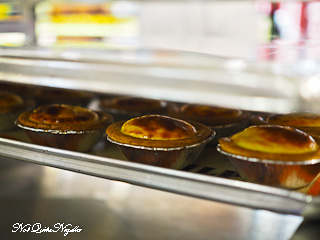 They then cool for around 8 minutes on a cooling rack where the pastry becomes more cohesive with more of a snap rather than a crumble. Then they are snatched up by customers. We overhear a man walking past with two colleagues and he asks them, "Have you tried one? They're amaaazing".
The blend of three cheeses is a closely guarded secret. Unable to import Hokkaido's famed cheese due to time and cost restrictions they have devised their own blend of three Australian cheeses designed to mimic the Hokkaido cheese tart.
How they make the Hokkaido Baked Cheese Tarts
Many like to split open the burnished top (the darkly caramelised ones are the most popular) and eat it warm from the oven. You can also pop these in the oven at 180C/350F for 8 minutes when you get home to get that trademark ooziness.
And the million dollar question? Each tart is reportedly around 190 calories-less than a chocolate bar or a packet of chips! You know I had to ask ;)
So tell me Dear Reader, have you tried one of these cheese tarts? Would you go for lightly caramelised or darkly?
Hokkaido Baked Cheese Tart
5b/644 George St, Sydney NSW 2000 (basement level)
www.facebook.com/hokkaidoau/