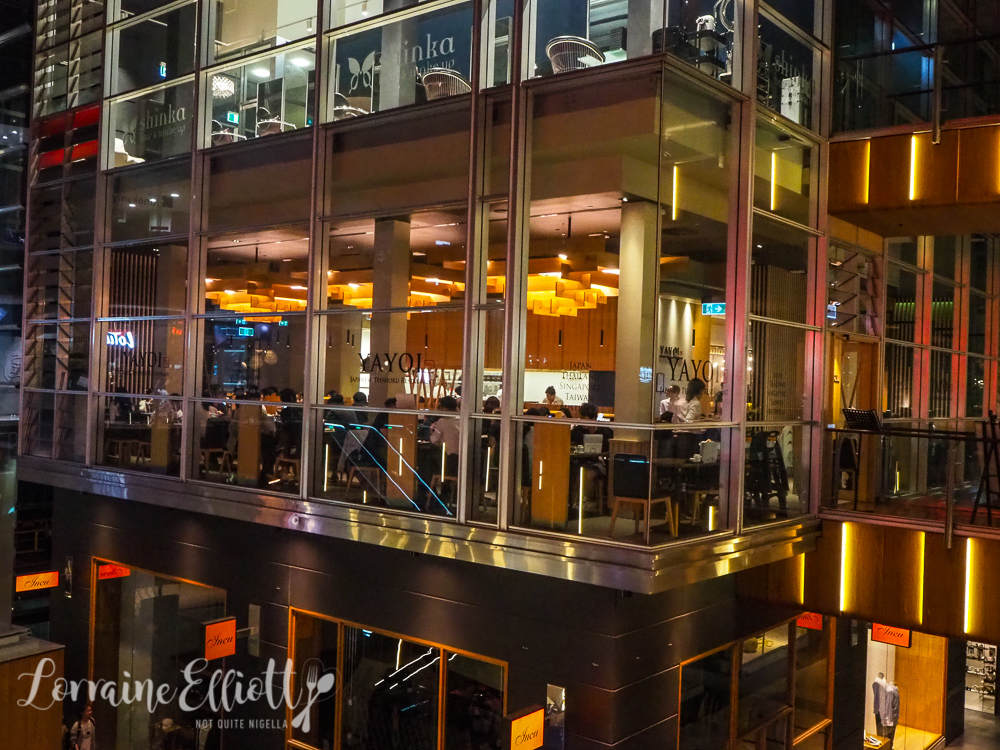 Like having a little bit of everything? Teishoku style of eating might be for you. Teishoku is based on a set menu concept where there is one main dish served with rice, soup and side dishes. And at Yayoi at the Galeries Victoria they serve just that. But prepare to queue for it!
"I couldn't make a booking but it should be ok, it's been open for years," I say to my parents and Mr NQN as we round the corner up the escalator. We are going out for an early Mother's Day dinner for my mother and I could not have been more wrong. You see despite the fact that it has been open for a while, there's a queue of patrons waiting outside, each clutching a sliver of paper with their number on it.
We add our name to the list and rip off a tiny slip of paper. I promptly almost lose the slip of paper within about 5 seconds so Mr NQN hangs onto it while we wait. And wait and wait. Soon all of us are on our phones outside the restaurant killing time. After around 40 minutes we are shown to a booth which we opted to wait longer for (rather than the bar seating) and we settle in and get to ordering.
The ordering system here is done via an iPad on the wall. Having already browsed the menu while waiting, we know exactly what we want. We each get a teishoku meal but with a different main. My mother chooses a couple she likes the look of. And soon the screen is telling us which are being prepared and counts it down until they are served one by one.
The booth tables are only just big enough for a tray-if you add a drink you may have to do a bit of juggling with trays. Prices are also excellent given that you just need to order the teishoku and a dessert if you want one which is probably part of the reason why it is so busy.
Chicken Namban Teishoku $19.80
I adore chicken namban mainly because I love fried chicken and I love Japanese tartare sauce. It's a moist, crumbed deep fried chicken cutlet topped with a delicious Japanese tartare sauce on top. It comes with a dressed salad and a bowl of steamed rice, miso soup and gomaae spinach salad. The chicken is super juicy and moist and I adore Japanese tartare that has the addition of boiled eggs as well as cornichons. The spinach salad is perhaps not my favourite version of it that I've had. There's also an option to upgrade to a littleneck clam miso soup and add salmon sashimi to your tray.
Miso Pork Loin katsu $21.80
Everyone else's favourite is the miso pork loin katsu. I knew that my mother would choose this one as she loves crunchy, deep fried food. This pork loin cutlet is coated in panko crumbs and then deep fried and it sits not in the eggy base but instead a miso sauce base which is full of flavour and yet is thick enough so that the katsu doesn't get wet or soggy. It comes with a tofu salad, miso soup, onsen egg and steamed rice (the chicken karaage pictured was an extra order).
Wagyu Sukiyaki Teishoku $27.80
This was one of my favourite dishes because I liked the variety of items in the wagyu beef hot pot. The wagyu beef itself isn't even my favourite part, rather it's the richly flavoured, slightly sweet soy based soup. There are konnyaku bundles, cabbage, carrot, greens, udon noodles, tofu and shiitake mushrooms and it is also an enormous serving.
There are also three ways to enjoy the wagyu: as it is, dipped it in the onsen egg and then the udon. One thing to note, I was disappointed that none of our trays had pickles on them. I love Japanese pickles and pickles in general and since they were mentioned on the menu I was expecting them and it was only later when I went through the pics that I noticed the lack of pickles.
Unagi Hitsumabushi Teishoku $27
A seasonal addition to the menu is the Hitsumabushi which is a bowl of meat or eel topped rice from Nagoya. You are supposed to eat Hitsumabushi a certain way. First you divide the bowl (the "hitsu") into quarters. First try the eel and rice as it is. Then you add the seasonings to the second quarter. Then add the mild and slightly sweet broth to the third. And the last quarter is for you to enjoy the way you liked it best out of the previous three ways.
Mr NQN loves it with the broth while I love it with the seasonings. And if you forget the process, each Hitsumabushi tray comes with a laminated card with instructions.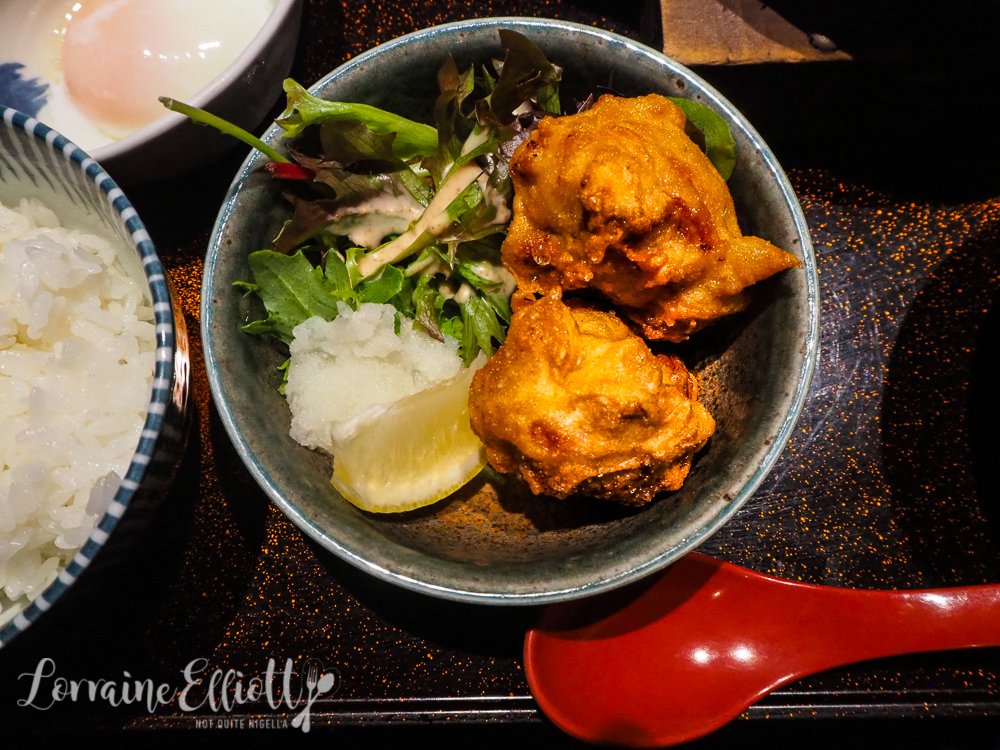 Karaage $5.20 for 2 pieces
And just because we all love karaage we try a small serve of their chicken karaage. There are two chunks of moist, crunchy and flavoursome chicken pieces with a dressed side salad.
It's dessert time so we flick to the dessert section on the screen where there are three choices. If you don't like matcha you might be out of luck because all three are matcha flavoured desserts.
Matcha Warabi Mochi $6.50
The matcha warabi mochi is cubes of chewy mochi jelly rolled in soybean powder with a little pot of kuromitsu sugar syrup. I prefer actual mochi to this sort of jellied mochi made with starch but Mr NQN enjoys this.
Matcha Anmitsu $9.50
We figured that we'd get to try the matcha ice cream (the third option) in the anmitsu. Traditionally a summer dessert with fruit, red bean paste, jelly and ice cream it's nice and refreshing.
And as we leave, just before 8pm we notice that there's no-one waiting at all outside. So I guess if you want to avoid queuing, go later!
So tell me Dear Reader, have you ever tried Teishoku? Do you prefer dining with touchscreens or do you prefer ordering with staff?
This meal was independently paid for.
Yayoi Galeries Teishoku
The Galeries, 500 George St, Sydney NSW 2000
Open 7 days 11:30am–9:30pm
Phone: (02) 8072 8212