Rimini, a seaside province on the Adriatic coast is alternately called a party town or refreshingly unpretentious and it is also a summer holiday place for many Italians. The weather is warmer and the food here is made up predominantly of seafood dishes with an active street food tradition of piadina. Here are seven amazing things to do in Rimini!
Number 1: Eat Rimini's Most Famous Street Food, a Piadina
Marina Nanni wears a signature floral hat and rolls balls of dough thinly with a wooden rolling pin called a mattarello. She is a second generation piadina maker at Dalla Lella whose family runs three shops in Rimini and one shop in New York (Lella Alimentari named after Lella her mother who started the business in 1986).
Piadina is a flatbread made using 00 flour, strutto (pork fat) or olive oil, water and salt. In Rimini the piadina riminese is thinner than the kind in other areas called piadina romagnola. But to be a piadina is must be made in the Romagna tradition to be called this.
Marina's shop on via Covignano sells thousands of piadinas a day. Some are filled with Parma ham, rocket and squacquerone cheese, others are filled with zucchini, sausage and mozzarella or potato and cheese with truffles (Tartufino).
There's also one piadina that is a specialty of Rimini combining the region's rich seafood lined coast. This has white fish similar to white anchovies with pickled red onions and lettuce-she also make whole grain breads for the health conscious and gluten free piadinas.
Cassoni
At Dalla Lella, fillings are generous with top quality ingredients and at around €5 they're eagerly eaten by locals who pull up a bar stool and order piadinas with a range of fillings or the cassoni a sealed pocket with hot fillings like spinach and tomato and mozzarella. If you like melty, gooey and warm fillings a cassoni is for you. But if you like something lighter then piadinas are perfect.
Fig and ricotta
Number 2: Eat Torta dei Morti Death Cake in November
Cappucino and Torta dei Morti tarts at Pasticerria Il Duomo
Although it is possible to make Torta dei morti any time of the year people in Rimini look forward to the "death cake" in November. It is prepared for the Day of Dead celebrated on November 2nd as well as the day following All Saint's Day and all through November.
Cupioli's Piada Dei Morti
At Cupioli you can buy the larger, bread version or the piada dei morti that resembles a hot cross bun but with walnuts, almond and sultanas. Or you can sit down at Pasticerria Il Duomo and have a tiny or larger tart with black cherries (the tiny one is my pick with the perfect ratio of nut to fruit to pastry) washed down with a cappuccino. Whatever you do try both as they're delicious.
Number 3: Eat Riminese Cheese
At Paola & Serafino's shop at the Mercato Centrale Coperto they sell cold cuts, cheeses and fabulously fresh and warm pugliese bread. There is also a range of cheeses available including Fossa cheese which is aged in caves. The caves are inside houses and aged from Spring until November. This cheese is a a sheep's milk cheese best served with marmalade, honey and cipollini onions.
Another cheese is made near the border of Rimini. Similar to pecorino it is sweet and nutty. And squacquerone is a divine soft and fluffy milk cheese that oozes and spreads perfectly.
Number 4: Visit San Patrignano
Rehab, Italian style
Something a little off the beaten path but absolutely visiting is San Patrignano, which has a fascinating story. It is a rehab centre started in 1978 by businessman and hotelier Vincenzo Muccioli who saw the drug plight among people and decided to do something about it.
Program participants learn new skills like working in a bakery (shown making panettone)
He started the centre in his country home and it has now expanded to an enormous self sufficient drug rehabilitation program that is entirely free for people from all over the world to do.
Part of the program is channeling people's energy into a passion and developing a new skill. To this end, the 1,300 residents work in graphic design or at the winery, bakery, cheese makers or in carpentry among many others.
It's truly stunning how much world class product is produced here including leather handbags made in conjunction with Tod's, buttery soft woollen throws and world class artisinal cheese, wine, small goods, cakes and baked goods. This allows San Patrignano to be entirely self sufficient without any help from the government.
Wine cellar with hand painted ceiling and walls
People can book in for tours or learn how to make their rich, buttery pannetone (so good I had to buy one to take home for Christmas). If you're lucky you might take a peek into their wine cellar where there are hand painted walls and ceilings that are designed to look like a vineyard.
Or you can visit one of their two restaurants. "Vite" is their fine dining restaurant while Spaccio is an informal pizza restaurant located alongside their shop. Their house made salumi and cheese are wonderful and served with a slightly thicker piadina bread.
Their pizzas are fabulous Roman style pizzas made with thick airy crunchy bottomed crusts and topped with broccoli, burrata and Parma ham. You can also sip one of their 10 wine varietals including the Avi a Sangiovese blend whose name is a dedication to the centre's founder (a Vi or to Vincenzo) while watching the rolling hills and vineyards below.
Number 5: Dine at Guido's
The welcome is warm and brothers Gian Paolo and Luca Raschi greet customers at the door. Gian Paolo is the chef and Luca looks after the floor. The beachfront restaurant is named after their grandfather Guido who was the first person to serve food and drink after the second world war. The predominantly seafood restaurant has held its Michelin star for 10 years.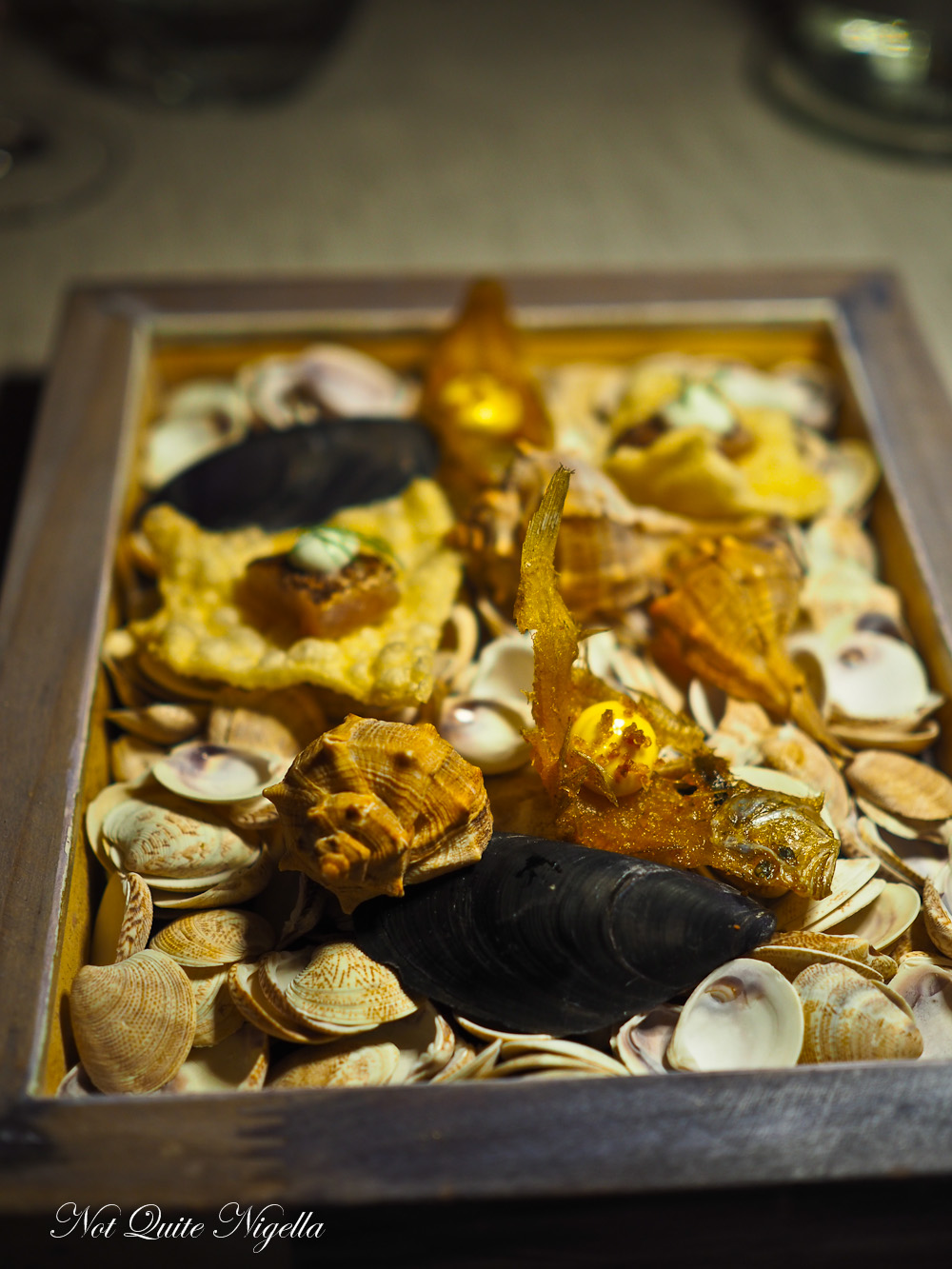 The meal is delicate and the treatment to all the seafood deft. The flavours never overpower the seafood. From a pretty appetiser to the ever present Canocchia squid fished out of shell. It is steamed and served with broth and garlic parsley bread. There's red mullet Capone local fish on mushrooms with Saint trumpeter mushrooms with "topiambo" (Jerusalem artichoke) cream.
You can end the savouries with a historical dish from their mother's kitchen, a sea bass cooked only on the skin side with red wine vinegar, onion, celery cream and celeriac. It melts in the mouth.
They also match food with local wines like a Follia Cuvee which is a sparkling wine made with chardonnay and Pagadebit grapes from the hills nearby. Exquisite.
Chef Gian Paolo Raschi
Number 6: Visit Sant'Arcangelo
About 20 minutes' drive from Rimini old town is Sant'Arcangelo, a stunning medieval town that seems bathed in a golden light. A busking woman sings heartily in the town's square and the village-like atmosphere of this quaint town makes this a very popular destination although most of the tourists that we see are Italians from other parts of Italy.
The town is best known for its relationship with acclaimed Italian director Federico Fellini who was born here. Reminders of he and his screen writer Tonino Guerra appear in the town.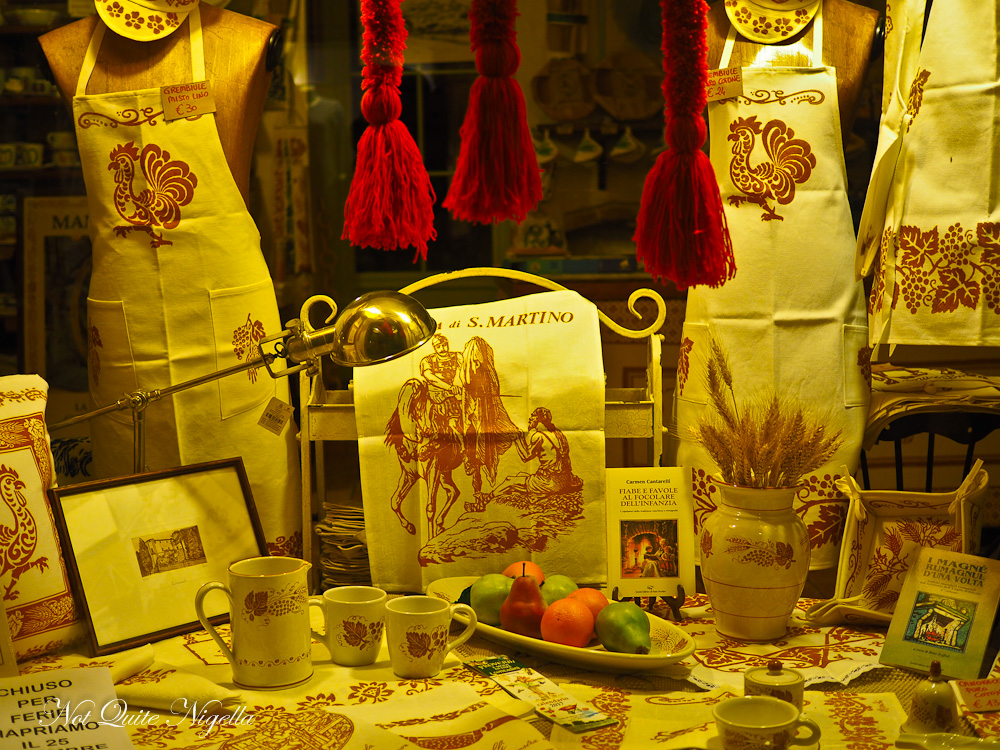 Sant'Arcangelo has wonderful boutiques (avoid Thursdays and the afternoons between 12:30-3:30pm as shops close) including Pascucchi and Marchhi printers that print on wood blocks in a distinctive orange terracotta shade.
Mons Jovis Wine Cellar
A treasure find is Mons Jovis cellar, not usually open to the public but it is said to be the first place they made Sangiovese wine. We were lucky enough to be given a sneak peak into the cellar that houses 3,000 bottles of wine.
The seamstress's cat
Dinner at La Sangiovesa is a a lovely way to end off your stay in Sant'Arcangelo. Here they serve traditional Italian food in hearty portions.
Guests can help themselves to a slice of filled piadina and wine while they wait for their table or shop at the entrance. The restaurant itself is enormous with many rooms with displays of Tonino Guerra's art and theatre.
We supped on omelette with a thicker piadina bread, tagliatelle with seasonal vegetables, juicy entrecote steak with rosemary potatoes and sweet onions, beef sausages with sweet onions and cima de rapa vegetables.
And last but not least were the local sweets from Zuppa Inglese, an Italian trifle or a squacquerone cheesecake, our favourite with a light, almost meringue texture with fig jam and candied figs.
Squacquerone Cheesecake
Number 7: Buy Shoes!
I couldn't go to Italy and not discuss fashion right? If you love designer Itaian shoes like Sergio Rossi, Guiseppe Zanotti, Pollini, Moschino and Vicini, these brands all have outlet stores in Rimini as the factories are located in this region.
Prices are very good (although there's no accounting for the exchange rate with the Euro) and you can literally shop all day hopping from shop to shop.
I leave Italy and the region of Emilia Romagna with very fond memories, a warm heart and very heavy luggage...
So tell me Dear Reader, have you ever tried a piadina? And what do you think of the concept of San Patrignano? And what do you fill your suitecase with when you travel?
NQN visited Bologna as a guest of The Emilia Romagna Region Tourist Board but all opinions remain her own.