Modena is a city worth a stop overnight or even for the day to sample the best that it has to offer from sublime Balsamic Vinegar, the Enzo Ferrari museum to the world's best restaurant Osteria Francescana. The city's orange buildings are designed to reflect the earth and underneath your feet lies now dormant canals that used to cross the whole city.
Number 1: Eat Balsamic Vinegar of Modena Over Fior di Latte Gelato
There's no understating how important balsamic vinegar is to the Modenese. It was so precious that it used to form part of a dowry. It is also a tradition for Modenese families when a child is born to start the balsamic vinegar process so when they turn 20 it is ready.
Forget salad dressings, the real stuff is too expensive for that. Modenese prefer to use a few drops to season food whether it be on top of a risotto (pumpkin if you're in the right season), chunks of aged Parmigiano Reggiano and gelato. At Bloom Gelateria Gianluca Degani is called the "(Massimo) Bottura of gelato."
Gianluca Degani
This young gelato master takes the best of the season and produces exquisite gelato. If you're lucky enough to visit in the winter months try the "Cappello del Prete" pumpkin or Mela Renetta apple. Or any time of the year if you ask nicely he will add some drops of a 25 year old traditional balsamic vinegar to a fior de latte for a special treat. It's absolutely sublime.
Number 2: Drink Lambrusco
Formerly thought of as a cheap wine Lambrusco is actually a great drop to impart the strong flavours of Modenese food. With 8% alcohol it is a light sparkling everyday red wine that partners well with reggiano, Parma ham, and gnocco fritto.
Number 3: Eat Tigella With Modena pesto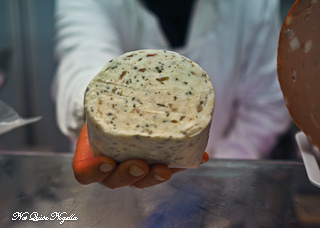 Modena Pesto
Tigella are small flat breads with a hollow centre. These are sold in packets and used as a sandwich filling and filled with all manner of cold cuts and cheese.
But the most traditional way is spread with Modena pesto. This is probably not the pesto that we are familiar with made with basil, parmesan and pine nuts. Moden pesto is made with pork fat seasoned with herbs. It's a surprisingly tasty snack and the pork fat and herbs add an abundance of flavour.
Number 4: Eat Zambone or Cotechino
During this trip my new favourite thing was cotechino. It's a pigs sausage made with secondary cuts of pork meat mixed with pork back fat and pork rind. The Zambone is a version stuffed in a hollowed out pig's trotter.
The best way to serve this is with salsa verde to cut through the unctuousness of the sausage or on New Year's Eve it is served with green lentils that resemble coins. Sublime.
Number 5: Eat Gnocco Fritto
We'll have to suspend all talk of calories here when talking about Gnocco Fritto. It is a pocket of fried bread with a hollowed out centre. It can be served with cold cuts (Parma ham is best with its natural sweetness) and needless to say it's best when freshly fried. And I dare you to stop at one ;)
Number 6: Eat Tortellini and Tortelloni
Tortellini is a very popular shape all over the Emilia Romagna region and it can be served in many ways. With broth (al brodo) is one but it is also wonderful in a cream sauce. Tortellini are usually filled with meat while Tortelloni are around double the size and filled with ricotta and parmigiano cheese.
Number 7: Eat Croccante
Croccante is a delicious mixture of caramel and nuts that originated from the Appennino Modenese mountains. It was originally a luxurious dish served on special occasions like births, weddings and christenings. The molten mixture is rolled around a wooden rolling pin to give it it's distinctive shape.
Number 8: Eat at Osteria Francescana by Massimo Bottura
The world's best restaurant is located in a small street with simple signage. Bookings need to be made three to four months in advance on certain days. Chef Massimo Bottura is known as Italy's "Poet chef" and his dishes have earned the restaurant the title of the World's Best Restaurant and 3 Michelin stars.
Number 9: Visit the Enzo Ferrari museum
Thomassima 3 from 1969
The Emilia Romagna region is the home of the great luxury car brands including Ferrari, Pagani, Lamborghini, Maserati and Bugatti and car lovers visiting Modena can call in at the Enzo Ferrari museum. I promise that this isn't just for rev heads. It's an emotional experience as much as a film but also documents the extraordinary designs of auto visionary Enzo Frrrari (the Thomassima 3 1969 car is incredibly futuristic). The factory only makes 1,000 cars a year, each one customised to the client's exact preference.
The museum is house in two buildings a futuristic yellow structure with a curved roof as well as the home that Ferrari was born in and lived until the age of 22 when he sold it to fund the Ferrari business. He had dreams of becoming a race car driver as well as a tenor. The latter passion developed a friendship with tenor Luciano Pavarotti also from Modena.
Pavarotti's voice makes an appearance when they close the doors of the exhibition and play a visual diary of this life set to music like Nessun dorma once an hour. The goosebumps are just a bonus...
So tell me Dear Reader, have you visited Modena before? And have you ever tried 25 year aged balsamic with gelato? And do you think you'd enjoy the car museum?
NQN visited Bologna as a guest of The Emilia Romagna Region Tourist Board but all opinions remain her own.