"Culinary heaven" is one phrase used to describe the farming rich area of Emilia Romagna in northern Italy. Today we explore something you simply have to try while you are there, a delicious delicacy called culatello.
The woman blushes when I ask her about the meaning of the name Culatello. There's no direct translation of the word Culatello but the meaning behind it is all about buttocks and references the top leg part of the pig that it comes from. You may have only heard of this difficult to find but sought after cold cut. While prosciutto is widely available all over the world, Culatello isn't.
Culatello is made using the fillet part of the pig leg stuffed in a pig's bladder while the rest of the leg and pig isn't used in culatello production (although it isn't discarded). This makes it much pricier than prosciutto.
At Antico Corte Pallavicina in Polesine Parmense, Michelin starred chef Massimo Spigaroli makes use of his long family history farming (his great grandfather worked for Guiseppe Verde as a share cropper) by making this wonderful cured meat. Culatello has been well loved by the aristocracy and noble families ever since it was first sent to Milan.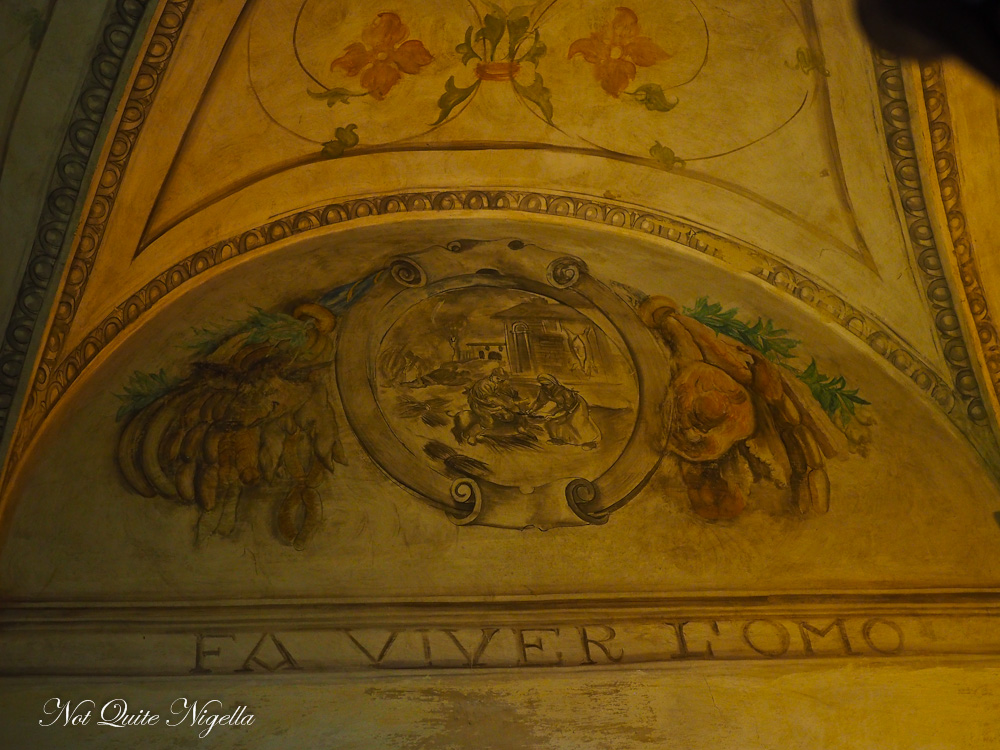 Fresco depicting the culatello process
The nearby Po River is said to be one of the reasons why culatello can only be produced in this area-prosciutto needs dry conditions while culatello needs humid conditions. They start with this small fillet section and remove the skin and bone. It is then covered with a local Fortana red wine, garlic and then it is salted - this is all done by hand.
Culatello reserved for chefs
After 1 week it is placed in bladder of pig and then hung for 9 months. After that it is placed in this cellar where over the next 12-36 months it will lose roughly 50% of its original weight in a process that they call Metamorphosis. When it is ready they remove the crust and outside and then cover it with a white wine soaked cloth.
Black Pig culatello aged 24 months
At Antica Corte Pallavicina they use black Parma pigs that roam free range as well as white pigs. They make only 200 black pig culatelli a year compared to the 3,000 white pig culatelli. A black pig will fetch roughly double that of a white (€500 for black pig, €250 for a white pig).
Royalty are also customers
If you are lucky enough to take a peek at the cellar you'll see a who's who of the chef world and royalty. Names like Alain Ducasse, Massimo Bottura and Prince Albert of Monaco appear on wooden tags-these people have all pre-ordered their own culatello of the black pig variety. And of course there is chef Spigaroli's personal collection of culatelli some dating back to 2005!
There are two restaurants at this location-the Michelin starred The Restaurant as well as a more casual trattoria. There are also 11 rooms on the property as well as peacocks and a house cat (that does not care for culatello, I had to ask).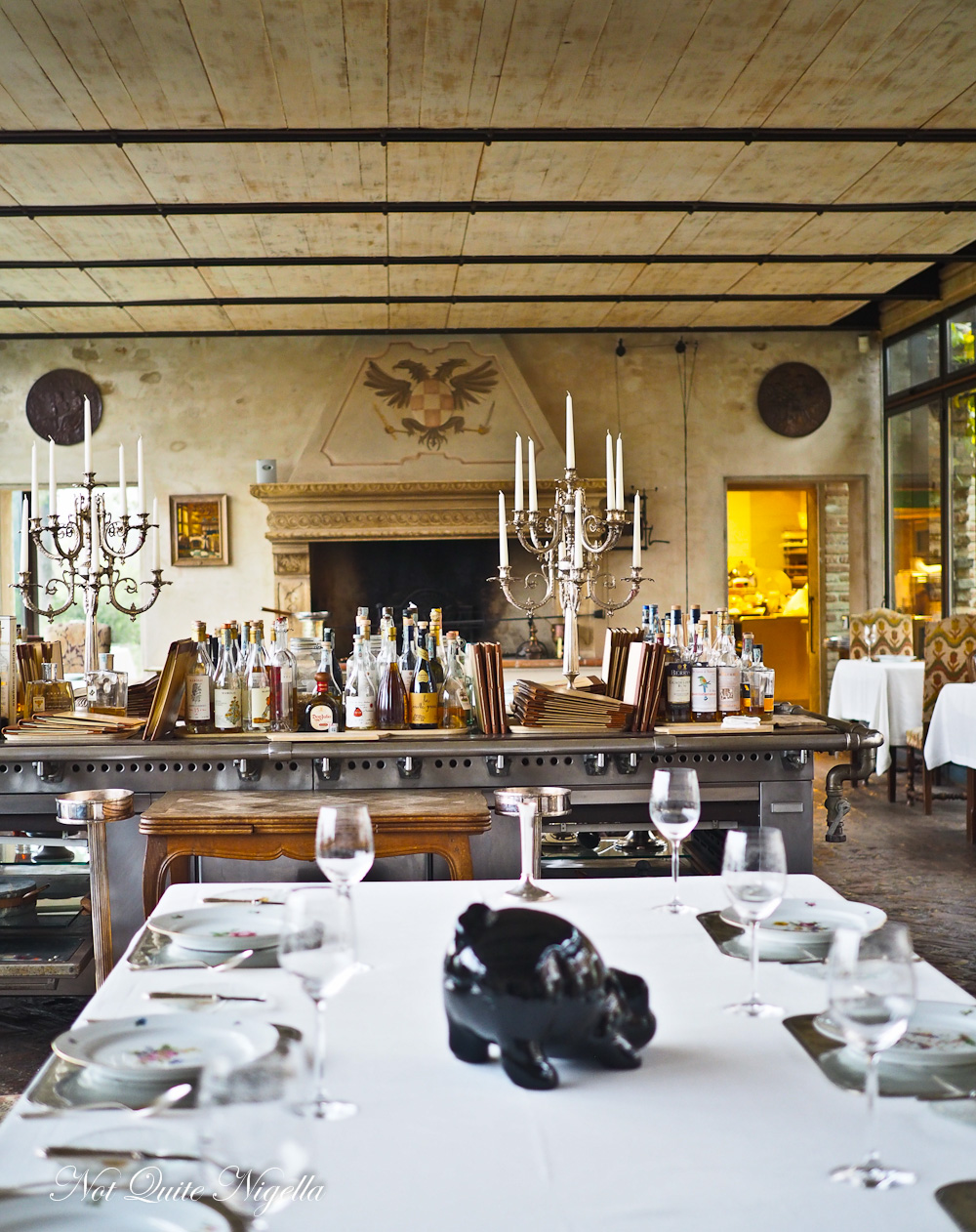 Michelin starred restaurant
The house itself has beautiful frescos dating back to the 1500s depicting scenes from farm life over the seasons, one scene showing the making of culatello in a series of three frescos. And if you look down in every room there is a single hole in the ground. This is because the property is located on a flood plain and in older times it was used to relieve pressure and also warn inhabitants of impending floods.
Clockwise from bottom: parmiggiano reggiano (24 months), Pancetta liver cut (16 months), Salame Cresponetto (12 months), Spalla Cruda shoulder cut (20 months), Salame Strolghino di Culatello 20-30 days, Gola throat cut 16 months and Culatello white pig 18 months (centre)
The terrace restaurant is where you can buy salumi, wine or cheese to take away or eat in. All of the salumi are available by weight and while the prize is the black pig 24 months which weighs in at €130 a kilo there are plenty of others to choose from including spalla cruda, salame strolghino, cresponetto, gola and pancetta.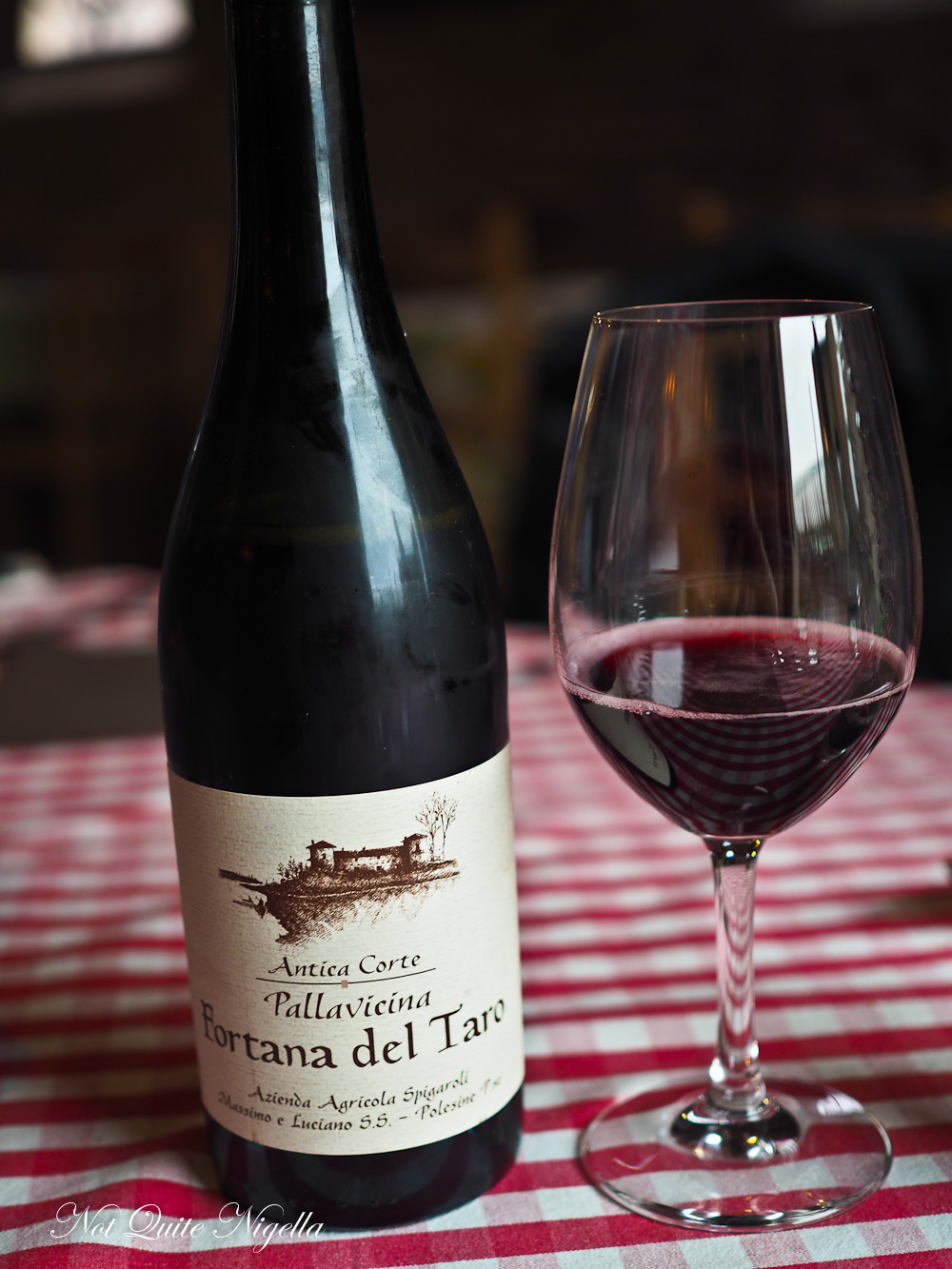 All of these are washed down with the Fortana sparkling red, a gorgeous and very easy to drink red wine with a low alcohol level of 6% with sweet accents of blackcurrant.
Also on the menu are seasonal risottos with pumpkin and strolghino sausage served with the rice al dente. Curly and long squash adorn the trattoria as it is pumpkin season.
And dessert? It is another regional specialty, a black cherry marmalade crostata. But as always the conversation comes back to the culatello, because we know that it may be a long time until we try it again.
So tell me Dear Reader, have you ever tried culatello? had you ever heard of it before? What is your favourite cold cut?
NQN visited Bologna as a guest of The Emilia Romagna Region Tourist Board but all opinions remain her own.
Antico Corte Pallavicina
Strada Palazzo due Torri, 3, 43010 Polesine Parmense PR, Italy
Phone: +39 0524 936539
www.anticacortepallavicinarelais.com/