Want a warming, creamy soup that is satisfyingly chunky and full of fresh seafood? This seafood chowder is one of the easiest and tastiest soups you could make. Warm yourself up from the inside with this beauty!
Sometimes soups benefit from slow cooking, drawing out the flavours from the bones. Other soups like chowder can be put together in 20 minutes or so. And 20 minutes to make dinner when you're busy is time efficiently spent.
Recently 20 minutes was actually too much for us. We've started to try training Mochi to be at home by herself. She does have separation issues ever since we got her and up til now we had been shuttling her off to my friends or family to look after her whenever we had to go out. We feel like we impose on people a lot so we thought that we'd try and teach her to be on her own as she has quickly been trained in other aspects. We download an app that tracks your dog's movements and behaviour and plays an audio or video of your dog at home.
Over the last few months we had started by leaving her alone for 5 minutes, then 10 minutes then 15 minutes giving her her favourite toy stuffed with treats to make her happy. She would wait by the door but it wasn't particularly bad. We decided the perfect time to test her out with this app was when I had to go out for about 20 minutes.
Our little unicorn
Little did we count of her amazing sense of hearing. Before we had just gone out to put out the washing or check the mail but as soon as I started the car and left the driveway poor little Mochi barked as she sensed that I had well and truly left and she didn't stop the whole time only recording one minute of rest. It was hard to listen to her barking and calling out for us and I quickly ran my errand and went home again. We're trying some other things to stop her barking thanks to some Dear Readers on Instagram suggesting some things. But I think that it's going to be a long training marathon!
In the meantime may I suggest this delicious soup as a productive way to spend 20 minutes?
So tell me Dear Reader, do you have any tips on how to lessen separation anxiety in dogs? How often do you make soup? Do you ever make it in summer or is it more a winter thing?
DID YOU MAKE THIS RECIPE? Share your creations by tagging @notquitenigella on Instagram with the hashtag #notquitenigella
Creamy Seafood Chowder
Rated 5.0 out of 5 by 1 readers
An Original Recipe by Lorraine Elliott
Preparation time: 8 minutes
Cooking time: 15 minutes
50g/1.7ozs. butter
2 leeks, white part only
2 cloves garlic, peeled
1 red capsicum, seeded and diced
2 potatoes, thinly sliced and cut into bite sized chunks
1 cup fish/prawn or chicken stock
Kernels from 1 corn cob
1.5 cups cream
1/2 cup milk
Salt and pepper for seasoning
500g/1.1lbs seafood marinara mix
1/4 cup chopped parsley and chives
Step 1 - Heat the butter in a large saucepan on medium heat. Add the leeks and garlic and saute until soft. Add the diced capsicum and potatoes and add the stock. Simmer with the lid on for about 5-7 minutes or until the potatoes are starting to go soft. Add the corn kernels, cream and milk and bring to a boil simmering for 5 minutes until slightly reduced. Taste for seasoning adding salt and pepper as needed.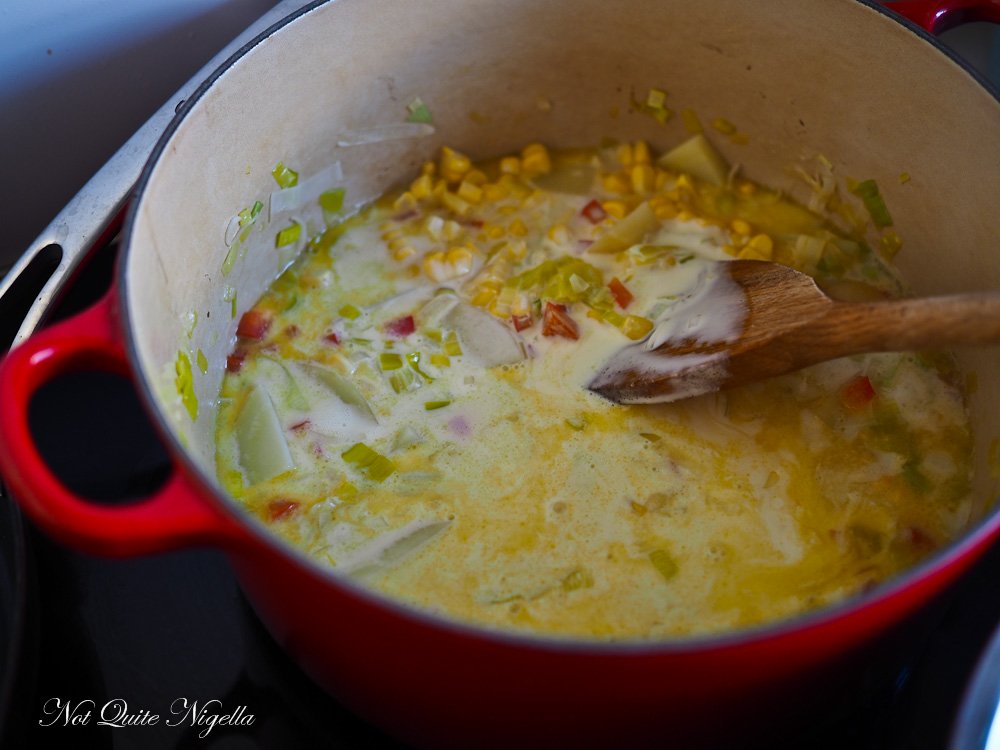 Step 2 - Lastly add the seafood mix, bring to a boil and simmer with the lid off for 5 minutes until the seafood is cooked. Serve with chopped parsley and chives on top with crusty bread.