I'm sad Dear Reader, frustrated even. Because I know that no matter how many photos I take, they will just not capture the absolute breathtaking beauty of the blues and greens of the Maldives. That if I ever want to experience it again, I will have to get the three flights across the Indian Ocean and a boat ride back. But you know what? I'll do it gladly because the Maldives captures your heart straight away.
We are almost at Finolhu Island, The Maldives (pronounced Mul-deeves). After being greeted at Male airport, our bags are whisked away, we're invited to the lounge to avail ourselves of internet and refreshments and then a final flight and a speedboat ride passes by in a blur while the friendly Maldivian staff gently guide us to our final destination. Most guests take an inexpensive hotel in Male and then make the final flight and seaplane onto Finolhu during the day. We've chosen the other route, to arrive late at night (3:30am).
Even weary travellers can't help but muster a broad smile when they fly over the atolls on the third flight, the tiny island lights glittering like brooches laid on black velvet at night. During the day by seaplane you get to see how many resorts there are and how each one differs in configuration.
Finolhu (meaning island with a few or no coconut palms) is located in the UNESCO world biosphere Baa Atoll. It is a new resort, open in 2016, but it has already made a splash with a different sort of concept.
The iconic images of the Maldives are the overwater bungalows and you can see the 1 kilometre stretch of palm covered bungalows as the speedboat approaches. I make the mistake of checking Sydney time and wince; it's 7am Sydney time and I didn't sleep on the plane. And because Finolhu and its sister property Amilla do things their own way, they are in their own separate time zone from Male which is two hours ahead to give guests the maximum amount of sunshine.
Even jetlag can't dull the senses. After quick check-in we are driven by golf cart to our bungalow. Finolhu is pitched as a party island but if the idea of Ibiza doesn't appeal don't worry, it's not that. For us it meant that the other guests are very friendly and eager to share snorkelling tips and it's made up of a lot of honeymooners and a surprising number of families. It's not a sedate resort and there's always music playing from the DJ to the band to fire twirlers and entertainers. But it's not intimidating or posey at all.
They show us our Ocean Pool Villa, one of the over water bungalows. Each 180 square metre palm thatched roof bungalow is spaced a good distance apart from its neighbour. The water here in the Maldives is so pure and clean that over water bungalows are synonymous with the Maldives. People can swim straight from the comfort of their bungalow in the warm waters of the Indian Ocean.
The bungalow opens up onto the bedroom with the mini bar where they have kindly furnished us with a post-midnight snack and a chilled bottle of Prosecco. On the other side of this is an emperor sized bed (7x7 feet!) with ludicrously comfortable sheets and pillows. I would hazard a guess that this is what sleeping on a cloud in heaven is like and it is one of the most comfortable beds we have slept on.
Next to the bed there are universal plugs and a USB port to charge your phones or devices and the internet throughout the whole resort is fast and free. There's a constant supply of filtered water available although the water in the taps is safe for brushing teeth. There's even a regular fridge and a wine fridge just because (although alcohol prices in the Maldives are in another league altogether because of the taxes). There is a robe, slippers and comfortable thongs for guests in the closet.
The expansive bathroom is to the right and features a large standalone tub, a dual sink and an indoor shower. Toiletries are by Neal's Yard and include basics but these are not replenished automatically, you have to call to get housekeeping to resupply items. There is just one thing missing-no bars of soap. Just a pump of shower gel that you tote back and forth to the sink to the shower. I guess that's what happens when you run out of things on an island. And I mentioned the indoor shower right? Because outside there are two outdoor showers (just because one seems limiting? ;)).
And then I open the sliding doors. Even late at night you can see the 6 metre private pool but you can also take a dip into the ocean from the back of your bungalow down the stairs or go snorkelling in the pristine turquoise water. I'm convinced that this turquoise needs it own Pantone name: Maldivian turquoise.
After a shower we slide into bed and sleep like babies waking up at 9:40am the next day. I make a cup of tea and draw back the blinds; even the gentle rain can't obscure the ocean's green outside. We are not the only people to rise late and at 10:30am many other couples make their way to the main breakfast room.
Tea and coffee is ordered with the friendly staff and we help ourselves to the juices and smoothies before circling twice to figure out what to eat because there is a lot to choose from. There's the egg station where eggs are made to order from anything from Eggs Benedict, egg white omelettes to waffles.
I gravitate towards the Asian section while Mr NQN picks up fruit and yogurt. I try the vegetable dumplings, the balaleet, an intriguing sweet noodle dish fragranced with cardamom and mas riha a fish curry as well as Thai noodle dishes and chapati. I can't wait to wake up the next day to try everything that I've missed out on and by the end of our stay I'm sure we'll have everything covered.
After breakfast I do a bit of shopping at the boutique and then we make our way back to our villa where we relax for the rest of the afternoon waiting out the rain and digesting our brunch. Whales breach in the distance and it's funny how time moves so perfectly as needed. It's 4pm, then 5pm then 7pm. There isn't the rush to beat time as it moves alongside you like an amiable companion.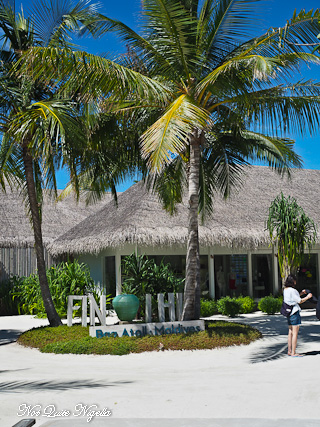 Dinner this evening is at Kanusan, the fine dining Cantonese restaurant located at the Southern side of the island, to have dinner with the affable Australian GM Mark Reader and his wife Vi. While it is mainly Cantonese, there are other Asian foods there.
We start with dim sum, wagyu beef and truffle, scallop dumplings and fat scallop & prawn siu mai all washed down with a glass of Finolhu's own champagne produced for them.
Most of the food served on the island comes from Melbourne, mainly from the Queen Victoria markets to ensure food security. Not a lot of things are grown here as the soil in the Maldives is not conducive to agriculture.
This is followed by the restaurant's signature item, the duck pancakes with the duck made in the duck oven.
The pick of the dishes are actually the Thai dishes on the menu from the zingy lemongrass heady Tom Yum Goong soup with lemongrass speared prawns to the rich Thai red curry, paired with the king crab fried rice redolent with garlic and a touch of chilli.
Dessert is called the Wow Platter and it is made up of fruit skewers, sheep's milk yogurt tart, a mango pudding with lychee granita and crispy crepe skewers filled with melting chocolate ganache which are gooey, crispy and moreish in one.
Afterwards we adjourn to 1OAK (short for One Of A Kind) based on the New York nightclub of the same name. Performers twirl in costume and there is shisha available for guests as well.
This is where the partying happens on the resort and upstairs is a man cave with a Baywatch pinball machine, movie theatre playing retro movies like Enter The Dragon and whiskies on tap.
And to think that this is just day one...
So tell me Dear Reader, have you ever visited the Maldives?
Take a look at the Not Quite Nigella exclusive package deal for Finolhu where the two of you can stay for 4 nights from just $2,720USD (plus taxes). Reserve your package today by emailing stay@finolhu.com with your name, dates, promo code "AMILLA-NQN1" and your preferred room package. Click here to download a pdf of the various packages for Finolhu on offer.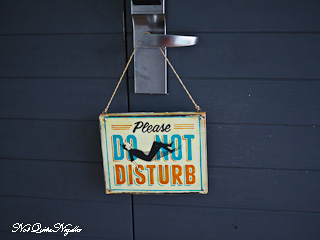 Finolhu Resort