The Blue Hole is spoken of in hushed tones from snorkellers and scuba divers that have visited Amilla resort in the Maldives. Located just near the Ocean Lagoon Villas my novice snorkelling self was determined to this lushly populated corner of the Indian Ocean. I am also shown how to make a crab curry and try some local Maldivian specialties.
It was day 2 at Amilla and Mr NQN had already made three attempts to find the Blue Hole. It is marked on maps, as if it is easy to find. In fact you can look out to where it is from our villa. But it has proven elusive even to keen snorkeller Mr NQN. He starts to become obsessed with it and wakes up on the second day early to try to find it.
As for me, I'm a real newbie to snorkelling. I tried it at Lizard Island and loved it and I tried it once at Finolhu and again I loved it. But we were warned against novices trying to find the Blue Hole. It is a distance, I'm a very poor to non-existent swimmer but I really did want to glimpse this underwater land.
That morning while Mr NQN searched again for the Blue Hole to no avail I did what I am more cut out to do: a cooking class with chef Nishantha P Vithanage the executive chef across all restaurants at Amilla and Finolhu. He is showing me how to make his signature crab curry. It is a recipe originally from his wife's family in Sri Lanka and involves caramelising thinly sliced onions and bathing a crab in a spicy marinade and then cooking them together with spices to create an incredible dish.
The Crab & Fish Shack at Finolhu is a very popular excursion for Amilla guests for the day and it is a favourite haunt of many celebrities. I watch as Nishantha cooks the onions down - this is the most time intensive part of the curry and then adds roasted curry powder, curry leaves as well as the drumstick or moringa leaves and stalk. What results is a gorgeous curry with a rich, smooth gravy that is a bit sweet and savoury at the same time.
We pair this for breakfast with some fresh tropical fruit, pastries, juices as well as two typically Maldivian items. Every country has a Vegemite and the Maldives Vegemite is Rihaakuru, made with fermented tuna blood and chilli that is cooked for 2 days.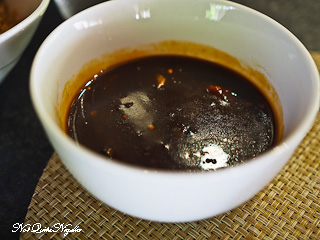 Rihaakuru
Maldivians eat it with Theyo Roshi that are chapati made with oil and hot water (there is also another type of chapati called Huni Roshi made with ground coconut). It's very tasty, chilli being the dominant flavour.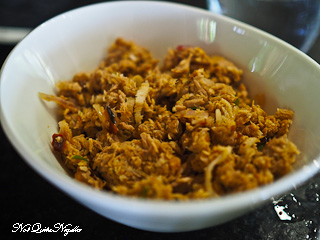 Masuni
Then there is Masuni which is just like a tuna salad made with onions and chilli. For dinner they eat a fish soup called Garudhiya which is like the Rihaakuru but made without boiling it for 2 days.
Our next stop is the Javvu spa where we are booked in for treatments. We are running a bit late because there was a mix up with the buggy situation and as a result our treatments are cut short because the spa is fully booked. Still the jetlag massage is wonderful, with long kneading motions especially with the spa therapists' forearms. It starts face up and then I lie face down gazing into the beautiful flower arrangement below.
After a rest we take a dip into the pool where Mr NQN has me practice for our attempt to find the Blue Hole tomorrow. The resort's GM Jean Noel has asked our butler Jambe to show us the Blue Hole but Mr NQN has major concerns about me being in the water. I practice using flippers and the snorkel and mask in our pool before I give it a go in the ocean. The water is a bit choppier today and I tire easily. He goes on to look for the Blue Hole while I shower and change. He returns 40 minutes later without having found the elusive Blue Hole.
Around 3pm we feast on champagne and mud crab curry that we have sent to our room. For dessert there are sweet yellow passionfruit and mangosteen. "It's supposed to be there on the edge of the reef so I swam out there and swam back and forth but I couldn't find it," says Mr NQN dejectedly looking out into the distance. A mud crab claw pierces my skin deeply to remind me of mortal danger and I look out at the ocean wondering if there's a secret hole or Aladdin's cave that opens up or a time of the day that it is easily seen.
The next day comes our time for butler Jambe to show us the Blue Hole. It's a common request of butlers and they enjoy it. It is a distance away-when Mr NQN points it out to me, I'm not sure where exactly he means because he's just pointing at the ocean. I am nervous but excited because he thinks that getting to the Blue Hole is beyond my capability as a swimmer but I am determined to see it for myself. I put on a life vest, testing out the snorkel and flippers in the pool. I am ready or so I try and convince myself.
Jambe arrives and we go down the stairs in our flippers while he jumps from the side of the pool. We follow him out towards the edge of the reef and he leads us through schools of fish and coral. There are brightly coloured butterfly fish, angel fish, banner fish and Moorish idols as well as inky black fish that look like shadows. A Moray eel moves past slowly.
We stop for air and Jambe then tells us, "I will take you to the Blue Hole now" and we swim back towards the villas. It's on the edge of the reef and for many including Jambe, it takes 2-3 attempts before finding it. Truthfully the dark blue oval shaped hole is best for scuba diving as you can go deeper and swim through the hole rather than just snorkelling (unless you can hold your breath for a very long time!) and I watch as the two men dive down towards the hole to get a closer look.
We swim back via the reef villas and cut across and there's an incredible range of marine life there with iridescent parrot fish, angel fish and a bright turquoise needlefish. A black tip reef shark swims past us and away quickly.
Dinner is at the Fish and Chip shop on the island. This is not your local chippie, instead there is a sunken area with comfortable lounges where you can dig your feet in the sand or there is a regular area with tables without sand underfoot.
Crab roll with watermelon & greens $18USD
I think I was expecting a brioche roll filled with crab salad with a side of watermelon and greens. It's actually a rice paper roll filled with crab meat on a slice of watermelon with a green salad. I like the roll because the crab meat is excellent but it just wasn't what I was expecting.
Chili ginger crab cake $18USD
The chilli ginger crab cake is filled with plenty of crab rather than potato and it is flavoured with ginger. It's a delicious dish although I was craving more.
Battered prawn tacos with pineapple salsa $23USD
The battered prawn tacos come two to a serve with mayonnaise and a pineapple salsa.
Citrus cured salmon gravalax with horseradish crème $23USD
One of my favourite dishes is the citrus cured salmon gravlax with horseradish creme. The salmon is very fresh and pairs well with the citrus segments.
Peekytoe Crab salad $25USD
I also really enjoy the crab salad. Although the presentation could be better the crab is freshly picked and delicious.
Maldivian reef fish burger with chipotle mayo & coleslaw $25USD
We both really enjoyed the Maldivian reef fish burger with chipotle mayonnaise and sesame coleslaw and fries. You can have the fish either crumbed, grilled or battered and they recommended the battered version which I enjoyed.
Sweet corn cake with orange-Maldivian chili glaze $14USD
We order one dessert to share. It's an interesting one with three squares of corn cake with an orange Maldivian chilli syrup on top. The corn cakes are similar to American cornbread with a scoop of vanilla ice cream on top of each one.
It starts to rain heavily, the palm trees swaying hard in the wind and they roll down the plastic awnings as we dig our feet deeper in the sand. Mr NQN turns to me, "Blue hole tomorrow?".
So tell me Dear Reader, are you a good snorkeller and swimmer? Have you ever become obsessed with seeing something? And have you ever eaten Sri Lankan crab?
NQN and Mr NQN stayed as guests of Amilla but all opinions remain her own.
Amilla
Take a look at the Not Quite Nigella exclusive package deal for Amilla where the two of you can stay for 4 nights from just $3,470USD (plus taxes). Reserve your package today by emailing stay@amilla.com with your name, dates, promo code "AMILLA-NQN1" and your preferred room package. Click here to download a pdf of the various packages for Amilla on offer.