An enormous sea turtle, fish the colour of the rainbow and a secret underwater world make up day 4 at Finolhu resort in the Maldives. Couple these treats with superb North African cuisine and cocktails and you can see what makes the Maldives so special!
I'm painful. And I'm stuck. With my snorkel on and pebbles in my flippers I'm resisting all of the patient cajolings of Mr NQN to put my face under water. I can tell that his patience is wearing thin though and I refuse to leave the perceived comfort of the sand bank.
"I might go back in," I say. The water is less calm than it has been in the past few days and finally, after fake tears, semi tantrums and more fake tears I submerge myself under water and wonder what the fuss was all about.
Drama queen.
The fish and coral flick in and out of view gliding back and forth, singularly and in formation. I refuse to let go of Mr NQN's hand-you see I can't really swim and he has encouraged me to try snorkelling without a life vest so he is my life vest in lieu of one. I can see how easy it is for people to drift away from shore, lured by the colourful patterns of the fish as well as the neon colours and enormous corals. Before I know it we've been out there for half an hour and I'm exhausted. I wash off the salt water in the spa and we walk back to the villa where I lie spent of all energy. I'm not used to all of this physical action.
I wish I was kidding but five hours later is when I move again. I've pottered around the villa, made cups of tea, watched television (hey that's how I relax, don't judge) and read and snuck in a small amount of work while Mr NQN was napping. I look at the time and realise that everyone is expected on top of the "mushroom" at 7:30pm for the weekly cocktail party held by management. This is a chance for guests to meet each other and to chat to staff. The dress code is white.
There are cocktails and canapes served-delicious little morsels like smoked salmon, roe and cucumber canapes or beetroot and goats cheese bites. There is French sparkling rosé and cocktails as well as plenty of mocktails. And for entertainment there are stilt walkers, contortionists and fire twirlers to entertain guests.
At 8:30pm while the sun sets we make our way to our final dinner at Finolhu and we are rather sad to be saying goodbye to the resort and its effervescent, caring staff.
Our dinner is at Baahaa restaurant, the sophisticated open beachfront restaurant that serves North African food. Most people's accommodation packages include one meal here with a choice of entree, main and dessert and everything is generously portioned here.
Complimentary pita bread with labne
I dive into the soft pita bread, one of my favourite breakfast goodies with herbed labna.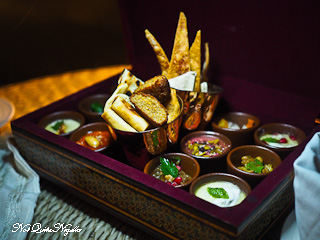 Mezze 24 for two $48
Then we have the Mezze 24, a literal treasure box of dips including babaghanoush, hummus, mutabal, muhammara, moutabal beetroot, mutabal pumpkin, labneh with mint as well as mudardara, shanklish, mixed pickles, balila. There are breads like zaatar manakish, lamb and cheese, spring rolls, cheese rokakat, lamb sambousek, arayes dajaj, felafel, lamb kibbeh, spinach fatayer and makaley (mixed vegetables) served in a wooden jewellery box. It's elaborately gorgeous with so many tastes that we could conceivably feast on this alone for dinner.
Scallop Shashuka $32USD
We also ordered an extra dish, the scallop shashuka which is a serve of rich, tomato based sauce topped with perfectly cooked scallops. I've never had such a luxe version of shashuka before and it's a wonderful combination. On the side is a saffron mashed potato with ras el hanout which is strong in aromatic saffron and buttery rich.
Algerian Bazeka Bil Lahm $38USD
Mains are either grill items or tagines and we order the lamb tagine with prunes, green peas, carrots and an enormous lamb shank. It's an enormous serve and I can't imagine anyone being able to polish it off. We eat it with some fried cauliflower, an absolutely delicious side with a tahini cream sauce drizzled on top of the caramelised cauliflower. Note to self: make this at home.
All the mains come with an additional vegetable dish and ours is a stuffed zucchini with asparagus.
Premium lamb Rack $55
The lamb rack is chef Bouacha Nadedj's specialty and it comes out with a fragrant and slightly sweet rub of ras el hanout on a sizzling charcoal bowl with half a head of caramelised garlic, sauces and rosemary. The lamb cutlets are wonderfully juicy and succulent with a wonderful hit of charcoal and there are four spicy cutlets to a serve.
Warm sticky medjool date pudding $18USD
It's dessert time and we share a couple of desserts. There are some gorgeous flavours at work here with their version of a sticky date pudding. It's made with medjool dates with a caramel butterscotch sauce and a scoop of delicate rose petal ice cream. It's a floral, pretty version of this dessert.
Fruity charred pineapple $18USD
But for the weather and for the evening nothing beats the fruity charred pineapple, three caramelised rings of fresh pineapple served with a Coyo yogurt and compressed ice cream and palm sugar coconut. A very sweet end to our stay.
So tell me Dear Reader, how much exercise can you do before you get tired? And how do you relax? Nap? Reading? TV? Something else?
NQN and Mr NQN stayed as guests of Finolhu but all opinions remain her own.
Finolhu Resort
We have a Not Quite Nigella exclusive package deal for Finolhu where the two of you can stay for 4 nights from just $2,720USD (plus taxes). Reserve your package today by emailing stay@finolhu.com with your name, dates, promo code "AMILLA-NQN1" and your preferred room package. Click here to download a pdf of the various packages for Finolhu on offer.