Flowers and dessert are a dream combination for many. If you like your desserts pretty and your afternoon tea dainty, then you might want to check out the what happens when Petal Met Sugar, on Sir John Young Crescent in Woolloomooloo.
I've been toying around with the idea of having a "fat pants" rating on the blog. That is, letting people know when they are best to wear comfy clothes with expandable waistlines. And despite the idea of visiting a sugar spun heaven like Petal Met Sugar, you can wear your tightest clothes.
It's a pretty spring day for afternoon tea and it's me, Alyson, Belinda and little Mochi. Along with being a cake shop and a cafe, Petal Met Sugar also offers afternoon teas for $40 per person. These need to be pre-booked and a credit card is taken in case of cancellations in less than 24 hours or no shows (50% is then charged). Booking ahead is also a good idea as there is limited seating.
Unfortunately, service from a couple of members of staff is quite unsure, slow and forgetful, to the point where we have to get up multiple times to ask for things.
The afternoon tea comes with a drink. I order a watermelon Earl Grey iced tea. It's lovely, floral and refreshing and suits the warm day.
The afternoon tea comes out in a perspex compartmentalised display box. We're trying the Spring edition of the afternoon tea. The head pastry chef and owner Elsa Li comes over. She was formerly at Zumbo and she is friendly and knowledgeable and goes through each item. There are 5 different things on the stand. "I feel like we need a miniature tea set," Alyson quips.
We start with a mini scone, of which there are two per person. They're quite hard although I do find that with mini scones. I think they'd be much nicer served warm. The house made blueberry and lavender jam and Earl Grey infused chantilly are lovely though.
The Garden Macaron is gorgeously pretty. A chocolate macaron is topped with chocolate beetroot cremeaux, beetroot chips and adorably tiny coconut mushroom macarons. Not only does it look pretty but it is delicious with creamy chocolate and fruity beetroot.
Belinda is besotted by the Baby Waffle, a crisp waffle with citrus rhubarb, a tiny quennelle of rose cream and lemon balm.
Another one of my favourites (actually I love all of the sweets) is the Olive Oil and Grapes, a rectangle with layers of olive oil cake sandwiched with vanilla bean ganache and topped with plump roasted balsamic grapes. Heaven in three dainty mouthfuls.
The last item is a morsel that everyone loves. The baby cronut is a crunchy sugar dusted croissant donut filled with matcha creme patisserie with matcha popcorn, pandan sponge and nasturtium.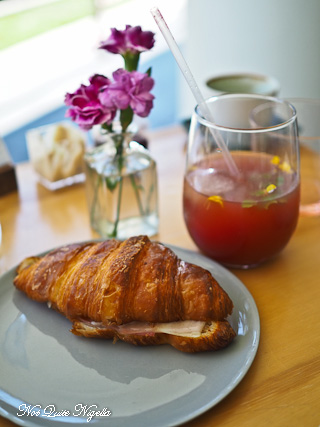 We had originally ordered the croissant with our drinks so we could start with a savoury item but the order got lost so it comes out after we inquire about it. The ham and gruyere croissant seems to be microwaved rather than grilled because it is very soft without any crispness. This and the breakfast plate and a scroll that was sold out are the only savoury things on the menu.
Because we enjoyed the sweets we decide to give another two cakes a try. The Blushed Cheeks is in the shape of a peach. It is made with vanilla sponge, blood peach mousse, wild strawberry Ceylon tea jelly, rice puff Ceylon crunch and is sprayed with chocolate on the outside. It's not overly sweet and perhaps needs a stronger flavour of peach.
But we really like the Flower Bomb, a spring-only dessert. The 28% Callebaut white chocolate shell is broken at the table to reveal an orange blossom and mascarpone mousse, brown butter popping crumble, a centre of passionfruit jelly, meringue dust and spring blooms. It has a good amount of texture and flavour and although rich, it's hard to stop at one spoonful.
Our afternoon tea is interrupted by workers from a nearby building who warn us that we're going to get sprayed by water so we need to move. "They're ruining our buzz," says Alyson. "We're trying to have afternoon tea here!" she adds indignantly.
So tell me Dear Reader, where is your favourite afternoon tea? What did you think of this one? Which item appealed to you the most?
This meal was independently paid for.
Petal Met Sugar
68 Sir John Young Cres, Woolloomooloo NSW 2011
Open Weekdays 8am–4pm
Weekends 9am–4pm
Phone: (02) 9360 6226
www.petalmetsugar.com.au/