The Tea Cosy is a tea room and afternoon tea parlour housed in a lovely heritage listed building on Playfair and Atherton Streets in The Rocks. Here you can have a pot of tea along with a Devonshire tea or a Grandstand tea tower with freshly baked scones and the freshest finger sandwiches plus the Fairy Bread of your dreams!
Tea Cosy's owner Ash Kinchin is passionate about afternoon tea and designed the rooms to fit into the heritage Rocks area. "There was no question in my mind that the décor needed to complement the building. It needed to capture the way that the people would have lived when the building was built over a hundred years ago." I wrote about her first venture Tara Tea Rooms over 10 years ago and in that time, Tara has closed and The Tea Cosy has opened up at a different location nearby.
The building has plenty of nooks and separate rooms to enjoy afternoon tea. We head upstairs to the Nana's Nook where we have a room to ourselves although there are plenty of people sitting outside enjoying a cup of tea and the winter sun. "The food is based on my Nana's home cooking in Ireland. She would always have fresh scones in the oven and a cup of tea on the stove, she would never serve a pot of tea without a tea cosy and her kitchen table was the warmest place to be in the house," says Ash.
After they opened 6 months ago COVID-19 hit. Ash pivoted to deliver scones with jam and cream cross Sydney. "My husband and I are both self employed and we couldn't afford to just stay home. I'm not good at relaxing, so I pretty quickly thought about the idea of doing our own delivery service of an affordable scone delivery to Sydney siders. We never contemplated opening just for take away as the Rocks was never going to be viable for that, as there is not enough people that live there," she says.
"I had a van, I had an oven. So my aim was just to maybe cover the wages with our delivery service...I was really surprised by the response. It was way, way more than I thought. Those first few weeks out on the road are something I will remember forever, the roads were empty and everyone was hiding behind screen doors. It was just me, tradies and uber drivers on the road and it felt like a police state. 6 weeks later and we are just about to complete our 1000th order, it's been lots of fun and I've got to know Sydney better," says Ash.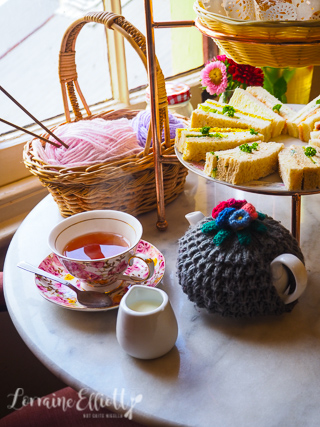 With the deliveries winding up in July she is now focused on their brand new menu. There's something reassuring about menus that just focus on a few things: here it is scones and sandwiches as well as fairy bread and drinks but that's all. And that means that the scones are stellar and the sandwiches superb-easily among the freshest and tastiest. Ash explains that because they only focus on a few things, she can bake the scones from scratch throughout the day.
We settle in and survey the room with vintage plates on the wall and a record player playing some 1920's music. Knitted blankets are propped on the backs of chairs but it's nice and cosy inside. For service you just have to press a buzzer and the staff will come quickly up those vertiginous heritage listed stairs and take your order. I know exactly what I want having studied the menu but in addition to the 5 varieties of jam there are also 5 specials today which are very tempting.
Grandstand for 2 $52 ($26 per person)
The grand stand tea is $26 per person and includes all four varieties of sandwich, freshly baked scones and a drink of your choice. I go for the French Earl Grey from Tea Leaves in Victoria that is served in an adorable knitted tea cosy wrapped tea pot. Mr NQN has a lemongrass and ginger iced tea with ice, fresh mint and fruit.
There are four varieties of sandwich and they come as slender finger sandwiches. Can I just say what a pleasure it is biting into a fresh sandwich which has the softest, downiest bread?
My favourite sandwich is the creamy tuna with cucumber, cream cheese and mayonnaise followed by the smoked salmon with cream cheese and dill but the curried egg with iceberg lettuce is also a favourite. There is also a ham and jam which has ham, cheddar and triple berry jam and for those that like things sweet.
Now onto the scones. These are still warm even after we take photos and eat sandwiches. The scones are wonderful-perfectly fluffy and not dry at all inside.
I spread some thick, clotted cream and sample the jams. The pineapple, coconut and rum jam is a firm favourite-it goes perfectly on the fluffy scone with cream. The peach, vanilla and brandy is also delicious. The strawberry is of course a classic but we're both fighting over the last of the pineapple jam.
Curdy Purdy $8
So you've had fairy bread but have you had fairy bread like this? This crust-less triple decker fairy bread is quite a sight to behold and for kids or the young at heart. The secret to their fairy bread is the house made lemon curd and a sprinkling of hundreds and thousands. It's as tasty and delightful as it is pretty.
So tell me Dear Reader, what is your favourite part of afternoon tea-the scones or sandwiches? And during winter do you like to sit outside or inside?
This meal was independently paid for.
Tea Cosy
7 Atherden Street, The Rocks, Sydney NSW 2000
Open Friday, Saturday and Sunday
0401730504
https://www.theteacosy.com.au/