Have you got people coming over for New Year's Eve and need to cook something simple but celebratory? Try this prawn and avocado bruschetta and incredible porterhouse steak with gorgonzola sauce (the easiest dish ever). There's also ideas to make use of the deli to make sliding into 2018 a breeze!
Because I love seafood so much I often forget how easy steak is to make. For me most of the work comes from the farmer and the ageing process before you buy it. But even if you can't get dry aged steak, you can dry age it in your fridge by leaving it uncovered on a rack for a couple of days. The steak becomes almost waxy on the surface and the water evaporates and what remains is a delicious beefy flavour.
The steak took much less time than shelling all the prawns and making the bruschetta. I actually blow torched the sauce on the steak but I realised that not everyone has a blowtorch so I gave instructions for the stovetop. The prawn recipe is really a given for Australia. Around summer time prawns are sold scoop after scoop. The Prosecco soaked watermelon cubes are also for the hot summer that we are having and are easy and festive. Plus fruity booze make for a fun NYE!
This year I realised that I need to look after my health as I tend to work myself to the bone because I'm obsessive like that, so this year we packed Mochi up and have gone away for the next few days to the Southern Highlands for some rest and relaxation. I'll be cooking some of these things as well as resting and catching up on some sleep. I hope you get a chance too to recharge before 2018 barrels its way into our lives. And what a fun time that promises to be!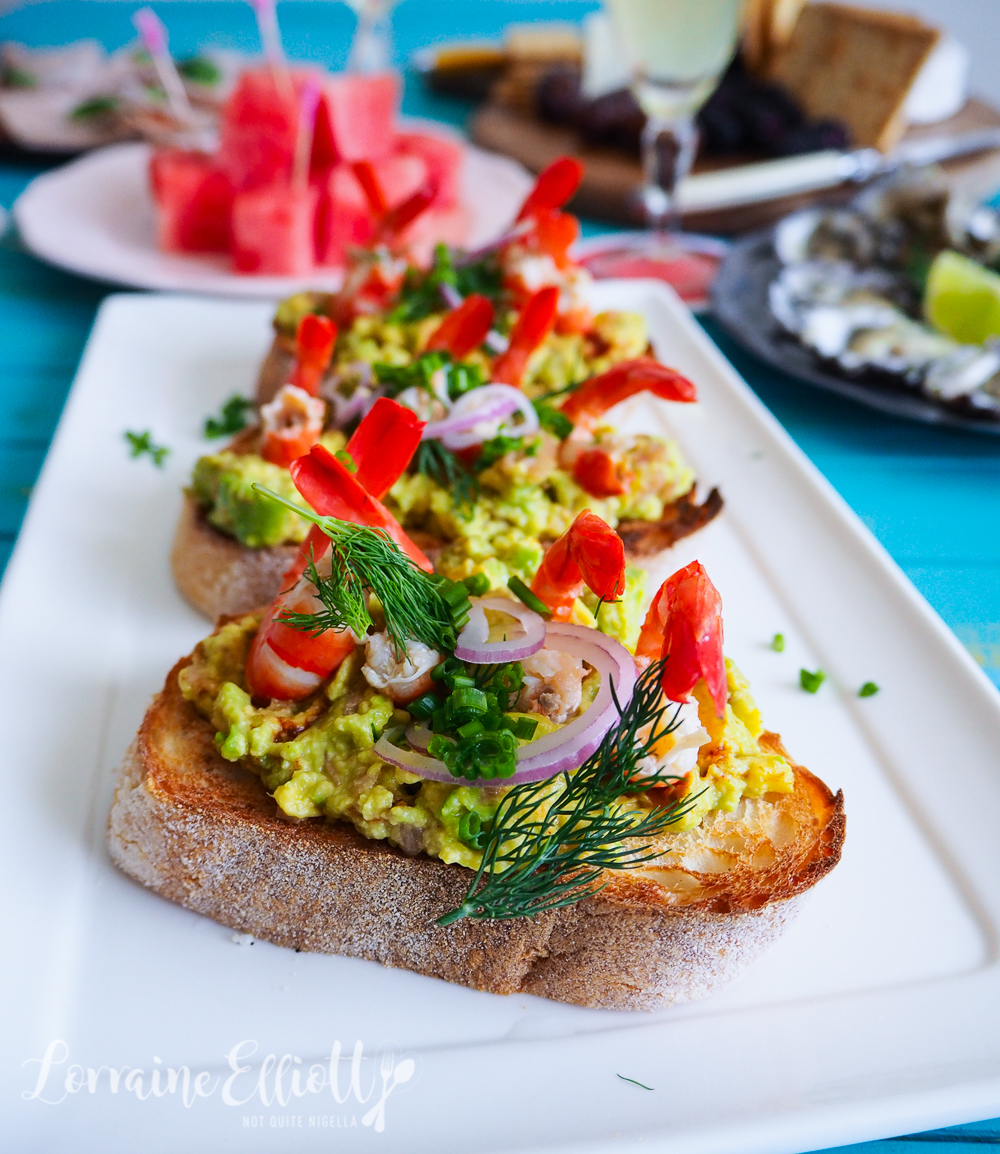 So tell me Dear Reader, what are your plans this New Year's Eve? Have you gone away this Christmas break? And when do you go back to work?
DID YOU MAKE THIS RECIPE? Share your creations by tagging @notquitenigella on Instagram with the hashtag #notquitenigella
Steak With Gorgonzola Sauce
All Original Recipes by Lorraine Elliott
Preparation time: 5 minutes (plus 10 minutes resting time)
Cooking time: 10 minutes
4 Porterhouse steaks, grass fed and dry aged
Salt and pepper for seasoning
Oil for frying
200g/7ozs. gorgonzola dolce
1/2 cup cream
Step 1 - Season the steaks on both sides with salt and pepper. Heat a frypan on high heat. Add oil to the pan and fry the steaks for 30 seconds on each side for a total of 1.5 minutes only (for medium rare, adjust up o down to your liking). Allow to rest for 10 minutes on a metal tray and cover with foil. Slice up the steak.
Step 2 - Blend the gorgonzola and cream until you get a smooth paste. Heat the sauce gently on a low medium heat and pour over steak.
Prawn and Avocado Bruschetta
Preparation time: 20 minutes (time mostly spent shelling prawns)
Cooking time: 0 minutes
6 slices sourdough bread, toasted and drizzled with olive oil
400g/14ozs. prawns
2 medium avocadoes
2 tablespoons finely chopped red onion
1 tablespoon sweet chilli sauce
2 teaspoons lime juice
Salt and pepper for seasoning
Fresh dill
Step 1 - Shell prawns. Mash the avocado with the onion, sweet chilli sauce, lime juice and season with salt and pepper. Spread thickly on top of bread and top with prawns. Top with dill.
Mortadella with Pecorino and Basil
250g/8.8ozs. mortadella
2 tablespoon finely shaved pecorino or parmesan cheese
Basil leaves
Step 1 - Fold over the mortadella into quarters and arrange around a platter. Shave the cheese over the mortadella and scatter with basil leaves.
Prosecco Soaked Watermelon
2 cups watermelon cubes
1 cup Prosecco
Step 1 - Soak watermelon cubes in Prosecco and chill until needed.