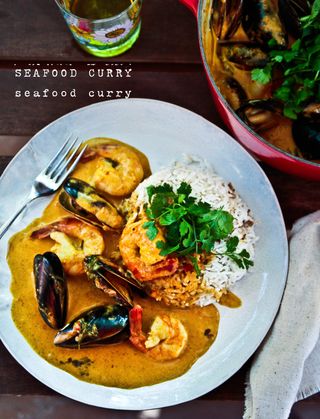 Sometimes, when we book into a restaurant, I'll use a pseudonym. I say sometimes because this only tends to work when you remember the pseudonym that you book under and there have been many a time when I've forgotten the name that I've booked something under. I stand there saying "Oh yes I have a reservation under the name Dorothy... or was it Anastasia?" and I reel off a list of names while the maitre'd looks at me as if there were a live case of Sybil standing in front of them.
I tend to stick with a few names. My current favourites are Anastasia Beaverhausen (Karen Walker's pseudonym on Will and Grace) or Dorothy Zbornak (from the Golden Girls) or Dorothy Michaels (aka Tootsie). I just hope that they don't have a television or movie diet like mine that peaked in the 80's and 90's. So far nobody has questioned any of them...well that is until I forget my name...
Anyway, I have a recipe for you that might have you forgetting your name. Or at least muttering something biblical or religious it's that good. This is the curry sauce recipe that launched a thousand licks. Really, I should explain. When we visited Fish D'Vine in the Whitsundays, they set down some mud crab with an incredible sauce that you just couldn't help but lick off every surface of the crab. The empty shell? Yes, I picked that up and licked it better than Gene Simmons. I was smitten by the sauce, a fragrant, sweet and spicy sauce that was unlike any other I had tried before. So I asked the chef and restaurateur Kev and amazingly, he furnished us with the recipe. And you wouldn't believe what was in it...
I couldn't wait to make it-I had some kaffir lime leaves and lemongrass and I bought the rest of the ingredients. Surprisingly there was the addition of a Rogan Josh spice paste as well as sweet chilli sauce and I loved Kev's instructions on the negotiable ingredients like galangal versus the non negotiables like full fat coconut cream or nothing. His instructions were so clear and perfect that I left his recipe as it was so the recipe has a slightly different structure from mine.
I didn't make mud crab-that's another challenge for me to take up at another time but I did make a curry using prawns and live black mussels which were perfect. If you've ever had the inclination to make your own curry, let this one be it! And yes this is one of those pushy recipes where I push you to make something. Even if you don't like seafood, this is great on chicken or even tofu or vegetables or chicken or pork (I've tried it on everything!). Even self confessed lazy eater Mr NQN licked every surface of the mussel shells slurping and eating eagerly before wiping his hands on several napkins and falling back exhausted and spent. I don't think he could even remember his name...
So tell me Dear Reader, if you could choose a pseudonym, what would it be?
Kev's Amazing Grace Curry