If your New Years Eve is a social one with friends where you stay up for the midnight fireworks or if your NYE is just a small gathering with loved ones to usher in the new year with the 9pm fireworks then here are some delicious and healthy party food ideas! Forget bringing around finger food, a help yourself platter offers people the chance to sit back, relax and graze on tasty treats.
Today I'm showing two types of platters, a mixed savoury and sweet platter and a fresh seafood poke platter. Poke (pronounced poh-kay) is something has finally arrived in Australia across the shores of the Pacific Ocean from Hawaii. Hawaiian poke is a cousin of Japanese sashimi. However with poke, the raw fish (usually yellowfin tuna) is cut into cubes and then seasoned with soy sauce, sesame oil, spring onions and sesame seeds.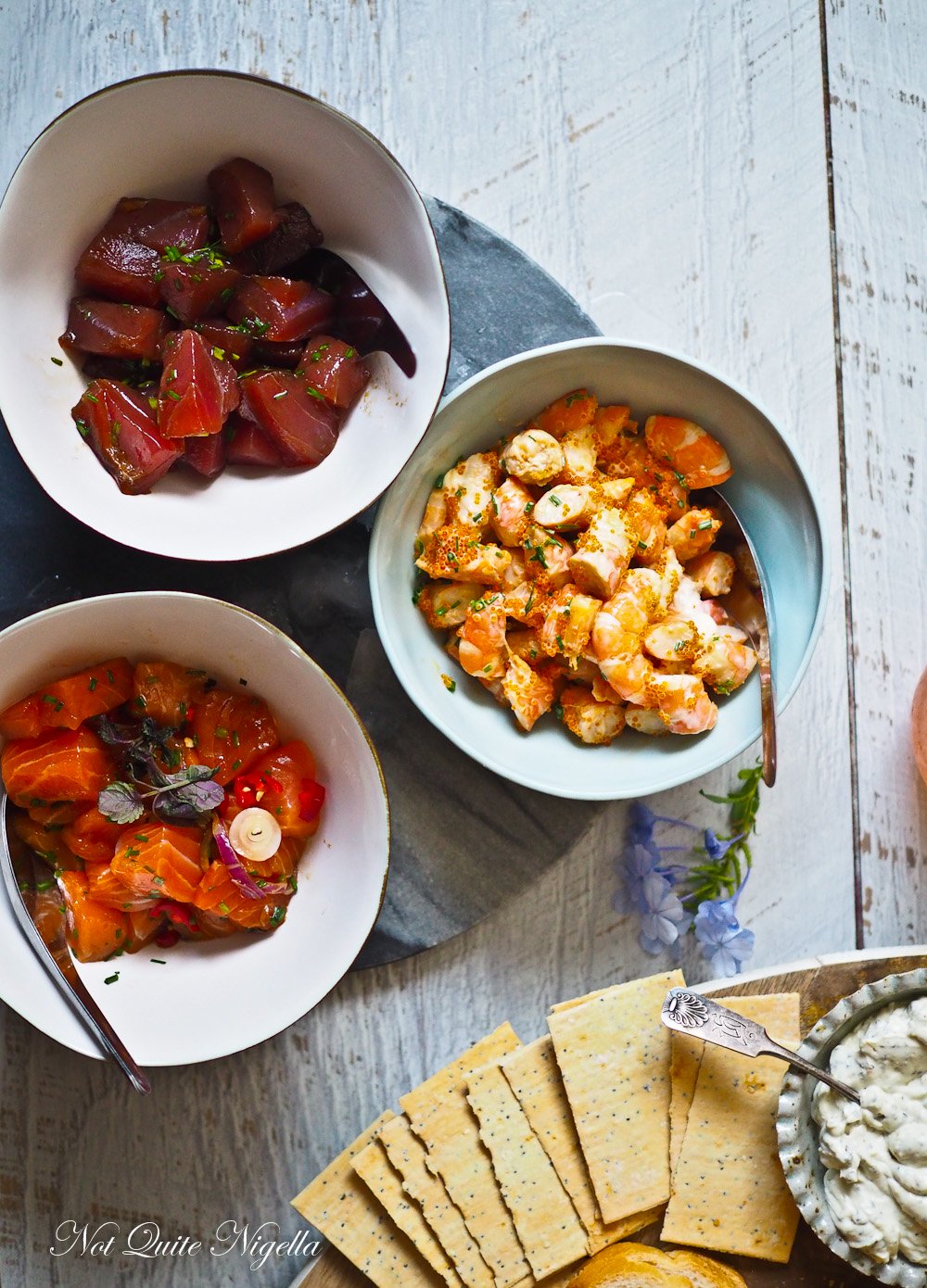 Poke platter
Poke is wonderfully tasty, fresh and healthy which I'm guessing is a large part of why it has become so popular here. In Hawaii they make poke out of several kinds of fish and seafood and it's not unusual to be greeted with an enormous display of poke types, all at very reasonable prices. It can range from up to 20 types of poke from cooked lobster, prawns to a range of fresh sashimi grade fish. A small container will set you back just a few dollars in Hawaii. Here in Australia we tend to do poke bowls with the fish with rice and other additions but I love pure poke on its own.
The main platter is mainly made up of food that you can buy at a deli counter so you may as well make use of what is available. I've added a few recipes to this including one for edamame dip, whipped feta dip and beetroot tzatziki and of course there is the obligatory drink-a frosé (frozen rosé cocktail) made with fresh strawberries and coconut water!
The reason why I've gone for platters as I've said is so everyone can help themselves and you can relax. I don't know about you but I am still usually a bit tired from Christmas and by the time New Year's rolls around I usually cast it a cursory glance and go back for a nap before realising that we need to do something. Scrambling ensues. Dear Reader, it isn't pretty.
I can't complain though, I've had a great time over the past week catching up with friends and family post-Christmas and we've been eating so much. When Nina asked me if I wanted a workout session I demurred (although I really should do one). She and Garth invited us over for Christmas dinner on the 27th of December where she made miso soup and soba noodles and ordered in sushi and sashimi because she was feeling lackadaisical too.
I knew it would be the perfect time to play a little trick on Nina. You see when it rains we train at her apartment where she has lots of framed photos. I've always threatened that I will put up a photo of myself there so she can always remember me when she is at home. And I realised the perfect photo would be my b&tchface photo where I look grumpy as hell (mainly because I was doing something sporty-ugh)! And the perfect time to slip it in her house would be when we visiting for dinner!
The b&tchface photo
I had the photo printed and framed and slipped it in my bag. Nina gave me a lovely kimono for Christmas so I tried it on in her bedroom and placed the framed photo near her bed and snuck out winking at Mr NQN as I passed him.
As we were leaving I wondered how long it would take her to notice the intruding photo. It was only a matter of minutes after we left when my phone buzzed. She sent a picture of framed b&tchface and the laughing emoji times six. "I was so confused. Then I burst out laughing so hard," she wrote.
Mission accomplished! Now to think of a new plan for 2017!
So tell me Dear Reader, what sort of New Year's Eve are you having this year? What would be your dream NYE? And have you ever tried poke before? Which recipe appealed to you the most?
DID YOU MAKE THIS RECIPE? Share your creations by tagging @notquitenigella on Instagram with the hashtag #notquitenigella
New Year's Eve platter Shopping List
Strawberries
Raspberries
Cherries
Blueberries
Grapes
Mango
Kiwifruit
Lavosh crackers and bread sticks
Passionfruit
Truffle salami
Prosciutto
Pepper dews
Olives
Dolmades
Aged reggiano cheese
Brie cheese
Quince paste
Asparagus
Tips:
Place "wet" items like olives, dolmades and pepper dews in a small bowl. Have a small bowl ready for pips.
Start arranging by placing the largest items down first and then reserve the fruit to fill in the gaps at the end, particularly the berries and other fruit that can be scattered about the platter.
Try for a mix of soft and hard cheeses. Instead of serving feta as it was, I whipped it up into a dip.
Whipped Feta dip
350g/12.36ozs. Danish feta with herbs
Step 1 - Drain the feta and place in a food processor along with 3 tablespoons of the marinating oil. Blend until fluffy and whipped. Serve with crackers.
Edamame dip
1 cup shelled edamame beans, heated from frozen
4 tablespoons extra virgin olive oil
3 tablespoons finely chopped chives
Juice of 1/2 lemon
Salt and pepper to tastes
Step 1 - Blend the edamame beans with the olive oil. Then add in the chives, lemon juice and salt and pepper to taste. Serve with crackers.
Beetroot Tzatziki Dip (see recipe here)
Strawberry and Coconut Water Frosé (Frozen Rosé)
Makes 4
750ml/26.5fl ozs. bottle rose wine
250g/8.83ozs. strawberries, fulled and sliced
1/4 cup icing or confectioners sugar
1 cup coconut water (fresh from the coconut)
7-8 ice cubes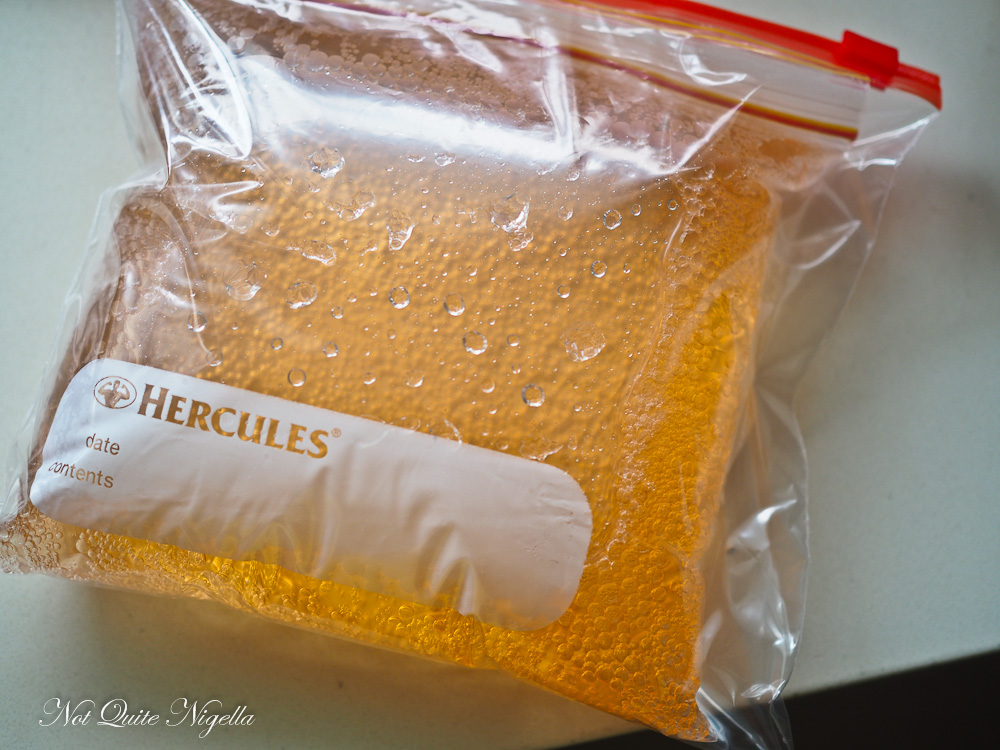 Step 1 - Freeze the Rosé in a ziplock bag or in a container in the fridge. I did the ziplock because I had no room but just in case I double bagged it. Freeze for 6 hours or overnight (it will turn slushy). Meanwhile, mix the strawberries and sugar and keep in the fridge for the same amount of time allowing the juices to release (massage the berries gently if you need to).
Step 2 - In a blender add the slushy rosé, the strawberry juice (reserve the actual strawberries for yogurt or a dessert), the coconut water and the ice cubes and blend. Serve straight away with berries for garnish.
Tuna Poke
200g/7ozs. sashimi grade tuna
2-3 tablespoons soy sauce
A few drops sesame oil
2 tablespoons finely chopped chives
Step 1 - Cut the tuna into small cubes and then toss with soy sauce, sesame oil and chives. Serve fresh.
Chilli Salmon Poke
200g/7ozs. sashimi grade salmon
1.5 tablespoons soy sauce
1/2 large red chilli, finely diced
A few drops sesame oil
1 tablespoon finely chopped chives
Step 1 - Cut the salmon into small cubes and then toss with soy sauce, chilli, sesame oil and chives. Serve fresh.
Prawn Poke
250g/7ozs. shelled cooked prawns
1.5 tablespoons mayonnaise
1 tablespoon soy sauce
3 tablespoons flying fish roe (tobiko)
1 tablespoon finely chopped chives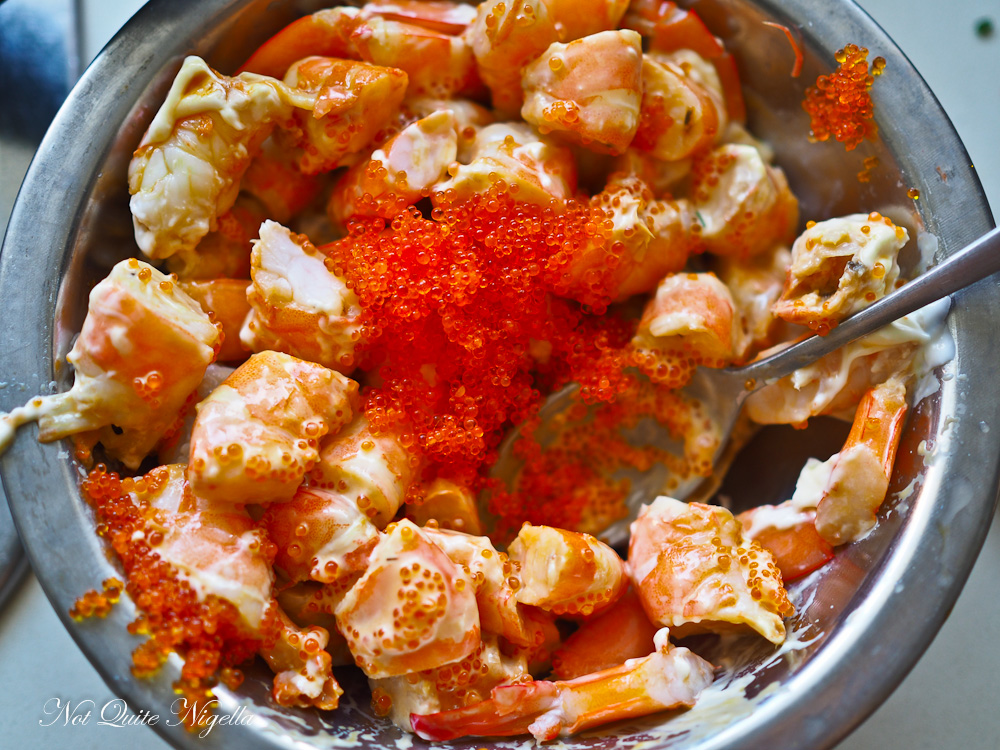 Step 1 - Cut the prawns into small cubes and then toss with mayonnaise, soy sauce, flying fish roe and chives. Serve fresh.