For the 7th year in a row, Sydney Harbour plays host to a spectacular Opera Australia production. This year's opera La Bohème by Puccini combines the dazzling harbour with French themed food. From grilled scallops & boudin noir to free-range duck two ways, truffled potato dauphinoise to a Latin Quarter inspired creperie, there's plenty to eat and watch.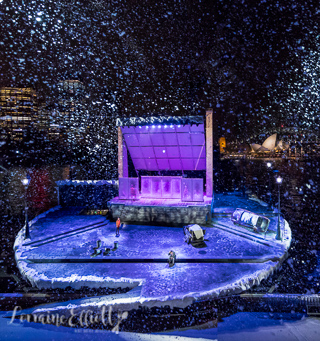 "Look out for the snow!" said a friend who had already been to La Bohème. Snow in March in Sydney? The setting for La Bohème is cold, snowy Paris and I'm excited about seeing snow on the harbour for what has to be the first time. Tonight I've brought Ivy who is seeing the Handa opera for the first time. I can't wait to see what she thinks of it. She's from America and loves living in Sydney and I know that this whole concept will be very novel for her. I've been checking the weather forecast daily for the week preceding and it's supposed to clear all night.
We head towards the Platinum Club past the seats and towards the purpose built multi storey marquee. I can see Ivy's mind working and saying "This was not here before." It takes the 150 strong crew 3 weeks to set up the seating to accommodate 3,000 guests. The total cast size is 54 people while 56 crew members work on the production every night with music from 51 members of The Opera Australia Orchestra. The site requires a total of 223 speakers to carry the music and arias into the open air.
If you are looking for a pre performance meal, there are several different venues to choose from and if you're lucky or early enough, you'll nab a seat right in front of the water and watch the sun set. The Northern Terrace has dishes like a Brittany style salmon fillet, salade Niçoise or quiche Lorraine while the Southern Terrace has the creperie offering including Crepes Suzette or galettes along with French onion soup. Every year they theme the food according to the production and for Fresh Catering's executive chef Geoff Haviland "French food is a no brainer".
But our destination is the Platinum Club which as the name suggests is the premier dining experience. We are offered glasses of Tyrell's Chardonnay Pinot Noir Sparkling Brut and take a seat and enjoy the view. Approximately 800 glasses of sparkling wine are estimated to be sold each night at this opera.
There is a choice of a buffet or a three course meal with matching Tyrrell's wines at the Platinum Club. We have the three course menu to look forward to. Bookings at Platinum Club start at 5:30pm so you have a couple of hours to enjoy the meal before the production commences at 7:30pm.
They bring little buckets of small sourdough baguettes with a creamy nut butter mascarpone to the side which is smooth and light yet buttery. It's a mixture of cultured browned butter and mascarpone.
There is a choice of two entrees and three mains with gluten free and vegetarian options. My favourite entree is the goat's chevre with a generous disc of soft goat's cheese, honey and a frisee salad with a chive vinaigrette. I especially love the chive vinaigrette that goes so well with the rich goat's cheese.
Ivy love scallops and this is one of those crowd pleasing combinations of scallops and boudin noir that just works really well. There's smoked celeric puree, fennel pollen and a crisp Amaranth cracker with sauce vierge (a tomato herb sauce).
Between courses everyone gets up to take photos of the sunset, Opera House and Harbour Bridge.
Before long they bring out our mains. The duck is done two ways-a seared, juicy duck breast and the dark meat pressed into a sausage and then sliced. There's also truffled potato dauphinoise (although the truffle is very light to almost imperceptible), an onion confit and Puy lentils.
Because I have that annoying allergy to barramundi I choose the vegetarian main which was fine with me as I love pastry. You put anything in puff pastry and chances are I'll like it. The pithivier is filled with forest mushrooms and quinoa and is paired with baby peas, roasted Dutch carrots and a divine cider beurre blanc.
The chocolate ball is a beautifully presented dessert filled with a layer of chocolate cake, chocolate mousse, a shard of praline crisp and berries with the tiniest mini macaron. It's surrounded by edible flowers and microherbs and it is as pretty as it is tasty.
I ended up devouring the cheeses. Yes I'm that person that even when I'm supposed to be sharing I end up eating pretty much all of something. There are four types of cheese: French Brie, Port Salut, Fourme D'Ambert blue cheese and LVD Chateau Emmenthal Cheese served with quince paste, grapes, dried figs and a selection of crackers and lavosh.
It's 7:25pm and the announcements are getting more urgent. I rush to the bathroom and join the queue and then we walk towards our seats. We have to wait a few minutes as the production has already started. I thought I was unfamiliar with the storyline until a friend pointed out that it is the same as the music Rent which I have seen and loved.
The first act is my favourite one that culminates in fireworks and a shower of snow. That snow that everyone was talking about takes around 200 litres of snow fluid and 6 snow-machines to create. It is non-toxic, bio-degradable, non-staining to clothing and has been dermatologically tested. It is predominately water based and designed to evaporate away to nothing. It snows for approximately 20 minutes during the show.
The show is broken up in two 1 hour halves with an interval. Ivy and I retreat to the Platinum Club for a glass of sparkling wine and to marvel at the production. And there isn't a drop of rain all night!
So tell me Dear Reader, do you enjoy opera? Have you ever been to a Handa opera? If you go to an outdoor event would you stay if it started raining?
NQN and Ivy were guests of Opera Australia and Fresh Catering but all opinions remain her own.
La Bohème
La Bohème will be performed at Mrs Macquaries Point between 23 March and 22 April 2018.
The Platinum Club Pre-Performance Dinner $245 (from 5:30pm), Pre-Performance Buffet $130 (from 6pm), Interval Dessert Plate $60
www.opera.org.au/whatson/events/la-boheme-on-sydney-harbour