The Stables is a new restaurant located in a laneway behind Oxford Street in Paddington in what was formerly a horse stables. The sandstone building is decorated in an equestrian theme.
Remnants of its former life remain - the original pulley system to pull the hay up still remains. It's a warm, inviting looking space with deep, comfortable leather chairs and good sized tables well spaced from each other. Because it is in a laneway parallel to Oxford Street, it probably doesn't get a lot of foot traffic. Chef Thomas Gripton has worked at Bentley Bar, Yellow and Monopole.
It's a miserable night in terms of weather on the night of our visit. Ivy was about to cancel until I offered to pick her up (I was conveniently 5 minutes from her house) and the rain has probably scared away some patrons too.
Making a booking is done the old fashioned way, by phone although there is a bit of a mix up when I leave a message and nobody returns it. A less insistent person may have just given up when the rain poured down but you know me - "determined" is my middle name.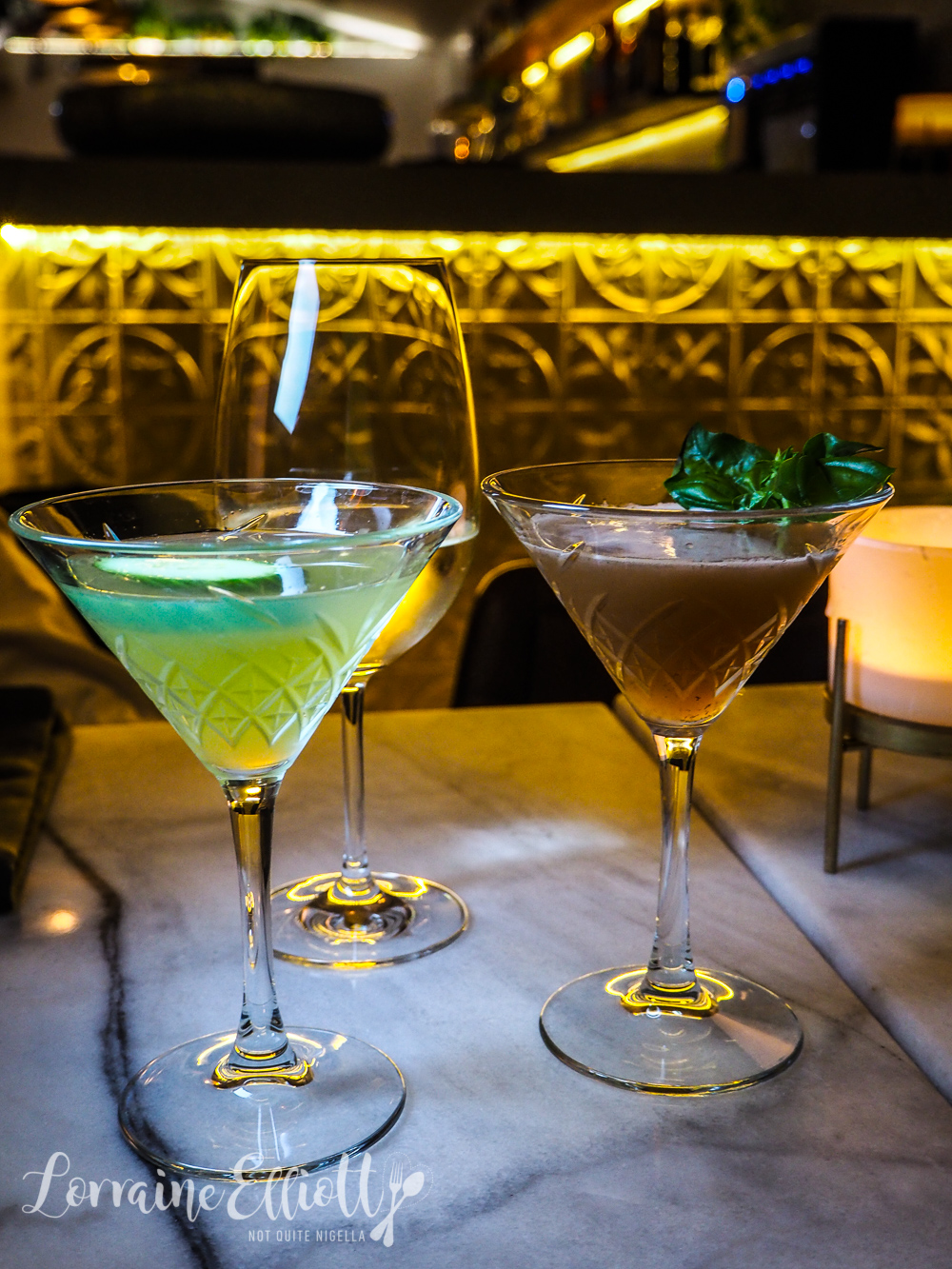 Paddington Pash $19, Strawbasil $20
We start with cocktails and wine. The Paddington Pash is made with cucumber, vodka and peach and a hit of chilli while the Strawbasil is made with chilli, basil, vodka, Grand Marnier and apple also with chilli. They're both pretty fabulous, the Strawbasil a touch sweeter while the cucumber freshness of the Paddington Pash is also appealing.
Ox tail croquettes $23
We start with the ox tail croquettes that come out as three golden croquettes draped with thin pickled beetroot and a smooth beetroot and potato puree with chickweed and pink pepper spice. They're soft on the inside and crunchy on the outside and the beetroot lightens it.
Butter poached lobster $31
Our next dish is almost too pretty to eat. It's a butter poached lobster tail sitting in a bed of herby vinegar jus with a spoonful of avruga caviar with dill and kombu. Mr NQN particularly likes the piquant herb jus with its Scandi flavours.
Blue swimmer crab $29
I didn't expect such a generously portioned amount of blue swimmer crab with the beautifully thin sheet of pasta. There's a nice pop from pink finger lime caviar and there's a dashi and crab broth and an egg emulsion to give it creaminess.
Confit octopus $28
But hands down our favourite entree is the confit octopus. It is served with a gorgeous charred corn puree, dukkha, almond pasta, zucchini and confit kipfler potatoes. Every element balances each other perfectly and Ivy quips that if she were to come back she'd ask for all 8 tentacles.
Slow cooked pork jowl $31
Our main choices are on the meaty side. I adore pork jowl because I can't help but go for the fatty, luscious cuts. Here it is served as two crispy, juicy pieces with garlic yogurt, celery ribbons, celery oil on a bed of crisped black rice and nori. Both the accompaniments work well to balance the unctuous pork. Even celery (which I detest) absolutely has a place here especially when it's thinly sliced and pickled.
Braised lamb belly $32
We decided to order the braised lamb belly because Ivy had never tried lamb belly before. It comes out sliced and served with grilled eggplant, miso eggplant puree, sliced chestnuts and a mustard jus. It's a rich dish perfect for nights like this when it is raining cats and dogs (or horses really).
Iceberg wedge $11
Ivy and I are all about the sides. In fact we could have ordered all of them and been quite happy. The main problem with wedge salads is the disproportionate salad dressing distribution but this one is perfect as each leaf has been separated and dressed with a light wasabi mayonnaise (light on the wasabi which suits me fine) and dill oil. It's a good pairing for the rich meats.
Pan fried brussels sprouts $13
"Sprouts get a bad rap don't they?" said Ivy. We devour the pan fried Brussels sprouts that have whole spouts and deep fried leaves. There's also kelp, white pepper and parmesan as well as halek, a sauce made with dates, nuts and spices.
Chocolate fondant $16
There are only two desserts on the menu and we share them both. The waiter brings them both and sets them down. "What do we have?" I ask and he walks away. Oh well. The chocolate fondant has a creamy milk chocolate centre with a tangy berry ice cream, fresh blackberries and crushed honeycomb. This all works well when you have all three elements together.
Black tahini sponge $18
I have to admit I got rather excited when I read this description. It's a two toned sponge with black tahini, vanilla genoise with orange infused brandy and a top and bottom layer of passionfruit gel and burnt butter crumbs and a scoop of malted milk ice cream. I am a sponge cake fanatic and not a crumb goes back to the kitchen!
So tell me Dear Reader, do you abandon all plans to go out when the weather is really bad? Do you think Brussels sprouts get a bad rap? And how do you usually book-online or by phone?
This meal was independently paid for.
The Stables Restaurant & Bar
1 Victoria St, Paddington NSW 2021
Tuesday & Wednesday 4–9:30pm
Thursday 12–10pm
Friday & Saturday 12–11:30pm
Sunday 12–10pm
Monday Closed
Phone: (02) 9360 0098
thestablesrestaurant.com.au/