Mimi's is the upmarket Merivale venue located on the middle floor of Coogee Pavilion where expense accounts and credit cards go for a workout. Known for their exorbitant prices and caviar bumps, could this be the most expensive Sydney restaurant?
There's no trace of COVID crisis, housing crisis or any such thing when you take a look around the room at the clientele at Mimi's (who seem to have received the brief and worn colours to match the cream and pastel room). Nobody is struggling at Mimi's (or at least they're not letting on they are). A group of well heeled teenage girls nearby order the lobster that will set them each back $300. Mimi's is named after Hemmes matriarch Merivale; Mimi being her nickname. The chef is Jordan Toft from Bert's in Newport.
The first talking point about Mimi's with everyone is the price. To secure a table you need to pay a $100 deposit per person which actually won't get you very far with the menu. Laura and I are staring at the menu blinking slowly. It's designed for little respite unless you are rolling in it or buffered by an expense account.
"I'll have the chips," quips Laura.
"I'll have the bread," I add.
"I'll just tell them I'm just going to a bump of caviar as I'm on a diet," says Laura. We've both had a hell of a week and needed something to cheer us up. I've been having health issues and Sydney property issues and Laura has had a fight with her bestie and has hurt her eye. "I'm going to shout you a caviar bump and when you get your house you can shout me one," says Laura generously.
Caviar bump & frozen vodka $38
As if sensing this, the caviar trolley glides up to us. There's a three bottles: frozen Absolut ELYX vodka, frozen Russian vodka and Dom Perignon champagne available with the caviar bump. You make a fist, they place the neat pile of caviar on your hand using a mother of pearl spoon and the warmth from your body will warm up the caviar so that it's ready to eat by the time your drink is poured. The caviar bump is $38 with vodka or $60 with Dom Perignon (ironically the Dom Perignon is the biggest bargain of the night). I opt for the Swedish Absolut ELYX vodka with its honeyed quality and Laura has the Dom. We eat the caviar and then sip our drinks. It's pretty fabulous and the salty caviar sweetens both the drinks. I can see why caviar bumps are so addictive.
Bread, salted kefir butter
We are then onto the snack portion of the evening. Snacks are often my favourite part of a meal (seriously) and we could have happily made our whole meal up of snacks. These come with three slices of their bread with salted kefir butter.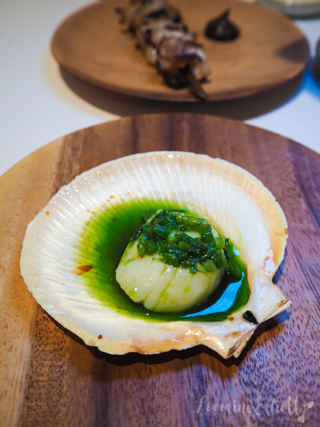 Abrolhos Island scallop, squid garum, wasabi, lemon $14
The scallop was a recommendation from our fantastic waiter. The Abrolhos Island scallop is served on the shell with squid garum (fermented squid sauce), wasabi and lemon. It's tasty and the squid garum is milder than we thought it might be although I think we all preferred the other snacks that we ordered.
Grilled pork jowl & abalone, prune mustard $16
Although Laura doesn't eat meat she dabbles in skin and I give her of the pork jowl to try which she loves as it has a skin-like quality. The pork jowl is so lusciously fatty and skewered with tender abalone slices. It's delicious dunked or dragged through the prune mustard which is sweet and intense, like a hoi sin sauce. We make mini pork jowl and abalone sandwiches with the bread and butter.
Blue fin toro, confit tomato, warm crumpet $12
If there's one snack you've got to order it's the blue fin toro. The blue fin tuna belly is sliced thinly and draped over a warm crumpet with confit tomato. The warm crumpet is spongey soft and the confit tomato gives the rich mouthful a bit of acidity and sweetness. And that blue fin toro has a lardo-like quality. Another dozen please.
We still haven't ordered our mains by now and our waiter is super patient with us. Most of the mains go from $52 for the vegetarian option to $220 and that's not even counting the live seafood menu that ranges from $100-$300. Occasionally staff stop by the table and whisper, "Get the lobster!". I laugh, "Are you paying our bill?". "I don't speak English!" he says before sauntering away. I bet he has used that line before. It feels like we are in a boutique and the sales staff are working for commission. Stymied by choice we end up just going for the things that we wanted to eat because a lot of the mains were meat based and Laura doesn't eat meat.
Caviar Pie, Scallop Mousseline, Citrus Butter $125
Laura and I were curious about the caviar pie from the first glance so we decided that that we had to try it. It's a small pie, around 8cms or so, filled with scallop mousseline and topped with caviar and served with Citrus butter. The slice it in quarters at the table and serve it with a surprisingly sweet citrus butter. The tart shell is crisp with thin layers of scallop and mousseline and a layer of caviar on top. It is delicious and I'm glad that we tried it as our splurge item.
Coral Trout Tartare, yuzu kosho, finger lime, sorrel $56
The coral trout tartare is seasoned with yuzu kosho and finger lime and plenty of olive oil. It's served with sorrel leaves that I think (they don't really explain this) that you wrap the tartare up in. The sorrel is very strongly flavoured and really dominates over the coral trout so we abandon the leaves and instead pair it with the pommes allumettes below and it's a match made in heaven.
Pommes Allumettes, Old Bay $16
Ahh yes the pommes allumettes which our waiter recommended to us. They're fine, deep fried potato straws seasoned with Old Bay seasoning. You definitely want these as an accompaniment to everything although they will end up sprinkled all over your table as they're arrive on a plate.
White Asparagus, Yellow Wine Sauce, Sea Urchin Bottarga, White Truffle $66
The only course we didn't love was the white asparagus. It's SO soft - so very soft that we didn't actually need teeth to bite into it. We also could not smell any of the white truffle at all.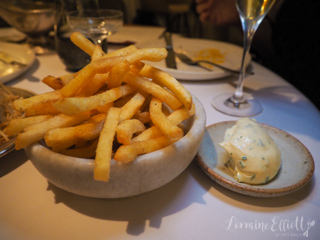 Hand Cut Chips, Tarragon Aioli $16
The classic chips are good and crisp hand cut chips with a big scoop of tarragon aioli.
Fior de Latte Soft Serve, Casaliva Extra Virgin Olive Oil $25
It's dessert time and we are actually both quite full at this stage but intrigued enough to try two desserts. It was always going to be the fior de latte soft serve for us. The sweetness of the fior de latte gelato is offset by crunchy salt flakes and some Casaliva Extra Virgin Olive Oil poured on top at the table. This texture is so smooth and perfectly sweet and we both love the salt and olive oil added to it that enhances the flavour.
Vanilla & Espresso Viennetta, Chocolate, Wattleseed $25
I have seen a couple of iterations of the Viennetta ice cream cake recently. This is a version made with espresso and wattleseed and is best sliced up at the table with the knife provided. It is creamy with a bit of texture from the thin dark chocolate layers and the espresso ice cream adds a lot of flavour to it although out of the two I prefer the fior de latte soft serve.
And after dessert it's time for the bill. And yes it is a bit painful but all self inflicted.
So tell me Dear Reader, have you been to Mimi's? Have you ever done a caviar bump?
This meal was independently paid for.
Mimi's
130a Beach St, Coogee NSW 2034
Hours: Wednesday to Saturday 12–3pm, 6:30–9:30pm
Sunday 12–3pm, 6–8pm
Closed Monday and Tuesday
Phone: (02) 9114 7324