The Instagram fairies led to me No 92 GPR located on Glebe Point Road. It was a restaurant special enough for a birthday dinner with an interesting menu that drew me in. It also came complete with private rooms for groups of 6 or above, a great drinks list. On the menu are dishes like kingfish tostadas, burrata with persimmon, house made pastas and crumbed slow cooked lamb.
Katie, Valentina's daughter and I are both May babies and Taureans and a few weeks ago we planned a joint birthday dinner. I offered to find a place and No 92 GPR popped up on my feed. Sometimes you just know that a place is going to be good just from reading the menu and when I took a look I knew that this was the place for a birthday dinner.
No 92 GPR's chef is Alejandro Huerta formerly of Chica Bonita CBD. Alejandro, who has a Mexican background, has worked in restaurants around the world including Pujol in Mexico and Noma in Denmark. No 92 GPR first opened in 2020 for just two months before COVID-19 closed them down.
We arrive at the gorgeous 1800s white Georgian terrace corner building. This building has been home to many and varied businesses before being taken over by owner Angela Kasimis and transformed into a multi room restaurant by Pattern Studio. It is now an elegant space in shades of white with an almost vintage feel that is open for brunch, lunch, aperitivo and dinner with an outside courtyard for sunny days.
Angela says, "What attracted me to the space was the heritage beauty of the building which was built in 1874 and was the very first pub in Glebe called the Waratah. It has been so many things since then, The Joint Stock back of Glebe in the late 1800s, a bootmaker, a private investigators office. You can feel the spirit of the building and its past and that is something very special to me. It needed a lot of love and attention and bringing a building like this back to life knowing that it is preserved for that little bit longer is rewarding. That's why I love the quote; "Life can only be understood backwards, but must be lived forwards". We are here just like all the others before us, contributing to a story.
Angela wanted to create a unique space. "I wanted to try and offer something different to the Sydney dining scene. A lot of spaces are very masculine, created and run by men - so I wanted to offer something that has a feminine vibe without being overtly feminine. The nature of the building contributed as well, it lends it to feeling more like a home than a commercial hospitality space." Angela actually doesn't come from a hospitality background and had a 20 year career with the Department of Education.
I look around for the Joneses. They're not seated in the main restaurant area and they lead us upstairs to a private room. I love private rooms for birthdays - there's something about potential misbehaviour and hijinks in the privacy of a room (and even better in the time of COVID-19). We are ensconced in the Mafia Room, a dark, sexy room in various shades of charcoal. There are two other rooms upstairs, a Grand Salon and a Petit Salon and should a neighbour become too raucous it's nice to simply close the door.
Usually tables of six or more have to go with the set menu but as it wasn't mentioned when we booked we don't have to. That leaves us with free reign on the menu. We decide on having basically one of everything on the menu except a couple of dishes just because it's hard to pick something that we don't want. Service from our waitress is absolutely lovely.
Persephone $18
We start off with cocktails. I have a Persephone with persimmon wine, vanilla, bizarre aperitivo and chai tea which I adore while others have prosecco and a non alcoholic pineapple based drink. The wine list is comprised of small scale producers. "There is a story behind every wine we have - so it's not always about the jargon, it's about the story they have to tell; winemakers are often very special people with a great passion," says Angela.
Crab arancini $16
We start with a few of the snacks. The crab arancini are delicious - crunchy and golden on the outside with panko crumbs and are filled with a generous amount of crab meat. They're served with a chunky jalapeño tartare sauce and lemon.
Heirloom carrots $16
The heirloom carrots are next. These are roasted after being marinated in koji (from sake) that adds a wonderful umami flavour and are served on buffalo milk yoghurt with finely shaved pecorino on top.
Kingfish tostada $8 each
One of my favourite bites is the kingfish tostada which is a crispy wonton topped with raw kingfish slices, black sesame & chipotle mayo and katsuobushi. The katsuoboshi (dried bonito flakes) mayonnaise gives it a real flavour from the sea. "Can we order more of these?" I ask while eating one slowly.
Prawn slider $8each
Everyone is smitten with the prawn slider and for good reason. They are soft potato buns filled with garlic butter prawns, nduja, pecorino and kale kimchi. They're so good I want to recreate these at home.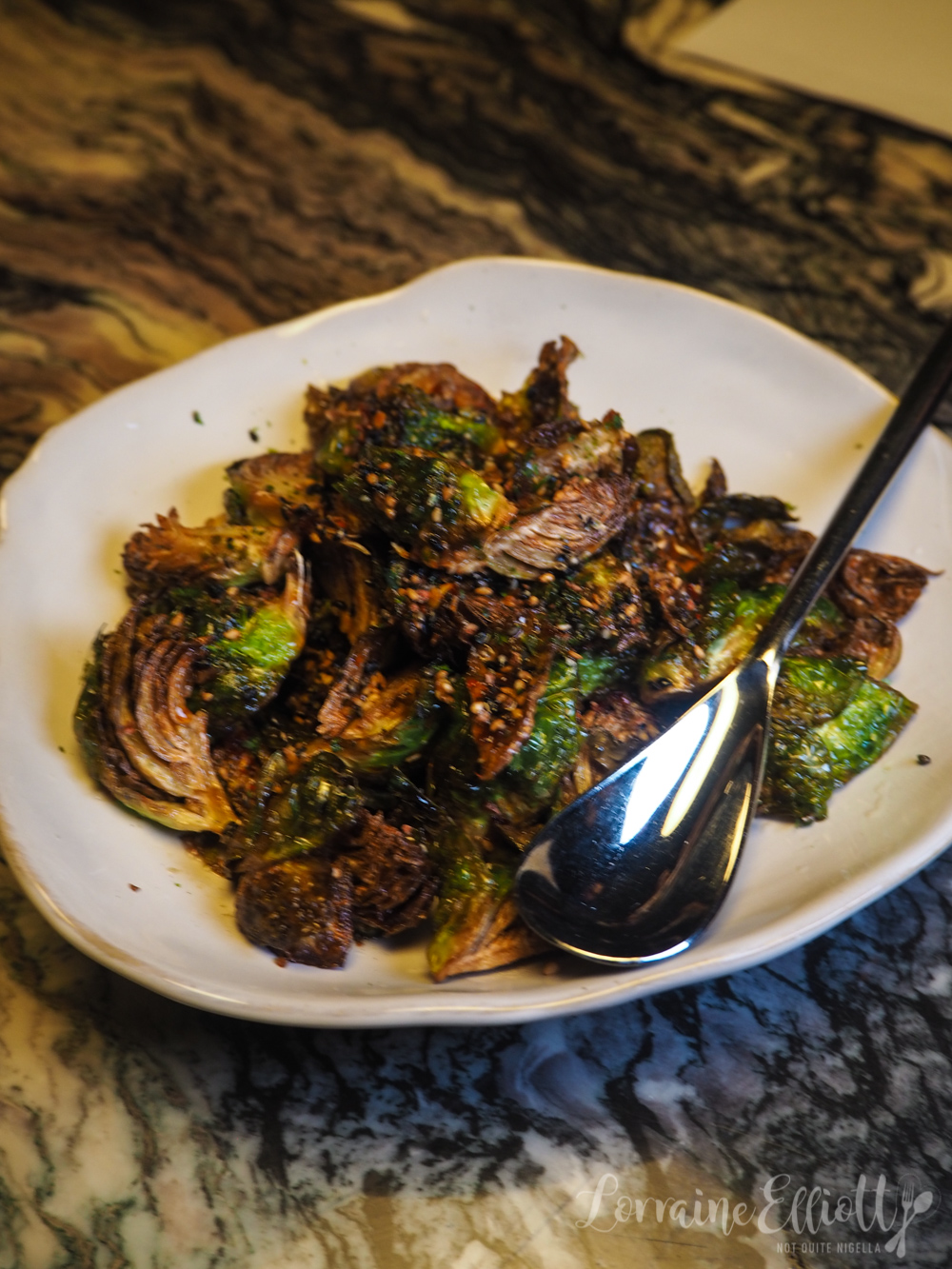 Brussel sprouts $12
Peter, having bad memories of Brussels sprouts growing up suggested that we bypass this dish but our lovely waitress recommends these strongly. The sprouts themselves are split in half and deep fried until crispy and they've got a wonderful flavour from kombu seaweed, chilli oil, furikake and lime juice.
Crispy mozzarella $18
Our next three courses are vegetarian ones. The first one is the crispy mozzarella with eggplant and San Marzano tomatoes and zaatar. These are good but they need a bit of seasoning added to them.
Ricotta dumplings $26
The ricotta dumplings are creamy and mild and get their flavour from the mushroom stock and XO sauce. The sauce is so tasty that we ask for a couple of serves of bread to mop it up. However it is said to have truffle in this but none of us can taste it.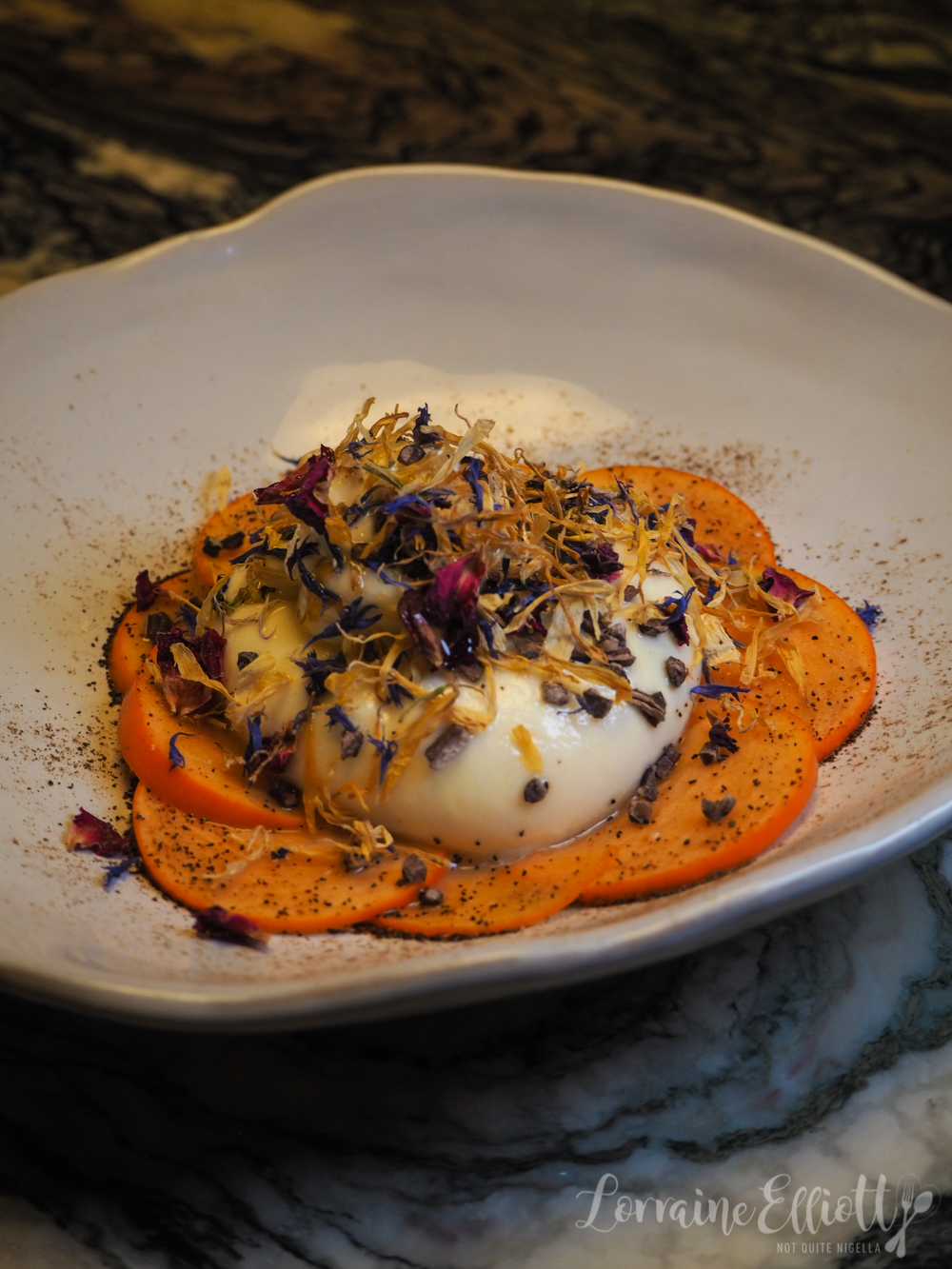 Burrata $18
The burrata is served with crisp persimmon slices, fermented honey vinaigrette, wattleseed to give it crunch and edible dried flowers. I love the creaminess of the burrata with the fruit and crunchy wattleseed.
Lp's Chorizo $18
This is a dish for the meat eaters. It's slices of LP's chorizo with a generous amount of house made mustard and guindilla and cucumber pickles. It's good and I like the house made seeded mustard although there is quite a bit of it.
Yellowfin tuna $20
The yellowfin tuna is as pretty as it is delicious. It's a slices of raw tuna sashimi toped with pomegranate, radish slices, yuzu kosho, chilli oil and red shiso. The yuzu kosho seasons the fish perfectly and gives it a nice chilli citrus punch.
Blue swimmer crab $27
The crab pasta is picked blue swimmer crab with perfectly textured tagliatelle. On top is shaved bottarga that really gives it a strong, fishy flavour, pine nuts and brown butter. I almost order a third serve of bread to mop up that wonderful sauce.
Spaghetti Chitarra $26
Spaghetti Chitarra is made using a chitarra which is a wooden tool with wires that resembles a guitar's strings that cuts the dough with the strings rather than extruding it. It's a rich beef short rib ragu, pecorino and panagrattato. There's a surprise flavour of yuzu in there which is a bit distracting and I think we'd enjoy it more without the yuzu.
Roasted pumpkin $22
This is another beautifully plated course. It's two slices of roasted pumpkin with a coffee and chile ancho sauce, mixed grains, riberries and warrigal greens. The sauce along with the indigenous riberries and crunchy grains add so much goodness and flavour to the roasted pumpkin and pick at the riberries, a tart berry fruit with a soft seed in the centre.
Slow cooked lamb $27
I'm glad I left room for the slow cooked lamb that comes out as our last savoury course. It's lusciously cooked lamb shoulder shaped into a rectangle and crumbed and fried with lamb jus, raw enoki mushrooms and ashes on top for dramatic visual effect. It's such a pretty dish visually and I love the rich jus and the crunchy crumbed meat.
Guava tart, fig leaf cream, spiced crumb $12
I've brought a burnt Basque cheesecake for the birthdays so we order a dessert just to try. The guava tart is paired with creamy fig leaf cream and spiced crumb chunks. The tart tastes more like spices than guava (not a bad thing, I love chai spices) and the fig leaf cream is delightful too.
The thing about private rooms is that sometimes you feel like you're the only people on earth and time feels unlimited. We barely notice the other rooms come and go and by midnight we are one of the last to leave.
So tell me Dear Reader, can you tell if a restaurant will be good just by looking at the menu? Do you like private rooms?
No 92 GPR
92 Glebe Point Rd, Glebe NSW 2037
Monday closed
Tuesday closed
Wednesday & Thursday 5:30–10:30pm
Friday & Saturday 12–11:30pm
Sunday 12–4:30pm
no92gpr.com.au