La Coppola is a Sicilian style pizzeria on Redfern Street in Redfern. Open for two years I'd driven past so many times and always meant to stop by. But it was the sight of a Sicilian arancini that caught my eye on their Instagram that prompted my visit.
You're probably very familiar with the arancini. Often seen as small balls of risotto rice with a bit of filling, the Sicilian version is immensely more satisfying. It's larger, with more ragu and sauce filling and I was lucky that it was on the menu on the night that we visited La Coppola. You see it's Cassie Scopelliti's birthday (the daughter and front of house in the family run business) and that means a batch of arancini is on the menu as it is something they make on birthdays. How is that for timing?
The pizzaiolo is Stefano Scopelliti who with his wax twirl moustache is busy working the wood fired oven. Stefano has been making pizza for 30 years and wood fired pizza for 27 of those years. La Coppola is named after the flat cap that Stefano likes to wear. When Cassie travelled overseas, she used to buy coppolas for him.
Ivy and Ryan are already seated in the large communal indoor table and there are also smaller tables outside as well. I take a seat and Mr NQN arrives shortly after and we order. The arancini is a given but we also order mushroom chips and a salad and share three pizzas.
Mushroom Chips $8
The mushrooms chips are actually delicious. I didn't know what to expect because while I've seen zucchini and avocado fries, mushroom ones are new to me. The portobello mushrooms are crumbed in breadcrumbs from the local bakery and fried in olive oil and served as is without a sauce. They don't need it as they've got a lot of flavour already.
Arancini $10
We share one arancini although I was tempted to get two just because Sicilian ones are such a treat. These are filled with a Sicilian style bolognese and a smoked fior de latte cheese - plus baby peas because Cassie tells us that her nonna always put baby peas in her arancini.
Fennel and Blood orange salad $15
We all liked the freshness of the fennel and blood orange salad with shaved fennel, fennel fronds, radicchio, segments of blood orange and chopped walnuts in a honey and orange dressing.
Mt Etna $21
The most popular pizza is the Margarita followed by the Mt Etna. Cassie tells us a story that she once stopped someone from ordering two margarita pizzas. And yes given the choice of a world of pizzas I tend to gravitate towards ones with some spicy salami on them. Enter the Mt Etna, our favourite pizza of the night with fior di latte, hot salami, black olives, chilli. The pizzas arrive on cake stands at differing heights. I wish I had a whole Mt Etna to myself. Sicilian style pizzas have a very puffy crust and the centre isn't as wet as a Napoletana style pizza. In Sicily the pizzas are thicker, almost focaccia like but the pizza here isn't quite like that, nor is it as wet as it has a sturdier base.
Lilla $24
Cass explains that they use an Australian bakers flour as they want to keep things as local as possible without compromising quality. The fermentation process differs from day to day depending on weather but is anything up to 48 hours. The Lilla is topped with fior di latte, big chunks of Italian pork & fennel sausage, artichoke, fresh fennel slices, garlic, parsley and chilli. We think this needs a bit more chilli so we ask for some chilli oil to give it a little more of a boost.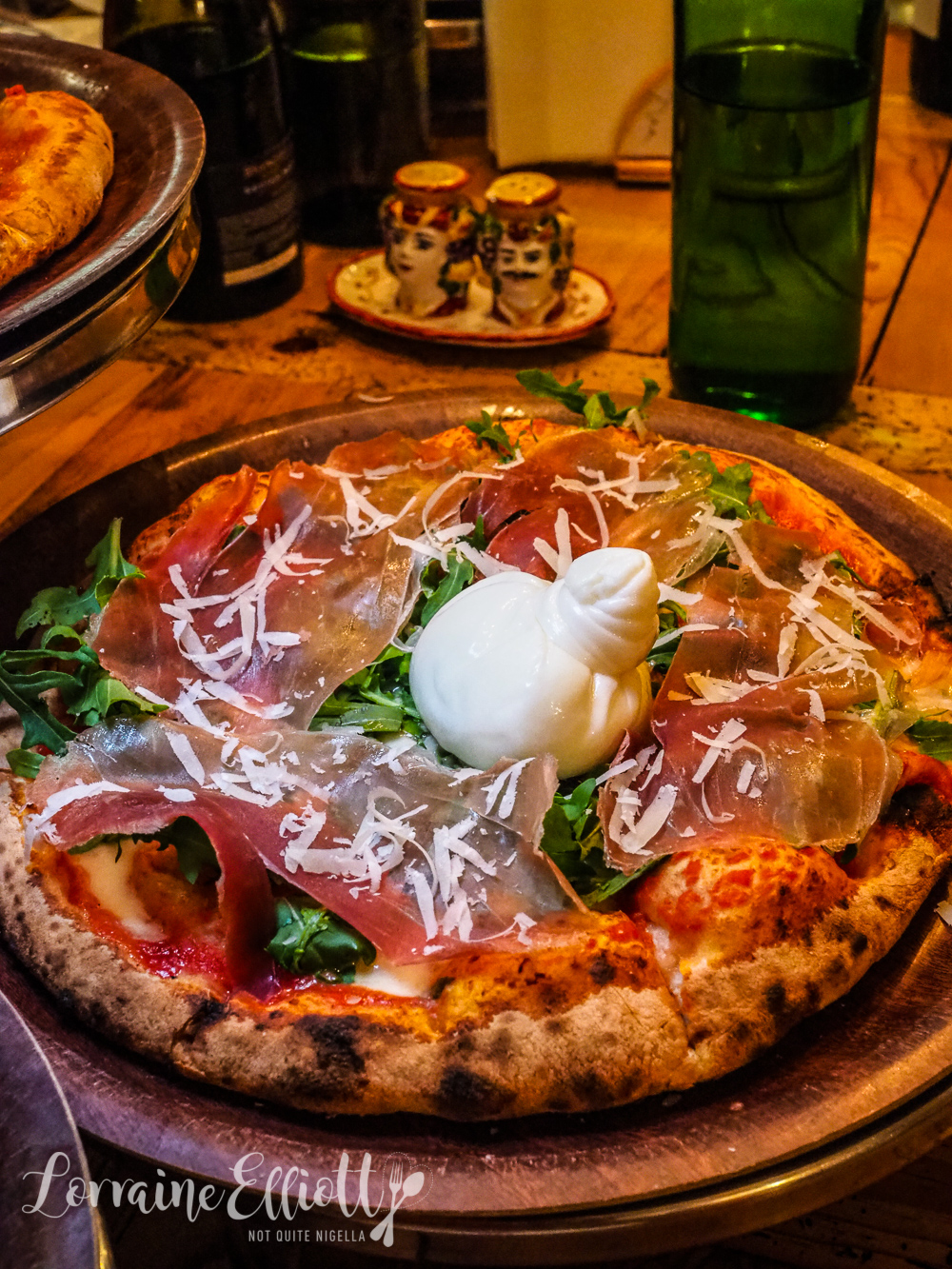 Milazzo $24 + burrata
Normally the Milazzo comes with just fior di latte, San Daniele prosciutto, rocket, parmigiano reggiano but I had seen them put a burrata on a pizza for extra indulgence so we asked to add that. Ivy cuts into the burrata and the cream spills out onto the pizza. It makes for a wetter pizza but the creamy mozzarella and salty thin prosciutto are a great match.
There's also one pizza special which I was tempted to get but I often don't order specials because you Dear Reader may not get to order them. But Ryan gets chatting to the friendly couple seated next to him and they offer us a slice of the pizza. The Ferla pizza (a creation of Cassie's brother) is fior de latte, hot salami, gorgonzola, reggiano and parsley. And do you know what? It's my favourite along with the Mt Etna. The gorgonzola is rich but not too sharp and goes so well with the hot salami. The couple are so nice because as they leave they offer Ryan the rest of their bottle of wine too (the woman works at a wine distributor).
Jaffa Log $15
"I'm stuffed" says Ivy when we look at the dessert menu. Still you know I've got to try dessert. The jaffa log is a thin calzone filled with Nutella and orange segment and the Nutella is generously filled and oozy and liquid when we cut into it.
Tiramisu $9
While the tiramisu is made by Stefano. It is made with percolated coffee dipped savioardi biscuits with amaretto. It's a sweet end to a lovely evening with friendly people!
So tell me Dear Reader, do you like sitting at communal tables? How often do you order Margarita pizzas?
This meal was independently paid for.
La Coppola
4/152 Redfern St, Redfern NSW 2016
Sunday to Wednesday 5–10pm
Thursday 5–11pm
Friday & Saturday 5–11:30pm
lacoppola.com.au
Phone: (02) 9699 8450