It was a scaldingly hot day for lunch outdoors. Mochi and I made the drive North to the aptly titled Incinerator cafe in Willoughby. The Incinerator cafe has an all day brunch menu and a large outdoor dog friendly section. It is housed in a converted 1930's Walter Burley Griffin designed Willoughby Incinerator building.
When Sammie and I drive up, the cafe looks deserted. While the large outdoor area with lots of chairs brings a smile to my face, I'm a bit concerned about how quiet it is. And then we look inside and see that most people have taken the saner idea of dining inside during this sweltering 38°C/100°F summer day.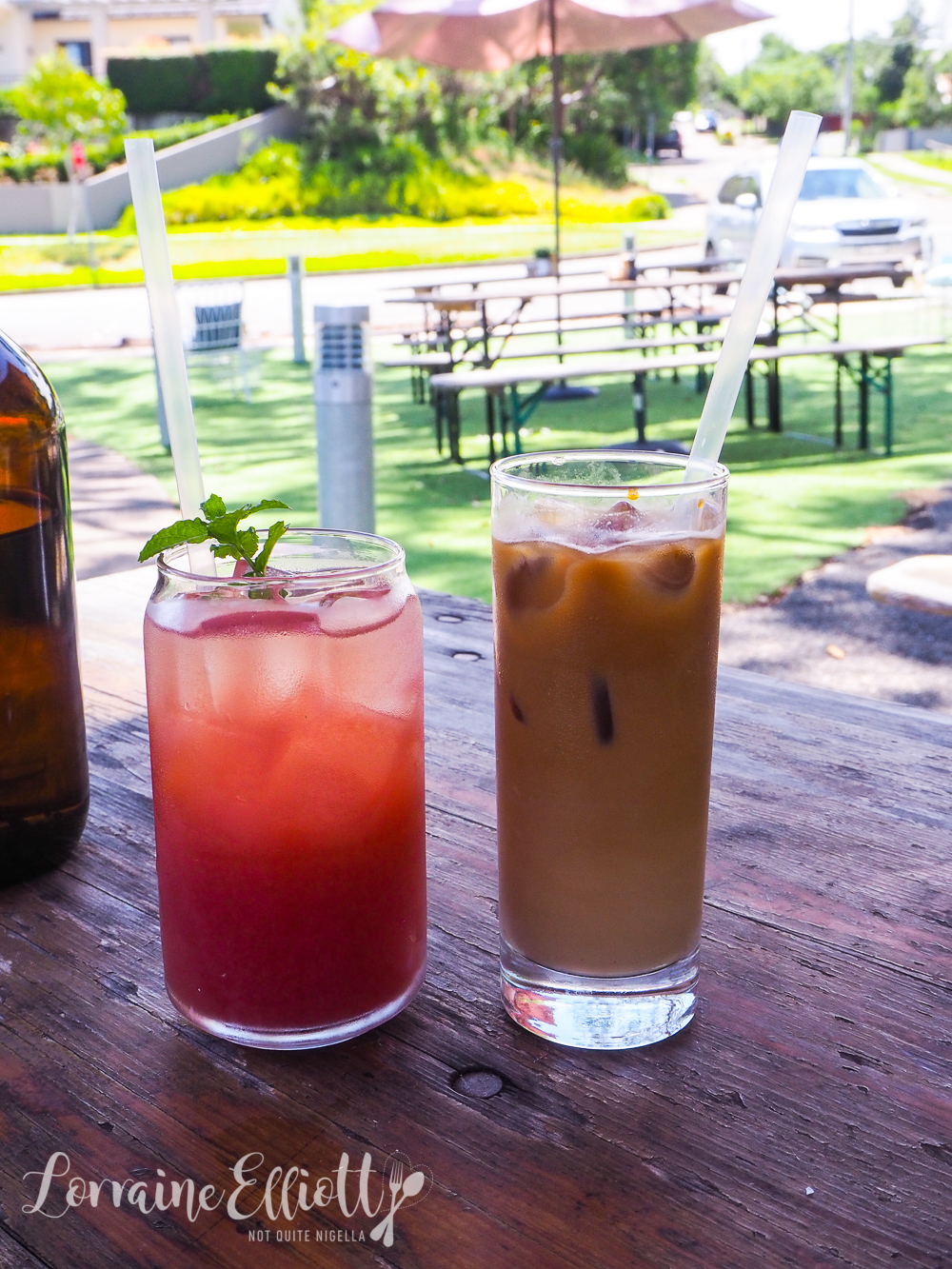 Cold Pressed watermelon juice $8.50 and Iced Coffee $7
They bring a bowl of water to us for Mochi who gratefully laps at it along with the all day brunch menu. I'm not usually one to order juice but the sound of a watermelon, raspberry, cucumber, apple and lime juice sounds greatly appealing in the heat. Its nicely refreshing and not too sweet. Sammie orders an ice coffee and dabs at her brow delicately.
House Smoked Salmon Cauliflower Salad $23
The food and drink come out surprisingly quickly. We had decided to order something hot and cold to have a bit of everything. The salad isn't quite what we expected. The house smoked salmon is actually hot smoked salmon and I prefer cold (I should have asked) and the cauliflower comes in large, raw chunks rather than shaved that are hard to pick up with a knife and fork. There's also sprouted grains, mint parsley, mustard dressing and a large amount of lemon yogurt sauce (it's a bit thin to be labneh mentioned on the menu) on the side. I think if you were a super healthy eater you might enjoy this.
Southern Chicken Burger $22
We did however really enjoy the Southern fried chicken burger that came with some very golden thick cut potato chips. The buttermilk chicken has a good amount of spice and is very tender and there's also some apple slaw on the soft milk bun (said to be a charcoal bun but wasn't) too as well as a bit of chilli sauce. The only thing we could have asked for was some sauce for the fries as they came without any but this is quickly rectified with a request.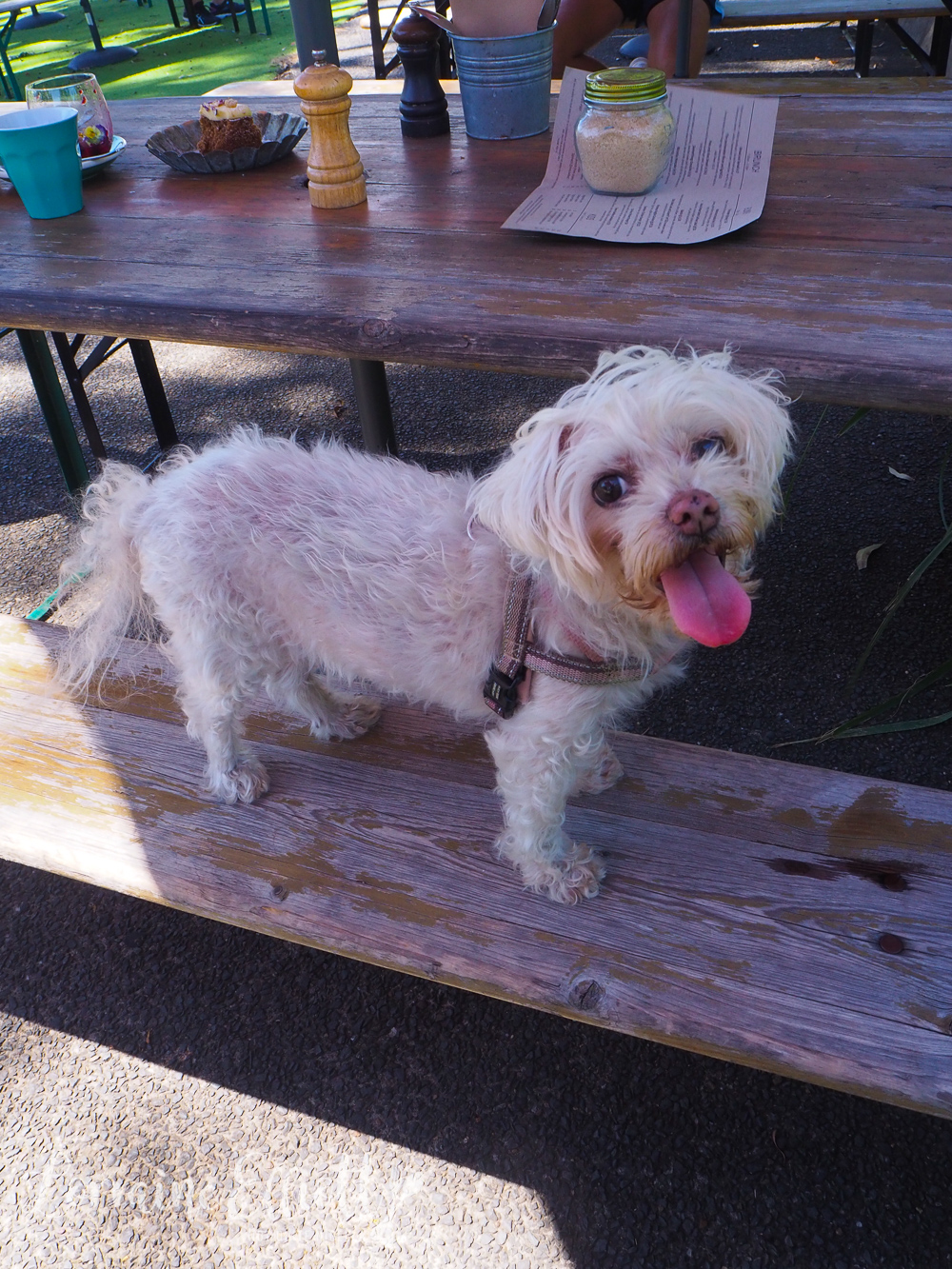 It was time for a little sweet and while we sometimes order a French toast or something similar we weren't that hungry because of the heat. Sammie minds Mochi while I go in and take a look at the sweets cabinet. I choose a carrot cake (by Luxe bakery) and in the back of the display I spy some round jellies and ask about them.
Sakura Jelly $8
The sakura or cherry blossom jellies are served with fresh fruit. Normally I'm neither a jelly or a fruit person (unless in cake) but I'm a big fan of this in the heat. It's delicately flavoured and refreshing.
Carrot Cake $6
The carrot cake has a good, moist texture and a creamy slightly tangy frosting on top with dried rose petals. We stay as long as we can, knowing that getting back into the car will mean gingerly sitting down on red hot leather seats!
So tell me Dear Reader, in really hot weather, do you sit inside or outside? Do you prefer hot or cold smoked salmon? And do you like sauce with your fries or do you eat them without sauce?
This meal was independently paid for.
The Incinerator
2 Small Street, Willoughby NSW
Tel: +61 2 8188 2220
Open daily 7am until 4pm
theincinerator.com.au/