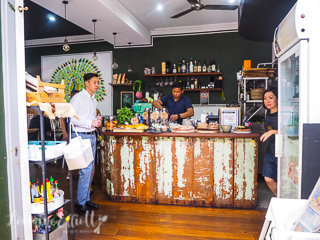 Looking for somewhere to eat over the Christmas break? This surprising cafe on busy Crown Street in Surry Hills has an front, indoor and outdoor courtyard section. On the back of rave reviews from friends we had to check it out one Sunday morning - with our four legged friend Mochi of course. And did we mention that it is dog friendly?
"Nobody eat until all the food arrives," says a girl at another large table. Another one tells her friends about her life as an influencer and how she works with brands. What I'm trying to say is that the food at Paddock on Crown attracts a visual crowd. That is, it's very photogenic.
We start our brunch with a smoothie for Mr NQN. The APMG has apple pineapple, ginger and mint smoothie which has a good level of natural sweetness.
The food comes out quickly and service is also prompt and friendly. The blini is a large, thick, soft blini topped with wilted kale, hollandaise and folds of smoked salmon (there is a choice of mixed mushrooms, smoked salmon or ham hock). I like the slight sweetness of the blini with the smoked salmon and poached eggs.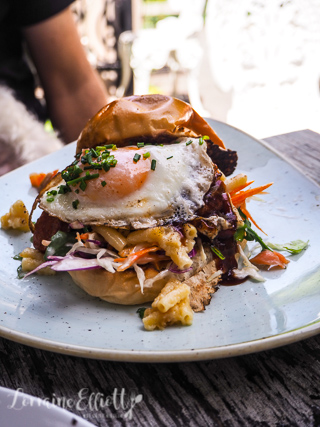 We are both big fans of the Mae Bae which is a bacon and egg roll with mac n cheese, chorizo slices, coleslaw, house made barbecue sauce on a very soft, toasted brioche bun. It's saucy and delicious with just the right ratio of filling to bun and the house barbecue sauce that pulls it all together is delicious.
The fluffy pancakes is actually one thick, spongy pancake although you can order additional pancakes for $4 each. There's a choice between ube (purple sweet potato) or vanilla ice cream. On top of the pancake is vanilla mascarpone, raspberry coulis, whipped maple butter and a huge scoop of ube ice cream. They're very generous with the maple syrup which is nice and Mr NQN adores this pancakes for that and the amount of fruit on it too.
Because it's dog friendly as well as quite large and therefore quite easy to get a table if you come a bit before lunchtime, we return the following weekend to try a bit more. For Mr NQN it's the Acai Mango smoothie which has just the right amount of sugar in it. For me, it's a chai latte which is also good.
The vongole pasta has a good amount of spicy passata with clams, cherry tomatoes, parsley and truffle cheese that is quite light on the truffle. Still it's a sizeable dish that is equal parts pretty and satisfying.
I had been eyeing off the dead bird burger before because I adore fried chicken. This is a super moist and tender buttermilk chicken fillet with tomato and lettuce. It is topped with onion rings, a sweet pickle, jalapeno aioli and chips on the side. The chicken fillet itself is so tender but I think I would have loved a bit more heat or chilli in the sauce.
There's no dessert this time but only because we know that we'll be back for more!
So tell me Dear Reader, are you working or on your Christmas break? Are you eating out much while you're on holidays?
These meals were independently paid for.
Paddock On Crown
509 Crown St, Surry Hills NSW 2010
Open 8am–4pm, 7 days a week Phone: (02) 8399 2827