"Should we double the burger?" I say to Viggo. He looks at me slightly surprised, "Is that even a question?" he responds. We are at Ume Burger, formerly Ume restaurant a fine dining Japanese restaurant on Bourke Street in Surry Hills. And like some chefs and restaurants Ume's Kirby Craig has done a 180° turn towards more casual dining. Burgers to be exact with a Japanese bent to them.
Even at 6:20 on Saturday night all but one table is taken. Service is delightful and they show us to the last table set for four that fits our group perfectly. The food menu is small, there are burgers and associated sides but a big menu of drinks too. There is also a page of specials although these didn't appeal to us as much as the specials online. There is also a separate whisky menu but you do need to ask to see this-there's a good range of Japanese whiskies there. And they are also set to open this month at Barangaroo.
House sodas $5 each
We start with some soft drinks as Mr NQN has the flu. Viggo has a Japanese Kirin Ichiban shibori beer. The yuzu and brown sugar soda is my pick while he goes for the ginger and passionfruit. Both are house made, refreshing and sweet.
Chips $4.20, house pickles $5
The hot chips arrive first with the pickles. The chips are described as being dusted with umami salt which is like a chicken salt with garlic. "KFC chips," says Viggo and the people at the table next to us when theirs arrives. They are addictive and the small bowl empties out quickly (okay that was me) and we order another. The pickles are all house made and there is radish, cucumber and onion, all with distinctive flavours, the onion being the favourite at the table.
Renkon chips $5
The renkon chips are lotus root chips that come with a dusting of seaweed powder. They're not as crisp as I've had but I do like the seaweed powder but out of these and the regular chips I prefer the potato chips.
Ebi Burger $15.50
The burgers arrive at once. The ebi or prawn katsu burger is a minced prawn burger with a touch of ginger. It is coated in panko breadcrumbs and fried katsu style. It is served with Japanese tartare sauce and shredded cabbage. I made one at home just like it and mincing the burger does give it a bouncy texture and makes it easier to handle. It goes really well with the mentai mayonnaise.
Kakiage Burger $13.80
The Hokkaido milk buns are all made for them using a Sydney based patisserie and bakery Textbook. And the vegetarian burger is a bit of a surprise because usually they're not the strongest burger. The tempura vegetable fritter is made up of finely sliced vegetables, battered and deep fried and it is served with nori mayo, shredded cabbage & Tonkatsu sauce that gives it just the right amount of flavour.
UME Burger $14.20
Onto the two beef burgers now. The Ume burger is a wagyu blend beef patty with wagyu mince sauce, two slices of truss tomato, Spanish onion, Japanese mayonnaise and double Jack Cheese. I usually like salad on a burger but this one feels like it has too much tomato and tomatoes aren't at their peak at the moment so it dilutes the flavour of the burger a bit too much.
Double Cheese Burger $14.80 plus $3 double
The double cheese burger was the unanimous favourite. It's pretty damn fabulous with two beef patties, crispy bacon, double American cheese, onion, rice vinegar cucumber pickles and Ume's special sauce it is everything you'd wish for in a burger. It is perfectly balanced, juicy and with the perfect meat to bun to additions ratio. And like Viggo said, given the chance to double it or not, I'd definitely recommend doubling it.
Seasonal salad $5
They did warn us that the salad is just like a garden salad. But it is and it isn't. It's a green salad with wood ear mushrooms and strips of yuba or tofu skin and a wafu style dressing on it. It's refreshing though and good to have with the burgers, fries and fried chicken. Because adulting ;)
Koji fried chicken with mayo $9.50
The koji fried chicken is boneless chicken pieces deep fried with a generous serve of mayonnaise. It's like a karaage chicken, all juicy and moist inside with a hint of ginger. Oh and I also forgot to mention the sauces because I am a sauce and mayo friend. There are two additional mayonnaises that you can order: mentaiko or cod/pollock roe and nori. Both are strong in their respective flavours and I love dipping the chips in the mentaiko mayonnaise.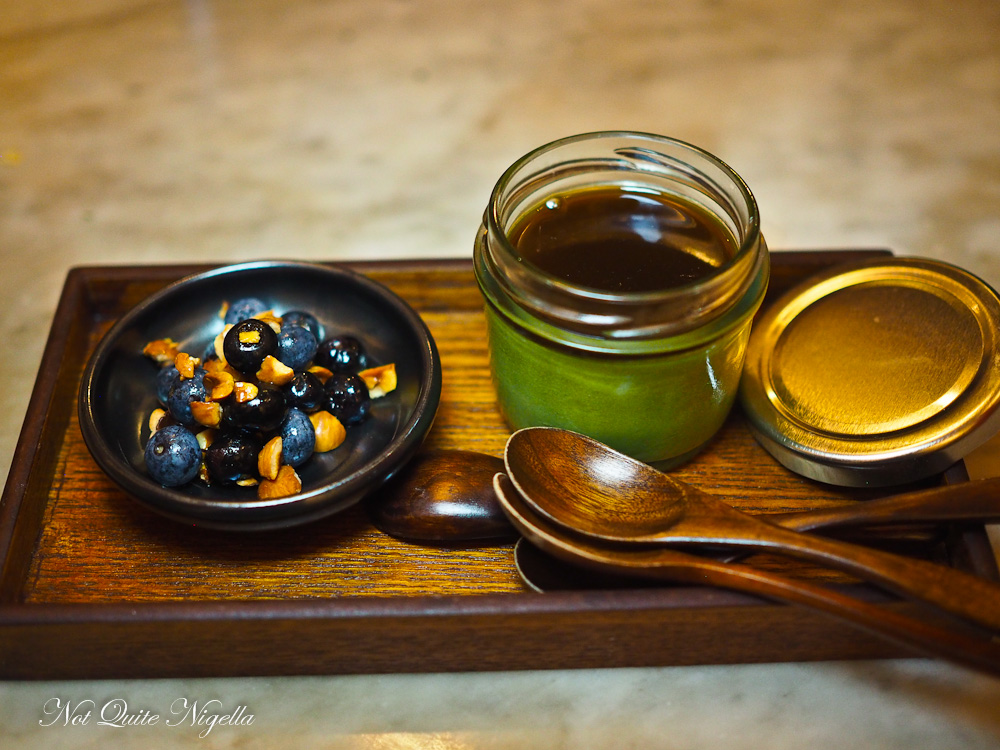 Matcha Purin $11
There is one dessert on the menu and it is this purin (Japanese for pudding). It is a matsha muriku (Japanese for milk) pudding, strong in matcha or green tea powder with a blanket of caramelised sugar syrup with a side of blueberries and hazelnuts. It's a bit hard to control the sweetness of the pudding as it is served in a glass but the pudding itself isn't sweet at all while the sauce is.
So tell me Dear Reader, are you a sauce and mayo fiend? And is doubling your burger patty a given for you? Do you tend to go for beef burgers or do you prefer seafood or vegetarian ones?
This meal was independently paid for.
Ume Burger
478 Bourke St, Surry Hills NSW 2010
Tel: +61 (02) 9380 7333
www.umeburger.com
Open: 11am-10pm 7 days a week (closes 9pm Sundays)