Goryon san serves Fukouoka street food in a convivial izakaya setting on Surry Hills' Reservoir Street. This means many things on sticks whether it be mozzarella wrapped in bacon with jam or an enormous bowl of ramen to a modern Japanese style burrata salad.
The menu explains that Goryon-San is a term given to a lady of the house who tends to all it's household affairs. And like a lady of the house, service is friendly and very nice but they are quite rushed off their feet.
JY is already seated at the bar when I arrive. There is bar seating as well as regular tables but a friend had tipped me off to sit at the bar for better lighting. That is also where you can watch the chefs at work, grilling Hakata style kushiyaki sticks or fat bundles of lettuce wrapped in bacon.
It looks like the chef in front of us was inspired by salt bae (Hakata kushiyaki traditionally only uses salt) and crooks his arm in the familiar pose to deposit salt onto the skewers.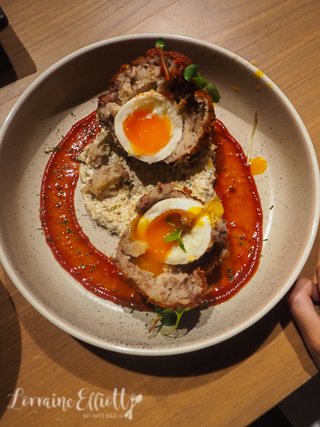 We start with some of their specialties and something that the waitress recommended. The croquette is a soft boiled egg stuffed inside a deep fried wagyu potato croquette. This sits on a bed of red wine tomato sauce and a Japanese tartar sauce. It's nice enough, sort of like a Scotch egg crossed with an Italian style tomato sauce but it felt a bit too cross cultural.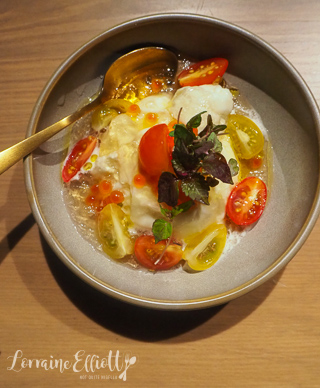 Cross culture can also be tasty though and my favourite item of the whole night is the Japanese style burrata caprese. Sweet cherry tomatoes are paired with the burrata but instead of basil there is dashi jelly and ikura roe. It's so good I'd happily eat one of these to myself as it is perfectly balanced.
One of the first skewers to come out is the takoyaki wrapped in pork belly and finished with okonomiyaki sauce and bonito flakes. The pork belly wrapping on this isn't really apparent in the taste, we have to look closely to see that it is wrapped around the scallop.
The menu says that they only get 5 serves of this type of skewer from one head of lettuce. It's tightly packed soft lettuce leaves wrapped in pork belly and it is one of the more popular items judging from the amount that are being made. You can either get it plain with salt or with okonomiyaki sauce and mayo or with melted cheese. Our waitress recommends one of the first two and we go with the okonomiyaki sauce and mayonnaise. It's not bad although you mainly get a lot of cooked lettuce and a little bit of pork belly. I would liked it a bit thinner to get a better lettuce to pork belly ratio and being thinner would help to wrap one's lips around it because unless you can fit it in your mouth it can be slightly messy eating.
I don't know if I'd call this a millefeuille. It's seasoned beef sashimi layered with avocado, chopped leek, fried onion and truffle oil. It's not too bad but I don't think I would order this again and I think we were expecting something quite different like a mille feuille pastry with wagyu as the name suggests.
A friend recommended this although all of my instincts say that this would not be the best choice. While it's not bad I think just a little jam glaze would be enough for the mozzarella wrapped in pork belly rather than the abundance of the berry jam, most of which we both left behind.
I think that while the regular sticks were fine, I think we weren't overly knocked over by them. The scallops wrapped in bacon are nice but really there isn't a lot else that needed to be done to these.
Probably our favourite skewer is this thick wad of enoki mushrooms towards the base where they are tightly packed wrapped in pork belly and brushed with soy butter.
The ramens are designed to be served after the meal. And while this is said to serve 1-2 people I wouldn't say that this is the case unless that was all you were eating.
This is an enormous bowl of ramen, slightly thicker than normal in a tonkotsu broth with six pork gyoza. At first it is a tad bland in flavour but it is much better once you add the togarashi chilli powder to it.
We were both intrigued by the description of the ice cream in the baguette which they describe as "hot surface, ice cold inside" and our waiter although friendly isn't really able to shed much light into it. It's literally a warm baguette stuffed with vanilla ice cream with honey drizzled over it. And whilst that might not sound overly amazing JY is a big fan and dubs it a version of deep fried ice cream. I think the honey or syrup definitely helps but it's an unusual choice for a small dessert menu.
So tell me Dear Reader, which dish did you like the look of the best? Do you usually find that cross cultural dishes work or don't work?
This meal was independently paid for.
Goryon-San
47 Reservoir St, Surry Hills NSW 2010 Monday Closed Tuesday to Friday 12–2:30pm, 5:30–10pm Saturday 5:30–10pm Sunday 5:30–9pm goryon-san.com.au Phone: 0414 992 228